Hai Phong city is on the rise of tourism and services. The number of restaurants is increasing to serve the diverse needs of people and tourists. Today, let's explore the list of 10 best grilled meat restaurants in Hai Phong.
1. ZoZo Grill Restaurant
The decoration of the restaurant is Japanese-Korean style with nice view, spacious and comfortable seats. The staffs are well trained so the service attitude is very good, enthusiastic, dynamic and especially polite.
The food of the restaurant is highly rated by the chef's rich marinating ability, which is very suitable for the palate and tastes good. Especially suitable for families, group meetings or birthdays. In the winter, sitting around the oven to enjoy the hot barbecue is the best.
The price of the restaurant is very reasonable from 169,000 to 199,000 VND. Tet holiday prices will increase but compared to the general ground is still very cheap. The restaurant is at Asian-style so if you prefer European or American style, you should not choose the restaurant.
Addresses:
12 Ho Sen, Hai Phong – 0906 095 892
53 Luong Khanh Thien, Hai Phong – 0936 729 589
L301 – Floor 3, Vincom Imperia Hong Bang, Hai Phong – 081 544 6686
Hotline: 093 672 95 89
Fanpage: https://www.facebook.com/Nuongzozo.vn/
Website: http://nuongzozo.vn/
Reference price: 169,000 VND – 199,000 VND
Opening hours: 08:00 – 23:00
2. JAX – Hotpot & Diner
JAX – Hotpot & Diner is a bit small. The location is not too difficult to find, you just need to pay a little attention to see. The external of the restaurant is quite impressive. The first floor of the bar has a counter selling imported handbags. The second floor has two rooms with a sitting room with lots of books. The other room has the most spacious high tables and chairs.
When coming to the restaurant, you definitely cannot miss two of the most famous consistent hot pot dishes, Thai hot pot and Hue beef hotpot. Thai hot pot is full of ingredients, delicious. And beef hotpot is slightly spicy, super delicious broth. The ingredients are fresh and full, moderate prices.
In addition, the restaurant also serves a number of other dishes such as grilled ribs rice, mixed fried rice, shrimp bean noodles, pizza. The staffs are very enthusiastic, the view is very nice. In winter, it is good idea to invite friends to "check in" here.
Address: 54 Trần Phú (right next to Trường Trần Phú level 3), Hải Phòng
Hotline: 0963554869 & 0386876468
Fanpage: https://www.facebook.com/Hotpotdinner/
Reference price: 30,000 VND – 100,000 VND
Opening hours: 8:00 – 10:00
3. Trong Khach Grilled meat
The bar is always busy by the good service attitude of the staff and the owner. The shop is quite clean when the items are made of glass and stainless steel to create a luxurious feeling for customers. So this is also a quite reasonable reception place.
Coming to the restaurant, you will also be free of soft drinks when ordering buffet. If you have the opportunity to try and experience, you will definitely have a memorable meal with the restaurant.
Address: 301 Le Duan, Kien An District, Hai Phong City
Hotline: 0931 544 866
Reference price: 100,000 VND – 150,000 VND
Opening hours: 17:00 – 23:00
4. King BBQ buffet
King BBQ buffet is a popular restaurant chain among young people in Saigon, Hanoi and now available in Hai Phong. There are always people waiting in line to buy. King BBQ is famous for its delicious, tasty Korean hot pot dishes. King BBQ is also known as the Korean barbecue king.
Not only famous for the quality of hot pots here, but King BBQ has never disappointed diners about the services and behaviors of the staff. King BBQ always ensures diners a fresh and clean food. be guaranteed food safety, so you can rest assured that come here to eat offline.
Address:
4th floor, Vincom Hai Phong, No. 1 Le Thanh Tong, Ngo Quyen Dist. Hai Phong
Floor 1, Big C Hai Phong, Lot 1/20 New Urban Area, Nga 5 Cat Bi Airport, TP. Hai Phong
Fanpage: https://www.facebook.com/King-BBQ-Buffet-Vincom-Hai-Phong-700444426782553/
Hotline: 0312299886 & 02258831112
Reference price: 166,000 to 300,000 VND
5. Bulgogi restaurant
3AE Group is leading in the restaurant business in Hai Phong City with 13 restaurants belonging to the chain of 8 brands: TexasBBQ, Pepper's Pizza, Alfredo's, HP3 Home Cook, Singapore Chicken Rice, HP3BBQ, Bulgogi, HP3 Buffet wipe.
If you want to discover the richness of Korean culture as well as the characteristics of the people here in each dish, Bulgogi restaurant will be the land of idyllic streets, familiar Korean restaurants.
With a reasonable price, this is an ideal place for you to enjoy delicious dishes from Korea such as grilled hotpot buffet, mixed rice, cold noodles, kimchi rice… and even wines from the land of kimchi such as rice wine, sochu, sake.
Address:
No. 2 Vu Trong Khanh (2/182 Van Cao), Ngo Quyen, Hai Phong – 02253653454
7 Lot 7b Le Hong Phong, Tp. Hai Phong – 02258830959
Fanpage: https://www.facebook.com/bulgogi.HP
Website: 3ae.vn
Reference price: 179,000 to 199,000 VND
Open: 10:00 – 14:00 & 17:00 – 22:00
6. Hp3 BBQ
Hp3 BBQ is probably too famous in Hai Phong with a diverse menu and clean food sources imported from the US, Australia, Japan. It inherits all dishes with flavors from Japan and Korea. With cool and spacious space, you can choose this place as a weekend destination.
Address:
2nd floor, 107 Dien Bien Phu, Hai Phong
1st Floor, Big C Supermarket, Hai Phong
Hotline: 02253821430 & 02253246772
Fanpage: https://www.facebook.com/Hp3bbq/
Website: 3ae.vn
Reference price: 100,000 to 300,000 VND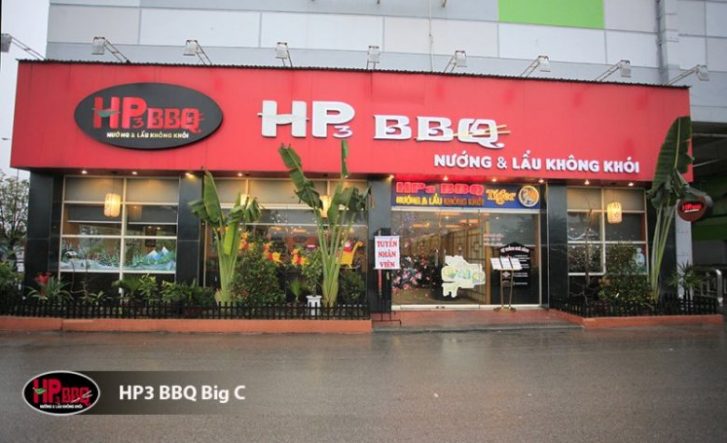 7. Edo BBQ Grill & Japanese Hot Pot
The restaurant is designed in Japanese style with the image of Japanese girl wearing traditional Kimono. The space is spacious but it looks cozy. The restaurant has a menu with a variety of dishes, many grilled dishes marinated with Asian flavors. Almost all customers are satisfied and feel excited when eating at the restaurant.
There are many combos for many types of customers with low to high prices. The special thing in the shop is that on holidays or weekends, the restaurant still does not increase prices, even discounted by each meal. The restaurant is suitable for group meetings, parties, or birthday parties of students. Coming to the bar, you will not forget.
Address: 7A Lê Hồng Phong, Ngô Quyền district, Hải Phòng city
Hotline: 0912258137 & 0888681181
Facebook: https://www.facebook.com/edobbq.haiphong/
Reference price: 159,000 VND – 269,000 VND
Opening hours: 08:00 – 23:55
8. Judo BBQ
Judo BBQ is no longer a strange name for young people in Hai Phong with diverse and delicious grilled hot pot dishes. With luxurious space, spacious and airy. All the dishes here are made in Japanese style but Vietnamese flavor suits everyone's taste.
If you order a grilled hotpot buffet on Saturday and Sunday, it costs about 179,000 VND for 70 hotpot grills and 229,000 VND for 80 diverse and hot buffet hot pots.
Address: 310C Nguyen Cong Hoa, Q. Le Chan, TP. Hai Phong
Fanpage: https://www.facebook.com/judoBBQ/
Hotline: 0316298686 & 0934581858
Reference price: from VND 189,000 to VND 389,000
9. Sasimi BBQ – Japanese Hotpot
The restaurant is small but very neat and clean, especially not smelled. This will be the ideal destination for families or couples who want a cozy space. The food here is not really special than other restaurants, but the dishes are plentiful. The food is marinated delicious and clean.
Meat and seafood are both quite fresh. The special thing that many people enjoy when coming to the restaurant is the service attitude. The staff here is quite dedicated and attentive to customers, new customers will be proactively asked by the staff to recommend food and introduce delicacies at the restaurant.
The owner is happy and friendly to create the most comfortable feeling when customers eat meals. The price of the Sasimi BBQ – Japanese Hotpot is quite suitable for the common labor, the shop or the discount program can be up to 40% on holidays.
Address: 378 Van Cao, Hai Phong City
Hotline: 0987567332 & 0869854668
Fanpage: https://www.facebook.com/Sasimi-BBQ-468143440242408/
Reference price: 50,000 VND – 300,000 VND
Opening hours: 10:00 – 22:30
10. K-Pup – Korean BBQ
The restaurant is quite prominent, outstanding about everything from decoration to service. Young people in Hai Phong really like this restaurant. The light is quite harmonious on the beautiful shimmering color image. Very Korean restaurant, from cups, chopsticks, plates, bowls, spoons, tables and chairs are all Korean style.
The meat here is marinated with a very special sauce that is not available anywhere. There are also some unseasoned meats, when grilling the fat from the meat, the meat is not dried, rolled with lettuce, kimchi and 1 a bit of Korean sauce is delicious.
The service attitude of the friendly staff creates a soothing feeling when eating. The K-Pup – Korean BBQ is located on the 4th floor of Vincom, so it's easy to find. Come enjoy and evaluate, each of your comments will help change the bar better.
Address: 4th Floor, Vincom Hai Phong, No. 1 Le Thanh Tong St., Ngo Quyen Dist. Hai Phong
Hotline: 02252299866 & 19006622
Website: kpub.com.vn
Reference price: 250,000 to 450,000 VND
Above is list of 10 best grilled meat restaurants in Hai Phong. Let's try and enjoy it!