Hai Phong is not only famous as the port city, the city of red phoenix flowers but also famous for the dishes that can not be missed. If you have the opportunity to visit here, take some time to enjoy them. I am sure you will never feel disappointed. Here is list of 12 best specialities of Hai Phong city.
1. Banh Da Cua (Grab dried noodle)
Everyone know that Hai Phong is the land of Banh Da Cua, crab cakes, a popular dish but captivating. Red dried noodle is quickly boiled in water, add boiled water spinach, veggies, fish ball, guise leaf, chopped green onion and a bit of steamed crab brick, followed by a juicy broth and a little dry onion on the side…
You can easily find and enjoy Banh Da Cua at many addresses in Hai Phong, such as on Tran Phu, Minh Khai, Pham Ngu Lao, Cau Dat, the entrance to Tam Bac market (Do market)…
Price: 25,000 – 30,000 VND / bowl.
2. Banh My Cay (spicy bread)
If you've ever been to Hai Phong, you probably know that most of the delicious food is on sale in the afternoon. One of them, bread is always a dish not to be missed. A small bread with two fingers toasted crispy, inside is a delicious pate layer and a little greasy fat that really makes you excited. Hai Phong people will not put chapter (chili sauce) on each bread and enjoy but use that bread to dot into the chapter bowl, this is also what makes the characteristics of Hai Phong spicy bread .
Coming to Hai Phong, you can enjoy this snack on Dinh Tien Hoang, Le Loi, Hang Kenh Street…
Today, you can enjoy spicy bread even when you are in Hanoi or Saigon. However, wherever spicy bread in Hai Phong is always the number 1, perhaps this typical dish needs to be enjoyed at its birthplace, with this air that brings a bit of sea breeze.
Price: 2,000 VND / unit.
3. Snails
For those who love snacks, snails in Hai Phong really make you feel enjoyable. Snails in Hai Phong are the most diverse and delicious in the North. You may find some along Le Loi Street, Luong Van Can, Dinh Dong and Hang Kenh markets.
Prices will depend on the type of snail and the way it is processed.
4. Banh Beo
Banh Beo Hai Phong is really different in terms of form and flavor compared to the other one.
The cake is placed in each cambered banana leaf mold just like a boat. The dough is skillfully poured in first and then put on the multiplier so that after steaming the cake filling, the cake looks nice. The cake filling is made from minced lean meat, stir-fried with chopped wood ear mushroom. This dish is served with dipping sauce made from bone broth, when heated, dipping sauce with chili powder, pepper, a few pieces of meatballs …
You can enjoy this fascinating dish at Le Dai Hanh, An Dong market, Cat Bi market…
Price: 7,000 – 10,000 VND / pair of bread excluding meatballs or pork rolls in dipping sauce.
5. Banh Cuon
Banh Cuon in Hai Phong is thinly handmade, cut into pieces to a plate with a little dry onions. When eaten, served with dipping sauce from bone to add a little pepper, chili vinegar, garlic.
You may try this with meatballs or pork rolls.
Visit Hanh Kenh, Cat Cut, Cat Bi market… you can enjoy this tasty, delicious rolls.
Price: 15,000 – 20,000 VND / plate depending on the vegetarian bread or have people, not to mention meatballs and pork rolls.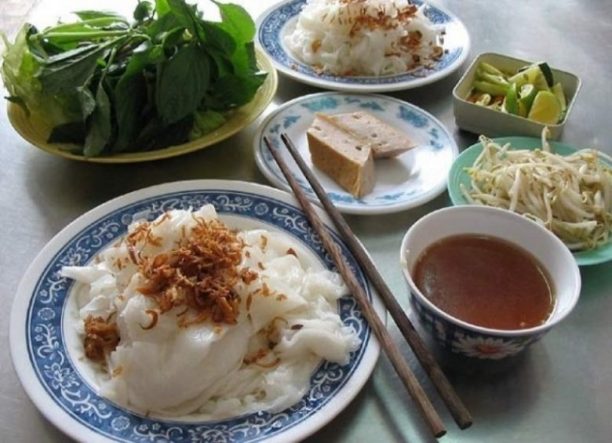 6. Sui Din
Sui Din is a dish of Chinese origin living in Hai Phong before. In terms of form, effervescence is easily mistaken as a drift wheel. However, in Hai Phong, apart from green beans and sugar, the black sesame is also a special kind of this dish. The warm spicy ginger mingled with the delicious sweet cake creates the warmth of the cold weather. This dish usually appears in late autumn and early winter in Hai Phong. You can find effervescent food at the gate of Ga market, the gates of Nghe Temple, Cat Dai, Tran Phu…
Price: VND 10,000 / bowl.
7. Bun Tom (Shrimp noodles)
Bun Tom is also a typical dish for Hai Phong. The ingredient to make this attractive dish is noodles and shrimp. Noodles are boiled in boiling water, then add the peeled shrimp and stir-fry with the atrium, a little scallion, and finally the delicious broth creates the typical flavor of the dish.
You should enjoy shrimp noodles on Cat Dai, Hang Kenh, …
Price: 25,000 – 30,000 VND / bowl.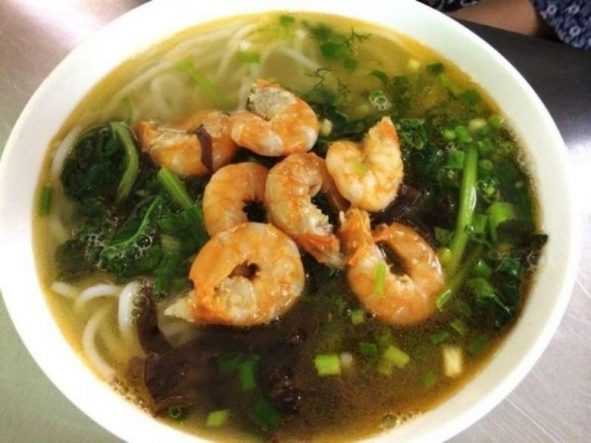 8. Banh Duc Tau
Banh Duc Tau is served with shrimp, meat, papaya and vinegar sauce added in the bowl. This is also one of the dishes that make up the appeal of Hai Phong.
You can enjoy this dish at Cat Dai Street, An Duong Market…
Price: 10,000 – 15,000 VND / bowl.
9. Nem Cua Be
Different from the usual spring rolls, Nem Cua Be is square with the filling consisting of wood ear, mushroom, meat, scallions, vermicelli, chicken egg yolk, bean sprouts… and especially the indispensable ingredient is that crabmeat. This is also the dish that makes up the characteristic of the port city.
The crab rolls are cut, eaten with noodles and raw vegetables, which is indispensable sweet and sour sauce. You can find the following address to enjoy this fascinating dish: Cat Cut, Co Dao market, To Hieu, Tran Nhat Duat, …
Price: 100,000 – 120,000 VND / unit.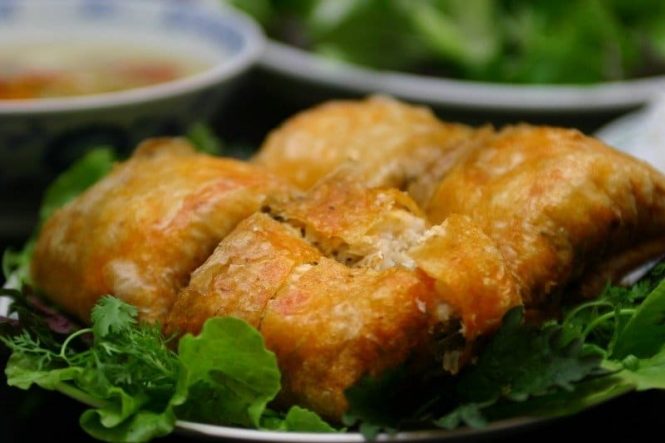 10. Chao Cay (Spicy porridge)
Chao Cay in Hai Phong has a very specific feature. Porridge is made of pureed rice and cooked with bone broth, adding herbs, stir-fried mussels, stir-fried fish, or eels and especially the spice chili powder and chili pepper.
You can enjoy attractive spicy porridge dish at Tran Binh Trong Street, Hang Kenh, Cot Den market, …
Price: 15,000 – 20,000 VND / bowl.
Above is list of 10 best specialities of Hai Phong city. Please leave your comment if you have any further information!