People who are just practicing singing, good instrument will be a tool to help you learn to sing more smoothly, easily catch the right rhythm, the right tone. Are you in Hai Phong and very passionate about music? If you want to buy musical instrument in Hai Phong but do not know where to go, today, let's check out 5 best musical instrument store in Hai Phong.
1. TYGY Musical Instrument Store Hai Phong
Starting from being an online education channel with the goal of popularizing the music community, until now, TYGY MUSIC has become a leading company in the field of musical instruments. With the mission of bringing to customers the best products and services, connecting guitar lovers and music lovers across the country.
TYGY MUSIC is a familiar and reliable destination that appears regularly through honest and objective reviews of famous guitarists such as Minh Mon, Hien Rau, Tri Le … as well as recognition and verification through experiences.
Trending now... Don't miss
Day tour
Sung Sot, Titop, Luon cave
Cave visit, sightseeing, hiking, swimming, kayaking/boat ride
4, 7, 9, 16 seater
per way 1/multi drops
as per request
In addition, TYGY is also a major partner of the leading instrument manufacturers in Vietnam and the world. It will not be difficult when you need to find handmade meticulously crafted guitars by famous artists such as Ba Dan, Pham Ngoc Thuan, Le Thien An … or genuine and unique products of luxury and high-end brands such as Epiphone, Yamaha, Ayer …, along with famous Asian names such as Rosen, Morrison, Poshman, NG or Mantic …
Choosing TYGY is choosing different imprints. The showroom of products is always seriously and professionally invested. Come to TYGY, customers can freely choose their favorite products with the dedicated and thoughtful support of the consultant team. The warranty, maintenance and after-sales policies are always strictly implemented by the company.
Showroom Hanoi: 254 Duong Lang – Dong Da
Hai Phong Showroom: 306 Van Cao – Hai An
Saigon Showroom: 1005 Cach Mang Thang 8 – Tan Binh
Online Store: http://tongkhonhaccu.com/
Hotline: 0963 938 183 – 0858 123 125
Fanpage: https://www.facebook.com/tongkhonhaccutygy/
2. Giang Son Hai Phong musical instrument store
Coming to Giang Son, you will be provided with all the best facilities to study, practice and improve your music skills. Besides, Giang Son store has always been a favorite destination for young music enthusiasts in Hai Phong. The motto of Giang Son is always thoughtful, dedicated, prestigious and grateful. Visiting Giang Son, you will have the best advice and can choose for yourself a guitar or a compact bamboo flute with the cheapest value and the best quality.
Address: 151 Cau Dat, Ngo Quyen, Hai Phong
Phone: 0983859069
Opening hours: 8am – 9pm
3. Pham Tuyen musical instrument store Hai Phong
Viet Thanh Music Co., Ltd. was established on February 15, 2006 with the precursor is Pham Tuyen Musical Instrument Store providing services for more than 10 years.
The company's products are agent distributing sound, light instruments in Hai Phong to world-famous brands such as Yamaha, Harman (JBL), TOA, Shure…
Trending now... Don't miss
Day tour
Sung Sot, Titop, Luon cave
Cave visit, sightseeing, hiking, swimming, kayaking/boat ride
4, 7, 9, 16 seater
per way 1/multi drops
as per request
Besides, the event service segment with a variety of equipment investment and high-class sound and lighting system has met the needs of customers, businesses and the city. Also, in the past 5 years, with the relentless effort and the management of Director Pham Tuyen, affirmed that the company will go far with its 35 staffs and employees.
Address: No. 3/46 Lach Tray, Ngo Quyen, Hai Phong
Phone & Fax: 031.3853004
Hotline: 0913576176
Website: http://vietthanhphamtuyen.vn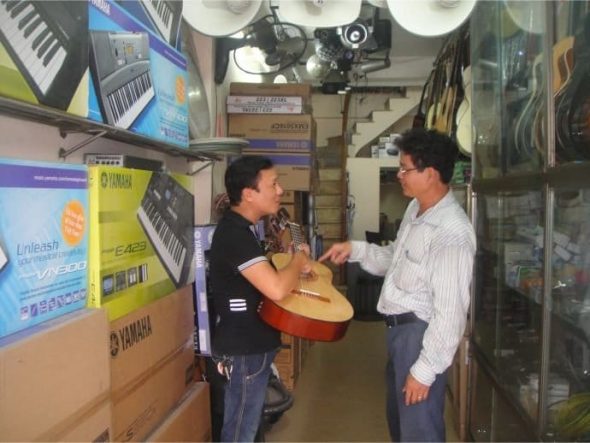 4. Xstrings Guitar Hai Phong
It specializes in wholesale and retail of all types of guitars, plays on request, as well as repairs and refurbished guitars. You absolutely assured when the products here are guaranteed quality, very good sound, along with after-sales service, reputable warranty service, free maintenance. In addition, Xstrings Guitar is also a leading supplier of accessories in Hai Phong and rental guitars , drums, event speakers, performance instruments at very reasonable prices.
List of products of the store:
Acoustic Guitar
Classic Guitar
Guitarlele, Mini
Ukulele
Old flock, deposit
Other musical instruments
Accessories of all kinds
Rental service
Guitar care service
Contact information of this musical instrument store Hai Phong:
Address: 1/369 Văn Cao, Đàng Lâm, Hải Phòng
Phone: (+84) 01697 997 851 – 0964 038938
Email: [email protected]
Facebook: https://www.facebook.com/pg/xstrings/
5. Guitar Tu Nguyễn Shop
Not only is a provider of leading guitar products and accessories in Hai Phong, Tu Nguyen also offers professional guitar classes for many young people who love this art.
In each field of activity, Tu Nguyen strives to fulfill its goals and missions, the shop always gives each customer the best quality of service and the most favorable price.
When visiting and shopping at Tu Nguyen musical instrument store, you will be completely assured and confident in the reputation of the store as well as be assured of the origin of each different product, along with manufacturing, genuine warranty. You will easily find yourself the best choice of high quality musical instruments for your family and your loved ones.
Address: 11/143 Ton Duc Thang, An Duong, Le Chan, Hai Phong
Phone: 035.773.1841
Facebook: https://www.facebook.com/Guitarhaiphong/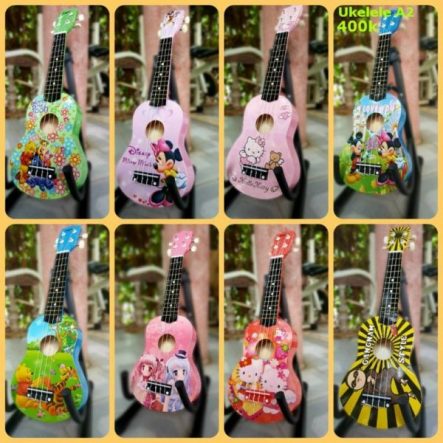 Above is list of 5 best musical instrument stores in Hai Phong. Then please leave your comment if you have any idea!
Trending now... Don't miss
Day tour
Sung Sot, Titop, Luon cave
Cave visit, sightseeing, hiking, swimming, kayaking/boat ride
4, 7, 9, 16 seater
per way 1/multi drops
as per request