Pizza is a popular, delicious cake that is considered a feature of Italian cuisine. There are many delicious Pizza restaurant that you don't know yet. Are you a pizza lover? You do not know where to eat in the city? Today, Hai Phong Tours would like to introduce to you 7 best Pizza restaurants in Hai Phong so that you have more choices.
1. Pizza Hut
Pizza Hut is one of the famous brands in Vietnam and abroad. Pizza Hut has two branches in Hai Phong at Minh Khai and To Hieu streets. Both restaurants have large and cool space, airy and luxurious. Pizza Hut has a lot of delicious pizzas, especially pizza fringed with cheese. The staffs here are very professional and enthusiastic. In addition, Pizza Hut also has many other dishes you can enjoy such as: fish/chicken salad, cheese pop, soups…Another plus is a variety of combos that help you saving more costs. However, the price of Pizza Hut is slightly higher.
Address:
23 Minh Khai, Hong Bang District, Hai Phong
93 To Hieu, Trai Cau Ward, Le Chan District, Hai Phong
Opening hours: 10:00 – 22:00
Reference price: 30,000 – 300,000 VND
Fanpage: https://www.facebook.com/PizzaHut.HP/
2. Pizza Love
Pizza Love has a warm, spacious space, combined with Dotea, two brands of the same restaurant should be very special. The menu of over 80 super-rich dishes, special processing, extremely fresh ingredients ensures and especially ready to ship anywhere – anytime for customers. Moreover, the owner is very gentle, happy, the staff is very enthusiastic and the price is extremely suitable for students.
Pizza Love Hai Phong specializes in serving dishes such as Pizza, Pasta, Hamburger, Steak, Pork Ribs and other European standard foods. With an area of ​​120m2, Pizza Love has a cozy, elegant and close space that can serve the number as well as the large number of customers, family, friends and meetings.
Pizza at Pizza Love is made with the recipe from New York City. The cake is made from fresh flour.
Address: 142A Cau Dat, Ngo Quyen District, Hai Phong
Opening hours: 09:00 – 22:00
Reference price: 50,000 – 200,000 VND
Fanpage: https://www.facebook.com/Pjzzalove/
Website: http://pizzalove.vn
3. Lotteria – Tran Phu
Lotteria – Tran Phu is one of Lotteria's fast food restaurant chains in Vietnam. Here, the space, menu and style are filled with Korean culinary culture. The shop is located right in the center of the city near Nguyen Binh Khiem flower garden, spacious, cool but also clean. So it is quite crowded during rush hour.
This is a suitable place for family gatherings, group meetings, class meetings for many people to choose with a home delivery service by the fast and courteous delivery staff. There are also dishes such as hamburger, ice cream…Coming to Lotteria – Tran Phu, there are always promotions for customers and great discounts with membership cards.
The restaurant is very crowded, sometimes it is necessary to book in advance to have a seat. Although the price is a bit more expensive than other places, the quality of the cake and the professional service attitude of the staff will make you feel satisfied.
Address: 88 Tran Phu, Ngo Quyen District, Hai Phong
Hotline: 1800.8099
Opening hours: 8:30 – 22:00
4. Pepper's Pizza
The space of the restaurant is very cozy, clean. Seafood pizza and grilled chicken are favorite. In addition, the restaurant also has spaghetti, salad, chips, fried chicken…and lots of attractive combos.
Pepper's Pizza is known as a paradise of extremely affordable European dishes with smaller portions suitable for local diners and groups of people. Let's enjoy the youthful and modern "corner of Europe" in the heart of Hai Phong city.
Located on Cat Dai street (61 Hai Ba Trung – Hai Phong) and 120 Tran Nguyen Han, Pepper's Pizza restaurant as a "miniature Europe" not only has many delicious and attractive food, but the space here is also extremely comfortable, very suitable for family, friends to gather, parties…Coming to Pepper's Pizza, you can freely choose your favorite dishes, with friends and family to eat and drink.
Address: 61 Cat Dai, Le Chan District, Hai Phong ….
Opening hours: 08:00 – 22:00
Reference price: 50,000 – 120,000 VND
Hotline: 0904.234.008
Fanpage: https://www.facebook.com/PepperPizza.HP/
Website: https://pepperpizza.vn/
5. Pizza Cones
Highlights with a pretty small design, Pizza Cones has 2 floors of beautiful space, delicious food and drinks, charming, quite cheap price. However, there are not many pizzas for you to choose. The staff is very enthusiastic always try to satisfy all customer requirements in the most professional way. Snail pizza is the most delicious and attractive dish here.
Currently in the menu of the restaurant, there are many types of Pizza such as Pizza with minced tomato sauce, jambon pizza, shrimp seafood pizza, squid, BBQ pizza, grilled chicken pizza…The restaurant also has many other dishes such as cheese shake potato, humburger, fried chicken bread set…The raw materials used by the restaurant are also bought at the supermarket, not from shoddy goods.
Address: 216 Hai Ba Trung, Le Chan District, Hai Phong
Opening hours: 10:00 – 22:00
Reference price: VND 29,000 – 35,000
6. Vang Khe restaurant
Vang Khe restaurant is located on a big street, opposite the school. So it's quite easy to find but a bit far from the city center. The restaurant has a small and tight space but is decorated in a very cute style. The food and drinks are quite good, especially the mini and large pizza. Husband and wife owner very fast and friendly, very fast food delivery.
The restaurant has a varied menu of "77 – 49" dishes, from mixed rice paper, baked rice paper, butter rolls, caramel, rice shake with cheese sauce, salt chili bread, hotpot…
Address: MG02 Vincom, 1 Lê Thánh Tông, Ngô Quyền district, Hải Phòng city
Hotline: 086.860.4087
Opening hours: 9:00 – 22:00
Reference price : VND 39,000 – 79,000
7. Pizza One
Pizza One is quite nice and cozy, nice view, right downtown so easy to find. Pizza here is always fresh, traditional flavor because the bar only makes after customers request. So customers will have to wait a bit longer. But in return, Pizza One is very enthusiastic. The drinks are quite good.
The space is luxurious and polite. The main dish of the restaurant is pizza. The restaurant often has many promotions such as buying 1 large pizza and 1 small pizza. In particular, the pizza here is thin, very tasty. The crust is crispy. The filling is full. In addition, the restaurant also has Pasta, wine and other drinks.
Address: 11A Tran Phu, Ngo Quyen District, Hai Phong
Opening hours: 09:00 – 22:30
Reference price: 70,000 – 300,000 VND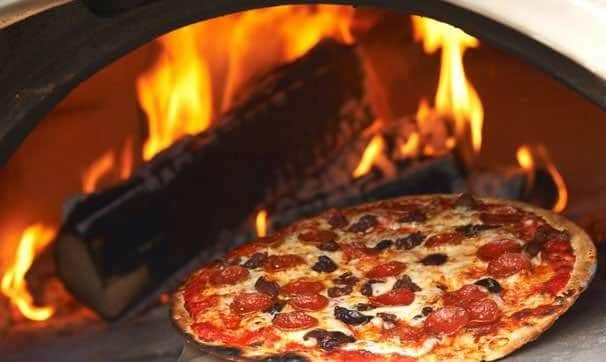 Above is list of 7 best Pizza restaurants in Hai Phong. We hope you will find the suitable one to enjoy our local food.