Ba De Temple was built at the foot of Doc Mountain, facing to sea so this is a place that combines the beauty of the mountain and the sea. On the other hand, Ba De Temple is also a cultural and religious destination that attracts many tourists in and out of Hai Phong City. When you join in Hai Phong day tour: Explore Hon Dau island, you will also visit this attraction.
Address: In the foothills of Doc Mountains, Ngoc Hai Ward, Do Son District, Hai Phong city
Legend of Ba De Temple
For a long time, for Hai Phong people, Ba De Temple has a special attraction by the sacredness of the temple. The legend of Ba De Temple comes from a completely true story. From a distance, you can easily see the mountain which separates from Cuu Long Son mountain range. So the mountain 's name is Doc mountain, meaning lonely. Ba De temple was built at the foot of Doc mountain and the heartbreaking story of her death made the listeners extremely sympathetic.
Trending now... Don't miss
Day tour
Sung Sot, Titop, Luon cave
Cave visit, sightseeing, hiking, swimming, kayaking/boat ride
4, 7, 9, 16 seater
per way 1/multi drops
as per request
You may like Hideaway in Hai Phong with a picnic day trip
A beautiful and talented girl
In the 1700s, in the southeast of Vung Ngoc – Do Son had a young couple named Dao. They had been married for 20 years but had no children. They prayed to God and Buddha to have a child. The wish was fulfilled, the wife was pregnant. the wife gave birth to a daughter whose body was fragrant. Dao and his wife were very happy, thanking God and named their children Dao Thi Huong.
Growing up, Huong became more beautiful, her beauty was famous throughout the region. Huong was very skillful and diligent in everything. God gave her a beautiful voice. Every time she sang, the birds stopped singing, the waves stopped, the sky and sky quieted to listen to her singing. Her voice was intertwined with the earth, heaven, river and sea here.
An unhappy story
Meeting
At this time, Do Son sea area is a very important northeastern gateway of Dai Viet – the former name of Vietnam. This period was during the reign of Lord Trinh Doanh. In 1736, Lord Trinh Doanh came to Do Son beach, and through Vung Ngoc, Lord Trinh heard the clear singing voice of a country girl. The Lord moved with heart and commanded to find out who sang. When meeting, in front of a gorgeous girl who sings beautifully, God felt in love. The two people have been together for a whole month without leaving.
When the Lord returned to his palace, he promised her to come back soon and marry her. Then she got pregnant with Lord Trinh, she waited day and night for news of him without no result. The village heads knew about her pregnancy and forced her parents to pay a fine. Because her family was poor and had no money, they tied her up and sank into the sea. (Ba De temple)
Trending now... Don't miss
Day tour
Sung Sot, Titop, Luon cave
Cave visit, sightseeing, hiking, swimming, kayaking/boat ride
4, 7, 9, 16 seater
per way 1/multi drops
as per request
Result
She struggled and cried, pitying her parents for a day without repayment for nurturing. She cried for her fate, knelt by the beach and turned to face the sky and said, "I am a weak girl. I could not resist the love of the Lord. I also dare not forget the love of my parents and relatives. May God listen to me. When I was submerged in the water, if there was an injustice, let me float three times, let me live. If I lie, this body will sink. "
As expected, when she was submerged in the sea, she emerged three times. Everyone was horrified because her vow had penetrated to Buddha. But she was not released. they wrapped a rope around her in a rock and drowned her to death.
Suddenly strong winds and waves roared loudly, breaking the rope. And those who killed her also died without reason. The villagers said that they had retribution. When the Lord brought the dragon boat to meet her, he heard that she had been wrongly accused. Trinh Lord is extremely miserable. The Lord proved that she was innocent and built a temple for her. The sanctity of the Temple protects the village from pirates and bad guys. Many people come here to visit the temple and everyone mourns for her.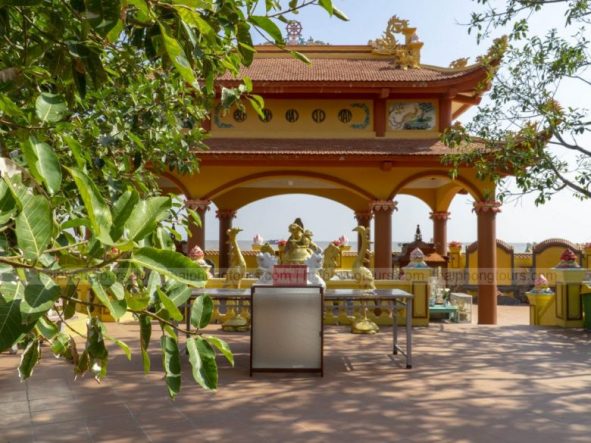 Architecture of Ba De Temple
Temple's structure is simplicity but elegant, nestled in the back of the mountain, facing the immense sea, making a unique construction. The main hall of Ba De Temple is the place to worship Ms.De and her parents. On the left of the main hall is an altar, worshiping King of the Sea. Next to it is the place of worshiping King of the Mountain, King of the Land and sentient beings. To the right of the main space is the altar of the Tam Toa Thanh Mau – the three goddesses who govern the sky, mountains and rivers.
Opposite to the altar of Tam Toa Thanh Mau is the altar of Buddha and Duc Dai Vuong (Tran Quoc Tuan) – The name of the general under the Tran Dynasty. Directly in front of the temple yard is an image of a boat on which there is a Bodhisattva statue. There is a dragon image around it, adding to the sanctity of the place. This place is quite and away from daily life. Coming to Ba De Temple, you will live in a quiet atmosphere with the sound of waves hitting the murmuring rocks as if telling the sad story of a beautiful but unfortunate woman.
Previously, Ba De Temple was just a small temple. The temple is deteriorating day by day. In 1988, Ms. Luu Que Hoa of Ngoc Hai Ward rebuilt a bigger and stronger temple with her descendants. Since the temple was rebuilt, more and more visitors come to visit and burn incense to pray. The money tourists donate for temple is used to build a breakwater in the area of Lady De Temple, making the temple become more and more stable.
Activities
The main festival of Ba De Temple takes place on the 24th, 25th and 26th of the second lunar month every year, contributing to the festive activities in Do Son. According to the legend, Ba De is very sacred, day and night still watching and blessing the fishermen of Do Son beach. Tourists come to Ba De temple not only in the spring but all year round to ask for fortune and to solve all unjustly that they and their family have to suffer if any. People believe that Ba De will bless those who sincerely come here to pray for their wishes.
Ba De Temple is suitable to combine with traveling Do Son Beach. Contact Hai Phong Tours to receive more tour references.
Trending now... Don't miss
Day tour
Sung Sot, Titop, Luon cave
Cave visit, sightseeing, hiking, swimming, kayaking/boat ride
4, 7, 9, 16 seater
per way 1/multi drops
as per request