Hai Phong cuisine is extremely unique with countless delicious restaurants. If you like to enjoy hot pot dishes, Hai Phong is a land of hot pot restaurant for you to enjoy. Let's discover the Best hot pot restaurants in Hai Phong.
1. Uyen Uong Restaurant – Hot pot restaurant Hai Phong
Uyen Uong Restaurant is rated as one of the best hot pot restaurants around Hai Phong. This delicious hot pot restaurant in Hai Phong is highly rated by many dips, meat and vegetables for you to eat comfortably without having to order as many times as other restaurants. The service attitude at Uyen Uong restaurant is also nice. From the owner, the staff to the guards are very enthusiastic and friendly. Coming to Uyen Uong restaurant, you will enjoy the delicious, attractive and eye-catching hotpot set with the most fresh, clean and the most typical ingredients.
Address: 48 Hoang Minh Thao, Le Chan District, Hai Phong
Hotline: 093 6000720
Fanpage: https://www.facebook.com/YenYen-Quang-Quang-236983316691340/
Reference price: from 30,000 to 110,000 VND
Opening hours: 10:00 – 23:00
Also, if you are interested in Korean food, please consider Top 10 Korean food restaurant in Hai Phong city.
2. Ba Tai Restaurant – Fish sauce hot pot and Goby hot pot
Ba Tai restaurant Lach Tray is the second establishment of the restaurant. The restaurant has a large and cool space. The service staff is quite enthusiastic and agile even when crowded. Ba Tai restaurant is famous for its Western flavors. Especially, the dish that makes up the brand of the restaurant is probably goby hot pot with sweet and sour broth. Goby is very fresh so you do not have to worry about the quality. In addition, the restaurant also has grilled shrimp, salt-roasted surface, braised steamed rice, fried crickets…
Goby is rich in protein, low in fat, high in vitamins B2, D, E, PP, full of minerals such as: Ca, P, Fe, S, Fe, P …Goby is a common food but it is very nutritious and cure many diseases. Therefore, you should add goby dish to the menu every day to get good health for you!
Address: Kiot Quan Hoa 1-2-3 (opposite 114 Lach Tray), 53 Lach Tray, Ngo Quyen District, Hai Phong
Hotline: 039700555553
Fanpage: https://www.facebook.com/BaTaiquan53LachTrayCanhBeBoiVietTiep/
Reference price: 100,000 VND – 500,000 VND
Opening hours: 10:30 – 4:30
3. Hot pot restaurant 308 – Hotpot for 1 person
1 person 308 hot pot is a popular restaurant so it's quite simple but very comfortable. Daytime, this is a noodle restaurant. They start selling hot pot from the evening. The space is small but enough seats to avoid heat and squash. The price is very good, only 50,000 VND for a hotpot for one person to eat well. The soup is quite tasty, easy to eat. In overall, this is a good hot pot and cheap. Because it is only opened in the evening, the restaurant is very crowded. So come early to enjoy it.
Address: 308 To Hieu, Ho Nam Ward, Le Chan District, Hai Phong
Reference price: 50,000 VND – 100,000 VND
Opening hours: 06:30 – 10:00
4. Sichuan Deli – Sichuan Hot Pot
This Sichuan hot pot restaurant is also probably for nearly ten years. The first impression is probably the extremely spacious, luxurious space, including a ball house for children to play. The food at the restaurant is diverse. There are about 20 different types of dishes. The platter is plump, spice seasoned well and richly, with a delicious flavor. The food is presented extremely eye-catching. Staffs are courteous, attentive, friendly, and they stand to grill food for guests. The price at the restaurant is quite affordable but you meet the needs of enjoying the right taste. However, the restaurant is very crowded, so if you intend to visit the restaurant, you should book a table in advance for sure.
Sichuan Hot Pot Restaurant will bring you the most interesting experience about this famous cuisine! From the talented hands of chefs who have many years of experience, dishes are skillfully processed, carefully from the selection of ingredients, creative processing so as not to lose the traditional Vietnamese cuisine. Vietnamese Food is skillfully transformed according to Sichuan flavor, the food ingredients of the restaurant are all fresh food of Vietnamese soil, bringing with it the heart of the new processor that can conquer the hearts of customers. Perhaps it is because of this that many customers come to the restaurant to satisfy the delicious and clean food!
Address: 23 Minh Khai, Hong Bang District, Hai Phong
Hotline: 0225 3823 070
Fanpage: https://www.facebook.com/sichuandeli/
Reference price: 20,000 VND – 500,000 VND
Opening hours: 9:00 – 10:00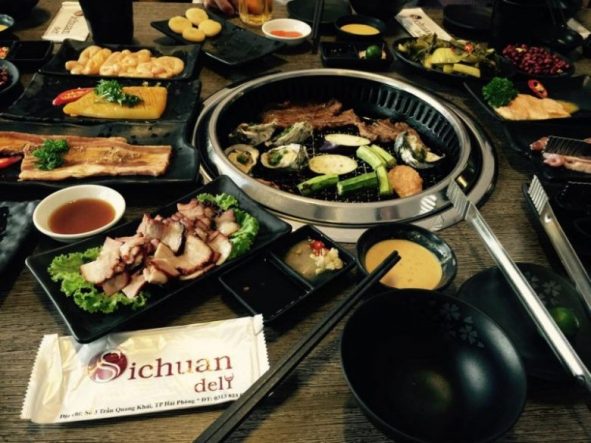 5. Hu Dim – Hong Kong hot pot restaurant Hai Phong
Located on Van Cao Street, Hu Dim hot pot restaurant Hai Phong stands out with a luxurious, spacious, polite and cozy facade and space, making a good impression when entering the restaurant. If you want to change the taste of meals for the whole family, this is really a place to note. The dishes at Hu Dim are all Chinese-style, each dish has a unique flavor but is processed in accordance with Vietnamese taste.
Hu Dim is like blowing a new breeze for port cuisine. Kinds of Dim Sum are sweet and fresh, steamed ribs, duck skin wrapped with rice paper, Beijing roasted duck, fried duck with noodles, fried duck bone with salt, clay pot crab, abalone, scallops, fried rice with egg… very delicious. The restaurant is famous for its extremely good quality fried stir-fried duck, kim bao… Some hot pot dishes that cannot be ignored in Hu Dim are: hotpot, Sichuan hotpot, Yuanyuan hot pot, chili chicken hotpot dangerous…
The art of making Dim sum is shown in the making of crust. To be able to see the pink orange of the shrimp or the green of the vegetable inside, the crust must be very thin, but not torn. Not friable but not too chewy, the piece of cake must be really smooth, less flour, more filling.
Address: 79 Van Cao, Hai An District, Hai Phong
Hotline: 090 159 50 55
Fanpage: https://www.facebook.com/hudimhp/
Reference price: 150,000 VND – 300,000 VND
Opening hours: 9:00 – 11:00
Besides hot pot, the 10 best grilled meat restaurants in Hai Phong may interests if you prefer grilled meat.
6. King hot pot 99 – Australian Beef hot pot restaurant Hai Phong
The location is a bit difficult to find because the city center. It's quite spacious space. Entering the restaurant, you will be quite impressed because there are foam boxes used to grow vegetables. And you will be more surprised when the vegetables are used to make mannequin and hotpot to ensure hygiene and safety. Compared to other restaurants, the price here is a bit high but in return you will enjoy delicious Australian beef hot pot. The beef broth is rich and tasty, very delicious and sweet. The beef here is quite good quality, the barbecue is marinated to taste, grilled soft and fragrant. There are quite delicious beef and cheese rolls. The restaurant also has a sprouts salad that is both delicious and good for health and ensures safety. The staffs are very enthusiastic and owner is quite funny.
Address: 3 Lot 28A Lê Hồng Phong, Hải Phòng
Hotline: 098 9926609/0126 8789556
Fanpage: https://www.facebook.com/VUA-L%E1%BA%A8U-99-Buffet-l%E1%BA%A9u-b%C3%B2-%C3%9Ac-99k-1769661049780523/
Reference price: about 100,000 VND
Opening hours: 11:00 – 14:00 & 18:00 – 23:00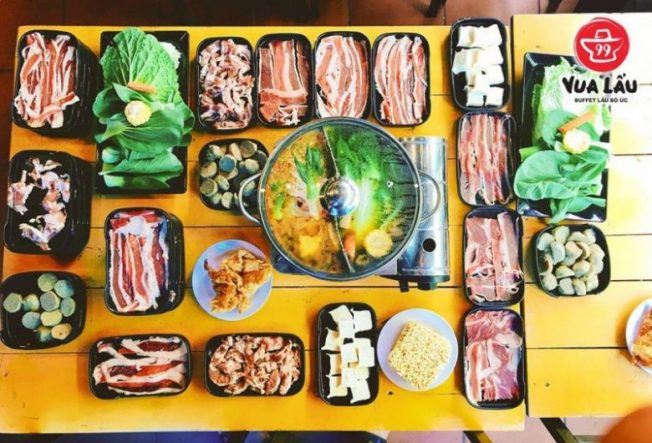 7. King BBQ buffet
King BBQ buffet is a popular restaurant chain among young people in Saigon and Hanoi and now available in Hai Phong. There are always people waiting in line to buy. King BBQ is famous for its delicious and tasty Korean hot pot dishes and King BBQ is also known as the Korean barbecue king, not only famous for the quality of hot pots here that King BBQ has never made. King BBQ always ensures diners a fresh and clean food source with guaranteed food safety and hygiene so you can rest assured that coming here to eat.
Address 1: 4th floor, Vincom Hai Phong, No. 1 Le Thanh Tong, Ngo Quyen Dist. Hai Phong
Address 2: Floor 1, Big C Hai Phong, Lot 1/20 New Urban Area, Nga 5 Cat Bi Airport
Fanpage: https://www.facebook.com/King-BBQ-Buffet-Vincom-Hai-Phong-700444426782553/
https://www.facebook.com/KingBBQ.VN/
Hotline: 031 2299 886 – 022 5883 1112
Reference price: 166,000 to 300,000 VND
8. Hp3 BBQ
Hp3 BBQ is probably too famous in Hai Phong. The Hp3 BBQ is the the first smokeless hotpot restaurant in Hai Phong. With a diverse menu and clean food sources imported from the US, Australia, Japan. It inherits all dishes with flavors from Japan and Korea. With cool and spacious space, you can choose this place as a weekend destination.
Address:
2nd floor, 107 Dien Bien Phu, Hai Phong
1st Floor, Big C Supermarket, Hai Phong
Hotline: 0225. 3 821430 – 0225. 3 246772
Fanpage: https://www.facebook.com/Hp3bbq/
Reference price: 100,000 to 300,000 VND
Above is list of Best hot pot restaurants in Hai Phong city. Please come and experience!