Best places to visit in Hanoi capital is quite popular topic. But today, Hai Phong Tours would like to resum some main tourist attractions here. Then it is more convenient for travelers to explore Hanoi.
Overview of Hanoi
Hanoi is capital of Vietnam and being the second largest city. The population is around 7.7 million people as of 2018. The capital covers an area of 3,328.9 square kilometres. Located in the central area of the Red River Delta, Hanoi is the commercial, cultural, and educational centre of Northern Vietnam.
Tourists coming to Hanoi are generally choose the Old Quarter areas to visit and stay. The area is in the North of Hoan Kiem district with small street blocks and alleys. Most of the streets in Hanoi Old Quarter have name with "Hàng" first then product to sell. For example: Hàng Bạc – silver, gold stores.
It would not take too long time to explore Hanoi Old Quarter. Basically, people will need to spend a day for Hanoi city full day tour or 2 days  are enough. Here are main tourist attractions to visit:
Best places to visit in Hanoi
1. Ho Chi Minh complex
Ho Chi Minh was president of Vietnam. He dedicated his life to save the country from invaders. To visit this complex, visitors will go from the entrance at 19 Ngoc Ha, Ba Dinh.
What to see in Ho Chi Minh complex
Ba Dinh square
Ba Dinh Square is the largest square in Vietnam, located on Hung Vuong Street and in front of Ho Chi Minh Mausoleum. This place has preserved many imprints of great events of the Vietnamese nation. In particular, on September 2, 1945, at this Square, President Ho Chi Minh read the Declaration of Independence that gave birth to the Democratic Republic of Vietnam.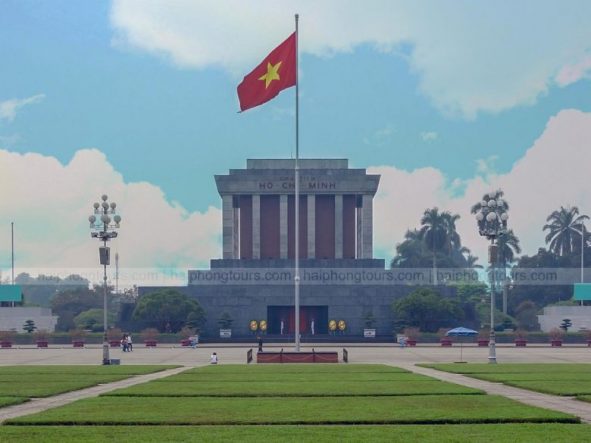 Ba Dinh square
Ho Chi Minh mausoleum
Ho Chi Minh Mausoleum is an important place of pilgrimage for many Vietnamese. A traffic-free area of botanical gardens, monuments, memorials and pagodas, it's usually crowded with groups of Vietnamese who come from far and wide to pay their respects to 'Uncle Ho'.
Ho Chi Minh Mausoleum
Time to visit
Following to Ho Chi Minh mausoleum administration (https://www.bqllang.gov.vn), date to visit is on every moring of Tue, Wed, Thur, Sat, Sun. (Not available on Mon and Fri).
From 01 Apr to 31 Oct
7:30 – 10:30
Sat, Sun, holidays: 7:30 – 11:00
From 01 Nov to 31 Mar
8:00 – 11:00
Sat, Sun, holidays: 8:00 – 11:30
Note: If 19 May, 02 Sep, 1 of Tet holiday are on Mon or Fri, mausoleum will still be available to visit.
Ho Chi Minh stilts house
It is a small 2 storey house built of wood in front of the Presidential Palace in Hanoi, where the leader Ho Chi Minh spent the last part of his life.
Ho Chi Minh stilt house
One Pillar Pagoda
The pagoda was built in 1049, under the reign of Ly Thai Tong. But at that time, it was a group of structures consisting of a pagoda and a tower built in the middle of a square lake. The whole group was officially called Diên Hựu (long lasting happiness) pagoda and Liên Hoa (lotus) tower, but the tower has traditionally been called the One-pillar pagoda.
One Pillar Pagoda Hanoi
Presidential Palace
This building was designed by a German architect for a French Indochina Governor. The construction project started in 1900 and completed in 1906. It was the most fussy and expensive construction at that time. Rock, tile and brick were tailor-made at some factories in Vietnam while fir, window bar, glass… were imported from French and other European countries.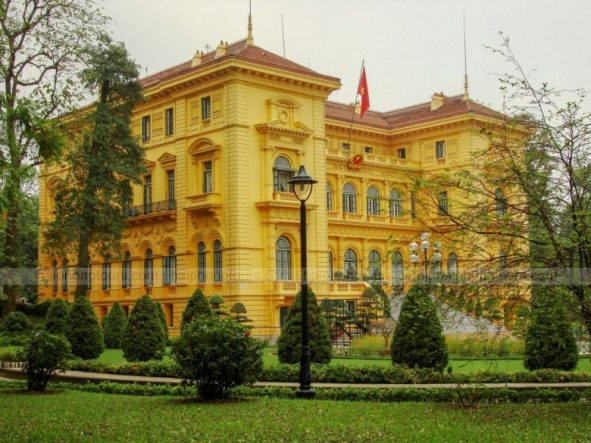 Ho Chi Minh Presidential Palace
2. Temple of Literature
Temple of Literature is at 58 Quoc Tu Giam, Van Mieu, Dong Sa, Hanoi, Vietnam. The temple was built in 1070 and was reconstructed during the Tran dynasty (1225–1400) and in the subsequent dynasties. For nearly two centuries, despite wars and disasters, the temple has preserved ancient architectural styles of many dynasties as well as precious relics. Major restorations have taken place in 1920, 1954 and 2000.
Opening days: Monday, Tuesday, Wednesday, Thursday, Friday and Sunday
Opening time: In summer ( From April to October) : 07:30-17:30; In winter (From October to April) : 08:00-17:00
Entrance fee: 
Adult: 30,000 VND for Vietnamese and foreigners
Students: 15,000 VND (ID, students card required)
Children under 15: Free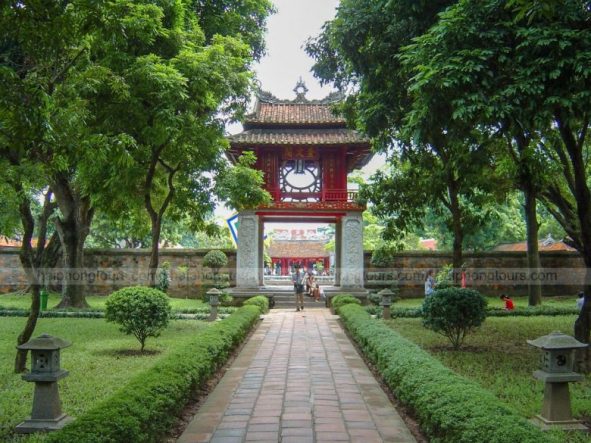 Hanoi Literature Temple
3. Tran Quoc Pagoda
Tran Quoc Pagoda is the oldest of its kind in Hanoi, dating back to the 6th century during the reign of Emperor Ly Nam De Dynasty (544 – 548). The Buddhist shrine has undergone several changes throughout the years, particularly its renaming from An Quoc to Tran Quoc (protecting the country) by Emperor Le Huy Tong in the 17th century.
Tran Quoc Pagoda Hanoi
4. Ethnology Museum
Vietnam Museum of Ethnology in Hanoi offers an insight into the 54 different ethnic groups of Vietnam in an effort to preserve cultural heritage and promote socio-cultural diversity within the country.
Opening Hours: From 08:30 – 17:30, closed on Mondays
Location: On Nguyen Van Huyen Street in the Cau Giay district of Hanoi about 8km away from the centre of town.
Hanoi Ethnology Museum
Hoan Kiem Lake, also known as Sword Lake (Lake of the Returned Sword), has a total area of 12 hectares with the north – south length of 700m and the east – west width of 200m. The Hoan Kiem Lake is surrounded by streets in Hanoi Old Quarters including Le Thai To street and Dinh Tien Hoang street in the east, and Hang Khay street in the south.
The lake is famous for The Huc bridge in Red color. And Ngoc Son temple is place to keep Tortoise saint mummy.
6. Water Puppet show
To see water puppet show, you can got to 57B Đinh Tiên Hoàng, Hàng Bạc, Hoàn Kiếm, Hanoi to buy ticket. This is there official website: http://thanglongwaterpuppet.org/
The world-famous Thang Long Water Puppet Theatre in Hanoi has its roots in an art form that dates back to the 11th century. The tradition of water puppet theatre stems from a time when rice paddy fields were flooded and villagers would make entertainment by standing in the waist-deep water with the puppets performing over the water.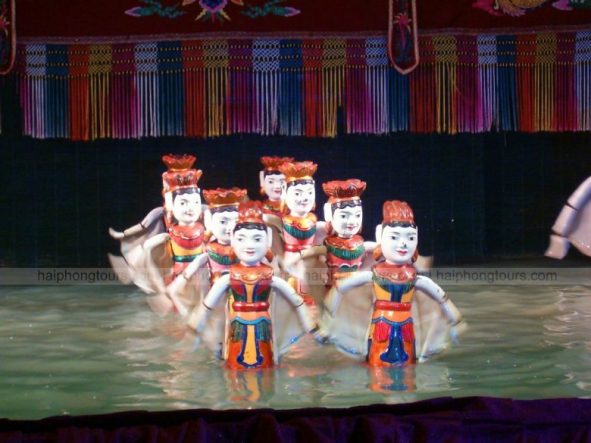 Water Puppet show Hanoi
7. Quan Thanh pagoda
Located on the shore of the Truc Bach lake in Hanoi is the Quan Thanh Pagoda, an 11th century Taoist temple dedicated to Tran Vu, a principal Taoist deity. The temple was built during the reign of King Li Thai To, between 1010 and 1028. Since then, the structure has undergone several renovations. The last restoration of the temple was in 1893.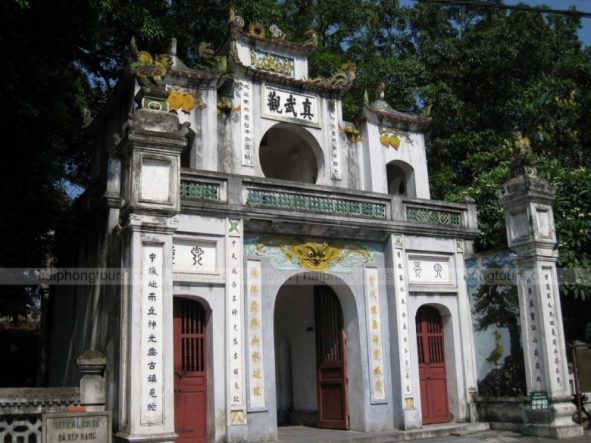 Quan Thanh pagoda Hanoi
8. Thang Long Imperial Citadel
Situated at the heart of Hanoi, the Central Sector of the Imperial Citadel of Thang Long is an outstanding place of interest not only for the capital city but also for the country as a whole. The site is one of the ten special national heritage sites proclaimed by the Prime Minister in 2009 and was inscribed on the World Heritage List by UNESCO's World Heritage Committee in 2010. Its Outstanding Universal Values are reflected in its historical longevity, its continuous role as a seat of power, and its multiple cultural layers.
Thang Long Imperial Citadel
9. Ô Quang Chưởng
Built in 1749, this is the last remaining gateway to the cellars around the city. This place was called O Quan Chuong to commemorate the military leader who sacrificed himself when fighting the French in that place in 1843. This gate once again played an important role in the fight against France from 1946 to 1947.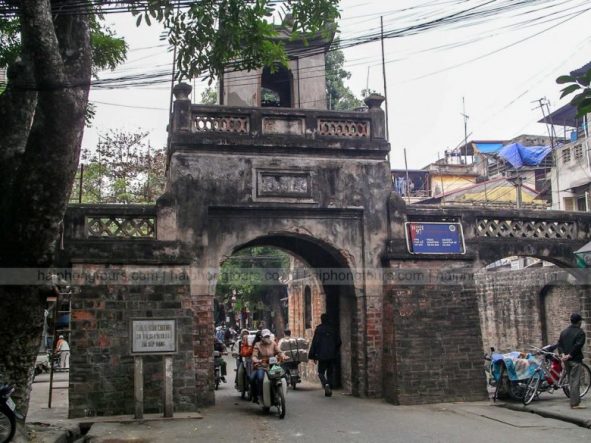 O Quan Chuong Hanoi
Here are Best places to visit in Hanoi that Hai Phong tours would like to introduce to you all. We hope you would have the best time in Vietnam. Happy travel!