When talking about Quang Ninh, people often think of the majestic beauty of Halong Bay, Co To Island, Quan Lan island. Those are destinations that have become extremely famous. But few people know Binh Lieu Quang Ninh Vietnam. And in this article, Hai Phong Tours would like to share Top 10+ Best travel experiences about that place. Let's go!
Where is Binh Lieu Quang Ninh Vietnam?
If you just hear the name, many of you will immediately think of a wild land, located in a certain border province. But actually, Binh Lieu is a district located at the eastern gate of Quang Ninh province. How Hanoi up to 270 km, from the city. Ha Long 108km but this place still becomes the ideal destination for Binh Lieu Quang Ninh trips for many young people.
Contrary to the beauty of Halong Bay, Co To Island, Van Don, Binh Lieu tourism makes visitors miss the lyrical mountain style. The highlight of Binh Lieu tourism is probably Khe Van waterfall, anise forest or terraced fields.
Binh Lieu mountain – A miniture Sapa
Not owning a beautiful location like Ha Long Bay, Binh Lieu is just a mountainous district but has an equally attractive attraction next to other destinations. Bring in the beauty of wild nature, where there are majestic mountains, terraced fields like Sapa and poetic fields. Binh Lieu Quang Ninh came into people's hearts gently and simply like that.
Not only that, if you think of Sapa with pictures of highland babies, dressed in brocade costumes, holding flowers in hand, asking for candy on the roadside, Binh Lieu tourism has a collection of beautiful waterfalls. beautiful and memorable milestones. In which there are milestones of extremely important significance are 1300, 1302, 1305, 1327. For those who are passionate about conquering, Binh Lieu Quang Ninh is a destination not to be missed.
Best time to visit Binh Lieu Quang Ninh
Binh Lieu in spring – time of festivals
Festivals in Binh Lieu usually focus on the beginning of the year. This is also an ideal time to travel Binh Lieu Quang Ninh. It is very suitable for those who love the bustle and want to understand more about the culture and people in Binh Lieu.
In Binh Lieu, there are many festivals, big and small. But the most attractive and scale is the Dinh Luc Na festival (January 16-18), the Soong Co singing festival (March 13 on lunar calendar) or "abstaining from the wind" day (4/4 lunar calendar )… And the new rice festival in Binh Lieu Quang Ninh takes place in the October of the lunar year.
At this time, local people are busy preparing to prepare sticky rice with ginger leaves to celebrate a rich golden season. This is also an opportunity for everyone in the family to gather and reunite at the end of the year.
However, according to Binh Lieu travel experiences, you should choose other times if you want to immerse yourself in the beautiful scenery, capture vivid photos. In particular, summer is an ideal time to visit dozens of attractive destinations such as Khe Van waterfall, Tien slot, terraced fields and colorful flower fields.
Binh Lieu in March, April – Trẩu Flower season
If Moc Chau in March and April is full of white flowers, Binh Lieu Quang Ninh makes visitors ecstatic when immersed in a beautiful, white flower season. That is Trau flower.
The people here grow Trau not only for blooming, but mainly for timber, seeds and bark for medicinal purposes. Therefore, Trau tree has a great meaning in the life of the Binh Lieu people. When the season comes, Trau flowers bloom throughout the villages. But perhaps to take pictures, you will go to Luc Hon commune, Dong Tam or go to the West, to the most beautiful inter-communal roads.
Binh Lieu in July – Harvest season
Although not as wide and eye-catching as the terraced fields in the northwestern provinces such as Hoa Binh, Son La or Lao Cai, the golden season in Binh Lieu Quang Ninh is still very special, bringing a feeling of freshness. The terraced fields glowed a whole sky, stretching under the valleys or mixed by the winding hillsides.
Talking about the ripe rice season in Binh Lieu there are 2 seasons. One season is in July and one season at the end of October. The best place to see ripe rice here is Khe O, Cao Thang, Ngan Pat village on the western slope of Siam mountain. Or coming to the southern slope of Phieng Che mountain, you will see yellow rice rugs covering the villages of Song Mooc and Khe Tien located in Dong Van commune.
During your trip to Khe Van waterfall you will also have the opportunity to see the terraced fields, located in Huc Dong commune.
Binh Lieu in October, November – Reed season
In order to fully admire the beauty of reed grass, remember to travel to Binh Lieu Quang Ninh in October and November when this place has begun to stand out by the white color of reed flowers. What is more wonderful is to have fun by motorbike, directly immerse yourself in the field, and take beautiful pictures.
Along the roads running straight to the landmarks, especially 1305, the landmark located at the top of the highest mountain in Binh Lieu Quang Ninh, you will see a picturesque landscape of reed grass in the season. They stretch and cover the two sides of the "dinosaur's backbone".
Also from landmarks 1300, 1302, 1305 attracts many young people to check in and explore.
Binh Lieu in December – Sở Flower season
When Binh Lieu gradually turned to winter, when the cold winds began to overflow, it was also the time when So flowers bloomed in a forest. Flower Department is quite similar to camellia. But the larger one, has white wings with a golden stamen as an accent in the middle. The flower department is beautiful, but it is even more meaningful when people here plant trees mainly for protection forests.
The seeds of the So flower are pressed for cooking oil. Therefore, it also brings a stable source of income for people in Binh Lieu.
And even more special, every year until mid-December, people again organize the So flower festival in Binh Lieu Quang Ninh. It is also a great festival of the year. The performance shows bold cultural identity of the region. The festival also has the participation of an artist group from China. This is probably an opportunity for both locals and tourists to come to exchange culture and compete with each other.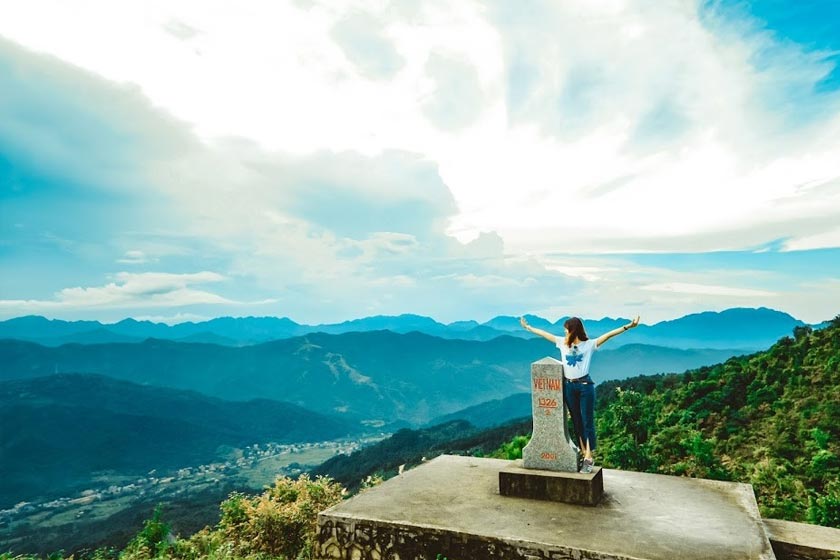 Hanoi to Binh Lieu Quang Ninh
This is a deserted place, not much developed in tourism, so you should consider transportation. To get to Binh Lieu Quang Ninh, you have 3 options: motorbike/car, plane and bus.
1. Travel to Binh Lieu Motorbike/car
If you choose to ride a motorbike, the simple and easiest way to get to Binh Lieu Quang Ninh is to go to Ha Long first. From here, you just go along NH18, to Tien Yen, follow NH18C, you will reach Binh Lieu district. As for those who go by car, you can choose to follow the direction of Hai Phong expressway, to Uong Bi and follow the same route as above.
Although the roads to Binh Lieu have now been renovated, they are very beautiful. From Ha Long city to Binh Lieu, it is only over 100km, but you also need to know the road and be healthy. In addition, once you choose to ride a motorbike, you should go to Binh Lieu Quang Ninh the night before so that the next day you have enough energy to start your journey.
2. Travel to Binh Lieu by bus
If you want to save energy and ensure safety, you should choose to go by bus. Departing from Hanoi, you can go to Luong Yen bus station. There will be a bus to pick you up to Binh Lieu. Hung Long passenger car is currently operating the Hanoi – Binh Lieu Quang Ninh route with the price of 170k / ticket.
In addition, you can choose to go to Ha Long by bus. Then rent a car right here to move to Binh Lieu Quang Ninh by yourself. If you want to go to Mong Cai, you can go to Mong Cai first, then ride a motorbike to Binh Lieu.
3. Travel to Binh Lieu by air plane
For those of you from Saigon, Da Nang or other provinces, just book a flight ticket to Van Don airport. Then take the bus back to the city. Ha Long. Then, you can take a bus from Bai Chay – Binh Lieu or rent a motorbike here to come to Binh Lieu district.
Haiphong to Binh Lieu Quang Ninh
After traveling to Hai Phong, if you want to go to Binh Lieu, it is also a reasonable plan. Because from Hai Phong to Binh Lieu there is only a distance of about 150km. If you move continuously by car, it only takes 2.5 hours. Please check private car transfer service provided by Hai Phong Tours.
From Hai Phong, the easiest way to get to Binh Lieu is to cross Bach Dang Bridge, follow the highway Ha Long – Hai Phong to Dai Yen. Then, go to Highway 18 in Cam Hai, City. Cam Pha, continue on Highway 18 to Vo Ngai. Finally, just follow Hoang Can Street to get to Binh Lieu.
Transportation in Binh Lieu Quang Ninh Vietnam
As a mountainous district of Quang Ninh, bordering the border of China, Binh Lieu's main topography is hills and valleys. With such terrain features, you can only choose from a motorcycle or a private car. Because Binh Lieu tourism has not really developed yet, it is very difficult to find shuttle service or bus service.
To have a smooth and safe journey, you should prepare a very good motorbike, good health and most importantly perseverance. Because to conquer Binh Lieu, checking in milestone 1305 or "dinosaur backbone" is not easy.
To stay in good health, you can choose a simpler, more compact option than taking a bus to get there and then renting a motorbike right in Binh Lieu. Most young people today choose to go like this. But if you decide to go long distances, stay for many days and plan to conquer dangerous locations such as Cao Ly mountain, Cao Xiem, dinosaur spine, you should prepare a motorbike that is not good.
If you only go to the waterfalls, villages or landmarks, you just need to rent a car in Binh Lieu, no need to ride a motorbike from Hanoi or Hai Phong.
Here are some cheap, quality motorbike rental in Binh Lieu:
Motorbike rental A Pi: 033 8989 666
Chung motorbike rental: 0966 545 166 or 0888 745 166
Where to stay in Binh Lieu Quang Ninh?
Binh Lieu is a mountainous district that has not been visited by many people. Tourist services have just recently emerged. That is why the accommodation system is not much. Accommodation here is mainly homestay, mainly concentrated in towns and villages. However, with a relatively unspoiled land, homestay is very popular, with low cost and the opportunity to experience new things.
You can find a certain homestay, freely learn and explore the beauty of the life and culture of the ethnic people.
Hotel in Binh Lieu
1. Binh Son Hotel
This is a 3-star hotel and also the only hotel in Binh Lieu, located right in the town very easy to find. The rent per room ranges from 250-350k / night.
Binh Son Hotel has 30 rooms in all, has all the amenities in the bedroom. The hotel also has a restaurant area for dining. Binh Son will be a suitable place to stay for those who want a good sleeping place, full of amenities and a convenient location to move to the surrounding locations.
Address: Binh Quyen area, Binh Lieu town, Binh Lieu district
Guesthouses in Binh Lieu
If you are looking for a cheap accommodation in Binh Lieu, you can check out some of the following guesthouses:
Four Seasons Guest House
Address: Hoanh Mo Commune, Binh Lieu District
Hong Le Guest House
Address: Hoang Can Street, Binh Lieu Town, Binh Lieu District
Hoa Yen Guest House
Address: Binh Cong 2, Binh Lieu Town, District Binh Lieu
Homestays in Binh Lieu
Although not really as beautiful and impressive as the homestays in Sapa and Moc Chau, Binh Lieu still has highly appreciated homestays.
1. A Dao Homestay
If you want to have a sleeping experience on stilts, get up early and open the door to see reed field blooming in the whole hill area, come to A Dao Homestay.
Designed quite simply, the materials that make up the homestay are mostly familiar bamboo, neohouzeaua and wood. Staying here also gives you the opportunity to enjoy Binh Lieu specialties such as pork armpit, wild chicken, …
Address: Phat Chi village, Dong Van Commune, Binh Lieu District (right next to landmark 1327)
2. Hoang San Homestay
Traveling to Binh Lieu, one of the accommodation that many backpackers come is Hoang San homestay. This homestay is cheap but has a shared bedroom for large groups. If you just want to find a place to sleep overnight, do not require aesthetics or look around, come here.
The first impression here is the words "Binh Lieu – an unlimited place of love". That is probably the message of the homestay owner for distant guests. No need to go far, the homestay owner cooks dishes such as pork armpits, chicken is very delicious. In particular, from the homestay very close to moving to Hoanh Mo border gate, touching the landmark …
Address: Dong Thanh village, Hoanh Mo commune, Binh Lieu district
3. Mooc river homestay
Mooc river homestay offers you the opportunity to immerse yourself in the fresh mountains and forests, experience the unique customs, habits and peaceful life of the Dao. Mooc river homestay is designed in a stilt house, but still very modern, with rooms for solo travelers, couples and large groups.
Address: Song Mooc village, Dong Van commune, Binh Lieu district
Places to go in Binh Lieu Quang Ninh Vietnam
1. Cao Xiem mountain
With the height of 1,429m above sea level, Cao Xiem mountain is considered as miniature "Great Walls". With a rare height and wild beauty, Cao Xiem mountain is chosen by many travelers as the conquest point for their journey to Binh Lieu. Being able to check in at Mount Siam requires perseverance and good health. The journey to conquer it is estimated about 7km, but mainly very dangerous trails.
From Binh Lieu town, you just need to find Ngan Meo village, park your motorbike here and start walking up the mountain. When you reach a height of 1,000m, you will begin to see a sharp change in the climate, lower temperatures, foggy on overcast days.
The most interesting thing on Mount Siam is the appearance of stone walls, located along each mountain range, associated with a story about a couple who loves each other but is made the way back by their family.
2. Binh Lieu ancient village
An in the middle of the mountains and forests of Binh Lieu, there is an old village, following the followers who often call it "Hoi An ancient town" miniature, a destination depleting the beauty and quintessence of people. ethnic Tay. And more specifically, if you look from a distance, you will see that the houses here are like a version of Hoi An. From the old, mossy roofs to the idyllic, even deeper cultural lifestyle of the ethnic people here.
Hidden in the mountains and forests of Binh Lieu, there is an ancient village. People still call it "Hoi An ancient town" miniature. This is a destination depleting the beauty and quintessence of the Tay ethnic group. And more specifically, if you look from a distance, you will see that the houses here are like a version of Hoi An. From the old, mossy roofs to the idyllic, even deeper cultural lifestyle of the ethnic people here.
3. Na Lang bridge
Traveling to Binh Lieu, there is a very beautiful and strange check-in point, which is the bridge called Na Lang. This bridge connects Na Lang village with Binh Lieu town, located right NH18. At this point, you can save a picture to make memories of your trip. But remember that the bridge is only allowed to walk because it has deteriorated.
4. Dong Van love market
Talking about fair markets, people will think only of the famous "love markets" in ethnic minority areas such as Khau Vai Love Market in Ha Giang, Sapa Love Market. But in Binh Lieu Quang Ninh, there is still a place called a love market. It is special in that there is only one market in a year that takes place on the day of "abstaining from the wind", which is the 4th of April of the lunar calendar.
The market takes place from early morning until evening. The love market space is located in Dong Van valley, Cao Ba Lanh mountain, Dong Van commune. Like many other love markets, Binh Lieu love market is a place for beautiful men and women to find mates. They started the fun with yeast. After that are the exchange performances. At sunset, when the sun goes down the mountain is also the time when the love market dissolves.
5. Dinosaur backbone
Called by the traveler with the above, especially the dinosaur's backbone, the Binh Lieu range located in Binh Lieu town possesses a very unique topographic structure. It is a narrow, narrow trail running along the top of Binh Lieu mountain, connecting the landmarks to form a crooked spine, extremely dangerous.
Standing from landmark 1305 located at the highest position of the "dinosaur's backbone", you can capture a whole beautiful wild mountain forest with winding paths appearing in the clouds. This is also the ideal location to enjoy the panoramic view of the white and white winter wings on both sides of the hillside.
Because of this rarity, the "dinosaur backbone" has become a famous tourist destination in Binh Lieu Quang Ninh, which is mentioned by many people. Now, people have built more concrete railing, to ensure the safety of visitors.
6. Van Waterfall
Located in Huc Dong commune, Van Waterfall is the most prominent Binh Lieu tourist destination. From the center of Binh Lieu town, it takes a distance of about 12km to the Southeast to reach Van Waterfall. This is a beautiful 3-storey waterfall, like a white silk hidden between majestic mountains and forests.
Van Waterfall welcomes you by the pure beauty, with a length of nearly 100m divided into 3 distinct layers of water, each floor is adorned with its own beauty. Because it is located in the middle of wild mountains and forests, the climate here is very fresh and airy. Van Waterfall will take you to cool pools of water, a poetic scene with the sound of flowing streams, the chirping of birds.
7. Luc Na communal house
Known as the only house located in Binh Lieu district, Luc Na communal house has a history of construction quite long ago, from the Hau Le period. The temple worships Mr. Hoang Can, a leader who had the merit of leading our army to defeat the invading enemy in the North. Every year, this place still regularly holds the Luc Na communal house festival, on January 16, Am Lich.
8. Cao Ba Lanh mountain
Along with Cao Xiem mountain, Cao Ba Lanh mountain is one of the most beautiful and famous mountains in Binh Lieu Quang Ninh. At the top of the mountain, there are two natural lakes, a small lake, and a large lake with an area of up to 1ha. The special thing here is that it is associated with the magic rock.
According to the local people, when knocking on the rocks, suddenly creating a resonant sound, like the mysterious voice of the gods here. The rocky beach is not only located on the mountainside but also in the lake bed, mixed with forests.
9. Keo Lan Mountain
Located at an altitude of 1,200m above sea level, Keo Lan Mountain is a Binh Lieu tourist destination in Phat Chi village, Dong Van commune, Binh Lieu district. To reach Keo Lan Mountain is not easy, since from town, you have to find the way to Dong Van market, to the road 1327. After that, meet the medicinal reserve, go about 1km and send car at people's house, walk up the mountain, it takes about 30-40 minutes more.
Keo Lan Mountain is famous for its black rocks of all shapes and sizes, creating a mysterious "black rock paradise". Going through the roads, the purple myrtle flowers blooming in full bloom as adorn the still beauty of Binh Lieu mountain and forest. In particular, you can choose to take out the protruding rocks to record virtual live pictures. You can enjoy the ripe apricots when in season, both a cooling fruit and very healthy.
10. Song Mooc village
If Binh Lieu is compared to a "miniature Sapa", you will clearly feel it when you arrive at Song Mooc village. Located in the middle of the mountain of Dong Van commune, Mooc river village has a quiet beauty in the middle of mountains and forests, surrounded by large green terraced fields and far away are anise forest, fragrant cinnamon.
Song Mooc village is also home to the majority of Dao people, where they still retain their unique cultural features, which have been around for a long time. It is the same rustic and simple thing that has made many curious and curious visitors want to even try it once. It also attracts tourists by the Mooc River waterfall, a popular tourist destination in Binh Lieu Quang Ninh and attracts tourists.
Landmarks in Binh Lieu
Traveling to Binh Lieu Quang Ninh, if you have gone to all other places, but ignore the landmarks here, it is not complete. Stretching over 43km of transsexual roads in Binh Lieu has a total of 68 fashion columns. Among them are many beautiful and sacred landmarks. 1300, 1302, 1305, 1327 are all milestones with very special significance. Depending on the time or season, you can choose the most appropriate landmark.
1. Landmarks 1300, 1302: From the town, you run towards Hoanh Mo, located on Highway 18C about 3-4km, then you must go to Ngan Chuong village. Then, turn left from landmark 61 and go about 7-8km.
2. Landmark 1305: This can be said to be the landmark with the most beautiful position, because it is located right on the place extremely famous for travelers, it is the "backbone of the dinosaur". This is also one of the two landmarks at the highest position, not everyone can touch. To go to this landmark, you can move along the following path:
From landmarks 61 and 68 in Ngan Chuong village – going towards landmark 68 – running to Hoanh Mo (range 5-6km) – see silver pointing up to milestone 1305. This is the 1st way, to where you have to cross your spine. The dinosaurs can then reach the mold, it takes about 2 hours.
The second way, you go from Hoanh Mo border post, then ask the border guard, they will show you the entrance to landmark 1305, on the border patrol road, search on the map to come.
3. Landmark 1327: To go to this landmark, you ask for directions to the Hoanh Mo border station, ask for the way out 1327, they will show you the way. From here, running straight 20km towards Dong Van market, Binh Lieu district is coming. On the way passing, you will encounter many other interesting little landmarks.
Important notes when travel to Binh Lieu
Bring a thin coat to wear in case the cold air suddenly spills over the villages. In addition, if you have a long trip to Binh Lieu, you should also prepare medical bandages, wind oil, insect repellent, stomach pain medicine, antiseptic, … to use when needed.
In the journey of conquering the dangerous places, in the high mountains you should stock up with a few snacks, because there is very difficult to find eateries. Or for those who travel Binh Lieu by motorbike, remember to fill up with gas and keep some gas because there are very few gas stations in Binh Lieu. You should come to Binh Lieu during the beautiful white cleaning season.
Although Binh Lieu is still quite untouched, it also attracts a large number of tourists during the peak seasons, especially festivals and reed seasons. Therefore, you should contact to book a room 1 month in advance because in Binh Lieu there is still quite limited room, hotel, homestay.
To ensure the safety of your trip, you should not use alcohol or alcohol. Although the terrain in Binh Lieu Quang Ninh is not as difficult as Ha Giang, there are also very long and winding arches, especially the border patrol road.
If you intend to visit and experience in the Dao inhabited villages, you should note that they have a custom of worshiping dogs. So should absolutely mention the problem of cooking dog food.
Binh Lieu has recently become an attractive destination, exclusively for those who love to find peaceful mountain beauty. But also that is why along the roads to the landmarks are more and more scattered, from unconscious young people, they eat and discharge on the spot. This also worsens the pristine and beautiful scenery of Binh Lieu Quang Ninh. Each person needing a little hand together will contribute to creating a fresh, more worthy Binh Lieu.
Conclusion
Above is Top 10+ Best travel experiences about Binh Lieu Quang Ninh Vietnam. If you find this article helpful, please leave your commet and share it to your friends to support haiphongtours. com. Thank you for reading!