Calypso Cruise Haiphong is a new product of Oriental Sails Jsc. This company is also the owner of Orientail Sails 1, 2, 3. This steel cruise is designed in a modern style, inspired by the beauty of the nymph Calypso. You will have an exciting trip to Lan Ha Bay, Halong. Let Hai Phong Tours tell you more about this 4-star cruise.
General information of Calypso Cruise Haiphong
Currently, there are 2 Calypso cruises with the same name numbered 1 and 2. Both are 4 star grade and aimed at the mid-range customer market. The name Calypso is the name of a Greek nymph. The designer has inspired her beauty to design delicate lines and angles.
Safety factor has always been at the forefront from beginning. Calypso Cruise Haiphong is designed with a double deck and double bottom. Therefore, the safety is almost absolute. Calypso Cruise is colored in white, exuding the beauty of the Calypso.
Calypso Cruise Haiphong departs from Got harbor, Haiphong. The check-in time is from 11:45 am.
Rooms in Calypso Cruise Haiphong
Calypso Cruise Haiphong has 20 rooms to serve tourists. The rooms are designed in the oriental style, classic but modern, spacious and airy. The deep brown color of wood is still the main interior color of the cruise, creating a very cozy and relaxed feeling. With large glass windows, you can admire Lan Ha Bay, Haiphong in the most comfortable way.
To give tourists private relaxing space, 8 rooms in Calypso cruise Haiphong are designed with a private balcony on the 2nd floor. The remaining rooms are on the 1st floor. Each room has an average area of 12.5 square meters. The designer intentionally leaves such a room area to both save space and make your room more cozy.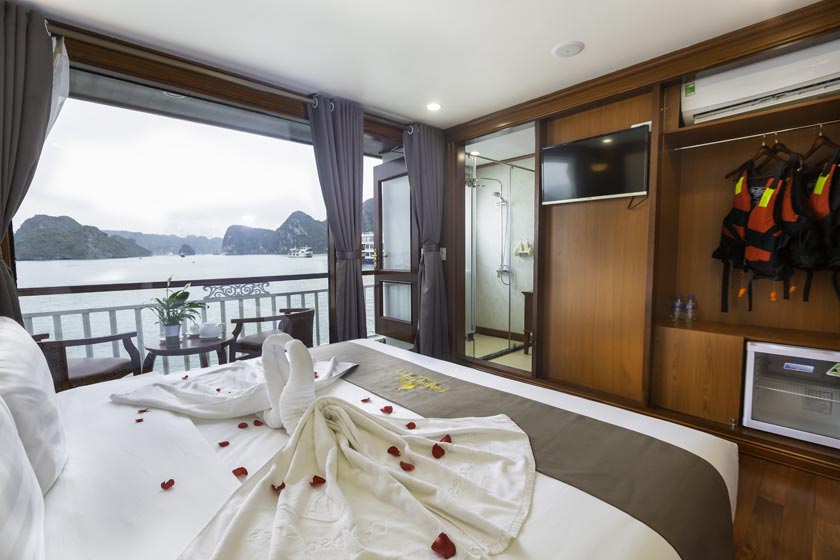 There are different types of rooms on board to meet the different needs of tourists.
Family room: This is actually 2 separate rooms next to each other but there is a door in the middle. This door will normally be locked. If the family rents both rooms, the door will be opened.
Deluxe Room: Deluxe rooms are on the first floor and don't have a private balcony.
Deluxe Room with Balcony: This room is located on the 2nd floor of the cruise and has a private balcony.
In all rooms are equipped with the same equipment including:
Wardrobe
Heater
Free 2 bottles of water for 2 people per day
Air-conditioner
Slipper
The toiletries such as towels, face towels, shower gel, shampoo, toilet paper
Safety equipment such as life jackets, fire extinguishers, fire escape hammers

Rest Rooms in Calypso Cruise Haiphong
Sundeck on the Calypso cruise Haiphong
The sundeck on the Calypso cruise Haiphong is fully equipped with sun loungers, tables and chairs. These are indispensable items to help you relax and enjoy the scenery most comfortably. This is also a place for you to do Tai Chi exercose in the morning. Around the happy hours, you can just sip a cocktail, wine or beer to watch the sunset with friends.
Calypso cruise Haiphong schedule
Calypso cruise Haiphong schedule is researched and modified to give tourists the most experience. There are 2 programs that are Lan Ha bay 2 days and Lan Ha bay 3 days. But the most popular schedule is Lan Ha Bay 2 days 1 night.
With the program 2 days 1 night, you will visit the Sang cave on day 1. This is also the highlight of this tour program. You will be able to sit on a boat or kayak yourself to explore the area of ​​Sang cave. After that, you will be free to swim. At the end of the day, you will return to the boat and take part in cooking class on board. The chef will guide you on how to make spring rolls and enjoy your own results.
In the evening, you can go to tender to fish for squid or go on sundeck to watch Lan Ha Bay at night.
On the second day, a small boat will take you to Cat Ba island and visit Hospital cave. This is the last tourist destination and you will return to the Calypso cruise Haiphong and then back to Got harbor.
Lan Ha Bay 3 days 2 nights tour is similar to the 2 days program. Particularly for the second day, you will be able to cycle in Viet Hai fishing village on Cat Ba island and have fun at Ba Trai Dao beach.
Book Calypso cruise Haiphong
To book Calypso cruise Haiphong, you can contact Hai Phong Tours's consulting team directly at any time. We're here to help you as quickly as possible. You can chat via Zalo, Whatsapp at the phone number: +84975200357.
If you do not want to wait, you can chat directly on the website by clicking the chat icon in the bottom-right corner, selecting Live Chat. After that, an expert will answer you immediately.
If you do not have time to chat directly, please email Hai Phong Tours at [email protected].
Conclusion
Above are a details about the Calypso cruise Haiphong visiting Lan Ha Bay, Haiphong. If you have any questions about this cruise, please leave a comment below. The support team of haiphongtours.com is always ready to help you for free! Thank you!