How's Cat Ba at night? This dreamy island will completely conquer you with its wild beauty mixed with modern colors. There are some people who have favored the island with the nickname the most attractive entertainment destination in the North. Let's explore with Hai Phong Tours!
Hunting Cat Ba sunset
Cat Ba sunset hunting is a particularly interesting and romantic "sport". Before nightfall, drive to Cat Ba flower street or go to Than Cong fortress to watch the sunset. Watch the small boats abandoned on the sea turn black on the orange-yellow sea background. The gentle red sun slowly sets. At this time, the sea and the sky seem to merge into one.
The view of Cat Ba at night
The scene of Cat Ba at night is far different from what happens during the day. Every row of trees, roads, streets, floating restaurants race to light up, making the island become shimmering and fanciful. Moreover, the island is bustling only in the central town area. The rest of the areas are almost quiet…  If you intend to wander around the island at night, you should just go around the town center.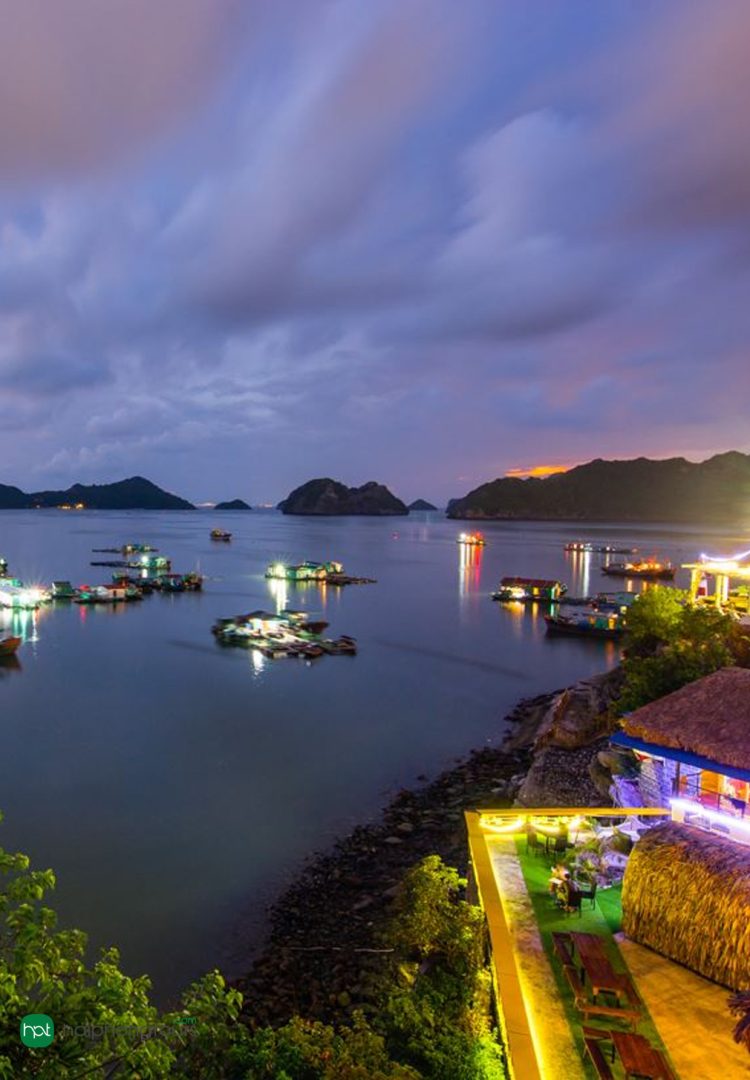 Floating restaurant
A very impressive scene in the central area of ​​Cat Ba town at night is the floating coastal restaurants racing to light up. If you want a private, floating space, the floating restaurant is ideal. Someone will take you from the shore to the restaurant by small boat. On the floating restaurant, you will be spoiled for eating fresh seafood. But with such a unique and strange space, of course, the price of seafood there must be higher than on the mainland!
The moon shines down on the sparkling water, the sea surface is like silver. The boats moored in the sea are silhouetted against the water as beautiful as a watercolor painting. You can walk to the sea-encroached road to sit and watch the sea at night or take a walk along the coastal road, participate in games, ride a bicycle or go to the market to sell souvenirs.
Late at night, stay on the street for a bit, sit in the direction of the rare quiet space of Cat Ba beach. The whole street by the sea gradually falls asleep, the low temperature will give you a feeling like autumn in Hanoi.
Final thought: Cat Ba at night
Cat Ba at night is great! Please spend at least 1 day 1 night to enjoy this wild beauty. Hai Phong Tours wishes you to have a good time.
If you do not know how to go from Hai Phong to Cat Ba. Please refer to: Top 5 Best ways to Transfer Haiphong to Cat Ba