Cat meat restaurants in Haiphong are always crowded on weekends. Cat meat is both cheap and fragrant. In particular, cat meat has a higher protein content than beef and dog meat. Moreover, in cat meat, there are more than 20 amino acids that are very good for the health. In this article, let Haiphong Tours share with you Top 7 Best Cat meat restaurants in Haiphong.
Haiphong Yellow Cat Restaurant
The Yellow Cat is the first Haiphong cat meat restaurant in this list. This is a popular local restaurant and there are many diners come to enjoy. The popular dishes prepared from cat meat are:
Fried cat's tripes: 100k
Steamed cat: 100k
Fried cat: 100k
Grilled cat: 100k
Fried cat: 100k
Chopped cat: 100k
Chinese herbal hot pot, bamboo shoot hotpot: 150-200k
Cat stew: 50k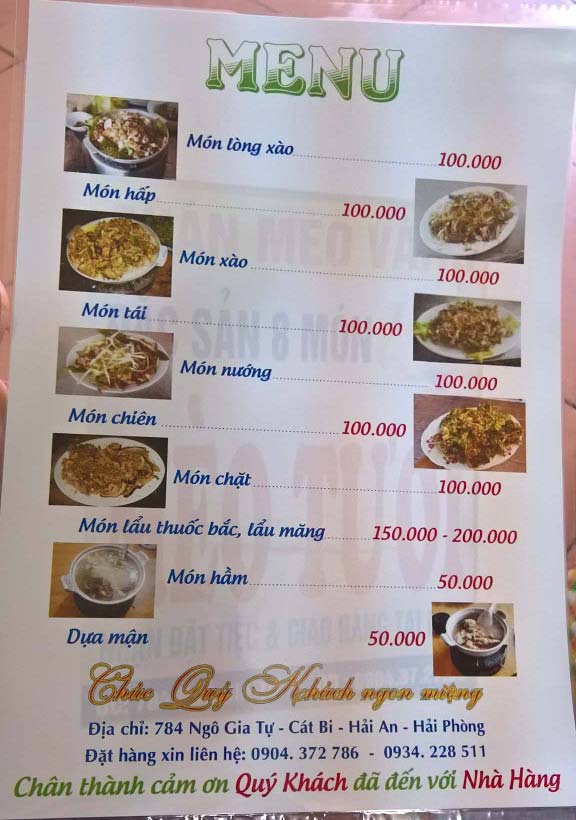 The space of Haiphong Yellow Cat Restaurant is quite spacious and can accommodate dozens of people eating at the same time. The restaurant does not have private parking, but you can leave it on the sidewalk right in front of the restaurant. The origin of the cat here is also clearly publicized by the owner. The source of cats imported for meat is in the countryside. All meat is burned with straw so it is very fragrant and safe. Some places use gas to burn cats so the meat will not taste as good.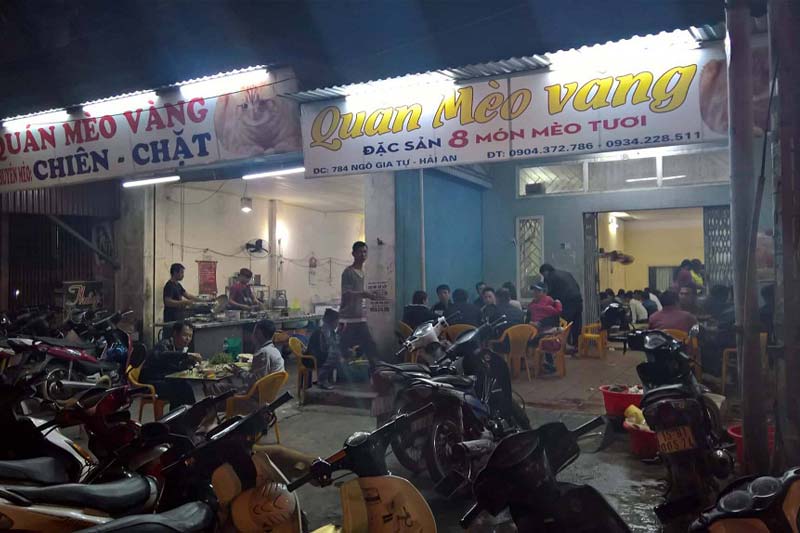 Haiphong Yellow Cat Restaurant has over 10 years of experience in the processing of dishes from cat meat. Therefore, when you come here, you will definitely enjoy the best cat meat dishes.
Because it is a popular restaurant in Haiphong, the price of the food here is very reasonable. From only 100k, you have 1 plate of delicious food. And if you are a member of ttvnol forum, customers will get 10% more discount …
Address: 784 Ngo Gia Tu, Dang Lam, Hai An, Haiphong.
Phone: 0904430445
In addition, there are a number of other cat meat stalls, but haiphongtours.com still does not have much information. Here they are:
Giao Thuy Cat Meat restaurant Haiphong
Address: 137, Street 351, Cach Thuong Hamlet, Haiphong
Phone: 0977598105
An Xom Haiphong Cat Meat restaurant
Phone: 0912 489 542
Address: 1, Bach Dang Street, Hong Bang District, Haiphong City
Cat and dog meat in Haiphong
Address: 181, Ngo Gia Tu, Hai An District, Haiphong
Delicious cat meat restaurant Trung Hieu
Address: Hamlet 3, Kien Thuy, Haiphong
Carry-on Cat Meat
Address: Van My Collective, Da Nang, Van My Ward, Ngo Quyen District, Haiphong City
Cat Tuong Haiphong cat meat
Address: 429 Hoang Minh Thao, Du Hang Kenh, Le Chan, Haiphong, Vietnam
Opening hours: 10:30 – 23:00
Hotline: 0796.496.363
Thang Meo Haiphong
Address: 97/128 Ton Duc Thang – Le Chan District – Haiphong City
Mobile 0912357682
Summary cat meat restaurants in Haiphong
Above are the Top 7 Best cat meat restaurants in Haiphong. Hope you will find the right place to enjoy. Although cat meat has many health benefits for humans. There are many opinions that we should not eat cat meat. Cats are helpful and lovable pets. In your opinion, should we eat cat meat? Please leave your comments below.