The Cinema Cafe in Hai Phong have long become incredibly romantic destinations for couples. These cafés often feature private rooms for two that are intricately decorated, romantic, and discreet. Let's explore the list of these café options with Hai Phong Tours.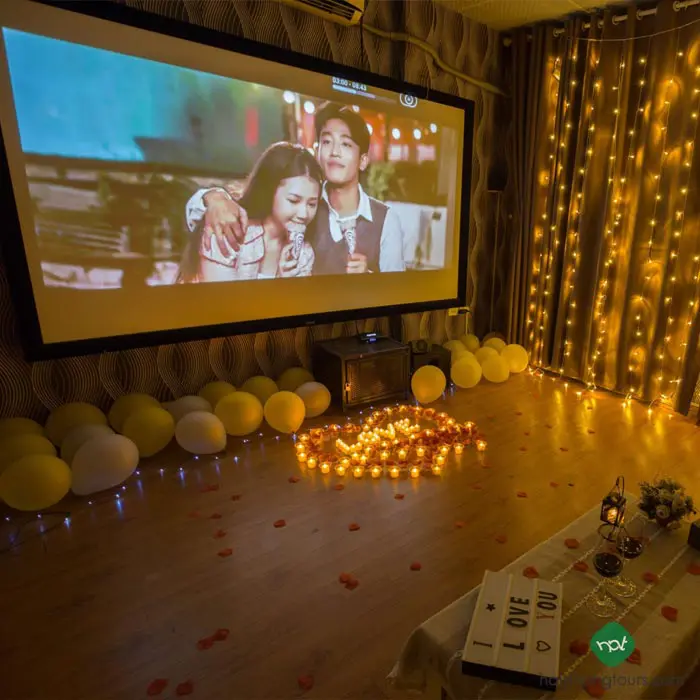 1. Shine Cinema & Coffee – Cinema Cafe in Hai Phong
Facebook: https://www.facebook.com/shinecinemaandcoffee.hp
Address: 3rd Floor – 98 Quan Nam – Le Chan
Phone: 093 151 68 59
If you enjoy the experience of watching movies in a private space, with good picture quality and affordable prices, you can visit "SHINE Cinema & Coffee – Cinema Cafe in Hai Phong".
The screening room is designed to be comfortable and spacious, suitable for both large groups and couples looking to organize memorable events or birthdays.
SHINE Cinema & Coffee – Cinema Cafe in Hai Phong has received high praise from the community. With a film selection that includes popular movies from theaters and a diverse menu of food and drinks, this location will provide you with a comfortable and relaxing experience.
Moreover, you also have the opportunity to watch short or feature-length films from the Netflix service here, adding more variety to your entertainment experiences.
2. Cà Phê Cinema – Cinema Cafe in Hai Phong
One of the unique café options with cinema services in a convenient location in the city center is Cà Phê Cinema.
Located on Lê Lai Street, which attracts the attention of many people and creates a special atmosphere. The service here is always attentive and thoughtful, ensuring you have a perfect experience. It's important to note that you might need to make reservations in advance, as the café tends to be crowded from 4 PM to 6 PM.
Address: 93 Le Lai, Ma Chai, Ngo Quyen, Hai Phong, Vietnam
Hotline: 02253766345
3. Film & Chill – Cinema Cafe in Hai Phong
Film & Chill – Movie Café Hai Phong is specially designed for couples. When you and your loved one want to enjoy a movie without disturbances or want to celebrate a memorable anniversary or birthday, FILM & CHILL – HD Movie Café Hai Phong is the ideal destination.
The service at FILM & CHILL is of high quality in all aspects, from the space, film selection, diverse menu, to the creative and professional space decoration.
With simplicity, you just need to contact the café, make an appointment, and choose a room decoration style that suits your purpose. You don't need to worry about decorating yourself, as everything is meticulously prepared by the café.
Address: 106 P. Hoang Minh Thao, Nghia Xa, Le Chan, Hai Phong
4. Aki Coffee Film – Cinema Cafe in Hai Phong with a private room for two
Aki Coffee Film is one of the choices for a private movie screening for two in Hai Phong. This is a unique venue that combines movie screenings and beverage service, especially delicious coffee.
Comparing prices, Aki Coffee Film offers a more attractive price than other venues in Hai Phong that offer movie screening combined with coffee.
The average price for a movie screening for two people is 130k, a reasonable and cost-saving option for couples.
Address: 229 Hang Kenh, Le Chan, Hai Phong
Phone: 0358269877
5. Hai Phong Cafe Film HD – Cinema Cafe in Hai Phong
Located near the old BigC on Le Hong Phong Street, you can also find an interesting venue that combines café services and HD movie watching experience. Here, you can watch a variety of films, from currently showing films to popular ones.
The movie screening space here is spacious, accommodating from 7 to 14 people. This creates favorable conditions for events such as friend gatherings, birthdays, or simply an enjoyable movie night. For couples, this space will also provide a very comfortable experience.
Additionally, at this venue, you can also organize activities such as karaoke and enjoy the Full HD movie experience, including theater releases and Netflix content.
Address: 313 Lot 22 Le Hong Phong, Dong Khe, Ngo Quyen, Hai Phong, Vietnam
Conclusion: Cinema Cafe in Hai Phong
With the list of the top 5 Cinema Cafe in Hai Phong above, hopefully, you will find the most suitable place for you!