The clearer criteria to choose Halong bay cruise, the more meaningful your trip will be. You can also go to Google and search for related keywords like how to find the most suitable cruise to Halong bla bla… But to save your time from searching, Hai Phong Tours would like to share 10 common criteria to choose and help making the fastest and most accurate decision.
Are you sure which bay to go? Check out this one!!!
Halong vs Bai Tu Long vs Lan Ha bay: Which is the best? What's the difference? Advice to choose 1/3?
1. Choose Halong bay cruise by duration
Choosing a Halong bay cruise by duration means you will find a cruise that only operates on Ha Long Bay during the day time or a cruise that can stay overnight on the bay (2 days 1 night or 3 days 2 nights).
Day cruise
Cruises that operate on Ha Long Bay only during the day time called day cruises. Day cruise is much cheaper to rent the whole cruise (private cruise) or to share rather than overnight one. This type of cruise is very suitable for tourists who do not have much time to travel, do not want to spend the night on the bay but still want to experience the Natural Wonders of the World.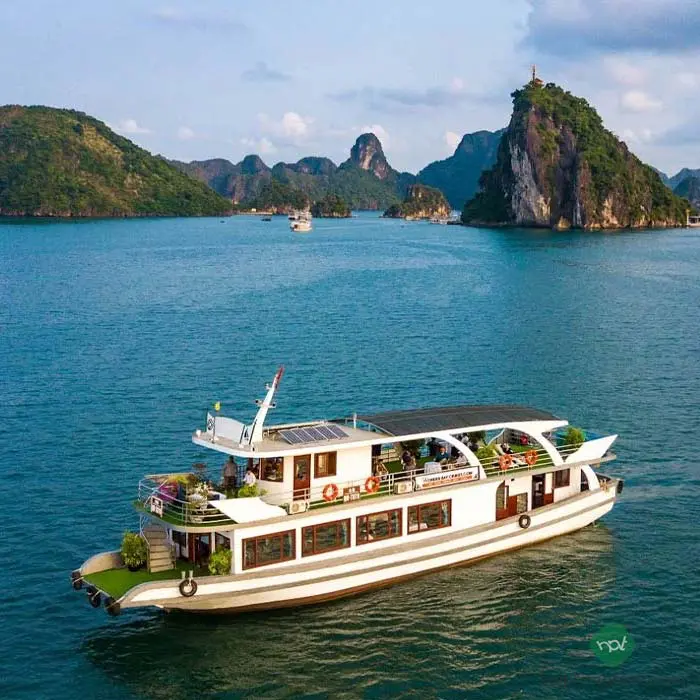 There are two basic types of Halong cruises during the day: Steel and wooden cases. Wooden cases cruises are "Standard" class, which can be assembled at any time at the pier. But higher-quality, air-conditioned, steel case cruises are hard to hire at the pier. Both types have in common that there is NO room for guests to sleep in. If you travel as a backpacker, just a wooden cruise is enough to save budget. But if you want a luxurious trip, experience the steel one.
You may like: Premium Quality Hai Phong Halong bay day tour
Overnight cruises
When sleeping a night onboard is your criteria to choose Halong bay cruise, then a day cruise would not work. You need a cruise that has a bedroom and is allowed to anchor on Ha Long Bay overnight. And luckily, there are hundreds of cruises out there that can help you spend the night on the bay… But because of the large number, you have difficulty knowing which cruise is the best for you. Please check out the next criteria below!
TIP:
People with a history of acute illness should not sleep overnight on Ha Long Bay. If there is something urgent that requires medical intervention, there will be no timely solution to the pier.
Families with young children should not take the 3 days 2 nights route. With the sea breeze, at the end of the first day on the bay, the children will start to get tired. By day 2 is the tolerance threshold. If they go to the 3rd day, with fatigue, the children will no longer be comfortable and may interfere with adults.
2. Choose Halong bay cruise with a private balcony
When private balcony is criteria to choose Halong bay cruise, I am sure you are looking for upper level of cruise. This is even the most important criteria for many European tourists. Imagine how great it is after a tiring day out, when you come back to your room, sit on your private balcony and enjoy the view of Ha Long Bay with your lover. Especially, around 5pm or early in the morning, when dawn and sunset carpets the bay, you will enjoy the immense and romantic scenery.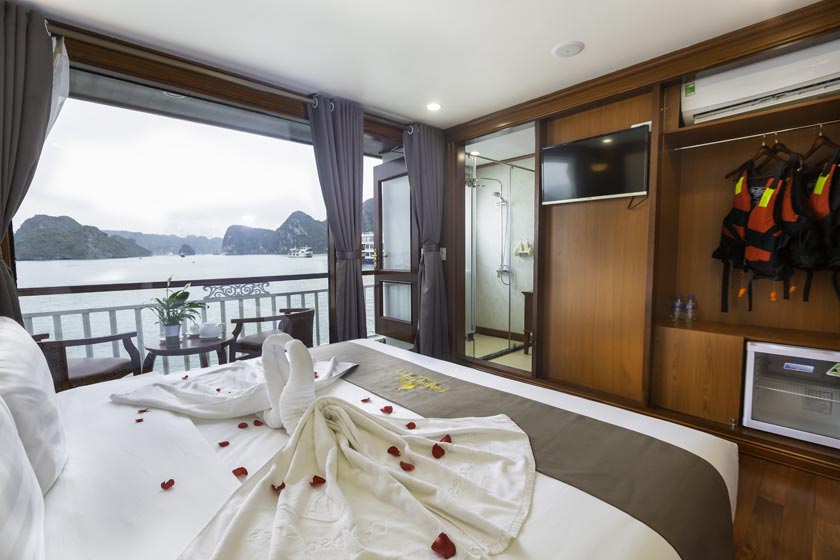 Cruises with private balconies usually have a large width, at least 4 stars or more. The 3-star cruises only have an area of ​​about 10-11sqm for one side and more than 1 meter for the corridoor. If adding a balcony, the room will be very small. But with 4-5 star cruises, it is different. With a larger width, after arranging a private balcony, the room area will range from 12-40sqm depending on the grade.
Therefore, if you want a cruise with a private balcony, look for a 4- or 5-star cruise.
3. Choose Halong bay cruise has room for 3 people
Has room for 3 people is the third criteria to choose Halong bay cruise that I would like to mention. It will be suitable for group of friends or family with 3 people going to Halong Bay together. Triple room can be 1 double bed and 1 single bed or 3 single beds. Therefore, the room also needs a larger area to be able to accommodate enough beds and moving space in the room.
Almost all 3-star Halong cruises do not have rooms for 3 people. But you can easily find this type of room in a 4 or 5 star cruises.
4. Choose Halong bay cruise has family room
There are 3 types of rooms that can be suitable for families: Connecting rooms, nextdoor rooms and large rooms for the whole family to share.
Connecting rooms are 2 rooms next to each other, separated by 1 wall. Between the 2 rooms, there is a door that can be opened to go to the other room without having to open the main door.
Nextdoor rooms are similar to connecting rooms, but there is no door inside to go to each other's rooms.
Large family room can accommodate 4 people or more children. This room will have 2 double beds.
To book Ha Long cruise with connecting or nextdoor rooms, all overnight cruises can accommodate. But if you need a big room for the whole family to stay in one room, you must find a 5-star one.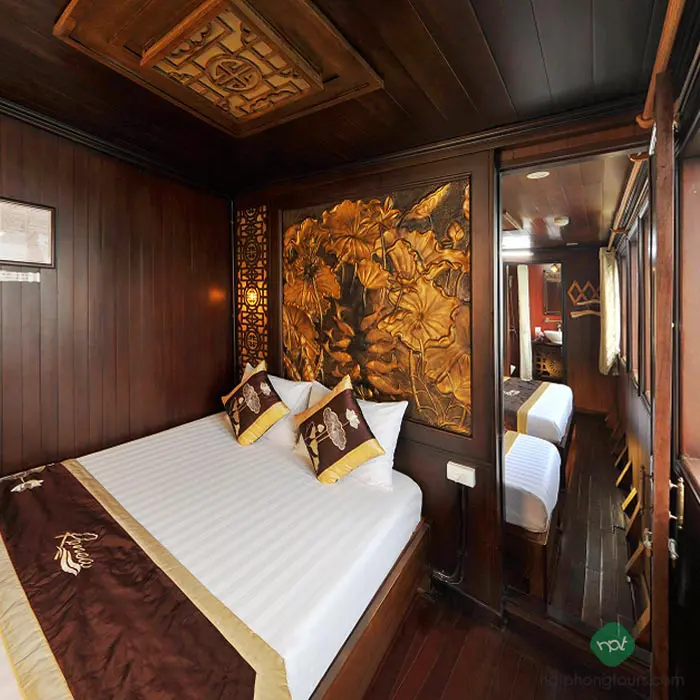 5. Choose Halong bay cruise by grade
Choosing Halong bay cruise by grade will determine the "luxury" level of the cruise you will stay overnight. And of course, get what you pay for. 3-star cruise has the cheapest price with full equipment, basic amenities for a trip and a good, safe sleep.
Rooms on the 3-star cruise will have full beds, mattresses, sheets, 2 free bottles of water, toilets, toilet paper, towels, face towels, toothbrushes, toothpaste, bath soaps, shampoo, lifebuoy and air conditioner.
The 4-star cruise will have a larger room area, and the interior will be more cared for.
The 5-star cruise will give you the same experience as the service of a 5-star hotel. Some will add bathtub, jacuzzi, hair dryer.
The star rating of Halong Cruise will not affect your experience on the bay or during your visit to Ha Long Bay. It just makes a difference in the experience of sleeping in a room or on the deck. So please consider it!
6. Acceptable price range
For tourists who have the habit of budgeting for the trip, the acceptable price range is very important criteria to choose Halong bay cruise. When determining the desired spending range, tourists will find it easier to choose a cruise for themselves.
The price of a 3-star cruise ranges from 120 to 140 USD/pax for a group of 2 people.
The price of a 4-star cruise ranges from 150 to 170 USD/pax for a group of 2 people.
The price of a 5-star cruise ranges from 200+ USD/pax for a group of 2 people.
The price fluctuation range of 5-star cruises will be larger because there are many types of old and new 5-star cruises. Depending on the marketing strategy from time to time, they will promote different packages and prices to attract customers!
7. Route the cruise operates
Many tourists when going to Ha Long Bay for the first time will be confused between the cruise routes. Confusion sometimes greatly affects the desire of visitors to experience. Even many people are disappointed. Therefore, it is necessary to clearly define the criteria to choose Halong bay cruise to see which route you will follow.
Currently, there are 3 main routes to visit Ha Long Bay:
Main route of Ha Long core area (Sung Sot, Titov, Luon cave)
Lan Ha (Morning Cave, Tra Bau)
Bai Tu Long (Vung Vieng, Thien Canh Son)
In fact, Ha Long Bay includes both Lan Ha and Bai Tu Long. However, each bay offers a different experience and is suitable for different customers.
Ha Long: can walk into the cave, hike to the top of the island or bathe at the natural sandy beach, row a boat or take a boat
Lan Ha: Mainly kayaking or boating, sightseeing, not walking into the cave, swimming (no sandy beach). Some ships on high water days can stop at Ba Trai Dao beach.
Bai Tu Long: can walk into the small cave, kayak or ride a boat, not swim.
Depending on the desired destination and activities, you can choose the appropriate route.
8. The cruise have outdoor swimming pool
The cruise have outdoor swimming pool is new criteria to choose Halong bay cruise nowaday. Only 5-star cruises are designed with a swimming pool on the deck to increase the luxury. Actually, this swimming pool is more suitable for hot girls who want to relax and show up! If you really want to swim, choose the route to Ha Long!!! But joining a small party near the pool is not a bad idea. However, this is not a big criterion!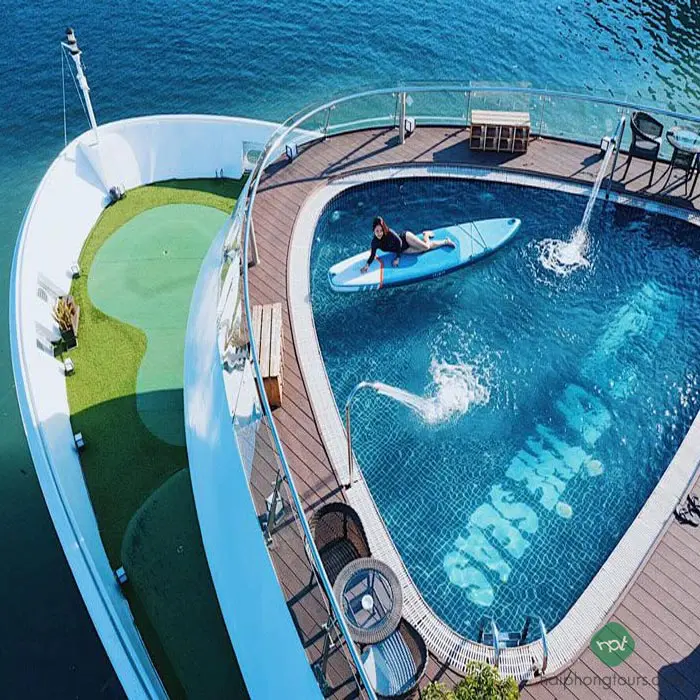 9. Private bath in the room
After a tiring day out, soaking in the water and relaxing is something worth considering. Taking a shower is completely different from soaking in a bathtub. This is the criteria for choosing a Ha Long cruise you should consider.
10. Number of people in the group
Depending on the number of people traveling together in a group, you can decide and choose a reasonable cruise. For day cruise, the maximum can be 65 people/cruise. For overnight ones, the maximum number of people per group ranges from 60-70 people.
If a small group of people want to take the overnight cruise, you can rent a small one with only 2-5 bedrooms. Thus, the whole group will go on a private cruise and do not need to share with anyone! This criteria to choose Halong bay cruise is quite important.
Conclusion: criteria to choose Halong bay cruise
Above are the criteria to choose Halong bay cruise that haiphongtours.com has shared with you. Hopefully with these criteria, you will find yourself a cruise that suits you best. If you need further advice, please contact Whatsapp +84975200357.
Thank you for reading this article. If you have any suggestions, please leave a comment below!!!