Choosing the right tourist transportation when traveling in a large group is not an easy task. Why? Usually, when traveling, people often bring luggage and buy souvenirs when returning. Therefore, if the number of people in the tourist transportation and the space for luggage are not suitable, it will cause a feeling of overcrowding and discomfort. Understanding the issue, Hai Phong Tours would like to share with you 8 Best criterias to choose tourist transportation.
What is tourist transportation?
Before going to learn how to choose the right tourist transportation, let's clarify what is tourist transportation. Some people think that the vehicle used to transport tourists moving from this place to another is called a tourist transportation. Some people also think that tourist transportation must be cars, mini buses (vans), buses. But in fact, motorbikes, scooters or any other vehicle that can transport tourists are considered a tourist transportation!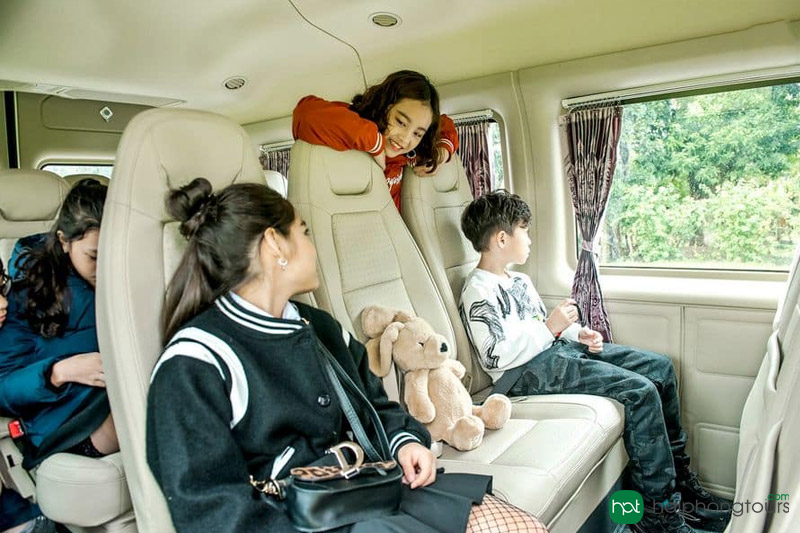 In haiphongtours.com point, tourist transportation can include the following types of vehicles:
Cars
Mini van, van (7-16 seats)
Bus (29 seats or more)
3-wheel vehicle (eg. tuk tuk in Quan Lan)
Ox cart (in Tam Coc, Bich Dong)
Bike
Motorcycles (scooters, cars)
Electric car (in Cat Ba)
Cyclo (Hanoi Old Quarter, Hoi An…)
There may be other types of tourist transportation, but at the moment, I can only think of these 9 types. If you know more, please comment below to help me! With such a large number of tourist transportations, how to choose the right one?
Criterias to choose the right tourist transportation
The more detailed and specific the criteria given to choose a tourist transportation, the more accurate the selection will be.
1. Number of people in tourist transportation
The number of people sitting in the tourist transportation is the most important criterion. For the most convenient and comfortable travel, you should not sit in a full load compared to the capacity of the vehicle. For example, when you rent a 7-seater tourist car, you should only sit a maximum of 6 people. In which, 1 person sit in the front, 3 people sit in the middle and 2 people sit in the back. The rear seats are designed to seat 3 people.
But in fact, this row of seats is narrower than the middle one. Therefore, sitting 3 people in the back seat will not be as comfortable as sitting in the middle. Hai Phong Tours recommends leaving at least one seat left. For example, a 4-seater passenger car should only sit 3 people.
For other types of tourist transportations such as motorbikes and cyclos, the number of people sitting on should be limited to 1 or 2 people.
2. The size of the person sitting on the tourist transportation
The size of the person sitting in the tourist transportation also plays an important role. With Asian size, this criterion is not really important. However, for foreign European tourists, who are taller and fatter, they only need 1 seat. But for the most comfortable ride, 2 adjacent seats for these people are perfect.
And small size cars are not suitable for them at all, for example 4-seat cars. Tall people sitting in 4-seater cars often hit their heads on the roof of the car, have trouble sitting in the seats, and get entangled in their knees when sitting. This is very important for those who book travel cars.
For motorbikes, people with large sizes should choose a strong vehicle such as a scooter (airblade, nouvo). The rental price for this type of tourist transportation is about 120-150k/day. Particularly, gear bike cost only about 100k / day. But it is quite small and the capacity is not high.
If you intend to ride a cyclo, you should only sit 1 pax in one vehicle… This type of vehicle moves by human power, so it is necessary to ensure the strength of the driver…
3. Carry-on luggage
Carrying luggage when traveling is usually proportional to the number of people sitting in the transportation. Each person has at least one suitcase. Tourist vehicles such as 4-seater, 7-seater, and buses all have their own trunks for storage. The trunk of a 4, 7 seater car can hold 2 large suitcases or 3 small suitcases and other small items. If there are more suitcases, the car needs to fold 1 or 2 seats for storage. And so the space for people sitting in the car is narrowed. If traveling 4 people + 4-5 suitcases of luggage, a 7-seater tourist car is reasonable.
As for the 16-seat Van, by design, this van does not have a large trunk for luggage. People often recreate the back row as a trunk for luggage. Thus, if traveling with luggage in a 16-seat car, the maximum number of people in the van should be limited to about 12-13 people. If additional people are required, luggage may have to be left in the seat with the passenger.
For motorbike riders with luggage, you should only go 1 person 1 bike and carry luggage behind to ensure safety and comfort when traveling.
4. Shopping needs
Before traveling, you need to carefully research the destination to see what to buy there as a gift. This is also the criterion for choosing the right tourist transportation. If the small gifts will not affect the choice of passenger transportation. But there are many people who have the need to travel and shop such as buying stone statues in Da Nang, handicrafts, large-sized paintings … then they need to consider ordering a large-sized transportation, more space.
More importantly, you need to discuss with the owner in advance because if the tonnage is large, the driver will not be satisfied or will not agree to transport. In this case, you should get in touch with a 3rd party to arrange in advance.
5. Weather condition
Weather condition is the 5th criteria in this list. Although there are many types of tourist transportation to choose from, in different weather conditions, the selection may be different. If it is a trip in cool weather (sunny is also ok), riding a motorbike will bring the best feeling. However, you will feel dusty and a bit tired.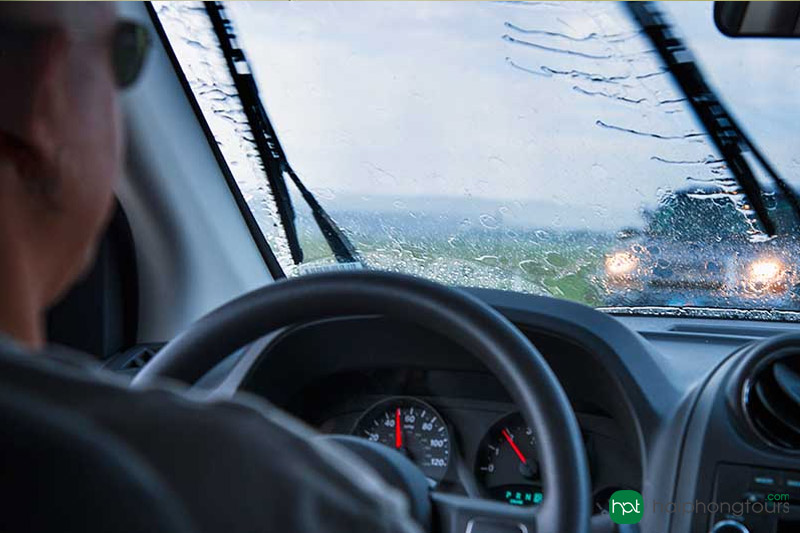 If the outing schedule has been fixed, the plane ticket, the room has been booked, but it is raining, then immediately ignore the motorbike, bicycle, cyclo… At this time, the car is perfect.
Book now private car transfer: +84975200357 (Whatsapp)
6. The need for experience
When traveling, tourists often have different experience needs. People like to go as much as possible, see a lot, be active as much as possible. If you fall into this category, you should consider bicycles, motorbikes, cyclos, Ox carts, tuk tuks. With open space, you will feel the closest to nature.
But there are also people who like luxury. Everything has to be perfect, sparkling, the car is always fragrant. If you want to book a high-quality tourist car in Hai Phong, Hanoi, Quang Ninh, Ninh Binh, please contact Mr. Phuong 0975200357.
7. Travel distance
If you are a backpacker, the distance is probably not too important an issue when choosing the right tourist transporatation. You can travel across Vietnam with just one motorbike. But to be safest if traveling more than 100km, you should choose a car, bus, van.
If the distance is a few kilometers, or less than 10km, tuk tuk, bicycle, Ox cart, cyclo will make you feel strange and interesting.
8. Budget
Cars are probably the most expensive travel vehicles. But this is the most popular and safest type of vehicle today. With other means of transport, the cost of moving for 1 day is just under 10USD.
Final thoughts: criterias to choose tourist transportation
Above are 8 Best criterias to choose tourist transportation Hai Phong Tours has shared with you. Right now, I can only think of these 8 criteria. How about you? If you have any other criteria, please leave a comment below! Thank you!