Go to Cat Ba island by motobike was my best experience. I found my happiness, freedom and freedom! Today, let Hai Phong Tours shares my all travel experience after my trip in June 2020.
Where is Cat Ba island?
Cat Ba Island is island district of Hai Phong. It is the largest of the 367 islands spanning 260 km2 (100 sq mi) that comprise the Cat Ba Archipelago, which makes up the southeastern edge of Lan Ha Bay in Northern Vietnam. Cat Ba island has a surface area of 285 km2 (110 sq mi) and maintains the dramatic and rugged features of Halong Bay.
Local people usually come here in weekend to relax, swim and enjoy freshair. So if you come here in weekends, the island's so crowded. But when you come here in weekdays, the island's less touristy and you are free to explore your own island.
How to Go to Cat Ba island by motobike?
Before you go, make sure you have proper helmet (3 layers), fullfil petrol, well checked tires. If you are not familiar to the way to, Google map takes important part in this trip! Remember, motobike is not allowed on highway.
There are 2 ways that you can drive you motobike to Cat Ba island: from Tuan Chau ferry harbor in Halong and Got ferry harbor in Hai Phong.
1. Go to Cat Ba island from Tuan Chau ferry harbor in Halong
On arrive in Tuan Chau ferry harbor, just go to ticket counter to buy ticket to Gia Luan harbor.
Ferry schedule from Tuan Chau to Gia Luan harbor: 7h30', 9h00', 11h30', 13h30', 15h00'.
Ferry schedule from Gia Luan to Tuan Chau: 9h00', 11h30', 13h00', 15h00', 16h00'.
Ticket fares Tuan Chau <> Gia Luan:
Only passenger: 80.000VND/person/way
Passenger with motobike: 90.000VND/bike/way
Car under 9 seater: 450.000VND/car/way
Van from 9-15 seater: 500.000VND/van/way
16-23 seater bus: 550.000VND/bus/way
24-29 seater bus: 600.000VND/bus/way
Bus from 30 seater up: 650.000VND/bus/way
Under 1 ton truck: 350.000-450.000VND/truck/way
From 1-3 tons truck: 400.000-500.000VND/truck/way
Truck from 3-5 tons: 450.000-550.000VND/truck/way
On arrival at Gia Luan harbor, just go ahead on the unique road to Cat Ba.
2. Go to Cat Ba island from Got ferry harbor in Hai Phong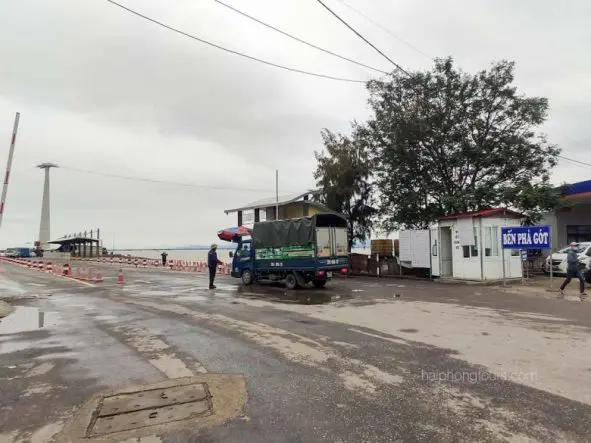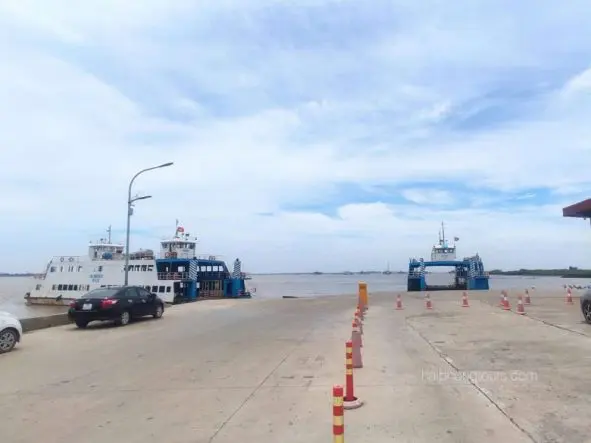 This seems to be the shortest way to go even from Hanoi or from Hai Phong city. From city center, you may follow the Nguyen Binh Khiem road and head to Tan Vu – Lach Huyen bridge. When you reach the intersaction of 356 road, turn left and keep straight . You will see the Got ferry harbor next to petrol station.
On arrival at Got ferry harbor, just go to ticket counter to buy ticket to Cai Vieng harbor on Cat Ba island.
Ticket fares Got harbor <> Cai Vieng harbor:
Passenger: 12.000VND/person/way
Motobike: 45.000VND/way
Ferry schedule from Got harbor to Cai Vieng harbor: from 5h30 to 18h30 (30 minutes/turn)
Ferry schedule from Cai Vieng to Got harbor: from 5h to 18h (30 minutes/turn).
After arriving, if you would like to head to Cat Ba town directly, please stick on the right hand to drive. But if you want to experience Cat Ba national park, Hospital cave, Tung Thu beach, let's follow the green arrow.
If you are flexible in timing, you'd better go on weekdays. If you go on weekend, please have look following photo :D. Those cars, buses are in line to ferry. Then I believe you can imagine how crowded the island is!
Where to go on Cat Ba island
Following are the most attractive places that can be visited by motobike.
Cat Co beaches
There are 3 Cat Co beaches: 1, 2 and 3. At the moment, the Cat Co 1 is under mainternance. So the Cat Co 2 and Cat Co 3 are available now. When I reached the Cat Co 3 in the afternoon (around 17h), the waves are very strong with high tide and coved sand. If you are looking for strong feeling, this's perfect!
Use of locker: 40.000VND/locker
Fresh water shower: 30.000VND/person
Use of toilet: 5.000VND/person
Tube rental: 50.000VND/unit
Life vest: 50.000VND/unit
Ball: 200.000VND/unit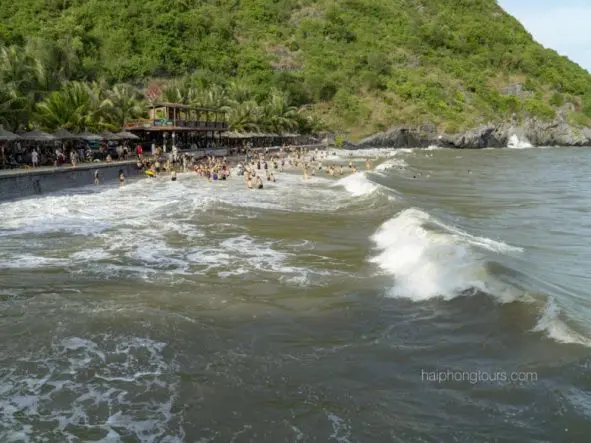 If you are looking for calmer beach with sand, go there in the morning!
The way to Cat Co beach 1, 2 has barrie that only allow electric car to enter. Then if you plan to drive to the beach, the Cat Co 3 is idea. They have parking area right at barrie. Parking fee for motobike is 10.000VND, 30.000VND for car.
Tung Thu beach
Are you looking for more quite beach on Cat Ba island? Tung Thu beach is good choice. Waves here sound weaker than in Cat Co but Tung Thu beach has larger sandbank that allow tourists to hold event, party, games. The beach is located around 2km away from Cat Ba town, so I do not find it too far to go.
Use of locker: 30.000VND/locker
Fresh water shower: 20.000VND/person
Use of toilet: 5.000VND/person
Cannon fort
The Cannon fort Cat Ba is located 2km away from the town, nearby Beo harbor.
Entrance fee: 80.000VND/person
What to expect in Cannon fort Cat Ba?
Fortress headquarters: The entire fortress is under the direction of the Headquarters. Orders from Headquarters will be issued to all departments. This is also the place where the fortress commander lives.
No. 1, No. 2 cannons: Cannon No. 1 and No. 2 control the entire gateway of Hai Phong port.
Military airport: This place used to be the place for transporting helicopter of the French army.
Exhibition room: This room records traces of a time when Cat Ba bravely fought with the weapons, tools kept from the mighty wars.
Bomb bunker: The bomb bunker is also known as the U-shaped tunnel.
Enjoy sunset on Lan Ha bay: From Cat Ba cannon fort's peak, you are free to enjoy cup of coffee and admire sunset on the Lan Ha bay.
Hospital cave
The Hospital Cave was built into an existing cavern in the middle of Cat Ba Island between 1963 and 1965. Fortified doors were placed either side of a corridor flanked by basic medical rooms, where troops would be treated in horrendous conditions with very rudimentary equipment. In the upper chambers, the army generals held meetings in command centres, but also ensured to engage in some downtime at the swimming pool and cinema that was also built here to raise the morale of the troops.
Cat Ba national park
Cat Ba National Park is located 15km north – west of Cat Ba Town. It was established in 1986. It spans an area of 15,200ha, of which 9,800ha are forest, and contains lots of particularly interesting caves. The original tropical forest spans an area of 570ha, with extremely varied wildlife and vegetation.
This park is famous for Ngu Lam peak with amazing panoramic view and Kim Giao forest.
Trung Trang cave
Trung Trang cave is on the island's crossing road, 12 km north-west from Cat Ba town to north pole of Cat Ba island. It is the largest valley of Cat Ba island, 300 ha of area and 10-30m lower than the sea level.Inside the cavern, you will see a diversity of shapes formed by stalactites. On the roof, a vestigate of sediment is proved by sellfish shell stuck to the ceiling. The music of rock acoustic instrument is unique in Cat Ba with high rising or low falling sound.
Motobike parking
Outside the Cat Ba town, you can leave your motobike anywhere and it's very safe. But when you reach Cat Ba town center, you can see "no parking" sign everywhere. Do not park after this sign.
To find the right place to park, you may need help from reception where you are staying.
Where to stay on Cat Ba island?
There are many budget hotels, guesthouses on Cat Ba island. The room price is higher when you choose hotel nearby the Cat Ba harbor, the center of Cat Ba town. But when you go further such as Nui Ngoc street, you may find other cheaper room at around 20USD per room in weekend or 15USD per room in weekdays. For example the Cat Ba Dream hotel. Room rate is 275.000VND/superior room/night in week day (around 12USD). And the Sea Dragon hotel sells almost 20USD/room in weekend. [ go to Cat Ba island by motobike ]
If you are looking for hotel nearby the beach, please consider Hung Long harbor hotel (3 star), M Gallery hotel (5 star – brandnew), Flamingo resort (5 star – brandnew) or Cat Ba sunrise resort (under contruction – updated on 10 June 2020).
Where to eat on Cat Ba island
It seems that all hotels, guesthouses on Cat Ba island provide dinning service. You can send them request for breakfast, lunch or dinner served at hotel's restaurant. When you use breakfast at hotel, they may surcharge around 80.000VND/person. If you would like to eat outside, the "Banh Da" served right on the  roadside at around 40.000VND/bow. They also have floating restaurant on the Lan Ha bay that need to go by boat for around 2 minutes. But please aware that eating on floating restaurant costs you more than usual!
Buy souvenir
Cat Ba island is famous for fish sauce, fresh seafood, dried squid, dried edible fish, jellyfish…You can find them easily at small night market right opposite to Cat Ba harbor. If you are looking for fresher food, go to Cat Ba market in day time.
I've shared my experience "go to Cat Ba island by motobike: Travel experience" after my trip on 10 June 2020, If you have more experience or want to ask more details, please leave your comment and I am happy to answer if I know. Or if you do not mind, please contact me: Contact
Thank you for reading!