Haiphong roasted chestnuts is a very delicious snack. This dish is even more attractive when enjoyed on cold days. The nutty, sweet, and aromatic taste of chestnuts makes the revelers feel warm. Hai Phong Tours would like to share with you a very famous place to enjoy this dish. That is Dinh Dong.
If being a local, one mentioning to roasted chestnuts, everyone knows the stall in Dinh Dong Street (near by roundabound). This is not a large stall. Visitors come here only buy and take-away. They do not have seats. However, because the quality of chestnuts is so delicious, customers still come to buy daily. Even if you buy in the evening, you may have to queue for your turn.
Benefits of chestnuts
Haiphong roasted chestnuts is both a snack and a very beneficial food for health such as:
Supports to stabilize blood sugar
Supports energy stability
Improve brain function
Protect the body, prevent cancer
Increase resistance, reduce risk of many diseases
Good support for the heart
What makes this Haiphong roasted chestnuts stall crowded?
Delicious, nutritious, and cheap are the criteria that many people set out when buying something. And in this Dinh Dong chestnut stall meets all of those. The owner of the stall sells very cheaply and the quality of chestnuts. Combined with the decades of traditional roasting, the chestnut color is very eye-catching, and does not burn. The chestnut kernel is very creamy and greasy.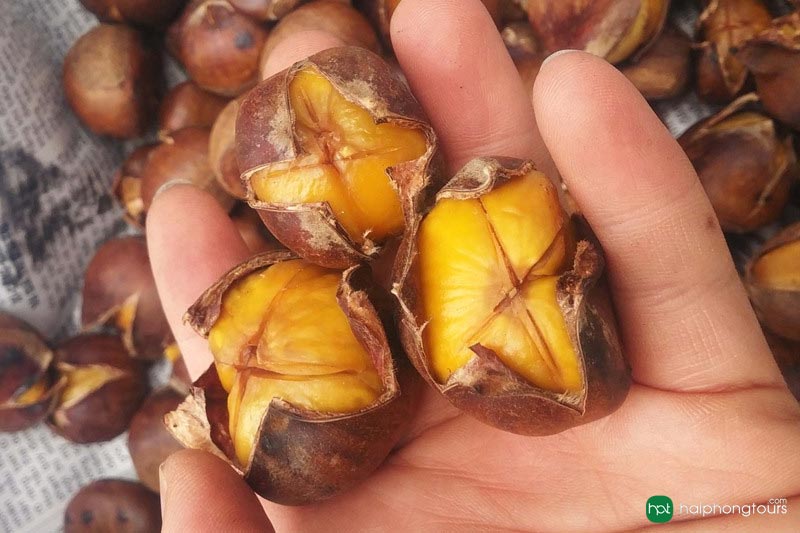 Roasted chestnuts available
The vendor has 2 types of salted roasted chestnuts available: large and small seeds. But the big seed is most popular. With only 20k (about 1USD), you can buy 1 bag of super delicious roasted chestnuts. However, not everyone likes big chestnuts. Particularly, small chestnuts are still better because it is associated with many childhood memories … Eating small chestnuts will last longer and eat longer: ">.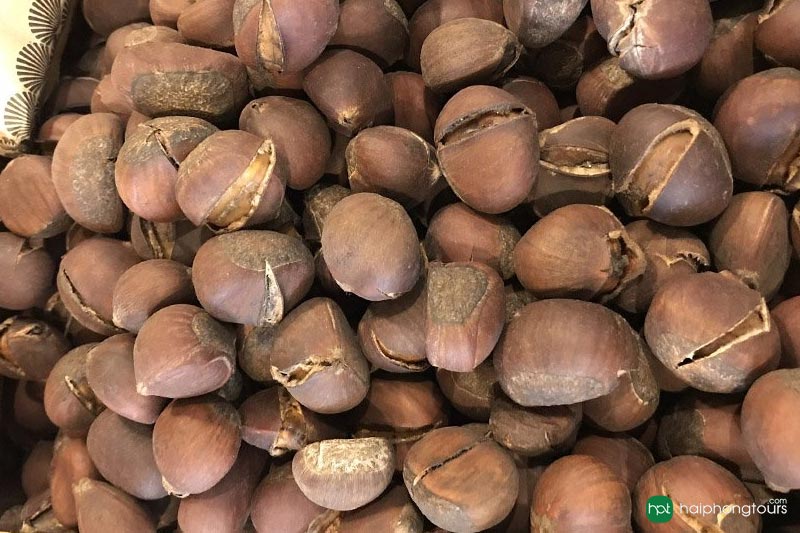 The location of the stall is in the heart of Haiphong city. If you have a chance, come here to enjoy!