Haiphong tobacco is one of the most delicious countryside specialty. This was a gift to the King. The best place to grow tobacco is in Kien Thiet commune, An Lao district, Haiphong and Ly Hoc commune, Vinh Bao district. To smoke tobacco, you will need a "điếu cày". It could be a bowl or a tube, which can be popular or elaborately decorated with high aesthetic and economic value. Let's take a closer look with Hai Phong Tours!
Origin of Haiphong tobacco
Tobacco is an almost indispensable "dish" of farmers in Haiphong in the past. It can be said that every household must have at least 1 tube or a bowl to smoke tobacco. And for that reason, people cannot know exactly when the people of Tien Lang and Vinh Bao have grown tobacco ever since. The planting, processing, and distribution of tobacco here is handed down from generation to generation and so on.

The difference between Haiphong tobacco offered to the King
In Vietnam, people plant about 4 thousand hectares of tobacco a year. Particularly, Haiphong accounts for 50% of them. According to the Dong Khanh Du Dia Chi book, An Tu Ha tobacco was the most delicious and was only used to offer to the King. The An Tu Ha village is Nam Tu 1 village, Kien Thiet commune, Tien Lang district, Haiphong now.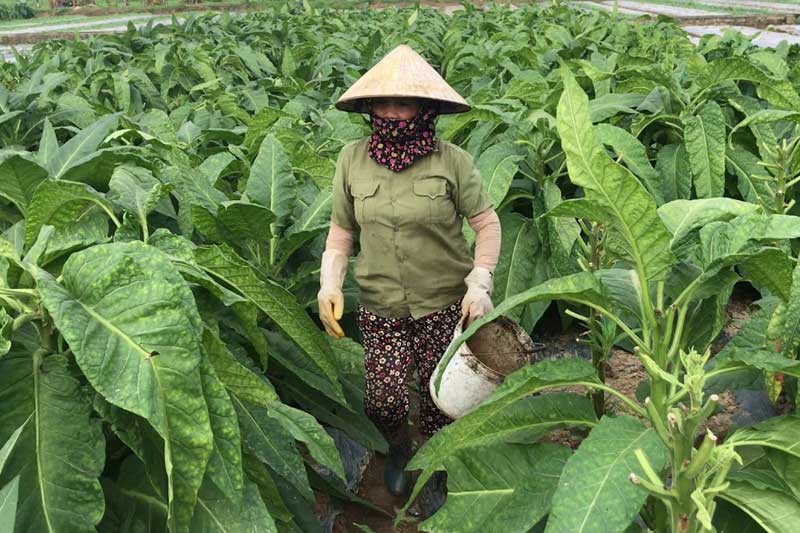 Different from conventional tobacco, the kind to offer to the king was grown in a separate field in An Tu pagoda. This special tobacco plant had small, thick leaves and low yield. Every 2 days, people had to prune the leaves and cut the buds of young leaves. This helped the plant concentrate on keeping the remaining leaves well.
Tobacco plants had many worms. And when being damaged by pests and diseases, people was not allowed to spray. Instead, people used glutinous rice to grind and apply it to the deep spots. When harvested, people used rice straw to smoke that make the tobacco more characteristic. Then, people continued to dry tobacco in the sun for 2 to 3 days depending on the weather.
During feudal times, the authorities highly appreciated and the administration of tobacco was also very strict. Only the tobacco in Nam Tu 1 village, Tien Lang, was allowed to tie red bamboo strings for distinction. All other tobacco must have a white (undyed) filament.
What makes Tien Lang Tobacco special
Being senior smokers, just by looking, people will know immediately whether it is Tien Lang tobacco or not. So what makes Tien Lang Tobacco special? Due to the weather conditions, the location of the soil makes the tobacco plants in Tien Lang develop very well and have a very specific flavor.
With the naked eye, you can see that Tien Lang, Haiphong tobacco has a dark color, limber threads. If you use your hand to grip, it will not come out later. Most importantly, when smoking, people will feel smooth, not shocked.
Nicotine content in Tien Lang tobacco, Haiphong is 6.45%. The highest rate is 10% and the lowest is 4%. The average cellulose / nicotine ratio is 3.27 (highest 5.63; lowest 1.76).
How to process Haiphong tobacco?
The way to process Haiphong tobacco also requires a lot of work. After being harvested, tobacco leaves stem will be removed with bamboo pliers. This takes meticulousness and ingenuity. If the leaves are broken, it will affect the quality of drugs and aesthetics. After that, tobacco leaves are folded and rolled into coils with a diameter of about 20cm and tied with bamboo strips. Scrolling leaves is not just about making it tidier. It is a way to keep away from outside air, causing leaves rot or wilting.
Rolled tobacco leaves will be incubated for 3 to 5 days depending on temperature. When tobacco turns dark yellow, start slicing. In the old days, people had to cut by hand. But now there is a slicer. So the yarn is much more even. After slicing, tobacco continues to be sun dried outside. In addition, in order for tobacco to taste better, people also have to dry the dew for about 22:00. By doing this, tobacco will be softer, better looking.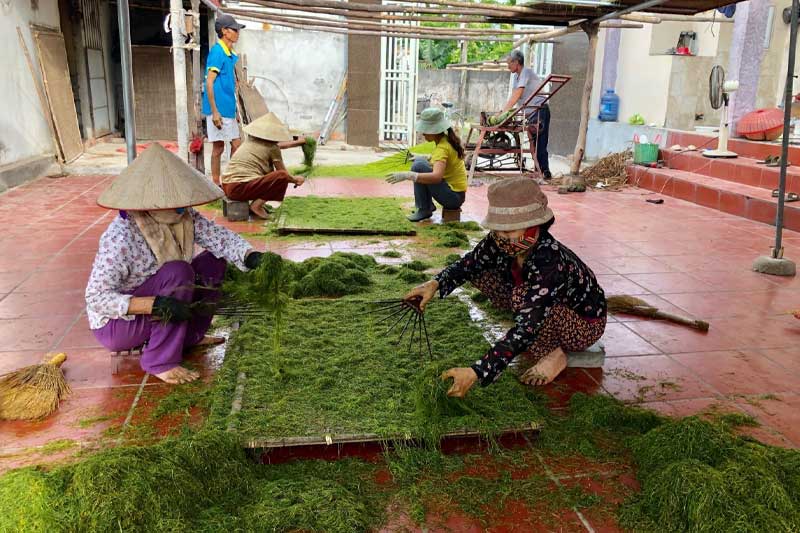 How to smoke Haiphong tobacco?
The way of smoking Haiphong tobacco seems to be very simple, but it is also an art. Smoking tobacco is not as simple as smoking cigarette. People also have to make a loud noise.
There are 2 tools for tobacco smoking: Tube and Bowl. The bowl is neat, looks cleaner and more eye-catching. But in return, the cost to have a beautiful set of tobacco bowl is much higher. People use a bowl made of ceramic. There are eye-catching patterns on the bowl. The top of the bowl is covered with high quality copper. It is a place to put tobacco in and light a fire. People use a tube made of copper or bamboo to plug a second hole in the bowl to suck.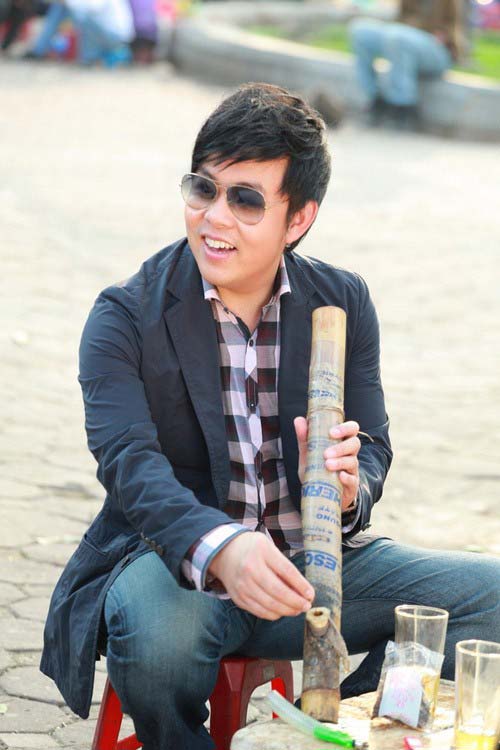 Tube is much cheaper (only from 50k). The tube is made of hollow bamboo inside. There is a "nõ" made of bamboo or wood to add tobacco to, and light a fire. The "mouth" of the tube is a place to smoke. There are many high-end tubes nowadays also made of bamboo. But they have very nice textures. Copper-coated tube mouth looks cleaner.
To smoke tobacco, at first, people take a few strands of tobacco, round about 1cm in diameter. Then put in "nõ" and lit. You can use a gas lighter to light directly or use the bamboo stick to light. If you use it to light the fire, it will look more radiant and more like the old days. The smoker lit the fire and inhaled several times to let the tobacco burnt out. Then, take a long breath, swallow, and exhale the smoke.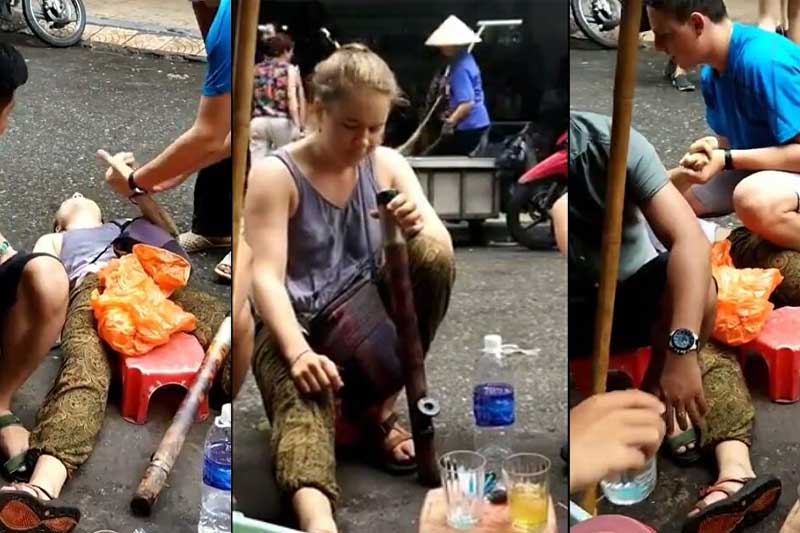 In order for the inhalation to make a loud noise, water is added to the tube or bowl. The final inhalation will emit a very characteristic sound.
New smokers should not take long breaths or swallow because it is easy to cause drug shock and drunk.
Where to buy tobacco in Haiphong?
Tobacco is very popular especially in rural areas. You can buy it at any grocery store for quite a cheap price. However, to get the best tobacco and want to buy in bulk, you should go to Kien Thiet commune, An Lao district and Ly Hoc commune, Vinh Bao district.
Summary
Haiphong tobacco is a traditional product of the local people. It has historical value. But in fact, tobacco is harmful to health. Please consider before using.