Haiphong VinWonders Vu Yen, the largest Vinwonders theme park complex in the North, is built by Vingroup in Haiphong city. The project is 50 hectares wide, divided into 6 subdivisions, including indoor and outdoor entertainment facilities with a variety of shopping centers and cuisines of 5 continents such as Vinpearl Safari, World Coaster, modern shopping center, water park…
Overview of Haiphong VinWonders Vu Yen
Project name: VinWonders Vu Yen
Location: Vu Yen Island, Thuy Nguyen district and Dong Hai 1 ward, Hai An district, Haiphong city (google map)
Investor: Vingroup Group
Total investment: 1 billion USD
Total area: 50 ha
Scale: 6 indoor and outdoor entertainment zones
Utilities: Outdoor water park, Children's entertainment area, Vinpearl Safari, Coaster World, Trade Center, Food world …
The project with an investment value of up to 1 billion USD was officially started on June 21 to welcome a special event to celebrate the 65th anniversary of the liberation of Haiphong, to welcome the Party Congress at all levels … Charming mountainous terrain, located in Vu Yen island eco-tourism area, VinWonders Vu Yen Haiphong is expected to bring impressive experiences, entertainment venues, to bring tourism development for the Port city.
Investor Haiphong VinWonders Vu Yen
The Haiphong VinWonders Vu Yen project is invested and developed by Vingroup – The unit that has deployed urban areas from the north to the south of Vietnam such as: Vinhomes Times city, Vinhomes Riverside, Vinhomes Central Park, Vinhomes Ba Son, Vinhomes Imperia, Vinhomes Cau Rao … This is also the investor of a series of 5-star resort products such as vinpearl systems in Nha Trang, Da Nang, Phu Quoc … Vinpearl Vu Yen or VinWonders Vu Yen will fully inherit the 5 *+ standard utility systems in the near future.
VND 150,000 billion is the total capital Vingroup has invested in developing projects in Haiphong city in the fields of healthcare, commercial centers, and entertainment such as Vincom system, Vimec hospital; real estate, accommodation services such as urban areas Vimhomes Cau Rao, Vinhomes Imperia; Vinfast automobile factory … creates jobs for 30,000 workers, contributes to the city budget of over 15,000 billion VND.
VinWonders, formerly Vinpearl Land, is the largest brand of resort and entertainment services in Vietnam. Currently, VinWonders system includes 3 first-class theme parks in South Hoi An, Nha Trang Phu Quoc, a system now includes 3 first-class theme parks in Nha Trang, Phu Quoc, South Hoi An and 1 semi-wild animal conservation park Vinpearl Safari.
Leading the way in creating and improving the quality of resort tourism in Vietnam, VinWonders ecosystem offers an all-in-one experience, focusing on development with a unique, distinctive experience with its own mark. especially Green Living Heaven – young life in VinWonders Phu Quoc; The portal to the world of VinWonders Nha Trang and Heritage Paradise, a place of cultural preservation at VinWonders South Hoi An.
With 15 years of experience, VinWonders promises to create a "new world destination" in Haiphong, marking the full presence of the entire Vingroup-branded ecosystem in the port city. This is the 4th theme park to be deployed in the country and is the first advanced North project of the WinWonders system.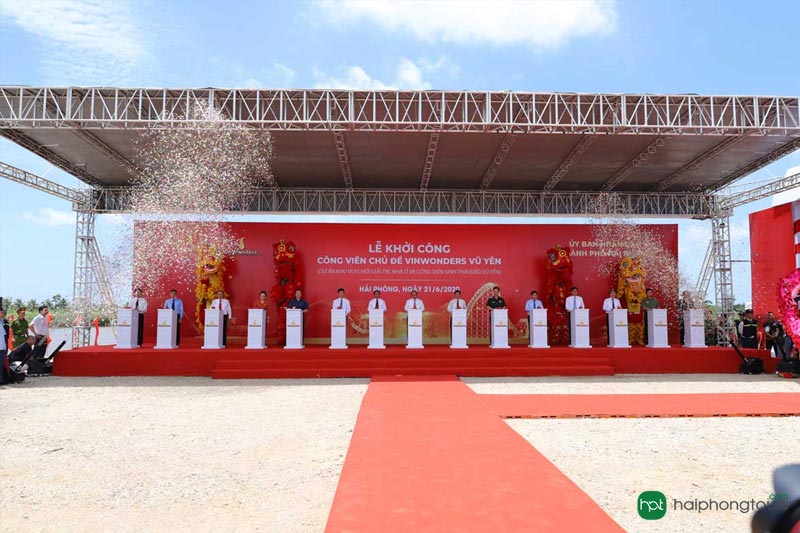 Location of Haiphong VinWonders Vu Yen
The Haiphong VinWonders Vu Yen project owns the position of "Beneficiary" in Vu Yen Island in Thuy Nguyen district and Dong Hai 1 ward, Hai An district, Haiphong city. The project's feng-shui is highly appreciated, like a picture of a water circuit, surrounded by a rich and diverse ecosystem, especially the terrain of nearly 3 large flows including Bach Dang River, Ruot Pig River and Cam River. creating a beautiful natural ecological environment and full of natural breaths. This is also a key factor determining the liquidity of VinWonder Vu Yen's real estate in the future salary.
In the past, Vu Yen Island, with the image of a swamp, difficult connection to urban development in this area was a big challenge, requiring investors to exploit and build potential. strong, experienced for many years. With the Vingroup Group's strategic vision, the appearance of Vu Yen Island is changing day by day with a more convenient transportation system that easily connects arterial roads such as DT359, 9C road, Bach Dang bridge, Ha expressway. Long – Haiphong, Construction investment project of Southern Binh bridge intersection … move quickly to Highway 5, Highway 10, Urban Area North Cam River.
According to updated information from Google Map, connectivity of the VinWonder Vu Yen project is as follows:
Vinpearl Golf Ferry station, Vu Yen island, Haiphong: 800m
Vinpearl Golf Haiphong, Vu Yen Island, Nguyen Binh Khiem, Dong Hai 2, Hai An District, Haiphong: 2km
Vinpearl Golf Haiphong, Dong Hai 1, Hai An district, Haiphong: 4,4km
Chua Ve port, Le Thanh Tong, Dong Hai 1, Hai An district, Haiphong: 5km
Viet Tiep Friendship Hospital: 16.9km
Le Hong Phong High School, 4 Pham Phu Thu, Ha Ly, Hong Bang District, Haiphong: 17.1km
Hai Long Shipyard: 17.4km
Haiphong City Convention Center: 17.5km
Haiphong Maritime Administration, No. 1A Minh Khai, Hong Bang district, Haiphong: 17.5km
Lach Tray Stadium, 15 Lach Tray, Ngo Quyen district, Haiphong: 18.8km
Quang Yen town, Quang Ninh: 20km
Utilities Haiphong VinWonders Vu Yen
Haiphong VinWonders Vu Yen is focused on developing with a unique, unique experience, bearing the mark of "Vietnam's leading theme park" with a series of integrated utilities and services such as:
Family play area
Children's play area towards specialized education in science, sports, virtual reality …
World Coaster – thrilling game subdivision
Vinpearl Safari park for care and conservation of wildlife
Outdoor water park
Commercial center system, shophouse
Food street
Coffee shop
The system of Asian – European restaurants
Security patrol, guard, 24/24 camera ensure absolute security
Design of Haiphong VinWonders Vu Yen
The Haiphong VinWonders Vu Yen project is developed in the model of a theme park of 50 hectares, divided into 6 indoor and outdoor functional entertainment areas. With many attractive record items, being present in Vietnam for the first time, the investor shook hands with international reputable consulting and design partners to bring quality and aesthetics to the project. high, practical, culturally suitable, harmonious combination between architecture and wild nature.