Halong bay cruise Indian food is now trending search. The number of Indian tourists visiting Vietnam is increasing and is expected to continue to rise. Travel companies and cruise operators are gradually shifting to cater to Indian guests. On land, finding a vegetarian Halal restaurant is not difficult. However, serving Halal food on Ha Long Bay cruises is a significant challenge. So, what are the solutions to this issue? Let's analyze it together with Hai Phong Tours!
5 Requirements for Halal Food
Requirements for Halal food are related to standards and regulations in Islamic cuisine. Here are some common requirements:
Ingredients: Halal food needs to be prepared from suitable ingredients. Meat must come from animals slaughtered according to the Halal method, which means the animal is slaughtered without experiencing pain and the name of Allah is mentioned. Halal food also does not contain ingredients from pork, non-Halal seafood, or other prohibited substances in the Islamic faith.

Processing procedures: Halal food must be processed and stored in a way that ensures no contact with non-Halal ingredients, including cooking utensils, pans, pots, and work surfaces. The procedures must be monitored to ensure the separation of Halal and non-Halal food.

Food regulations: Halal processing facilities and restaurants need to comply with regulations on food hygiene and safety. This includes special hygiene procedures, food quality checks, and the use of fresh, healthy ingredients.

Halal certification: Some countries have Halal certification organizations that provide Halal labels for products that meet Halal standards. The use of Halal labels helps consumers recognize and trust the Halal quality of the products.

Supervision: Halal restaurants and processing facilities are often supervised by authorized agencies or Islamic organizations to ensure compliance with Halal procedures.
These are just some general requirements for Halal food. Specific regulations and standards may vary depending on the country and certification organization.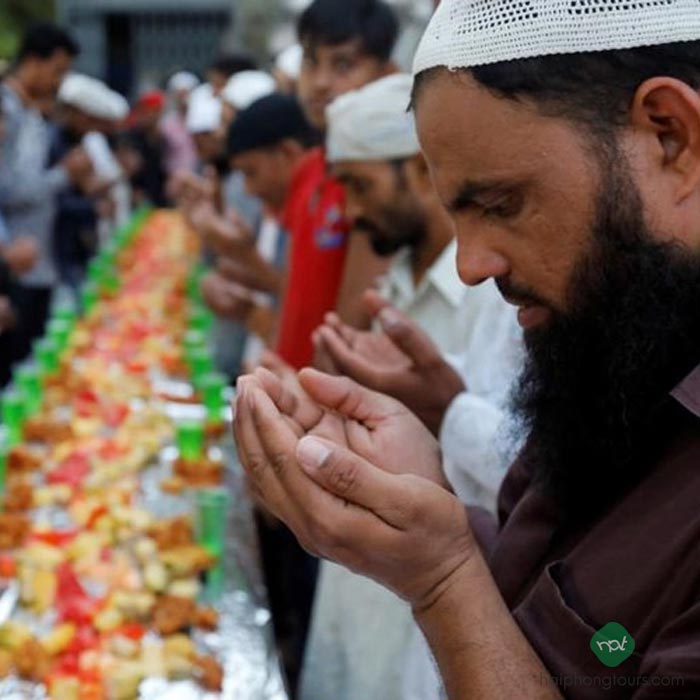 6 Halal Restaurants in Ha Long
Currently, there are hardly any Ha Long Bay cruises that can meet the standards of Halal food. However, on the mainland, there are some addresses as follows:
Alibabas Indian Restaurant: Address: 25 Le Thanh Tong, Bai Chay, Ha Long, Quang Ninh.
Duong Dong Restaurant: Address: 99 Nguyen Van Cu, Hon Gai, Ha Long, Quang Ninh.
Halal Asean Restaurant: Address: 2, Zone 7, Bai Chay, Ha Long, Quang Ninh.
Halal Old Town Restaurant: Address: 12 Le Thai To, Hon Gai, Ha Long, Quang Ninh.
Halal Pelican Restaurant: Address: 2, Green Tree Garden, Ha Long, Quang Ninh.
Halal Cua Vang Restaurant: Address: 16-17, Zone 10, Bai Chay, Ha Long, Quang Ninh.
Please note that this information may change over time, so before visiting, you should verify specific information about Halal restaurants in Ha Long. You can search for reviews and feedback from customers on travel websites or restaurant review services to ensure you choose the right restaurant that suits your needs.
Halong bay cruise with Indian food
Here are overnight cruise tours that offer Halal Indian food
As mentioned by Hai Phong Tours above, there are currently no Ha Long Bay day cruise that can prepare authentic Halal food for Indian guests. However, the cruises still offer vegetarian Indian food options that can be consumed. For example:
Mixed salad
Papaya salad
Pickled cabbage
Omelet eggs (if eggs are allowed)
French fries
Fried sweet potatoes
Fried dumplings
Stir-fried cabbage
Stir-fried noodles with vegetables
Fried rice with vegetables
Steamed rice
Watermelon and pineapple
To book a Ha Long Bay cruise with Indian food options, please contact Hai Phong Tours via Zalo or WhatsApp at +84975200357.
Wishing you a delightful journey!