Halong Orientail Sails is a famous brand specializing in Bai Tu Long bay, Halong bay. Currently, they have 3 cruises with the same name in 3-star class. With low room rates, Orientail Sails targets the mass market, but the quality is still guaranteed. Let Hai Phong Tours tell you more about this brand.
General information about Halong Orientail Sails
Halong Orientail Sails is a wooden cruise with a simple design but luxurious. The main color gamut of the cruise is brown combined with wood materials to create a very warm feeling. Since this is a 3-star cruise, the number of rooms and the maximum number of passengers are also limited. But for that reason, many tourists love it. They will not have to travel with many people and will be less noisy.
All bedrooms on the Halong Orientail Sails are equipped with the essential facilities that are in line with the standard of 3-star cruise. Each room is installed with large glass doors overlooking Bai Tu Long Bay, Halong. The rooms are distributed mainly on the 1st floor. The second floor is the location of the restaurant. Everywhere on the cruise are decorative motifs bearing bold Vietnamese traditional. You can easily see the image of the lotus flower, the shapes of paper fan…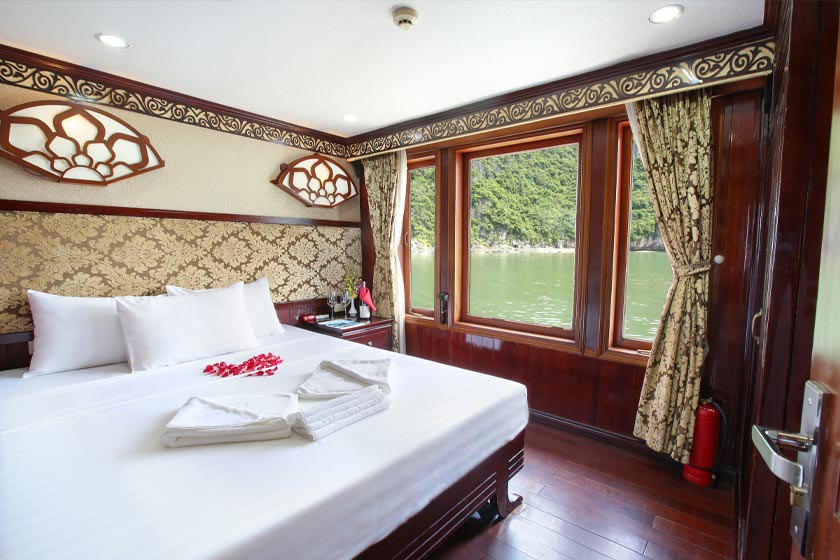 Currently, Orientail Sails has 3 cruises with the same name in operation. They are the Oriental Sails 1, 2, 3 cruises. All of them are in common style. They differ only in the number of rooms serviced to tourists and the year they were launched.
Halong Orientail Sails 1
The cruise was officially launched in 2009 and last repaired in 2014. The total length of Halong Orientail Sails 1 is 39.8 meters, 7.55 meters wide and 9 meters high. On the first floor, there are 10 rooms serving tourists and kitchen. 2nd floor has 8 bedrooms and restaurant, bar. The room on the first floor will help you feel closer to the sea surface. But the visibility is shorter. Since it's on the 1st floor, you will still hear the generator engine sound.
If you choose a 2nd floor room, the view will be further away but you will be further away from the water surface. On the 2nd floor, you will feel quieter. And since this is a wooden cruise, you can see the footsteps quite clearly. This does not really affect to the quality of the room because when you return to your room, tourists will not walk much so don't worry!
The area of ​​each room on the Halong Orientail Sails 1 is 14.5 square meters. There are 9 rooms with 1 bed. The remaining 9 rooms are 2 single beds. You can also request to combine 2 single beds to form a Double bed.
Halong Orientail Sails 2
Halong Orientail Sails 2 was launched just 1 year after Orientail Sails 1. The cruise was most recently renovated in 2013. Therefore, this is a very suitable one if you want to charter a private cruise for a small group of less than 16 people. The cruise is only 23 meters long, 5 meters wide and 6 meters high. Orientail Sails 2 has total 8 bedrooms divided into 2 floors. The first floor has 6 bedrooms and a kitchen. 2nd floor has 2 bedrooms and restaurant, bar.
The room area of Orientail Sails 2 cruise is more modest with only 11.6 square meters. The cruise has 1 triple room that can accommodate 3 people (3 single beds), 4 double rooms and the rest are twin rooms. Although the area of the room is a bit small, in return, with the interior decoration and golden light, you will find your room more cozy.
Halong Orientail Sails 3
This is the third cruise of the Orientail Sails and was launched in 2010. The cruise was renovated four years later. Orientail Sails 3 cruise has a total length of 33 meters, width 8 meters and height of 9 meters. The rooms on board are also divided according to 2 floors. The first floor consists of 8 bedrooms and a kitchen. 2nd floor has 4 bedrooms with restaurant, bar.
In total of 11 rooms, there are 5 double rooms. The rest are twin rooms and can be combined into double rooms. The total area of each room is 12.5 square meters. Thus, at the third time, Oriental Sails still aims to small groups to ensure a more private trip.
Equipments on Halong Orientail Sails
Positioned as a 3-star cruise, the equipments on Halong Orientail Sails are also very basic. All just enough for you to be able to function as usual at home. 2-way air conditioning is an indispensable equipment in the room and of course the Halong Orientail Sails must have. However, not everyone likes the air conditioner. You can also open a window so to enjoy the sea breeze.
In addition to paid drinks at the bar, 2 bottles of free mineral water for 2 people are available in the room. Other beverages such as wine, beer, fruit juices … are sold at bar. You can also buy and bring to your room to drink.
Hot water for bathing is also important. It will keep you awake after a day of fun. The water heater here uses electricity from a generator. When all the heaters in guest rooms are on, the water heating rate will be slower. So please wait calmly.
Fire extinguishers, life jackets or escape hammers are very important when travelling. You should pay attention to its location upon check-in. This won't take you a lot of time, but it will be of great help when needed.
In addition, there are other items in the room such as slippers, toiletries like shower gel, shampoo, towels, toilet paper ..
Restaurant on Halong Orientail Sails
The restaurant on the Halong Orientail Sails is the place that serves breakfast, lunch and dinner for tourists. At the same time, this is also a bar that sells drinks such as wine, beer, cocktails … The meals at the restaurant are cooked in the style of Vietnamese cuisine. However, depending on the customers, the chef will prepare the most suitable dishes.
Restaurant space is very open. You can eat while watching the scenery of Bai Tu Long Bay, Halong through the windows made of glass. You can sit at a separate table or with your own group as you wish.
Restaurant opening time from 7am to 8pm for breakfast; 13:00 to 14:00 for lunch and from 19:00 to 20:00 for dinner. The capacity of the restaurant depends on which cruise you are traveling on.
Sundeck on Halong Orientail Sails
The sundeck is where many interesting activities taken place when visiting Bai Tu Long Bay, Halong. This is the absolute open space. You can find your own rattan chairs for sightseeing or sun loungers. If you want to take selfies on the cruise, this is the ideal location.
The Sundeck on Halong Orientail Sails at happy hours is the place to operate cooking class. You will be able to make your own spring rolls and enjoy your achievements. During Happy hours, you can sip wine, beer or cocktails and watch the sunset, chat with relatives or make friend…
At the sunrise, the deck is the place to practice Tai Chi. This is a morning exercise with great health benefits. Remember to get up early to practice with your guide.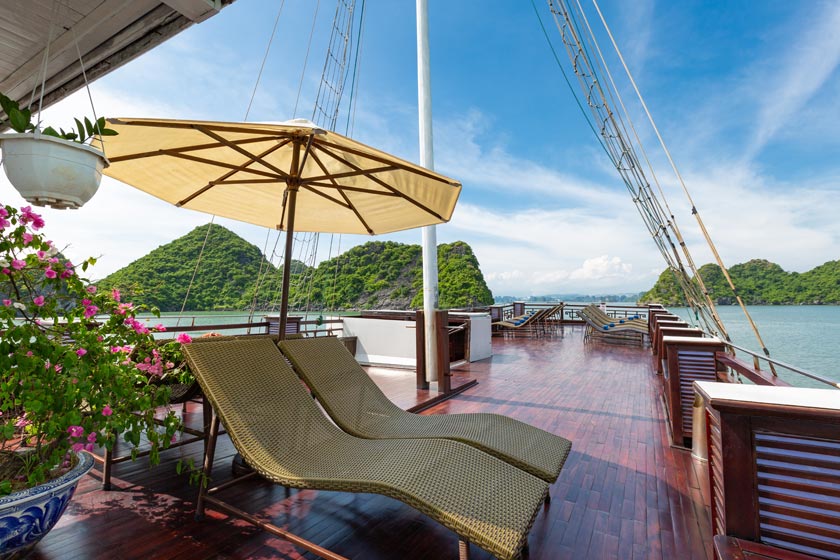 Schedule of Halong Orientail Sails
The most popular Halong Orientail Sails schedule is Bai Tu Long 2 days 1 night tour. If you have more time and want to experience the Bai Tu Long Bay, Halong longer, you should consider Bai Tu Long 3 day 2 night tour.
2 days 1 night: If you book the Bai Tu Long tour 2 days 1 night, you will visit the Vung Vieng fishing village. Here, you will have the option to kayak or sit on a boat to explore the fishing village. Hai Phong Tours recommends that you choose a kayak for a better experience. If you have never kayaked before, you can learn by yourself in 5 minutes. After that, you will return to the cruise and take part in cooking class, happy hours.
In the evening, you can go to the tender boat to fish for squid. The next day, you will visit Thien Canh Son cave and then return to harbor to end the trip.
3 days 2 nights: Bai Tu Long tour schedule 3 days 2 nights is similar to the 2-day schedule. Days 1 and 3 will be similar to days 1 and 2 of the 2-day itinerary. The difference is that on day 2, you will visit Tra San, Vung Ha. You will have almost an entire day to go kayaking.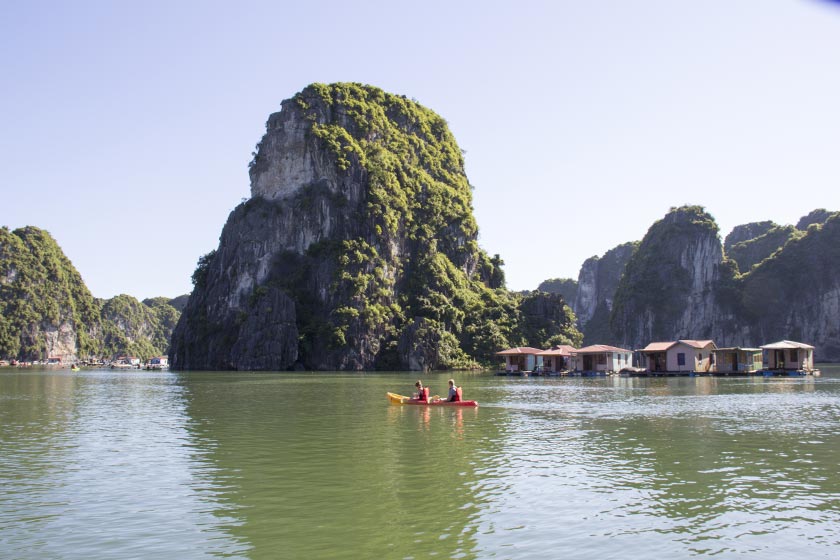 Book Halong Orientail Sails
To book Halong Orientail Sails, you can contact directly with the consultant team of Hai Phong Tours at any time (Contact now). We're here to help you as quickly as possible. You can chat via Zalo, Whatsapp at the phone number: +84975200357.
If you do not want to wait, you can chat directly on the website by clicking the chat icon in the right-bottom corner, selecting Live Chat. After that, an expert will answer you immediately.
In case you do not have time to chat directly, please email Hai Phong Tours at [email protected].
Conclusion
Hai Phong Tours has just share the details of Halong Orientail Sails visiting Bai Tu Long Bay, Halong. If you have any questions about this cruise, please leave a comment below. The support team of haiphongtours.com is always ready to help you for free! Thank you!