Halong Starlight cruise is one of the 5 star cruises visiting Halong Bay along the Bai Tu Long Bay route. This is also owned by Oriental Sails. The Starlight was launched in 2013 and received many positive reviews from customers. Let Hai Phong Tours tell you more about this!
General information about Halong Starlight cruise
The Halong Starlight cruise is the most luxurious one belongs to the Oriental Sails company up to now. It welcomes guests and departs from Halong international cruise port. Departure time is about 12:30. With a total of 32 bedrooms serving tourists, Starlight can accommodate more than 60 people at the same time. This is the ideal cruise if you want to hold an event or a small wedding. There have been many couples doing this before.
Halong Starlight cruise is 58 meters long, 10.72 meters wide and 3.15 meters deep. On board, there are full of facilities and services like a 5 star hotel on shore. The cruise is designed with steel, has a double sideboard and a double bottom, so it is very safe.
Halong Starlight cruise restaurant
The Halong Starlight cruise restaurant is located on the 3rd floor with a total area of 350 square meters. This is the place for breakfast, lunch, and dinner. Besides, there is the stage area covered with tempered glass. Below is a very modern blinking led light. This is where dancers can perform or if you go in a large group, you can also hold dance events here.
Since this is a 5 star cruise, the breakfast on board will be buffet. You can choose your favorite food. The lunch is a set menu tailored by a restaurant chef. Depending on the type of customer, the chef will prepare the most suitable menu. If you are on a diet or a vegetarian diet, you need to notify to sale person before departure date
Bedroom in Halong Starlight cruise
The bedroom in Halong Starlight cruise are the largest in size compared to other cruises owned by the Oriental Sails company. The Deluxe and Executive rooms are 22 square meters in size. Two Suite rooms have an area of 50 square meters. All rooms have large tempered glass doors to view the sea.
The first floor is area of 12 Deluxe rooms. However, if viewed from the room, this is the place closest to the water. The second floor has 18 rooms of Executive class. From this room, you will see farther and farther from engine so it is quiet. The 3rd floor has only 2 Suite rooms. These are the only 2 rooms with a private balcony located at the end of the cruise. It is the perfect place to enjoy private space.
More specifically, all the bedrooms in the Halong Starlight cruise have a Jacuzzi. After a tiring day out, you can enjoy a wonderful relaxing stay at no extra charge. In the room, all decorative patterns are still similar to the ones by the Oriental Sails Company. A deep brown color of wood combined with yellow lights makes visitors feel very gentle and cozy.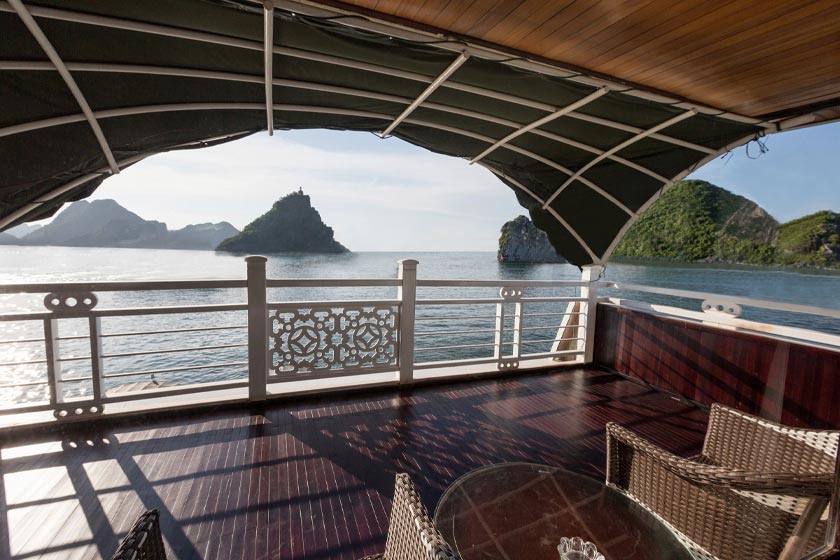 In the room, there are always full of equipments like a 5-star hotel such as:
Air conditioning
Mini bar
Television
Phone
Slippers
Wardrobe
Free 2 bottles of mineral water
Safe deposit box
Fire extinguishers, life jackets, fire escape hammers and fire alarms
Shower stand
Bathrobe
Hairdryer
Sundeck Halong Starlight cruise
The very spacious Sundeck Halong Starlight cruise with a total area of 400 square meters. This is the perfect place to practice Tai Chi in the early morning. If you love playing golf, there is a mini golf course available for you to practice. Everywhere, you can find chairs to sit and sip cocktails or sit down to watch the scenery or sunbathe.
In addition, the sundeck is also the place where cooking class taken place. You will both cook and enjoy the traditional dish that is spring rolls. At happy hours, most tourists come here to watch the sunset.
Halong Starlight cruise schedule
The Halong Starlight cruise schedule is similar to the 3 star Orientail Sails. The cruise will also visit Halong Bay along the Bai Tu Long Bay route. If you go Bai Tu Long bay 2 days and 1 night, you will visit Vung Vieng fishing village and then the next day visit Thien Canh Son cave.
If you go to the Bai Tu Long bay 3 days 2 nights program, day 1 and 3 are exactly like the 2-day program. On the second day, you will have more time to go kayaking and visit Tra San and Vung Ha areas.
In general, if you want to take a vacation, sightseeing, and kayaking, this is a very suitable cruise. If you want to swim, unfortunately, the Bai Tu Long Bay is not allowed to swim.
Book Halong Starlight cruise
To book Halong Starlight cruise, you can contact Hai Phong Tours's consulting team directly at any time. We're here to help you as quickly as possible. You can chat via Zalo, Whatsapp at the phone number: +84975200357.
If you do not want to wait for friends, you can chat directly on the website by clicking the chat icon in the right corner, selecting Live Chat. After that, an advisor will answer you immediately.
If you do not have time to chat directly, please email Hai Phong Tours at [email protected].
Conclusion
Above is the details of Halong Starlight cruise: 5 star cruise travel to Bai Tu Long bay. If you have any questions about this cruise, please leave a comment below. The support team of haiphongtours.com is always ready to help you for free! Thank you!