Hanoi Old Quarter (Vietnamese: Phố cổ Hà Nội) is the name commonly given to the historical civic urban core of Hanoi, located outside the Imperial Citadel of Thang Long. Through the ups and downs, the streets are still alive to this day. Moreover, Old Quarter Hanoi is the "heart and soul" of the capital city. A place to save ancient culture, memory of times and indeed the best place to visit!
Another common name referring to approximately the same area is the 36 streets (Vietnamese: Hà Nội 36 phố phường). This quarters used to be the residential, manufacturing and commercial center, where each street was specialized in one specific type of manufacturing or commerce. Ha Noi Old Quarter consists of many small, meandering streets, each bears the name of the goods that was specifically traded there such as Hang Bac (Silver Product), Hang Ma (Paper Product) just to name a few.
Hanoi Old Quarter with its old-styled narrow streets full of antique brick houses seems to resist the flow of time while still actively trying to adapt to the dynamic atmosphere of the modern city.
Located in the prime destination – the center of Hanoi, Old Quarter Hanoi has preserved the characteristics of this lands, memories of history, country and people.
History of Hanoi Old Quarter
The residential and commercial area that is now the Old Quarter came to be during the Lý and Trần dynasties and was then located east of the Imperial Citadel of Thăng Long and along the Red River. During the Lê dynasty, scholar Nguyễn Trãi already mentioned some of the areas each specialized in one particular trade. It was then surrounded by a defensive wall with several gates.
During the Lê dynasty, the area included several lakes and wetlands, the largest of which was Thái Cực lake. These lakes, as well as the Tô Lịch River were connected with Hoàn Kiếm lake and the Red River. Near the end of the 19th century these lakes and rivers became isolated from each other.
During the Lý and Trần dynasties, many people from the surrounding plains migrated to the city and settled in what is now the Old Quarter, creating the densest urban area of the city. The Lê dynasty period saw an additional influx of Chinese immigrants who arrived to trade, creating several Chinese neighbourhoods..
When the French ruled over Vietnam, they partially rebuilt the area. This period saw many French and Indians settling there to conduct business. Two small markets were demolished to make place for Đồng Xuân Market. Furthermore a tramway was constructed through the quarter.
Currently, The area is still the commercial heart of Hanoi. The official Old Quarter is part of the Hoàn Kiếm District. Its total area is about 100 ha and it counts 76 streets distributed over 10 wards.
Places to visit in Hanoi Old Quarter
Dong Xuan Market
Opening Hours: Daily 06:00 – 19:00
Address: Dong Xuan Street, Hoan Kiem District, Hanoi
Dong Xuan Market is a place worth visiting yet at the same time it can be a challenge for tourists for Dong Xuan market is the oldest traditional local market of Hanoi. It can be said as a paradise for shopping where you can find all the things you can imagine there. However, shopping at Dong Xuan market is only cheap for those who know how to bargain. Even if you're not confident with your bargaining skill, Dong Xuan market is still the best place to buy food, clothing, and souvenirs.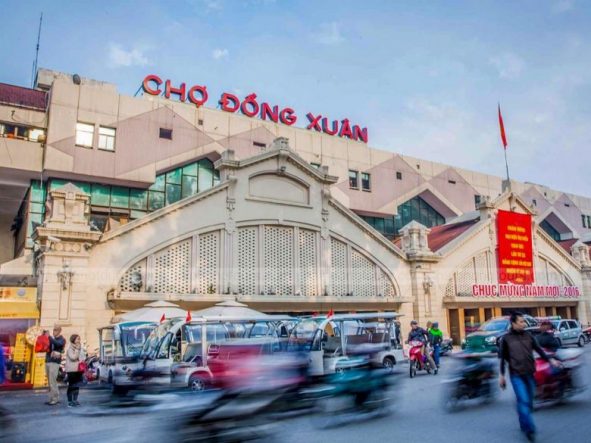 87 Ma May Ancient House
As one of the attractive places to visit in Hanoi Old Quarter, the old house in 87 Ma May is a traditional type of house that recreates the living space, the characteristic of ancient Hanoians. The house is open regularly for tourists to visit, the entrance ticket price is 10,000 VND.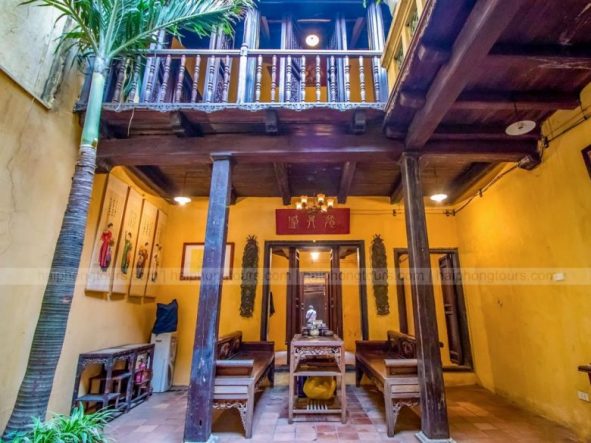 Night Market Hanoi
Hanoi Old Quarter Night Market is opened from 18 to 23h every Friday, Saturday and Sunday. This is one of the busiest trading places with a number of booths up to 4000. The trading products here are varied from clothes to shoes, household appliances, crafts, souvenirs and so on, at affordable prices (In case you know how to bargain).
On every Saturday evening, at the two ends of the street, there are some performances such are traditional folk art and cultural exchanges such as " Cheo", Quan Ho, Ca Tru. This is unique of the Hanoi Old Quarter night market that attracts many visitors, especially foreign tourists.
Hang Ma Street
Located in the Old Quarter, Hang Ma Street is considered as one of the most crowded and colorful streets in Hanoi. Especially on the occasion of festivals, New Year, the street is decorated with lanterns, glowing toys, balloons that make this place not only flooded with sound, colors, light but also imbued with a spiritual impression. of the East.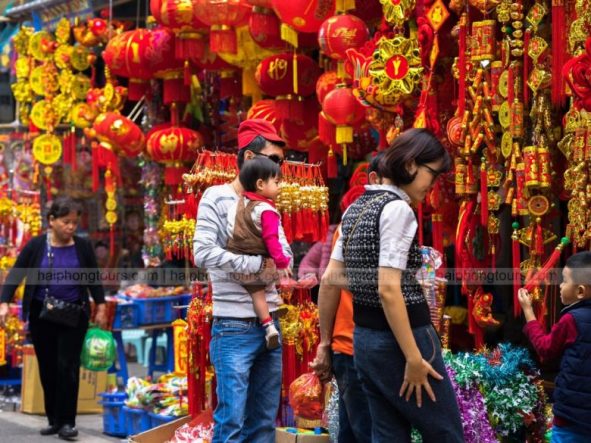 Ta Hien Street
This is a small street in the heart of Hanoi is always crowded. This is a famous drinking place in Hanoi, which is loved by young people. This place is also known as the "international crossroads" and has been included in the list of "must-visit places" when traveling to Hanoi by foreign tourists.
Highlight Activities in Hanoi Old Quarter
Experience  Xich Lo
Cyclo has so far become a very familiar image to Hanoi people. Viewing and enjoying the old town landscape by cyclo is an interesting thing that anyone wants to experience when traveling to Hanoi, especially the old quarter. This way of traveling makes visitors feel new and closer to the breath of life and culture of Hanoi. When traveling by cyclo, you can film, take pictures, admire the relics and ancient features of Ha Noi. It is also a good way to observe the busy life of the old town people.
You may like this Hanoi street food day tour
The route includes around Hoan Kiem Lake to the old town.
Services price: US.5~7$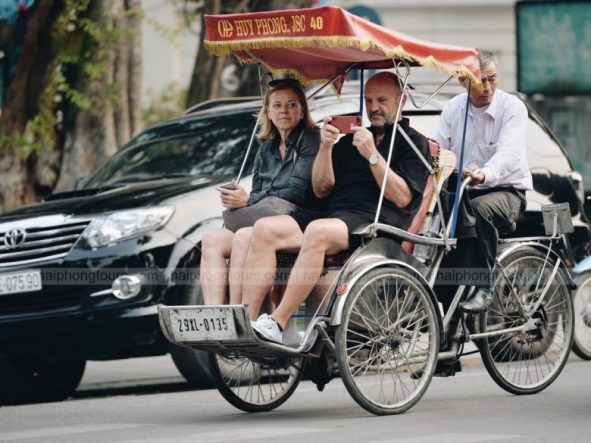 Hanoi Old Quarter Shopping
The Old Quarter has delight and houses artistic products from around the country, designed by many artists and craftsmen. Popular items that make fine souvenirs include lacquer ware, silk products, gig fabrics and bags, conical hats, coffee beans and paintings. Tourists can negotiate with a smile when shopping in here.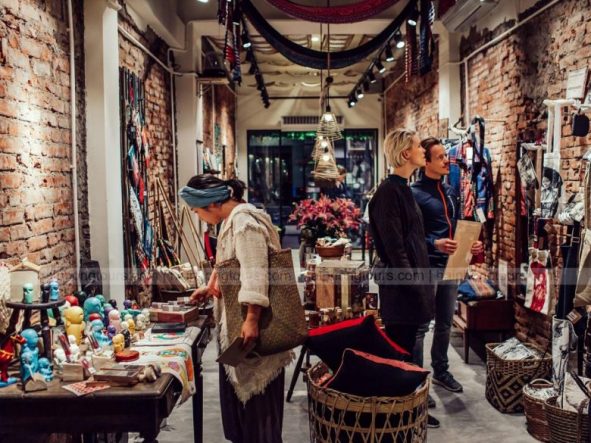 Old Quarter Nightlife
Other parts of Hanoi might quiet down at night but the Old Quarter is where night owls head to. Live music, discos, clubs and bars as well as decent karaoke joints are the norm here. The numbers might be limited compared to other large Asian cities. But what's on offer here is well enough to keep people from students, office staff and foreigners.
Old Quarter Dining
In Vietnam, French baguettes and coffee have something very much in common with pho rice noodles.  As the locals consume them in massive amounts daily, so they're sold everywhere. There are many things to choose and dishes come at cheap to affordable prices no matter where you prefer to dine. (Cha ca, banh goi and pho are among the top of the list). Try out one of the many street stalls around the Old Quarter. You will be surprised by how delicious simple dishes taste.