The following Hon Dau Island Travel Experience (Hon Dau) shared by Hai Phong Tours is drawn from the personal trips of the founder of Hai Phong Tours. I myself have brought foreign tourists here many times to visit, admire, and relax, especially on weekends. It must be said that this is a great place to hang out together, enjoy a completely different atmosphere from your daily life.
So, what does Hon Dau Island have that make me so excited? Please stay with haiphongtours.com to find out! I do share the details so you guys try to read it all the way to the end…
Where is Hon Dau Island?
Before learning about Hon Dau island travel experience (Hon Dau), what I want to distinguish from you is the concept of Hon Dau island tourism and Hon Dau tourism.
Hon Dau island tourism: This is moving from Hon Dau resort by boat to Hon Dau island. This island is a primeval island located completely separate from the mainland. The only way to get to this island is by boat. It takes about 10 minutes for the boat to run from the pier to the island.
Hon Dau Tourism: The concept of Hon Dau tourism refers to tourism in the area of ​​Hon Dau Resort located on the mainland. Here, you can experience swimming (beach zone 3), bathing at the artificial beach, playing games. In particular, the highlight in this resort is miniature Da Lat. There are many interesting things here such as crash car, zoo, maze, ghost cave…
These two concepts are easy to confuse visitors. You need to be careful not to go to the wrong point!
As the map above, Hon Dau island belongs to Van Huong ward, Do Son district, Hai Phong. The island has an area of 12.5 square kilometers.
What to prepare before going to Hon Dau island?
1. Bring insect spray, cream
Hon Dau Island is a primeval island. Although there are no wild animals in the forest on the island, there are many Culicoides. (Refer to the Culicoides on Wiki).
Culicoides is a genus of biting midges in the family Ceratopogonidae. There are over 1000 species in the genus, which is divided into many subgenera. Several species are known to be vectors of various diseases and parasites which can affect animals. Like Leptoconops, the genus has a long fossil record, with earliest known fossils being from Burmese amber, around 99 million years old.
In the wet and rainy season, Culicoides reproduces very strongly. Just seeing the smell of blood, Culicoides immediately approaches us… But not because of that, Culicoides can stop the footsteps of nature lovers. As soon as you set foot on the island, use insect spray, cream applied to open skin areas such as face, neck, nape, hands, feet… If you stay on the island for a long time, you should repeat this every 30 -60 minutes… This is the Hon Dau Island travel experience for life!
2. Choose the right outfit
Traveling to Hon Dau island and wearing "sexy" clothes, there is nothing better than… However, you should also consider not to be "too sexy" or you may become bait for Culicoides… If you "have to" show off the beauty of your body, apply more insect sprays and creams!
In the wet season, the road to the island is slippery. You should prepare hiking shoes or sports shoes with good grip.
3. Drinks, Food
There is no restaurant or hotel on Hon Dau island. This is the garrison of the maritime border force. According to my Hon Dau Island travel experience, in order not to cause trouble, you should bring your own water.
There is also a fast food vendor in Nam Hai Than Vuong Temple. You can also go here to buy stuff. Maybe the price will be a bit more expensive because all the ingredients must be brought from the mainland by the seller.
The best solution is a picnic with food and drink to bring. I prepare ready-to-eat food at home, wrap it in foil and put it in my backpack. When coming to the island, it is very interesting to spread a canvas and eat. Campfires are forbidden on the island, so cooking on the island is not feasible.
If you bring alcohol to grill squid or yellow fish, the border guards can also imitate it! Here, there are very quality stone dining table available. You can sit comfortably. Of course, if there are any border guards there, you should ask first. And if there's delicious food, don't forget to invite them to enjoy it with you!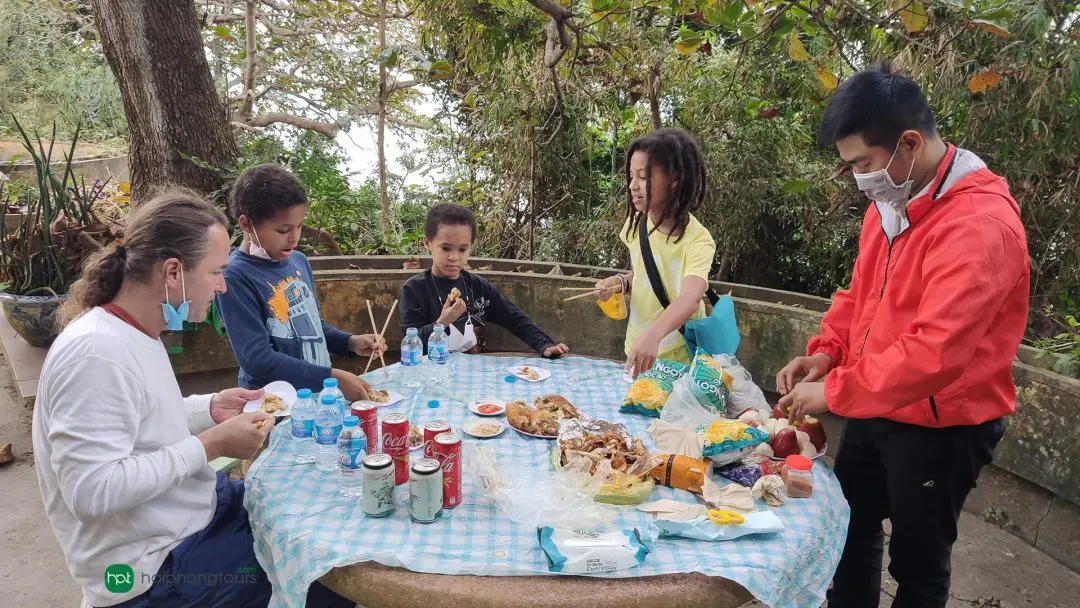 4. Battery, charger
According to the Hon Dau Island Travel Experience of haiphongtours.com, there are no public works available with electricity for free charging on the island. Therefore, before going to the island, please fully charge your phone battery or bring a backup battery, power bank.
5. Tent
If you go to Hon Dau island in the morning, at noon, you can rest on the island. At this time, lying in the tent, listening to the sound of the waves, enjoying the cool breeze blowing in from the sea is so wonderful!
How to get to Hon Dau Island?
With my Hon Dau Island travel experience, the only way to get to Dau Island is by boat. From other provinces and cities, after arriving in Hai Phong, you should find your way to Area 3 Do Son. Then go into the Hon Dau Resort area. (Currently, the boat does not depart from Ben Nghieng anymore).
Note: Do not park your car at the parking lot right at the entrance or you get charged again… Just clearly tell the security guard to go to Hon Dau pier.
After entering the Hon Dau resort area, go straight inside, turn right and go straight to Hon Dau pier (about 400m from the entrance gate). After arriving at the pier, you can see Hon Dau Island right in front of you.
To move to Hon Dau island, please contact Mr. Phuong 0975200357 to book a private boat (If you book in advance, please contact the phone number above).
If you want to join the shard boat, you can ask directly at the ticket counter. However, there are not always boat to pair. Private boat price is 850,000 VND / 2 ways. If you don't mind, you should choose to rent a private boat, which will be more convenient and more proactive in terms of time.
And according to the Hon Dau island travel experience, please note that you must save the boat owner's phone number or if you book a private boat, immediately save the phone number of Mr. Phuong 0975200357. Before preparing to return about 10- 20 minutes, please contact for pick up. All boats, when going from Hon Dau pier to Hon Dau island, after dropping off passengers, return to the wharf and are not allowed to stop at the island
Ticket price for Hon Dau island
The ticket price for Hon Dau island is extremely cheap. And on public holidays, Tet, and festivals, there will be people standing to collect tickets. And if on weekdays, no one even collects tickets.
Ticket price to Hon Dau island is 6,000 VND/person.
Perhaps because the price is so cheap, the management does not separate the adult and child ticket prices. Don't confuse the ticket to the island and the ticket to the boat!!! Tickets to the island are collected directly on the island, without intermediaries.
What is the best time to visit Hon Dau Island?
What is the best time to visit Hon Dau island? This is definitely a question that many people are interested in. With my long-term experience of traveling to Hon Dau island, summer is still the most ideal time and suitable for all visitors.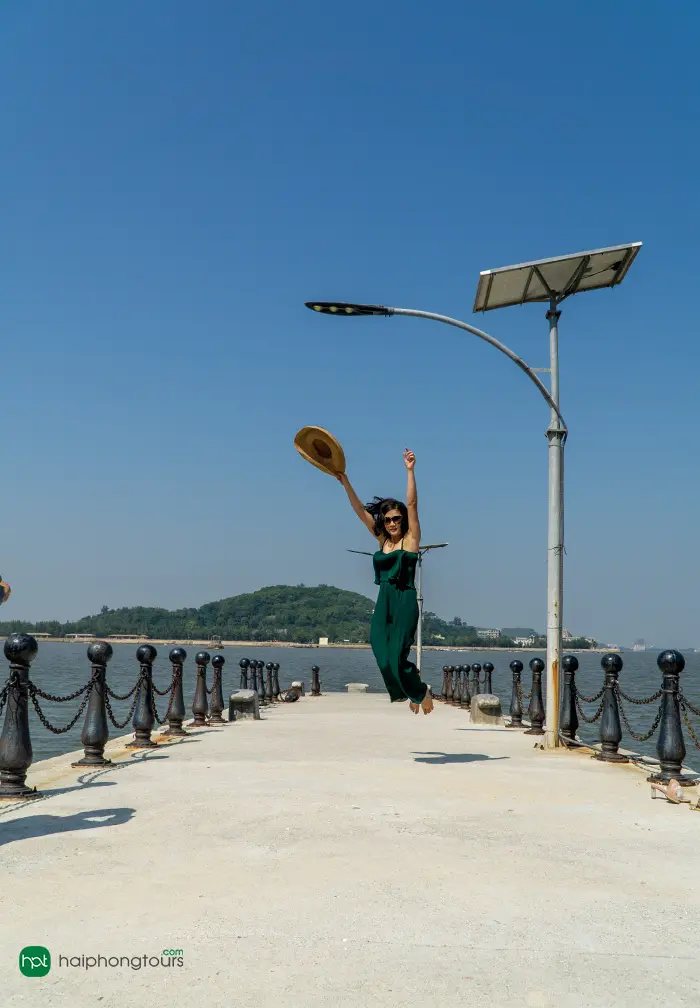 During this time, the temperature outside is very high and everyone wants to find a place to hide. Therefore, Hon Dau island becomes an ideal place. This island is surrounded by primeval old forest, so it is covered with shade. Combined with the steam rising from the sea, the temperature on Dau Island is extremely cool.
In the summer, the clear sea water combined with the clear blue sky, you will definitely take very good photos here.
But according to Hai Phong Tours' Hon Dau island travel experience, Hon Dau island is always beautiful at any time. In the cold season, almost no tourists come here. But if you are a person who likes freedom, does not like noise, then the whole island is yours. The feeling that there is only one team on the island free to explore is so private, so comfortable.
In the rainy season, the forest is wet. Sometimes during the trip, you can also encounter rain. This feeling is only suitable for true backpackers. The feeling of being soaked in rain, crossing the forest to the top of Lighthouse is rare to experience!
What to play on Hon Dau island?
1. Sea fishing
You are an angler but your lover forces you to go to Hon Dau island? Great opportunity here. Hon Dau is an ideal place for fishing because there are many cliffs and wharfs here. If you are a fish killer, then don't worry about food.
Here, many anglers hire their own boats to come here from morning to night.
2. Nam Hai Than Vuong Temple
Nam Hai Than Vuong Temple is located right next to the pier. This is a temple that has existed for a long time, now it has been repaired by the people in Do Son.
Nam Hai Than Vuong was a general of the Tran Dynasty. According to legend, after a naval battle to defeat the Nguyen Mong invaders on Bach Dang river, people saw a dead body floating on the island. Seeing his clothes, knowing that a general of the Tran Dynasty had died in battle, relatives built a grave and then built a temple. Legend has it that the god Nam Hai is very sacred, if anyone dares to take anything on the island, including a leaf, he will be punished by him, must return it to rest.
That is why, after hundreds of years, Hon Dau Island still retains its magnificent pristine beauty.
In the After Le dynasty, the king visited Do Son, spent the night on the island, dreamed of an old man with silver hair claiming to be the island god. Waking up, the king said: If you are a god, then take revenge. With that, a big fish jumped onto the dragon boat.
Seeing the results, the king named him "Lao Dao Dai Than Vuong". His temple has the descendant name Nam Hai Dai Than Vuong, and the fishermen call him old man. Every year, on the 8th – 9th and 10th of February (lunar calendar), seafarers in the northern coastal region come together to Dau Island to worship.
3. Hon Dau Lighthouse
Hon Dau Lighthouse is located on the highest peak of the island. Built in 1892 and completed in 1896, put into use in June 1898. This is a work designed by French architects with the task of showing the way to Hai Phong port during the French years. conducting colonial exploitation in Vietnam.
4. Eight Pavilions House
Eight Pavilions House is the common name of islanders for a row of French-built houses dating from 1908. The row has exactly eight rooms with corridors, fireplaces, and bathrooms. Currently, the block is used to welcome tourists to visit the island and stay overnight on the island.
However, it is very rare for someone to stay overnight on the island. I came here during the day and it was horrible =)
5. Hon Dau meteorological station
Meteorological observation stations are located on the island to monitor climate and weather.
6. The largest red bud population in Vietnam
The Red bud population on Hon Dau island is the largest population of ancient banyan trees in Vietnam, including hundreds of trees, of which 45 are over 100 years old, 35 are recognized as Vietnamese heritage trees.
Hon Dau Island 1 day tour itinerary
With the long-term experience of traveling to Hon Dau island, I would like to share the schedule as follows:
Usually, just going to the island is a bit short for a trip. You should combine with other tourist attractions around such as:
Hon Dau Resort
9:30 am, departing from the center of Hai Phong city.
10:00 am, visit Ba De Temple (in addition to visiting the temple, the reef here is very beautiful and ancient. Currently, there are still 2 sea defense bunkers from the war period). The area of this rock beach also has ancient stone tombs, but there are not many documents written about these tombs. (If anyone knows, please share it with me in the comments).
Car parking ticket: 30k (motorcycle I don't know)
10h40, Enter Hon Dau resort
If you want to swim, go to Hon Dau resort after visiting Hon Dau island. If you do not intend to swim, you can come here to visit the miniature Dalat area.
Coming to Do Son Miniature Da Lat, Hai Phong, you will do:
Visit the zoo: White lion, tiger, swan, bear, camel, star deer, giraffe, ostrich, peacock, monkey, goat…
Crash ride
Maze
Ghost cave
Area of the 12 zodiac animals
You will have about 1 hour to play here.
Ticket price to Da Lat Miniature Do Son:
12h, Move to Hon Dau pier to go to Hon Dau island.
12h20, go to Hon Dau island, spray insect repellent and start the walking journey. The wharf is very beautiful, don't forget to take a few dozen chill photos here! With my experience in Hon Dau island, I advise you to take photos first because when you first get on the island, the spirit is still very enthusiastic and full of energy, the picture will look "stronger"!
After trekking through the forest, make a stop at the Eight Pavilions House area. There is a flat space here, with a stone table available, which is very suitable for eating and resting. Stop here, sing and enjoy food with the team.
If need WC, there are 2 toilet areas in front about 30 seconds walk.
After the full meal, continue the journey to the Lighthouse. But before you move out, make sure you don't leave any trash behind.
Just a few dozen steps, you will see the Lighthouse on the right. If you want to take pictures with the lighthouse. You should shoot right here because if you get too close, you won't be able to see the whole light anymore.
When you reach the top of the lighthouse, you can zoom in on a panoramic view of the entire Do Son area. The top of the house can accommodate about 10 people at a time. If you see too many people on it, you should not try but wait patiently. If it's too crowded up there, it's unsafe and it's not fun to be crowded together.
15:00, return to the mainland, stop by King Bao Dai villa and then return.
If you want to rent a private car for your convenience, please contact Hai Phong Tours to book in advance! +84975200357. We always have 4-seater, 7-seater and 16-seater cars to serve.
Final thought: Hon Dau island travel experience
Above is the most detailed Hon Dau Island travel experience that Hai Phong Tours has just shared with you. With my personal feeling, this island is really perfect for picnics. You will feel a clear difference with your daily life when going to the island. Surely you will never be disappointed when traveling to Hon Dau island.
Please contact Phuong 0975200357 to book a private boat!