Infinity Garden Sapa has become one of the must-visit destinations when traveling to Sapa, and it's a place that many tourists are passionate about. At Infinity Garden Sapa, you will experience many exciting features, from the impressive infinity pool to the fragrant rose garden, unique Hobbit houses, picturesque pathways with a vintage charm, a cloud hunting bridge that provides an enchanting feeling, and a stunning sky gate.
Let's explore the details of Infinity Garden Sapa with Hai Phong Tours, a destination worth visiting in 2023.
1. Introduction to Infinity Garden Sapa
Infinity Garden Sapa is one of the most beautiful destinations in Sapa, renowned for its natural beauty and impressive design. Infinity Garden Sapa attracts a large number of tourists to explore its majestic landscapes and create unique photos.
2. Address and Contact Information for Infinity Garden Sapa:
Hotline: 0865.466.336
Email: [email protected]
Entrance Fee: 200,000 VND/person
Opening Hours: From 8:00 AM to 5:00 PM daily
3. Best Time to Visit Infinity Garden Sapa:
Infinity Garden Sapa has its special charm in each season of the year:
Late winter and early spring: Good weather, blooming flowers, and fresh scenery.
Summer: The terraced rice fields are lush green, and the infinity pool sparkles.
Autumn: The golden terraced fields offer a unique beauty.
Winter: Cloud hunting on the Cloud Bridge is a unique experience.
4. What Does Infinity Garden Sapa Offer?
At Infinity Garden Sapa, tourists can experience various interesting attractions with unique landscapes and a variety of entertainment activities. Here are some of the key attractions at Infinity Garden Sapa:
Infinity Pool
The infinity pool at Infinity Garden Sapa is a standout feature. With an area of up to 400m2, it provides a unique relaxation experience. Surrounded by the beauty of mountains, forests, and terraced rice fields, the infinity pool creates a truly captivating scenery.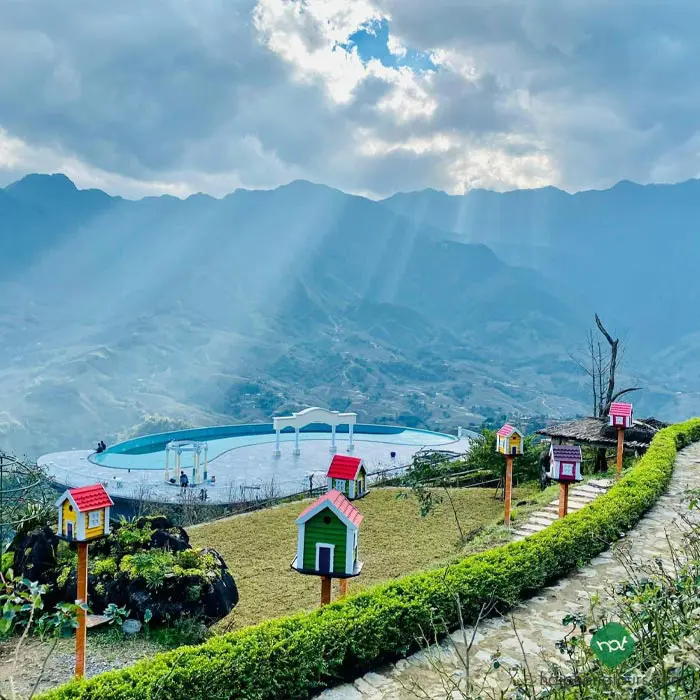 Flower Garden
The flower garden at Infinity Garden Sapa is a home to a wide variety of flowers. From pure white roses to deep red ones, the colors and fragrances of the different rose species will leave you in awe. This is an ideal place to relax and capture some stunning photos.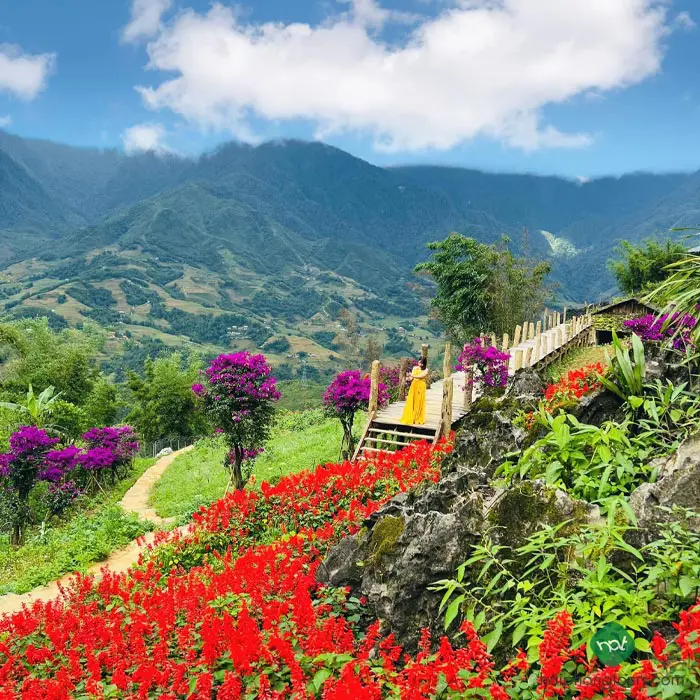 Hobbit House
The Hobbit houses are an exciting experience at Infinity Garden Sapa. Inspired by the fantasy world of "The Hobbit" and "The Lord of the Rings," these Hobbit houses are designed with unique architecture and plenty of bright photo spots. Exploring these houses will transport you to a magical world.
.
Ancient Chinese House
The ancient Chinese houses at Infinity Garden Sapa exhibit a strong Chinese influence in both architecture and traditional costumes. Here, visitors have the opportunity to rent traditional Chinese attire and create beautiful and memorable moments. It's also a place to learn more about Chinese culture.
Cloud Hunting Bridge
The Cloud Hunting Bridge is a remarkable and unique architectural structure amidst the misty clouds. With its sharp angles and prominent location, the Cloud Hunting Bridge is an interesting tourist spot that offers the chance to capture impressive photos amidst the clouds.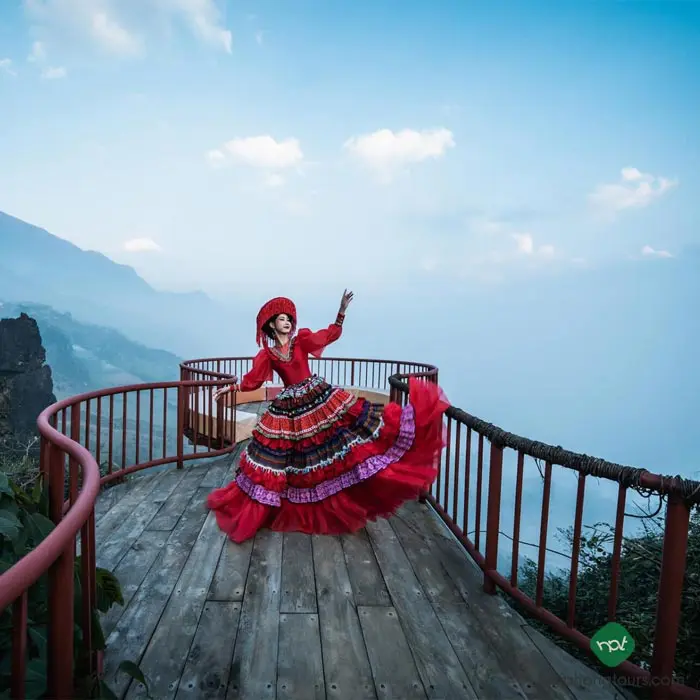 Sky Gate
The Sky Gate at Infinity Garden Sapa offers a breathtaking view of the mountains and terraced fields. Standing here, you'll feel like you're one with nature, surrounded by the vast scenery.
In addition, Infinity Garden Sapa offers many other attractions such as the Bridge of Love, Terraced Fields, Orchard with peach, pear, and plum trees, Upside-down House, Ethnic Flower Garden, Terracotta Road, Cultural House, Seasonal Vegetable Garden, and more. All of these points of interest are worth exploring and enjoying at Infinity Garden Sapa.
Services at Infinity Garden Sapa
To cater to the needs of tourists, Infinity Garden Sapa provides the following services:
Costume and accessory rental for creating unique photos.
Restaurants serving delicious and diverse cuisine.
Professional bar and kitchen with a wide variety of beverages.
Conclusion: Infinity Garden Sapa
With its unique landscapes and rich services, Infinity Garden Sapa is an ideal destination to enjoy nature, relax, and satisfy your passion for photography. If you have the opportunity to explore Sapa, be sure to visit. haiphongtours.com wishes you a joyful journey!