Phu Tho is a spiritually blessed land that nature has bestowed with fertile soil and a pure ecological environment, creating vast, interconnected tea hills that stretch to the horizon. Phu Tho's tea hills are not only renowned for their delicious and rich tea flavors but also leave an unforgettable impression on visitors with their beautiful and idyllic natural scenery, blending harmoniously amidst the tea hills, rivers, and mountains.
Where is My Thuan Tea Hill?
Located approximately 80 km southeast of the city center of Viet Tri, My Thuan Tea Hill is situated in My Thuan commune, Tan Son district, Phu Tho province. Escaping the hustle and bustle of the city, My Thuan welcomes visitors with vast, lush green tea hills extending endlessly. With a history of over 30 years and covering an extensive area of about 600 hectares, My Thuan Tea Hill is an ideal tourist destination for those seeking a tranquil countryside experience in the ancestral land of Phu Tho.
Map: https://goo.gl/maps/vRHfeCZjuKCQViVCA
What to see in My Thuan Tea Hill?
Setting foot on My Thuan Tea Hill, tourists will be immersed in a refreshing green space with thousands upon thousands of tea trees. Tea cultivation has been deeply intertwined with the lives of the local people in Tan Son district, Phu Tho province. Through preservation, expansion, and development, the tea hill has transformed into a majestic and breathtaking natural landscape, attracting numerous tourists to its captivating beauty.
The tea hills of My Thuan are surrounded by mountains and rivers, and the surrounding landscape remains pristine and untouched. Along the way to the tea hills, tourists may encounter images of local people happily herding buffaloes, warmly greeting and laughing with visitors, creating a serene atmosphere of a peaceful Northern Vietnamese village.
Upon reaching the hilltop, the refreshing and invigorating air brings a sense of tranquility and lightness that can only be felt in this special place. Visiting My Thuan Tea Hill, tourists also have the opportunity to witness young women picking tea leaves while chatting and laughing, capturing beautiful memories alongside the tea rows through photographs.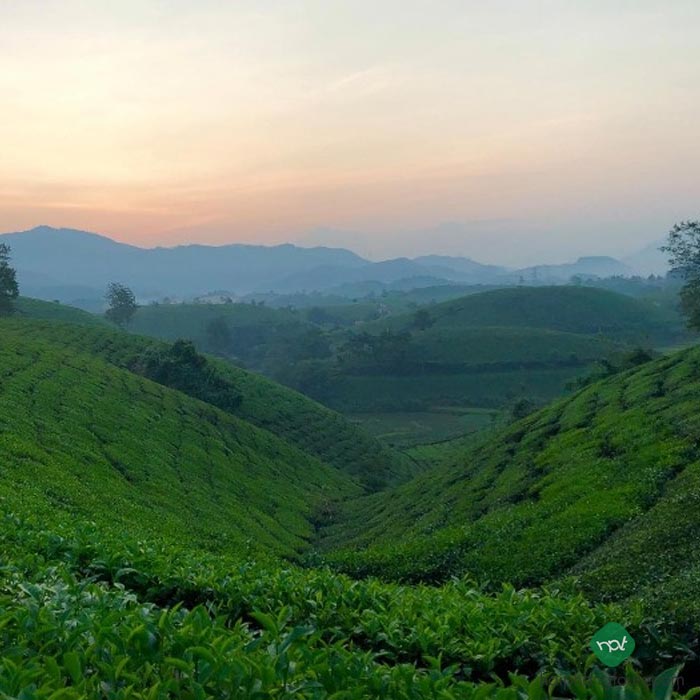 The best time to visit My Thuan Tea Hill
In the final months of the year, My Thuan Tea Hill adorns itself with a stunning attire, making it the most beautiful time of the year for the tea hills. The best time to admire the resplendent scenery of the tea hills is before 9 am or after 4 pm. During these "golden" hours, visitors can witness the tea hills glowing under the morning sun or basking in the gentle, romantic twilight, resembling a picturesque painting.
The tender, bright green tea leaves shine in the cool, pure, and refreshing air, especially during the serene early mornings or the enchanting dusk when the shimmering sunlight gently filters through the lush green tea leaves. The scenery of the tea hills at those moments can be described as exceptionally poetic and captivating.
Ticket price for My Thuan Tea Hill
My Thuan Tea Hill is currently a captivating tourist destination for sightseeing, photography, and exploration. A visit to My Thuan Tea Hill promises exciting experiences and countless unforgettable photographs with the backdrop of endless, enchanting green tea hills under the morning mist or the evening sunset. There are numerous photo spots where you can immerse yourself in the surroundings, letting the wind carry your soul as if you were a true tea planter. This place is perfect for both genuine experiences and capturing beautiful moments for the sake of a virtual life.
Many couples choose this location to preserve the most beautiful moments of their lives, capturing the vibrant essence of their youthful days. With the romantic and dreamy beauty bestowed by nature, My Thuan Tea Hill is undoubtedly an enchanting destination that mesmerizes tourists. What's even more fantastic is that such a beautiful place is entirely free of charge, making it all the more attractive to everyone.
Final words: My Thuan Tea Hill
Currently, My Thuan Tea Hill is a relatively new and popular tourist destination for many travelers visiting Phu Tho. It is an area with high-quality tea plantations cultivated by the people of My Thuan commune, offering a tranquil atmosphere blended with a cool and pure climate. These factors have made My Thuan Tea Hill even more appealing to tourists. On the way from Viet Tri city to Xuan Son National Park, visitors can directly stop by My Thuan Tea Hill to check in amidst the lush green tea hills and learn about the local methods of growing the specialty tea of Phu Tho province.