Places to go in Ninh Binh always gives visitors different interesting experiences. Here, the favorite things to do are: boat riding on river, visit pagoda, learn history of ancient capital, mountain climbing, sightseeing. Ninh Binh has a charming landscape, the mountain system looks like Ha Long Bay. Therefore, it is also called this Halong bay on land. In this article, Hai Phong Tours would like to introduce Top 8 best places to go in Ninh Binh. Let's check them out!
Trang An eco-tourism
Trang An eco-tourism has an area of 2,168 ha. The Trang An is an ecotourism area located in the middle of a limestone mountain system with many ecosystems of flooded forests and limestone forests. Coming here, visitors can immerse themselves in the space of rivers, mountains, clouds, sky and beautiful cliffs. That's why I believe Trang An is one of the best places to go in Ninh Binh. Besides, the creatures in Trang An are also extremely rich with many rare and precious flora and fauna. Also, visitors can admire the very diverse natural cave system or historical sites from the Le and Tran dynasties like Trinh Temple, Suoi Tien Temple … Once you come to Ninh Binh, Don't miss out on the boat ride and explore this fascinating tourist area.
From Hai Phong, if you would like to visit this place in one day, please check out the Hai Phong Ninh Binh day tour.
Tam Coc
Tam Coc is considered one of the best places to go in Ninh Binh. This place looks quite similar to Trang An mentioned above. The name Tam Coc means three caves, including Ca cave, Hai cave and Ba row, formed by Ngo Dong river crashing through the mountain. Sitting on a boat along the river, visitors will admire the beautiful cliffs and limestone caves. Especially if you come here during the ripe rice season, you can see the golden rice fields on both sides as well as the white storks amid a poetic scene. The time to sit on the boat and back is about 2 hours. You should bring drinking water, umbrella and phone or camera to record memorable moments.
Ngoa Long Mountain – Hang Mua
Many tourists know this attraction as Hang Mua. But this cave is not the highlight here. The most attractive thing is Ngoa Long mountain. This mountain is a tourist destination located in the core zone of World Heritage Site Trang An, Ninh Binh province. The mountain has geological and geomorphologic features typical of limestone mountains dating back millions of years. With a special and attractive landscape, Ngoa Long Mountain attracts many domestic and foreign tourists to admire.
The architecture of Ngoa Long Mountain is built according to the architecture of the Great Wall (China) with nearly 500 steps connecting each other in the middle of the mountain. This architecture creates a majestic natural scene. The two sides of the staircase are sharp sculptural shapes bearing royal cultural characteristics. On the top of the mountain, there is a statue of Quan The Am Bodhisattva looking down to the ancient capital. Legend has it that this place is where King Tran and the palace often visit and sing. That's why it's called Hang Mua.
Standing from the top of the mountain, you can have a panoramic view of 2 other places to go in Ninh Binh such as Tam Coc and Ngo Dong river.
Am Tien Cave Ninh Binh
Am Tien Cave is also known as "Tinh Tinh Coc" Ninh Binh. Located in the middle of the mountain, during the reign of King Dinh, this was the place where tigers were kept to punish death row inmates. And the large lake in the middle of the entire tourist area is Ao Giải. King Dinh raised crocodiles to throw sinners down and feed the fish.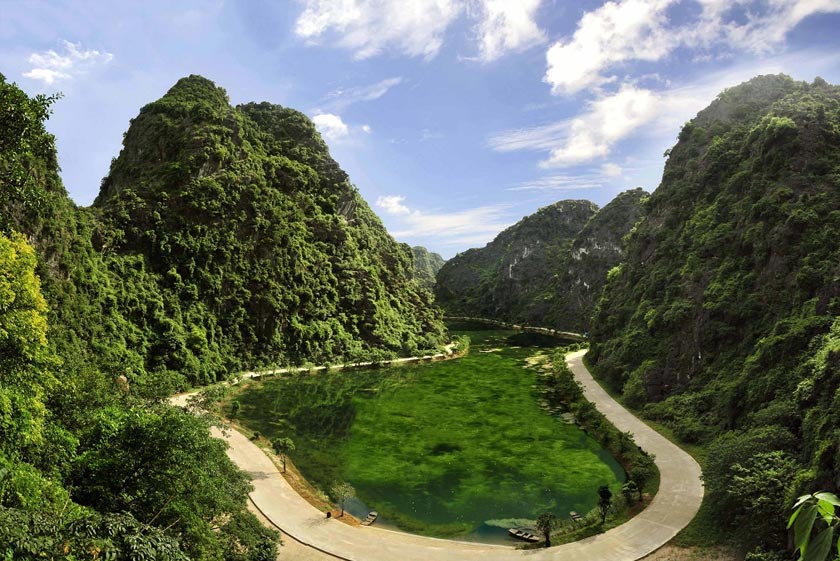 To reach the cave entrance, visitors have to step up 205 stone steps over the cliff. The cave is shaped like a dragon's mouth, so it is also known as Dragon Cave. Many stalactites have the shape of paddy tree, money tree, Head Buddha fruit, drooping lotus buds and water droplets. The two sides of the road to the site are old trees, making the space more majestic. All these things make up a mysterious, mysterious beauty of this cave.
Bai Dinh Pagoda Ninh Binh
Bai Dinh pagoda is a spiritual beauty spot located in the complex of eco-tourism area of ​​Bai Dinh – Trang An. The pagoda has a history of more than 1000 years associated with the land of many feudal dynasties. This is the largest temple complex in Southeast Asia with an area of ​​539 hectares.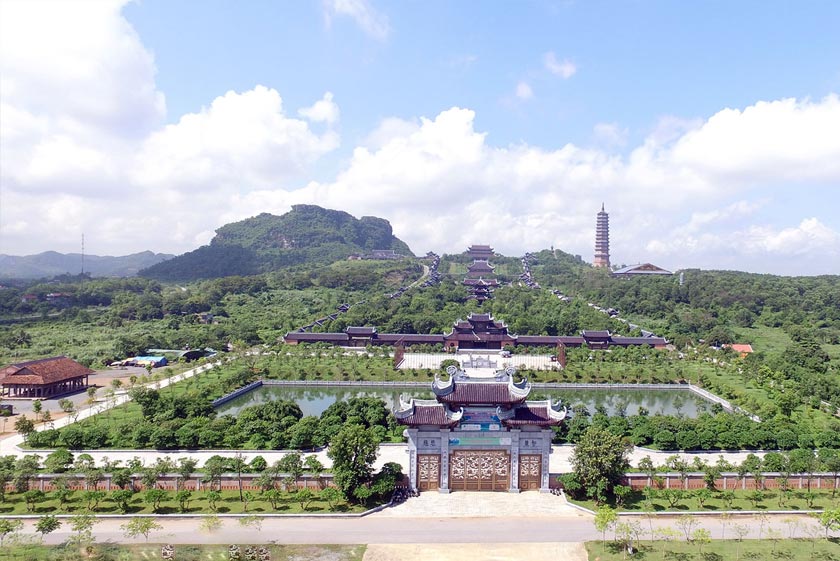 Ancient pagoda is located on a quiet mountain slope. Here, visitors can visit caves, temples like Cao Son temple or Temple of St. Nguyen, Gieng Ngoc … This pagoda also has many architectural features and ancient objects bearing the imprint of Ly Dynasty. New pagoda area with monumental architecture bearing the imprint of traditional Vietnamese villages. Especially, there are many statues of Buddha and Arhat which are meticulously sculpted. That is also the point that attracts the attention of tourists with Ninh Binh.
Hoa Lu ancient capital Ninh Binh
Hoa Lu ancient capital has many architectural works of great historical significance. This is the place recognized by UNESSCO as one of the four core regions of the World Heritage Site of Trang An. Hoa Lu ancient capital is a special national monument. This is a place to store many historical traces through many ages with a history of more than 1000 years. This ancient capital land is the place to preserve many ancient architectural features, expressed through temples, communal houses or monuments remaining. One of them is the two famous temples that are Temple of King Dinh Tien Hoang and Temple of King Le Dai Hanh. In Hoa Lu ancient capital, people display many unique and precious antiques that attract many visitors to visit.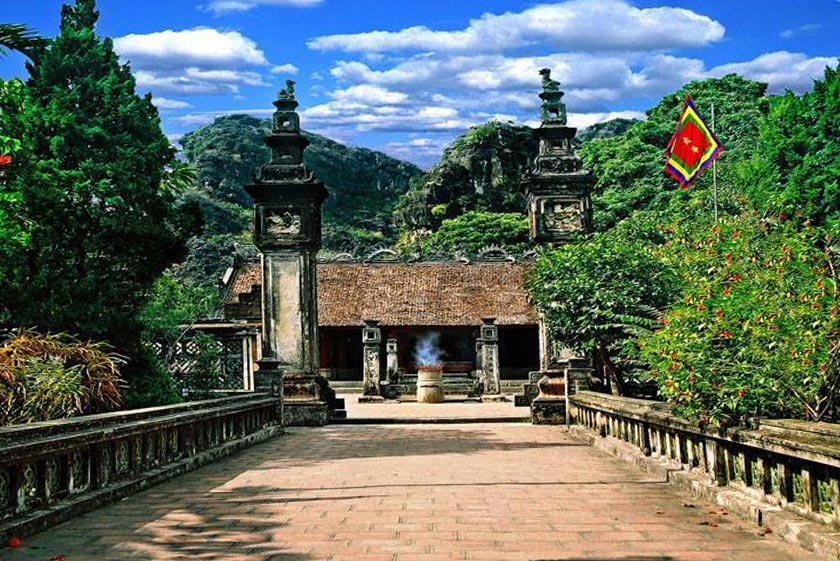 Van Long Nature Reserve
Van Long is the largest wetland nature reserve in the North. This is a conservation area with high ecosystem and biodiversity. Also, this is the home of many creatures such as douc langur, red-faced monkey, broadleaf monkey …
In particular, Van Long lagoon also owns a beautiful, simple and peaceful natural painting. You can explore the beautiful mountains and caves here that similar to other places to go in Ninh Binh. Sitting on the boat moving on the lagoon, you can clearly feel the peace from the flat, clear water that clearly shows the layers of moss on the bottom. The appropriate time to explore Van Long lagoon depends on the speed of boating. On average, it takes about 1 to 1.5 hours to fully explore the lagoon. Travel time of Van Long lagoon is 1 day. So you can arrange the most suitable time. If you go in the afternoon, you will have the opportunity to admire the storks and langurs in flight.
Thung Nham Ninh Binh
Thung Nham tourist area is famous for its wild and exotic beauty. People consider this one of the hidden places to go in Ninh Binh. This place has become a place attracting many domestic and foreign tourists to visit and relax. Thung Nham is located in the core of famous Trang An scenic complex and is very close to Tam Coc and Bich Dong.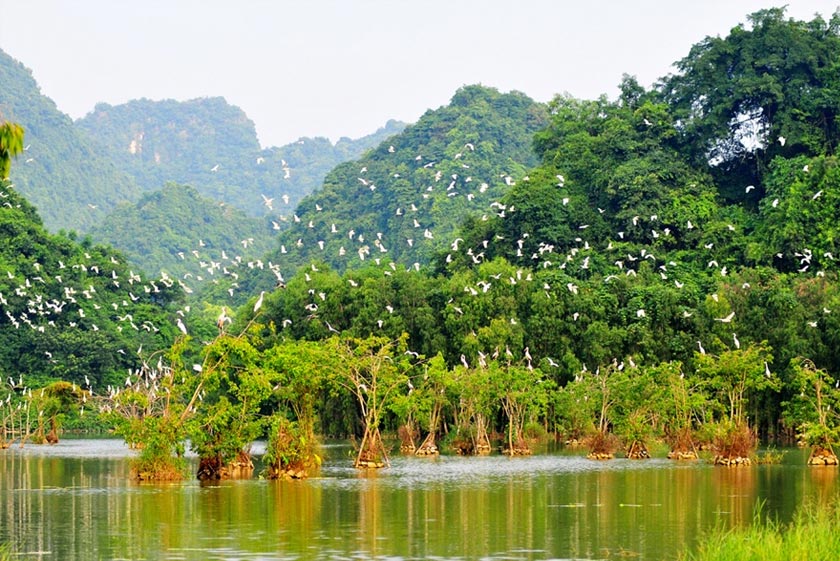 Here, visitors can experience many forms of tourism such as fishing, mountain climbing, garden tour or visiting wetland forests, primeval forests, wild caves and bird gardens… in the afternoon is the most appropriate time if you want to see firsthand birds such as storks, cauldron, mussels, teetops, tealers, fire-stingers, starlings … Besides, the majestic beauty of Forest mountains or limestone caves are also something worth experiencing when coming here.
Conclusion
Above is Top 8 best places to go in Ninh Binh. In fact, there are more than 8 places to visit here. But here are all the best onces that I do recommend  you all to visit. Hope you will have a satisfied Ninh Binh trip.