Located at the peak of O Quy Ho Pass, Sapa Heaven Gate (also known as O Quy Ho Gate or Tram Ton Gate) is one of the famous and unique tourist attractions in the Northwest region of Vietnam. With an elevation of nearly 2300 meters above sea level, this place is a natural masterpiece nestled amidst the majestic Hoang Lien Son mountain range. Let's explore it with Hai Phong Tours!
Where is Sapa Heaven Gate?
Heaven's Gate Sapa is located in Sapa district, Lao Cai province, along National Highway 4D, which connects the city of Lao Cai to Lai Chau province and the Northwestern regions of Vietnam. To reach the peak of O Quy Ho Pass and Heaven's Gate Sapa, you have to traverse a winding mountain road that stretches for over 50 kilometers, with one side being the mountain cliffs and the other side a deep abyss. This route offers a unique landscape, with terraced rice fields cascading one after another and stunning natural scenery along the way.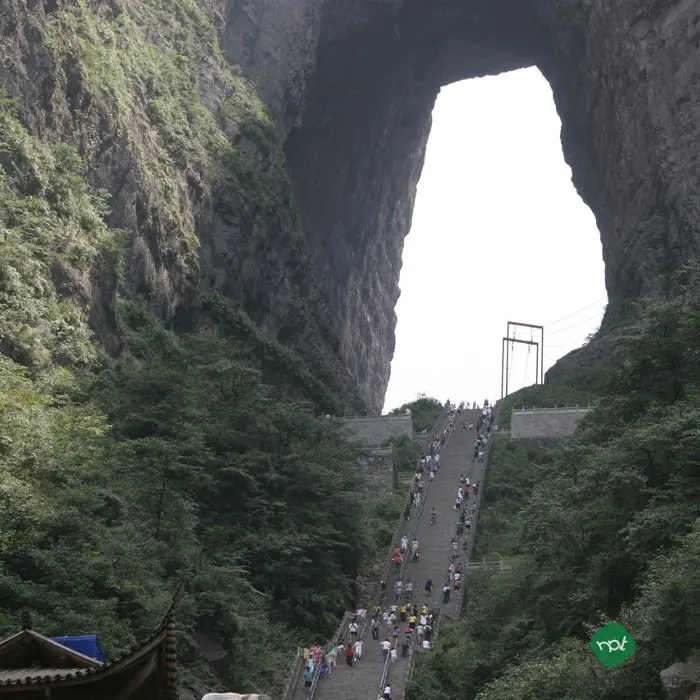 Link to Map: https://maps.app.goo.gl/7zcZyj4VJF8tgsEUA
The ideal time to visit Sapa Heaven Gate depends on the season
1. Warm Season: During spring and summer, Heaven's Gate Sapa is in a cool and comfortable environment, perfect for sightseeing. Spring marks the beginning of beautiful and vibrant forest blossoms. Meanwhile, summer in Sapa offers a more pleasant temperature compared to many other regions, making it a popular escape from the heat.
2. Autumn: Autumn is the best time to visit Heaven's Gate Sapa. In August, the rice fields start turning a brilliant golden color, creating a unique landscape. September is the harvest season, with a sweet fragrance filling the air. By the end of September, especially late in the month, Heaven's Gate Sapa becomes an excellent spot for cloud hunting.
3. Cold Season: Winter at Heaven's Gate Sapa brings cold and foggy weather, creating a serene and romantic atmosphere. Thick fog can make this place seem mysterious and dreamy. In some cases, you might even see snowfall, creating a pristine white landscape.
So, the best time to visit Heaven's Gate Sapa depends on your preferences. If you enjoy cool weather and vibrant landscapes, consider spring and summer. If you want to witness the stunning golden rice fields and pleasant weather, plan your visit during autumn. And if you appreciate the mystical beauty of fog and the possibility of snow, winter is the season for you.
Experiences at Sapa Heaven Gate
1. Explore the Natural Beauty
At Heaven's Gate Sapa, you have the opportunity to admire the panoramic view of Northwestern Vietnam, with its valleys, terraced fields, and the majestic Hoang Lien Son mountain range. The natural landscape is incredibly grand and captivating.
2. Cloud Hunting
A popular activity at Heaven's Gate Sapa is cloud hunting, especially during appropriate times like sunrise or sunset. White clouds drift in the sky, combined with the mountainous scenery, creating beautiful moments.
3. Instagram-Worthy Check-Ins
Heaven's Gate Sapa offers numerous Instagram-worthy spots, from heart-shaped cloud chairs, lonely trees, and swings to unique stone gates. These spots are perfect for taking photos and sharing on social media.
4. Enjoy Local Delicacies
You can savor local specialties and dishes at eateries along the road to Heaven's Gate Sapa. Delicious options include grilled eggs, roasted corn, baked potatoes, buffalo barbecue, skewered meat, and many more.
5. Explore Nearby Tourist Attractions
On your way to Heaven's Gate Sapa, you can visit other nearby attractions such as Silver Waterfall (a waterfall over 200 meters high), Love Waterfall (the starting point for climbing Mount Fansipan), and Muong Hoa Valley with its unique terraced fields.
Heaven's Gate Sapa offers you a wonderful travel experience with its unique scenery and the grandeur of Northwestern Vietnam. It's suitable for those interested in learning about local culture, savoring delicious specialties, and relaxing in the stunning natural surroundings.
Conclusion: Sapa Heaven Gate
Sapa Heaven Gate provides all the necessary information for a perfect trip. haiphongtours.com hopes you have an enjoyable journey!