Every time we visit new destination, culinary culture is something everyone wants to explore. Your trip will have no meaning when your stomach is not satisfied with food! If you plan to come to Hai Phong city, there will be many delicious dishes to enjoy. You even need a few days to be able to try them all. In this article, Hai Phong Tours would like to introduce the Top 6 irresistible specialties in Hai Phong.
Nem Cua Be Hai Phong Specialty
Nem cua bể Hai Phong is probably the most popular specialty. Although I have eaten many times myself, I still want to try it again and again! This Hai Phong specialty is also known as Hai Phong square spring roll or crab square spring roll. The people here named it simply in the square of the spring rolls. This is really a highlight of the city cuisine. Its composition is very simple and familiar to the people of Hai Phong. The ingredients such as shrimp, crab, pork, wood ear, vermicelli … are very close and easy to find in the market. But Nem cua bể Hai Phong is also delicious anywhere? To get the true standard of Nem cua bể Hai Phong, they must use crab meat in Do Son, Bach Long Vi or Cat Hai. Those places have a lot of fresh seafood and have a very unique flavor that is not available elsewhere.
The ingredients mentioned above are cleanly processed and mixed well, wrapped in a rice paper roll. After that, spring rolls are fried and eaten as soon as they are done. Due to being wrapped in a layer of rice paper, the ability to hold the heat of Nem is very good. When cut Nem out, a white smoke rises up with a complex aroma. People often eat this spring rolls with raw vegetables, dipping sauce with green papaya, carrots … Sauce is also indispensable when enjoying this Hai Phong specialty.
Trending now... Don't miss
Day tour
Sung Sot, Titop, Luon cave
Cave visit, sightseeing, hiking, swimming, kayaking/boat ride
4, 7, 9, 16 seater
per way 1/multi drops
as per request
Places to sell Nem Cua Be Hai Phong Specialty
Nem Phuong Mai – 87 Cat Cut
Ngoc Tuan – 96 Tran Nhat Duat.
Nem Nga – 92 Tran Nhat Duat.
Thanh Nga – 90 Tran Nhat Duat.
In Co Dao market, number 323 To Hieu
Nem chua An Tho Hai Phong
Referring to Nem chua An Tho Hai Phong, people immediately think of a jubilant party. This is a specialty of An Tho village in Hai Phong commune. Maybe many people will also remember of Nem chua Thanh Hoa. But Nem Chua An Tho has a difference and is very widely used in Hai Phong. If doing a survey of 10 restaurants in the city, there will be 9 places with Nem chua An Tho Hai Phong available. The other one just sold out … So you can understand how popular that dish is.
To make this delicious Nem chua An Tho, the most important thing is to choose delicious meat. The people specializing in making Nem chua in An Tho said that delicious pork is the soul of this speciaty. The selection and processing of meat is very attentive and meticulous. Pork, after being purchased, will be filtered all the tendons and then iron into thin slices. The pork skin is also carefully crafted and has no feathers left. After that, they mixed the spices according to the family's recipes, rolled the banana leaves and allowed them to ferment. The ingredients are naturally fermented, so when enjoying, customers will clearly see the natural sweetness of the meat, the cool aroma of banana leaves. All combine to form a delicious and irresistible Hai Phong specialty.
To enjoy Nem chua An Tho in the most delicious way, people often eat with garlic, chili, apricot leaves, fig leaves, cassava leaves, lentils … Nem can be dipped with sauce or chili sauce. . And it's best to have a glass of beer or wine to sip with friends.
Cat Hai Fish Sauce Hai Phong
Fish sauce seems to be an indispensable dish in Vietnamese meals. And that is why in the market today, there are many different fish sauce brands with different ingredients. There are many types of fish sauce that are said to be "chemical sauce" with a sore nose. But the wise housewives in Hai Phong say no to those kinds of sauces. Traditional fish sauce still has a firm foothold in the hearts of every people in Hai Phong. And Cat Hai Fish Sauce Hai Phong is one of them.
Trending now... Don't miss
Day tour
Sung Sot, Titop, Luon cave
Cave visit, sightseeing, hiking, swimming, kayaking/boat ride
4, 7, 9, 16 seater
per way 1/multi drops
as per request
Cat Hai fish sauce has a pure aroma and taste. There are many different types to suit your budget and intended use of diners. The categories are distinguished by protein and how they are bottled. Canned fish sauce is usually the cheapest, the lowest protein used for the purpose of adding when processing food. The other is packaged in a better glass bottle used to make dipping sauce. Another is a smaller glass bottle with the highest protein content and is often used as a gift. To buy the real Cat Hai Fish Sauce Hai Phong, pay attention to whether the label is true of Cat Hai Seafood Processing Service Joint Stock Company or not. And it is best to buy it at the big grocery stores in Hai Phong.
To enjoy the best Cat Hai fish sauce, many people dot, eat directly. But many other people choose to concoct with garlic, chili, lemon, onion, carrot, and pepper … And many restaurants are famous for their exclusive recipes of fish sauce.
Dried Squid Cat Ba Speciaty
If you travel to Cat Ba but have not enjoyed the famous Dried Squid Specialty, it is really a waste. In addition, Cat Ba has a market specializing in selling fresh seafood. In the early morning, you can go to the pier to see firsthand the scene of fishermen landing with ships full of seafood. It is also an interesting thing to travel to the seaside. But if you live in another province and intend to bring home fresh seafood as a gift, it will be an arduous journey. Instead, you can think of dried seafood. For example, Cat Ba Dried Squid. Dried squid is easy to transport. You just need to wrap it in paper wrap to be transportable. However, please remember to wrap the bags carefully to avoid the smell flying everywhere!
Dried squid in Cat Ba is processed directly and dried in the sun without preservatives. The Squid back has a characteristic pink color with a white belly. Cat Ba squid is very sweet and has a characteristic taste. This is a great drink with relatives, friends …
If in Cat Ba town, you can go directly to Cat Ba night market in the center of town to buy. Or in the day time, you can go straight to the seafood market to search. If in the city center of Hai Phong, go to 223, To Hieu.
Banh my cay – Hai Phong specialty
The people of Hai Phong have known spicy bread since the 80's. It is said to start at a roadside restaurant in Khanh Lap lane. Spicy breads are different in size from regular breads. The width of the cake is only 2 fingers together. Once, I also enjoyed this dish in Hanoi. But for some reason, I still find it much different when eating in Hai Phong.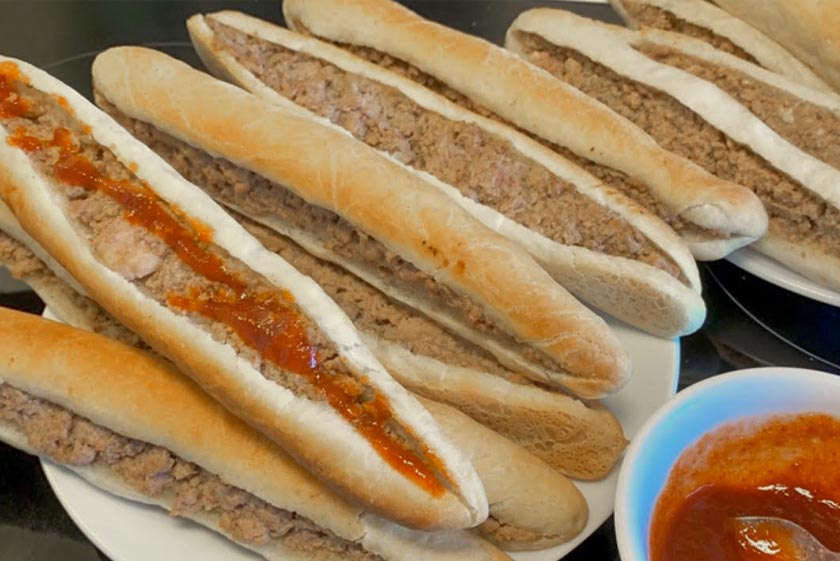 This spicy Hai Phong bread specialty is also known with a different name. It's a stick bread (because it looks like a stick). It is not difficult to make a Bánh mỳ cay. But how to make it crispy, porous, and fragrant, it is necessary to have an heirloom secret. People often add Pâté, a little cucumber, and raw vegetables, then dot with or put the chili sauce in to enjoy. Many indigenous Hai Phong people also call chili sauce as Chi Chuong. So don't be surprised when the salesperson asks, "Do you need Chi Chuong or not?".
Where to buy Bánh mỳ cay – Hai Phong specialty
Bánh mì cay Bà Già – 57 Lê Lợi, P. Máy Tơ, Quận Ngô Quyền, Hải Phòng.
Bánh mỳ cay và chè thái – Đinh Tiên Hoàng – 37 Đinh Tiên Hoàng, Quận Hồng Bàng, Hải Phòng
Tiệm bánh mỳ cay Ông Cuông – 184 Hàng Kênh, Quận Lê Chân, Hải Phòng.
Banh Da Cua Hai Phong
Banh Da Cua is a Hai Phong specialty that anyone should try at least once. This is the people's favorite breakfast dish here. It is hot, fragrant, high in calories and has the essence of Hai Phong. Once I traveled to Ninh Binh and followed the habit of ordering Banh Da Cua for breakfast. The shopkeeper confused for a while. Then I suddenly remembered that I am no longer in Hai Phong … It is a regional dish and it is understandable that other people do not know.
Banh Da Cua Hai Phong is completely different from Pho. The Banh Da can be white, small or it can be red with a large size. Before putting it in the bowl, people take Banh Da and cover them with boiled water. When the cake has just hatched to reach the level, people drop it into a bowl and add broth, a little meat, a heart or a cake … In the broth already available mantis shrimp meat, crab bricks … and some other flavors.
In the countryside, Banh Da Cua cuts some ingredients such as mantis shrimp meat to reduce costs. Mostly, the price for a bowl of Banh Da Cua Hai Phong is 15,000 VND. When going to the city, full or more components will cost more (from 30k or more) depending on your order.
Where to eat Banh Da Cua Hai Phong?
23 Trần Quang Khải, Hồng Bàng, Hải Phòng.
139 Thiên Lôi, Vĩnh Niệm, Lê Chân, Hải Phòng.
26 Kỳ Đồng, Hồng Bàng, Hải Phòng.
Bánh đa cua Bà Cụ: 79 Cầu Đất, P. Cầu Đất, Quận Ngô Quyền, Hải Phòng
Conclusion
Above is Top 6 irresistible specialties in Hai Phong that I want to introduce to you. Of course, there will be many other strange dishes waiting for you to enjoy. And if you find something delicious that you want to share, please leave a comment below! Wish you all have a fun outing in Hai Phong.
If you find this article interesting, please help me to share it with everyone! Thank you!
Trending now... Don't miss
Day tour
Sung Sot, Titop, Luon cave
Cave visit, sightseeing, hiking, swimming, kayaking/boat ride
4, 7, 9, 16 seater
per way 1/multi drops
as per request