Hai Phong – the largest port city in the North has long been a popular tourist destination for domestic and foreign tourists. Futhermore, Hai Phong also attracts tourists by extremely abundant and rich cuisine. As a coastal city, seafood in Hai Phong is famous for being fresh, delicious and cheap. In addition, there are also other specialties that promise to delight diners. So, when coming to Hai Phong, it is large and busy, how can you find authentic restaurants in Hong Bang? Let's discover the best restaurant Hong Bang Hai Phong below!
1. Bonne Vie Restaurant (first restaurant in Hong Bang Hai Phong)
Bonne Vie Restaurant with the meaning "Beautiful life" is located on the first floor of Manoir Des Arts Hotel, designed in French architecture to create a cozy and luxurious culinary space. The Bonne Vie restaurant was created in the style of Fine Dining, inspired by the quintessence of French cuisine. Professional service brings satisfaction to customers. This is the first restaurant in Hong Bang Hai Phong that Hai Phong Tours mentions.
You may like Good seafood restaurant in Hai Phong
Dubbed as the European paradise in the heart of Hai Phong city, Bonne Vie – Restaurant, Bar & Coffee will never let you down from the space, service staff, dishes…Coming to Bonne Vie – Restaurant, Bar & Coffee, the first thing that will attract you is the space designed with European characteristics. You can easily see the tables and chairs, French decorative lights, feel the service standard and style of Western culture right in Vietnam. Bonne Vie – Restaurant, Bar & Coffee serves a wide variety of French and Spanish dishes such as steak…by extremely eye-catching decoration and perfect taste. Come with your family and friends to enjoy!
Address: 64 Dien Bien Phu, Hong Bang, Hai Phong
Hotline: 0225 8831 522
Facebook: https://www.facebook.com/BonneVie.restaurant/
Website: manoirdesarts.com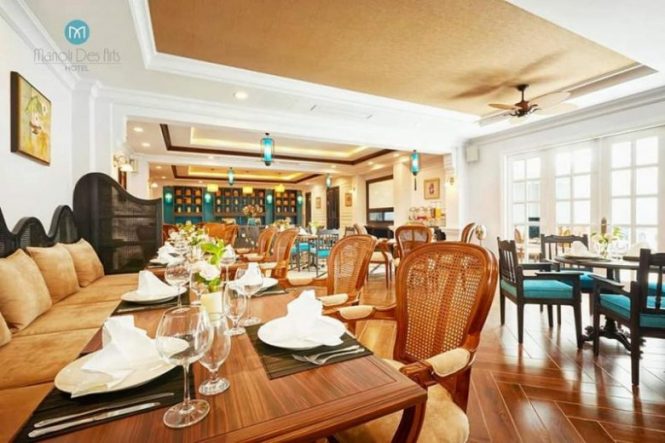 2. Fleur d'Or Buffet (French architecture restaurant in Hong Bang Hai Phong)
The second restaurant in Hong Bang Hai Phong is Fleur d'Or. The restaurant was built on the foundation of a building with French architecture. After many historical events of the country, time, society, 133 Dien Bien Phu building is always there as a testament to a timeless beauty of French architecture. Originated by the idea of ​​going back in time to the future, the architects gave the building of 133 Dien Bien Phu a new look, a little subtle of the old Paul Bert avenue combined with freshness of Dien Bien Phu street today.
Fleur D'Or brings a gentle beauty, elegance, nobility but not too flashy. Fleur d'Or is the only establishment in Hai Phong that takes Buffet restaurant model to a new level with high-quality service as well as unique service style of Fleur d'Or .
You may like Top 8 most popular bars in Hai Phong
Fleur d'Or will bring diners with memorable and wonderful lunches and dinners from service to quality of each dish. Possessing a space with French design, the restaurant space will surely make you feel satisfied by the luxurious but cozy beauty. The menu at Fleur d'Or is extremely rich and varied with Western dishes, rather than Vietnamese dishes. Fleur d'Or is famous for its fresh seafood buffet, meticulously decorated and delicately processed.
In addition, Western dishes here are so special. So, depending on your taste, come to Fleur d'Or to enjoy the food and atmosphere of one of the most luxurious restaurants in city. In addition, the service attitude at the restaurant is also a huge plus point because it has been praised by many special diners.
Address: Số 133 Điện Biên Phủ, Hồng Bàng, Hải Phòng
Hotline: 090 429 99 36
Facebook: https://www.facebook.com/FleurdOrBuffet/
3. Texas BBQ
European cuisine is always praised by the world for its harmony, sophistication, simplicity and elegance, attracting diners passionate about cuisine around the four directions. Now you will not need to go around because all the quintessence of the best dishes in Europe have converged on Texas BBQ for you to explore. Texas BBQ is the first restaurant in the chain of 06 brands of 3AE group. This is considered the first child, the foundation for the company to continue developing the next restaurants. Currently, in addition to Texgrill Minh Khai and Van Cao restaurants, Texgrill has an additional facility located in Vinhomes Imperia, Hai Phong.
As promised, you do not need a long-distance flight and still be able to come to magnificent Europe. A miniature Europe in the heart of Hai Phong city is brought up with classic architecture, the traditional color of brown – red, exuding the subtlety that attracts customers at the first sight. In each space, you can clearly feel the European architectural style. It is a bar with the best bottles of wine in the world. It is a unique menu design system for those who want to discover the perfect European standard of great attractive dishes.
This restaurant in Hong Bang Hai Phong is also very skillful when entering into that space a little green of flower baskets, not too much but enough to bring the pure nature to the guests for meals. Especially Texas BBQalso has a VIP area above the 2nd floor, a dream balcony for customers who want a space that is both private and romantic. Stay with this and enjoy unique European dishes, sip a glass of wine, listen to melodious music by shimmering candles and enjoy salads, steaks, grilled ribs.
No need to dream about the dreamy European skies, you can also enjoy the delicious BBQ ribs, fascinated with every tender meat of the delicious Australian beef steak.  You will be extremely satisfied right from the first round of the menu because of the great variety, whether it is a fastidious guest, surely Texgrill Minh Khai, Van Cao or Vinhomes Imperia will also make you satisfied and find a dish like that, suitable for your taste. With every single dish, Texgrill always has all sizes for you to choose the right meals.
Address 1: 27 Minh Khai, P. Hoang Van Thu, Hong Bang, Hai Phong
Address 2: BH03 – 23 Boutique House, Manhattan 10, Vinhomes Imperia, Hong Bang, Hai Phong
Hotline: 0225 883 0773
Facebook: https://www.facebook.com/Texgrill.vn/
Website: texgrill.vn
4. TONG HUA hotpot & dimsum
Inspired by the immortal song associated with the generation of 8X-9X Đồng (Dong Thoai), Tong Hua has become a brand attached to the people of Hai Phong. Located right in the city center, with comfortable parking, Tong Hua is the most Hong Kong-style restaurant at the moment. With a capacity of 500 diners, a private room and common space, a rich interior identity, along with a diverse and sophisticated hotpot and dimsum cuisine, Tong Hua is ready to satisfy all customers. This is the last restaurant in Hong Bang Hai Phong in the list.
TONG HUA hotpot & dimsum can be considered as one of the most modern hotpot restaurants in Hai Phong city today. Coming to TONG HUA hotpot & dimsum, you will be surprised with more than 20 different perfect perfect dimsum dishes, giving diners the abundance of Chinese cuisine as well as cuisine at Thom Hong Kong Port. The hotpot at TONG HUA hotpot & dimsum is considered to be many choices: Tomyum, Hong Kong hotpot, or Truong Tho hotpot (milk hotpot)… With the special feature of 2-compartment hotpot, will allow diners to use 2 types Hotpot broth is extremely convenient and modern at the same time.
Not only that, the hotpot dishes here are also carefully selected, all meat and seafood are first class, good quality, keeping the original freshness of the food. Another plus point for TONG HUA hotpot & dimsum is the extremely rich dipping sauces, if you do not want to eat the usual sauces, you can choose mushroom sauce, seafood sauce, spicy pepper sauce. Sounds interesting, right? So why hesitate any longer without coming to TONG HUA hotpot & dimsum !
Address: Số 3 Trần Quang Khải, Hồng Bàng, Hải Phòng
Hotline: 0225.3569.599 – 0866.999.369
Facebook: https://www.facebook.com/tonghuahotpot/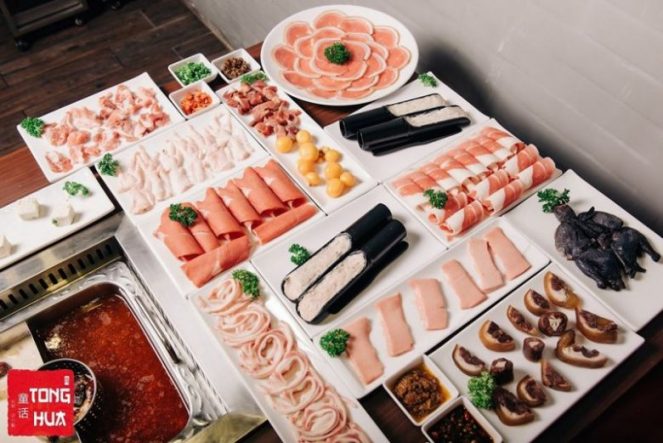 5. Lao Ngu restaurant (last restaurant in Hong Bang Hai Phong)
Lao Ngu – fresh seafood restaurant with the most unique design of the Tonkin Gulf: Designing two large ships stretching in the middle of the sea, customers can enjoy the food while watching the fresh fish swimming around the sides of the boat. Luxurious vip room system with exquisite and class design. Lao Ngu – All Seafood is known as one of the best seafood restaurants in the port city of Hai Phong.
Lao Ngu – All Seafood specializes in all kinds of dishes with a variety of different seafood products. In addition to the types of seafood commonly found in Vietnam, there are also seafood types in the world. Especially when coming to Lao Ngu – All Seafood you will manually choose the fresh fish swimming to enjoy at a cheap price. In Lao Ngu, there is a full range of seafood from imported to inland, from saltwater seafood to freshwater, all available in Lao Ngu.
Some outstanding seafood in Lao Ngu can be named as: average lobster, Canadian lobster, tu hai, Ca Song, Ca sturgeon, Sapa Salmon, Ca Trinh, Lang co … Ignoring seafood cuisine is a big omission. Therefore, if you have the opportunity to visit the coastal city of Hai Phong, visit Lao Ngu – All kinds of Seafood to enjoy right away!
Address: 123 Dien Bien Phu, Hong Bang, Hai Phong
Hotline: 0225 8831 522
Facebook: https://www.facebook.com/LaoNgurestaurant/
Website: vuahaisanluugia.vn
Above is list of The best restaurant in Hong Bang Hai Phong. There are more than above. Let's discover and let us know!