Things to do in Hai Phong is what I usually hear from our customers. Certainly, it's the very good question because when you arrive in a new city, it's hard to know well about it shortly. If you just look around where you are staying, then nothing you can see and you will feel Hai Phong boring soon… In fact that, in Hai Phong downtown, tourist attractions are not as attractive as in suburb. That's why you need an expert to cover this. Hence, we provide Hai Phong city tour. Certainly, if you have bicycle or motobike, you can also go to these attractions with direction supported by Google Map. Let check out following details with Hai Phong Tours.
Things to do in Hai Phong downtown
In Hai Phong downtown, there are fewer things to do. If you have time, you can go on foots to reach these attractions. It's more convenient if you have a motobike or bicycle with you.
Hai Phong Museum
When coming to the Hai Phong museum, visitors seem to be admiring the heroic revolutionary picture. This is the place to introduce historical traditions, cultural identities, traditional craft villages, and collect artifacts and archaeological relics of historical periods. In addition, the museum is also a place to organize research on climatic zones, soil, and historical and cultural relics.
Hai Phong Museum is located in the central area, No. 66 Dien Bien Phu Street, Minh Khai Ward, Hong Bang District, Hai Phong City. The museum was built in 1919, has beautiful architecture, designed in the Gotich style in Europe. Hai Phong Museum was officially inaugurated on December 20, 1959. Through more than 3 thousand documents, exhibits are displayed in 15 rooms, with an area of ​​over 120 m2. The museum shows vividly, generally and systematically the development stages of Hai Phong history, the history of the revolutionary movement since the birth of the Communist Party of Vietnam.
Opening time: 8-10h30; 14-16h30 (closed on Monday)
Du Hang Pagoda Hai Phong
As a nationally ranked historical and cultural monument since 1986, Du Hang pagoda is located at 121 Du Hang street (Le Chan district). Tourists come here to learn about the history of the pagoda which has thousands of years of origin with many architectural and cultural values ​​associated with the Buddhist tradition of the East. It is a temple but this place took place many historical events during the war. In particular, in 1926, a large number of monks, nuns, Buddhists, students, teachers and workers gathered at Du Hang pagoda to hold a memorial service for the patriotic Phan Chu Trinh. This is an important event, associated with the patriotic struggle movement, claiming the rights of people, democracy.
Also at this pagoda, the Hai Phong Sangha for National Salvation Association celebrated its launch after the August Revolution (1945). This is also the venue for the "Golden Week", at the same time, revolutionary mass organizations have a meeting to welcome President Ho Chi Minh from France to return and visit Hai Phong compatriots and soldiers.
History also recorded during the 9-year resistance war, Du Hang pagoda opened the door of meditation to hide cadres and supported the resistance through the movement of "winter warm clothes" for soldiers, food for soldiers. In particular, there are many monks in the pagoda who are enthusiastic about joining the army to save the country. Typically, the monk Dinh Quang Lac was awarded the Medal of Resistance, Third Class.
Sat Market Hai Phong
Located on the banks of the confluence of Cam and Tam Bac rivers, Sat Market is the largest market in the city. Previously, this was an An Bien fair, crowded with people buying and selling, serving the lives of An Bien people from the beginning. Later, with the presence of Chinese and French merchants, this place became a commercial center and harbor of international stature.
In 1888, the Nguyen dynasty issued a decree to establish Hai Phong city – city class 1 equivalent to Hanoi, Saigon. At that time, the market was built with the houses selling materials mainly iron, steel, and cement, so it was called Iron market.
To meet the development of the city and the trend of opening May 1992, the Iron market was built into a massive 6-storey trade and service center today. New Sat Market has an area of ​​13,210m2, using area 39,824m2. Level 1, 2, 3 are places for business with more than 2,000 stalls. The 4th and 6th floors are restaurants, hotels, discotheques and other representative offices.
Because this market is so crowded, then if you have plan to get inside, please aware of pick pocket and do not bring valuable things with you. If you buy things, do not forget to bargain!
Hai Phong Opera House
Located in the city center, the Hai Phong Opera House was built in 1904 by a very sophisticated French architect designed according to the Paris theater prototype. The theater is modeled after the theaters of the medieval France. The theater is 2 stories high, has 100 doors and windows, has a hallway, a lobby, has a stage with a 400-seat auditorium. Above the stage, there is a statue of the god of music – the god of protection for the artists. On the right and left of the stage are the makeup room and actors' lounge.
In addition to the glass windows, inside the hallway there are leather-padded doors for sound insulation. On the second floor there are arched doors in the Gothic style. The ceiling of the theater is domed, creating echoes and enhancing the height of the theater. The dome is decorated with flowers and the names of famous European musicians and playwrights: Mozard, Betthoven, Moliere …
The beauty inside the Theater is exalted thanks to the architectural style of French civilization in the nineteenth century. The beauty outside the Theater shows the development of a modern society: there is a large square in front of a flower garden, with artistic fountains. The harmonious combination between modern and ancient make a beautiful, impressive and charming Theater.
Opening time: only on special days
Tam Bac Walking Street Hai Phong
Tam Bac Hai Phong Walking Street is located next to the romantic riverbank with many restaurants at night so young people can check in and date friends here. The street stretching from Lac Long Bridge to Sat Market with hundreds of snacks, soft drinks with shimmering black lights in vibrant music with young people.
In addition, you can also watch the newly released Swans swimming in the river. Opening time of Tam Bac Walking Street is from 19:00 to 23:00 on Fridays, Saturdays, Sundays and holidays, Tet.
Opening time: 19:00 to 23:00 on Fridays, Saturdays, Sundays and holidays, Tet.
Address: Tam Bac Street
Things to do in Hai Phong suburb
When you go to Hai Phong suburb, there are more things to do. You may need to spend 2 days to visit all of them. The six-first following attractions are located in the same area named Do Son. The Bao Ha village and Tien Lang hotspring are on the same way to go. Trang Kenh complex and Elephant Mountain are in the different direction. So please consider your route and timetable.
Doi Rong – Dragon Hill beach Hai Phong
Doi Rong Artificial beach (Dragon Hill beach) with a length of more than 1km has just been opened. This is a 23ha wide beach. The beach is expected to overcome the turbid sea water, which was officially completed and put into use on the morning of June 6 in Do Son district, Hai Phong city.
Dragon Hill Beach has a golden sand carpet, green coconut trees and a 7-hectare square with fountains, light systems and attractive landscapes serving visitors. The unique feature of the beach is that the seawater in this area is always clear, significantly overcoming the turbid sea water situation in Do Son. Water is filtered by modern water filtration technology.
Ba De temple Hai Phong
Not only Hai Phong people, many national tourists know about Ba De Temple. Located close to the sea wave in Do Son district, the temple is associated with the legend of a woman's injustice. That is Mrs. Dao Thi Huong from the southwest, Do Son. She was worshiped by villagers at the foot of Doc Mountain.
What this temple attracts foreign tourists is the rocky beach. Each wave falls on large and small rocks, creating a very "chill" scene. For those who love to take pictures, do not miss this point!
Bao Dai King Villa Hai Phong
Bao Dai Villa (Do Son, Hai Phong) is known as the only palace of the Nguyen Dynasty in the North. Recently, the People's Committee of Hai Phong city decided to recognize this project as a tourist destination. The Bao Dai Villa, also known as Bao Dai Floor, is located on Vung Hill, Area 2 Do Son, now in Van Huong Ward, Do Son District, Hai Phong City. The work is located on the campus of more than 3,700m2. The area of ​​the villa is 1,000m2 at an altitude of nearly 40m above sea level.
The villa was built by Governor of Indochina Pasquier in 1928 as a resort. In 1949, Governor-General of Indochina gave it to King Bao Dai. Since then, the villa was named Bao Dai Villa. King Bao Dai used this villa from 1933 to 1954 to work and relax with his family every time he went to the North. In 1955, the North was liberated. Bao Dai villas were assigned to the Ministry of Defense for management. By 1984, the Ministry of Defense handed over to Do Son Tourism Joint Stock Company for management.
Do Son beaches
Do Son Beach is the only natural inland beach in Hai Phong. Unlike the man-made beach in Rong Hill, the waves at Do Son beach are very strong, especially zone 2. Tourists come here mainly to swim, followed by fresh seafood dishes.
Tourists often go to Do Son during the hot season, mostly Vietnamese. Foreign visitors come here mostly to watch or rent bicycles around to see the beaches. Activities at Do Son beach are busiest from the beginning of April to the end of October. The rest of the time, the weather is not suitable for swimming, so there are fewer guests.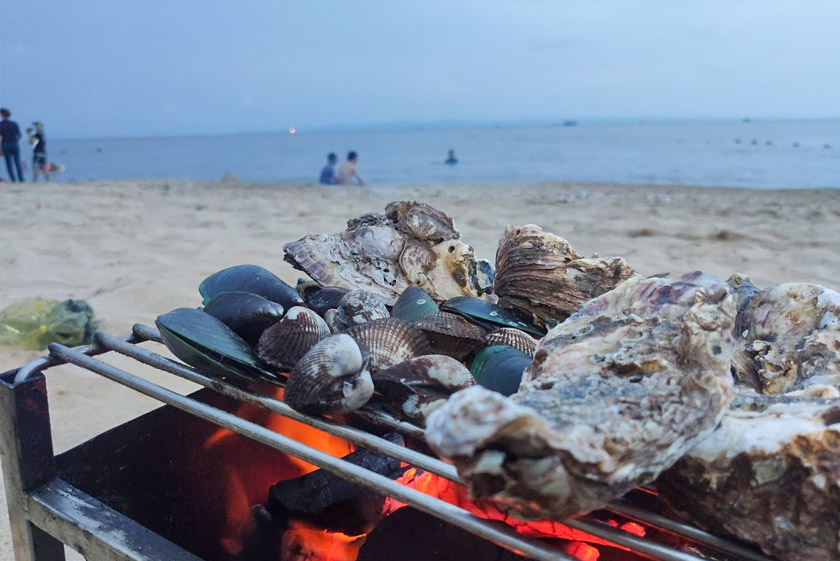 There are 3 beach zones in Do Son. Currently, when 1 has almost no customers because of the small beach and many reefs. Zone 2 is the most crowded, the waves are the strongest. Area 3 is located in Hon Dau resort, the sand is cleaner but smaller and the waves are not as strong as zone 2.
You may like: Do Son beach Hai Phong – All things to know
Opening time: before 18h00 for swimming
Hon Dau island Hai Phong
Hon Dau Island is only about 10 minutes by boat from the mainland. The wild, tranquil features of this place are kept almost intact. To go to the island, you need to go to Hon Dau resort, turn right to go to the boat station. If on a holiday, you can join the train for about 3 USD. But if you go on weekdays, you may have to rent a private boat with a high price of 800,000VND 2-way. The boat owner will take you to the island and then back to the dock. When you want to go back, call the boat owner to pick up. So when you get on the train, you need to get your phone number to contact pick up.
Unlike many islands across Vietnam, the most typical tree species on Hon Dau island is not coconuts, casuarina … but the ancient tree stumps to a few people. The forest here intact all three layers of vegetation.
The lighthouse tree that is over a hundred years old, dubbed the nation's jewel eye, is a different new sight to tourists. Hai Dang was designed and built by the French from 1892 – 1896. In June 1898, Hon Dau lighthouse officially operated. During the war against the US, the lighthouse was bombed many times, so it was severely damaged. But later, Hon Dau lighthouse was rebuilt but almost still retains the original architecture.
You can freely climb to the top of the lighthouse for a view through the wooden steps inside.
Bao Ha village Hai Phong
Bao Ha village is a traditional carving and lacquer village that has existed for over 500 years in Dong Minh commune, Vinh Bao district, Hai Phong city. Craft villages are maintained and developed to this day and become a unique traditional profession, associated with many cultural and tourist activities in the Red River Delta. The village of Bao Ha statue carving has more than half a millennium specializing in carving Buddha statues. In 2007, Bao Ha statue carving village was recognized as a traditional craft village.
Tien Lang Hot Spring
Tien Lang Hot Spring has been discovered for a long time. Previously, due to the difficult local economic conditions along with the lack of investment and inexperience in management, the operation of Tien Lang hot spring was ineffective. But in recent years, when the economy develops and the tourism demand of the people is also increasing, Phu Vinh company has invested more than 60 billion VND to restore the eco-tourism area, regenerate another highlight for Hai Phong tourism.
Currently, the whole Tien Lang hot spring eco-tourism area has an area of ​​about 100,000m2. This is also the only mud bath in the North where valuable natural hot mineral water is exploited at a depth of 850m with a temperature of about 54 Degree Celcius. Through some experiments and comparisons of scientists, mineral water here is sodium chloride mineral water. It is the equivalent of the mirgorod mineral water of Russia and the French elarua.
Trang Kenh Relic complex Hai Phong
Trang Kenh relic complex in Minh Duc town, Thuy Nguyen district, Hai Phong city has a long history of culture. This is also a scenic spot with a beautiful natural landscape formed by a system of limestone mountains and rivers. Trang Kenh is a battlefield in the battle of Bach Dang in 1288 led by Tran Hung Dao, defeating the army of invading Nguyen – Mong in the 13th century. Coming to Trang Kenh relic complex, you will visit the small museum and artifacts. In addition, there is a model of wooden piles plugged in the river to simulate the old battlefield.
Recently, a series of wooden poles were discovered in the pond area of ​​Mr. Dao Van Den. This is a finding of great significance in the study of the battle of Bach Dang in 1288 in Hai Phong. The new pile field is called Cao Quy.
Elephant Mountain An Lao
Elephant mountain relic is the name of a rocky mountain located nearly 20 km southwest of Hai Phong city center. The mountain is bordered between Truong Thanh and An Tien communes of An Lao district, including a cluster of land mountains lying together. From a distance, the mountain looks like a giant elephant lying. So people call it Elephant Mountain.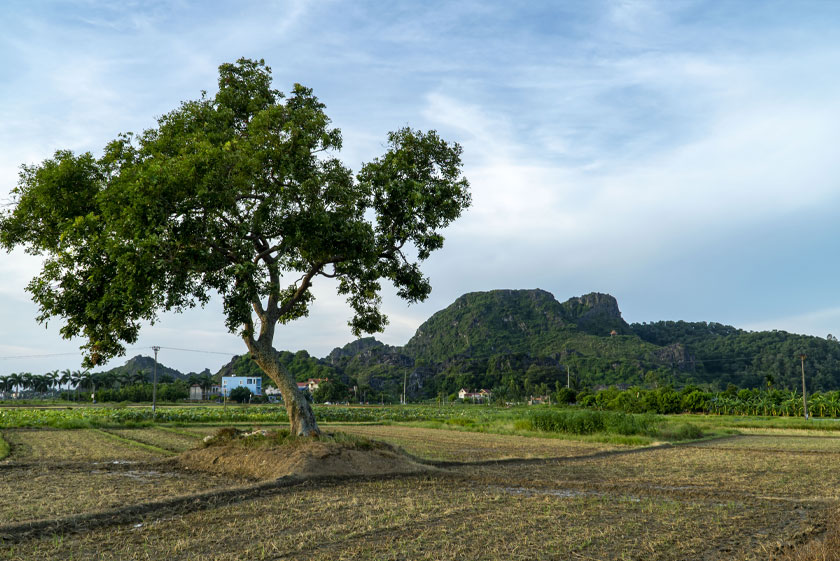 Elephant Mountain is not only a beautiful scenic spot but also a national historic site that holds the special marks left by his ancestors during the resistance war against France and the US. In addition, the national archeology also recorded the vestiges of the prehistoric period of humanity. For that reason, Voi mountain has a particularly important value not only in Hai Phong but also for the whole country.
Cat Ba island
Cat Ba Island in Cat Hai District is about 9km from Hai Phong city center. This is a prominent tourist destination in the North with an extremely large number of tourists on holidays or summer.
Tourists can travel to Cat Ba in any season, any time because the climate is cool and fresh all year round. However, summer is always a paradise season for Cat Ba because visitors can freely struggle in the clear blue water.
Note: If you come to Cat Ba in the summer, you should avoid the weekend. At this time, the number of people is not only crowded, but the room rate is also very high.
You may like: Go to Cat Ba island by motobike: Travel experience
Conclusion
Above are all things to do in Hai Phong as well as where to go. I do hope this will help you know more about Hai Phong city. Being a local here, so if you would like to know more anything, please feel free to leave your comment. I am happy to help! Thank you for reading!