Not only does Vietnam wins fame for meat and seafood dishes, but Vietnam food vegetarian is also famous for its tasty and healthy effects. Those that love veggies can definitely find the great dishes to eat in the country in which many people decide to turn themselves into vegetarians alike. If you're unsure about what to eat, here is the recommended meatless menu.
#1: Veggie Vietnamese Sandwich (Banh Mi Chay)
While the meat-filled version of the Vietnamese sandwich is so famous that receives lots of great comments from the worldwide tourist communities, the meatless version can even win the vegetarians' interest. Instead, the bread will be filled with tofu, egg, mushroom, pickles, chili, herbs, etc., and finished with the soy sauce (some places even have the secret tomato sauce). Choose this veggie food for your breakfast in Vietnam, and you will be pleased with the look, the taste, and the experience.
#2: Veggie Pho (Pho Chay)
This is the meatless version of "Pho" (a kind of famous noodle soup in Vietnam). Traditionally, the soup broth is meat-based by stewing beef bones for a long time. However, for the veggie Pho, the soup will be cooked using the vegetarian ingredients, namely a variety of tofu-based products. The complete bowl will be served with vegetables, herbs, limes, fresh chilis, bean sprouts, etc. And, a small cup of soy sauce. The meat-free noodle soup can be the ideal choice for breakfast, lunch, and even dinner, whenever the vegetarians come to question what to eat on Vietnam food tours.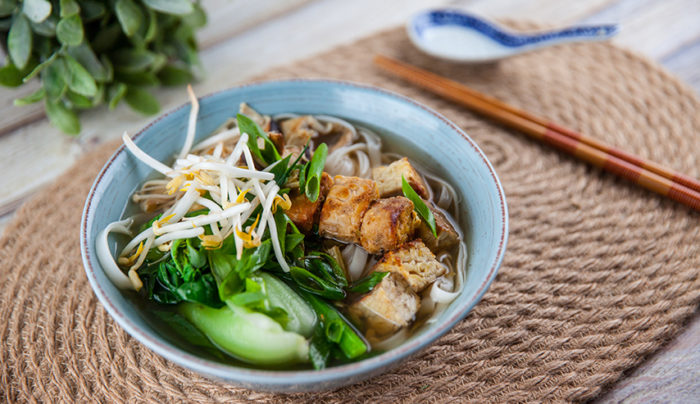 #3: Papaya Salad (Nom Du Du)
Papaya is a wonderful ingredient for making vegetarian salad. The thinly sliced green papaya will be mixed with carrots, peanuts, sesame seeds, coriander, and basil. Then, the sweet-and-sour mixture of honey and rice vinegar will cover all to enhance the general taste. This kind of salad might come in various versions, due to the chefs' preferred uses of other vegetables. Some people might make a simple set while others might add different tubers.
#4: Noodles with Vegetarian Spring Rolls (Bun Cha Gio Chay)
Typically, Vietnamese spring rolls have ground pork inside, but its veggie version will use tofu instead. A bowl of noodles or rice vermicelli will be mixed with the vegetarian spring rolls, vegetables, cucumbers, peanuts, herbs, and soy sauce. This food is quite popular in the food carts and eateries on the side of the streets. You can buy the takeaway or sit on the plastic stool and have your bowl. The key to this dish might lie in the well-spiced spring rolls that should be crunchy and delicious.
#5: Rice Porridge with Mung Beans (Chao Dau Xanh)
We don't need the cool days to have rice porridge that is a very healthy and savory choice for breakfast. Especially, to better serve the vegetarians or those don't like meat, the porridge can be cooked with mung beans in a pot until they get mushy and aromatic. This is truly good for the sick, undoubtedly. Many toppings will be added to the ready-to-serve bowl of rice porridge such as spring onions, garlic, chili, and fried shallots.
#6: Tofu with Tomato Sauce (Dau Sot Ca Chua)
Tofu is a must-have ingredient in almost all vegetarian dishes in Vietnam, which can be cooked in a variety of ways like frying, stir-frying, making soups, etc., and mixing with tomato sauce. To make this favorite food, you will first fry some slices of tofu until they get cooked. Then, add a sauce of tomato and garlic into the tofu to cover them all. When they are all mixed well, serve it with a sprinkling of spring onions, coriander, and pepper. This veggie option is best eaten with the rice.
#7: Fried Rice Cake (Bot Chien)
This is a creative vegetarian street food that attracts both kids and adults, whether or not they are vegetarians. The key lies in the way the chefs mix the veggie ingredients on the rice cake and fry them together. To make it, the street vendors will fry the rice cake on the hot pan until it gets golden brown. Then, they add the egg to the cake until it gets cooked and has the yellow look. The fried cake will be topped with spring onions, peanuts, and green papaya. It will be served with soy sauce.
#8: Vegetarian Dumpling (Banh Bao Chay)
The meat-free dumpling will include the fillings of tofu and mushroom, which are spiced well. It can be eaten as a snack or part of the main course. People often have a dumpling while it is still hot and buy it as the take-away. Nowadays, some supermarkets in Vietnam even sell the already-made veggie dumplings in the packages in the refrigerated areas, which you can buy, store, and then steam them in just a few minutes. Make sure to read the instruction label.
#9: Veggie Sticky Rice (Xoi Chay)
The Vietnamese sticky rice for vegetarians can be the one with the mung bean, corn, and especially "Gac" (which is in red and made from baby jackfruit). The sticky rice will be mixed well with the veggie options and steamed for a period to get cooked. In particular, the sticky rice with the mung bean or corn can be eaten with sugar, peanut, and coconut slices. Meanwhile, the "Gac" sticky rice is often served on special events.
#10: Stir-fried Vegetarian Instant Noodles (Mi Xao Chay)
Vietnam might be famous for the stir-fried instant noodles with seafood in many restaurants and eateries, but know that its veggie option is very delectable too. Instead of seafood, there use the tofu and some kinds of vegetables and herbs (mushroom, carrot, chili, spring onion, pea, bean sprout, etc.) to enhance the color and the flavor. It is also very healthy.
In addition to the top 10 Vietnam vegetarian foods mentioned above, Vietnam owns the countless street vendors and markets that serve vegetarians with fresh fruits, smoothies, and yogurt which are amazing options. The veggie sides of Vietnamese cuisine might be more diverse and abundant than you ever think. Let's go forth and explore.