Hai Phong is famous for its beautiful locations and delicious food. In addition to the delicious dishes that are difficult to refuse, such as Banh Da Cua, spicy bread, tea…tourists are also known for beautiful, romantic, luxurious cafes but the price is not high. Nowaday, people not only come to drink a delicious cup of coffee or quality drinks, but also have to enjoy the beautiful scenery, quiet space. If you have the opportunity to visit Hai Phong, try visiting at least one of Top 10 best view coffee shop in Hai Phong below.
No. 1986 cafe Hai Phong
You will love No.1986 Cafe at first contact because of its strange and beautiful appearance. No.1986 Cafe is located at 33-35 Dinh Tien Hoang Street, Hong Bang District, Hai Phong City. Being the best view coffee shop in Hai Phong, No.1986 Cafe with 3 levels of open design is extremely lovely and exquisite in every detail. The long staircase is intertwined with fresh green carpet weaving through the space of the bar. No.1986 Cafe is a great backdrop if you are looking for place to "check-in".
No 1986 Cafe is one of the beautiful cafes in Hai Phong famous for its design and layout. You will be attracted by the first sight by its specialty. With the idea of ​​building with rustic bricks, the interior is old wooden tables and chairs, interwoven garden. No 1986 Cafe has created an airy, classic and fresh space. The first impression for customers is the appearance of No.1986 Cafe as a classic castle. As soon as you step inside, especially on the cold winter days, you will feel the warmth emanating from the deep brown color. The shop becomes more sparkling at night because the yellow lights are lit.
Each floor has a different arrangement of tables and chairs, creating privacy, not noisy for guests coming here. In addition, No.1986 Cafe also designed in the middle of the shop a sky well to create the effect of attracting light and trees so it is not too secret. Brown wooden furniture with light creates a classic, bold vintage. Young people in Hai Phong spread the word that every corner of No.1986 Cafe is beautiful, so the shop has recently been added to the list of the most people checking in. This place really deserves to be the best photo cafe in Hai Phong!
Address: 33 Dinh Tien Hoang, Hong Bang, Hai Phong.
Phone number: 0908 801 986
Fanpage: facebook.com/no1986cafe
Opening hours: 07:00 – 22:30
If  you are just looking for Egg coffee, please read: 6 Best Egg Coffee shop in Hai Phong city center.
Classe Coffee n Books Hai Phong
The shop has opening hours from 7:30 am and closes at 23:00 on weekdays. The shop has a quite spacious and airy space that makes diners excited. Because from here, customers can admire the scenery of the streets below. In the evening the lights are lit up, the space becomes quite sparkling and romantic suitable for young people to go on a date.
Coming to Classe Coffee n Books, you will step into a relaxing and relaxing space, a suitable place to relax the soul with a cup of coffee and read books. Classe has many beautiful little corners to help you have shimmering images. Classe Coffee n Book is the perfect place for you to find a quiet space to enjoy fascinating books. The drinks here are rated quite delicious. The staff of the bar is very enthusiastic, friendly.
Address: 178 Phan Bội Châu, Phạm Hồng Thái, Hồng Bàng, Hải Phòng.
Phone number: 0904 276 647 – 0963 005 461
Opening hours: 07:30 – 23:00
Universal Cafe Hai Phong
The shop has an address easily found on Lach Tray street with house number 464 in Ngo Quyen ward, Hai Phong city. Universal Cafe has a specified opening time of weekdays from 7 am to 11 pm.
Unlike a regular cafe, Universal Cafe has a high floor plan, creating a new feeling for young people. Also because the restaurant is quite high and comfortable, the space without decoration is too cumbersome but simple, gentle with white tones as the mainstream. But that simple thing is enough to captivate customers on the first visit. Universal Cafe uses mainly glass so customers can zoom in on the panoramic view of the vast Hai Phong city. Please choose for yourself the most beautiful view.
The best seller of Universal Cafe is matcha because it is rich in flavor, delicious taste, and does not make it difficult to drink like many other restaurants. Going to Universal Cafe in the evening to enjoy coffee is perfect. People will be watching Hai Phong when the lights become sparkling and fanciful.
Address: 464 Lach Tray, Ngo Quyen District, Hai Phong.
Phone number: 0936 613 558
Fanpage: https://facebook.com/universal464/
Opening hours: 07:00 – 23:00
Del Unico Cafe Hai Phong
Del Unico Cafe is one of the weekend gathering places of many young people. On weekdays, the shop is also quite crowded, opening hours start at 6 am and close at 22:00. The restaurant is famous for its beautiful view, open and spacious space.
Del Unico Cafe is rated as "unique" by diners to find a quiet space with strange colors. Spend some time visiting the shop, you can quietly enjoy the rich menu made from fresh fruits, the egg coffee can only be said to be "true Hanoi". Come here and you will feel satisfied, relax. The service style here is very professional. Pretty good drink.
Address: 261 Tran Nguyen Han, Nghia Xa, Le Chan, Hai Phong.
Phone number: 0939 333 866
Fanpage: https://facebook.com/cafedelunico/
Opening hours: 06:00 – 22:00
Secret Garden Cafe Hai Phong
Located in a small alley designed with garden style, Secret Garden Cafe is the best Hai Phong coffee shop for you to search for quiet relaxing space or study or read books. Large space including garden and air-conditioner with beautiful and impressive design, diverse drinks menu, serving snacks, cakes, salty. Secret Garden Cafe has a quite large area and extremely tight unique. During the day, the bar is quite empty, suitable for you to work or study computers.
The staff at Secret Garden Cafe is very cute, fun, and professional service. The cake of the restaurant is always refreshed, so it has a fresh, attractive, soft aroma, delicious coffee. The shop is well worth the experience.
Address: 231 231 Văn Cao, Đàng Lâm, Hải An, Hải Phòng.
Phone number: 0329 989 908
Opening hours: 7:30 – 23:00
Cafe BOB Hai Phong
Café BOB is an ideal place for those who like tranquility, sip some drinks and study. Although the space is quite small but quite cool, the back ground is also very beautiful, walking into the bar sometimes sees staff spraying aromatic essential oils to make the whole space become fragrant.
The price is also very affordable or can say is quite cheap. Especially if you have a membership card of the restaurant, you also enjoy extremely attractive offers. The staff here is lovely, giving guests a very comfortable feeling, very dedicated service attitude.
Do not hesitate anymore, come right to BOB, where you can enjoy a relaxing, fun and quiet day.
Address: 47/258 Đà Nẵng, P. Cầu Tre, Q. Ngô Quyền, TP. Hai Phong.
Floor 8, 98 – 100 To Hieu, Le Chan, Hai Phong.
Phone number: 0931 596 990 – 0931 565 858
Opening hours: all day.
The Coffee House Hai Phong
The coffee house is a lovely coffee shop system that has been present in Hai Phong. Not only delicious drinks and cakes, but The coffee house is also famous for its beautiful view. As a famous coffee brand, The Coffee House in the port city of Hai Phong has up to 3 branches and on Dien Bien Phu Street is considered convenient, spacious and most beautiful. The restaurant invests thoroughly from the outside space to the quality of drinks. In general, coming to The Coffee House you will not be disappointed.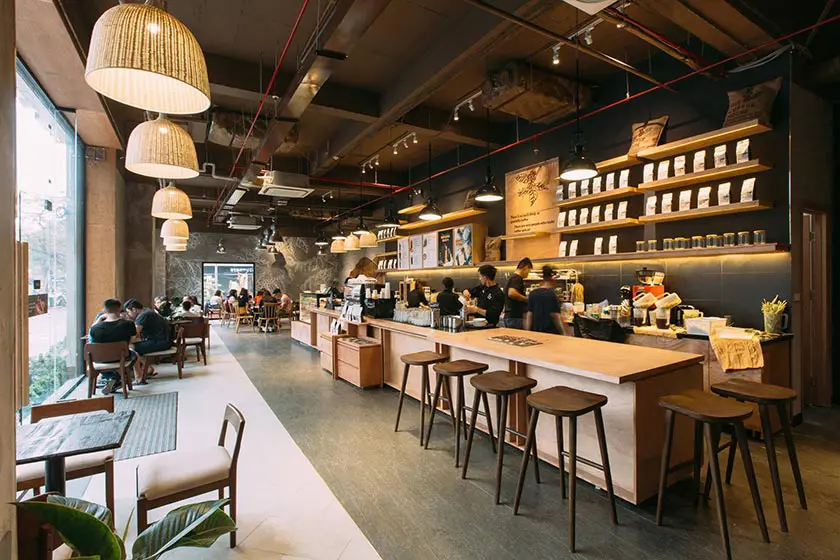 Luxurious space, the interior brings the natural deep tones of wood, when combined with the yellow light to make this place glow as the places of fun of royalty and nobles. The service staff is quite agile, friendly attitude, the restaurant also plays music on demand which are additional points for this cafe.
Address: 86, Điện Biên Phủ, Hồng Bàng District, Hải Phòng.
Phone number: 1800 6936
Opening hours: 07:00 – 22:30
Cộng Cafe Hai Phong
Cộng Cafe is a famous coffee chain in Hanoi thanks to the Vietnamese coffee flavor that captivates many people. Not only is the familiar address of young people in Hanoi, Cong cafe in Hai Phong branch also quickly defeats young people. Cong Coffee is famous all over the world thanks to the bold atmosphere for Vietnam in the past, the interior decorations from kerosene lamps, stools, radios… all recall the time of arduous country.
As a branch of the well-known Cong coffee chain, Cong Coffee in the port city of Hai Phong is still impressed with the nostalgic atmosphere, with rich coconut aromatic coconut and the location is easy to move. Visiting Cong Cafe to enjoy a cup of hot coconut milk, contemplating in the familiar cozy atmosphere is the best suggestion. Vietnam-style restaurant space with decorations reminiscent of the country's arduous period. A beautiful view cafe in Hai Phong is great for chatting with friends, working…
Address: 84 Điện Biên Phủ, Minh Khai, Hồng Bàng, Hải Phòng.
Phone number: 0911 811 166
Fanpage: https://facebook.com/CongCaphe
Opening hours: 8:00 am to 23:30 pm
Conclusion
Above is lis of 10 best view coffee shop in Hai Phong. Please come to enjoy and give us your evaluation by comment here. Thank you!