Korean food restaurant in Hai Phong is what tourists look for to try new flavour. In the other hand, in Hai Phong, there are many Korean specialists work and live. As a result, restaurant for Korean in Hai Phong grows more and more. Like many other Asian countries, Korean food has a strong cultural identity, preserving its long-standing and traditional features. The richness and diversity in each dish combined with the unique presentation and ingenious use of ingredients, especially spices, make great dishes. Now, let Hai Phong Tours introduces the top 11 Korean food restaurant in Hai Phong city.
4Eyes Korean Food
If you want to fully enjoy the beauty of Korean food, come to 4Eyes Korean Food . This is one of the most famous restaurant in this land. The restaurant was established by a Korean. So it keeps the traditional taste. Come here and feel the specialties of the cuisine. Kimbap here is perfect, well cooked rice, tokbokki pungent, dipped with sauce.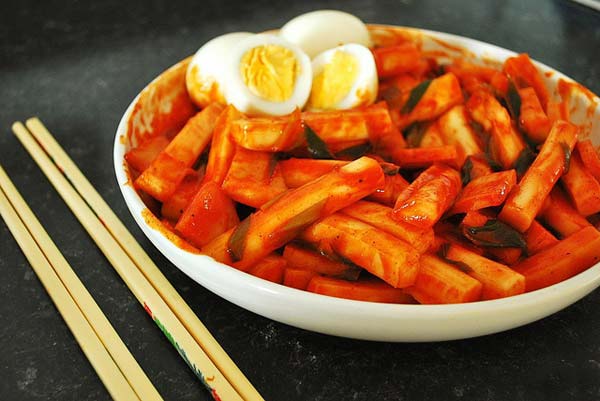 In particular, the rice dish mixed with stone bowl is very delicious, very characteristic. If you come here you must definitely try it once. The place specializes in Korean food at low prices because it is located close to the university villag. So many students visit and try: Kimbap, mixed rice, Tokbokki, Ramen noodles, kimchi soup … The prices are only from 20,000 VND – 55,000 VND each. This korean food restaurant has staff of all-male friendly, enthusiastic and good looking.
Contact 4Eyes Korean Food
Address: No. 360 Lot 22 Le Hong Phong, City. Hai Phong
Hotline: 098 249 08 85
Fanpage: https://www.facebook.com/4eyescoffee/
Bulgogi Charcoal Grill
For those who love barbecue, Bulgogi is a name not to be missed. This is the name known as the crystallization of Korean culinary culture in Hai Phong. All Bulgogi ingredients are carefully selected, ensuring the freshest cuts of meat, cleanest and safest vegetables and grilled on low-smoke charcoal and marinated. It's great to be with friends on the weekend to enjoy the charcoal stove, roasting red and pink bacon wrapped in green vegetables and served with a rich, smooth sauce.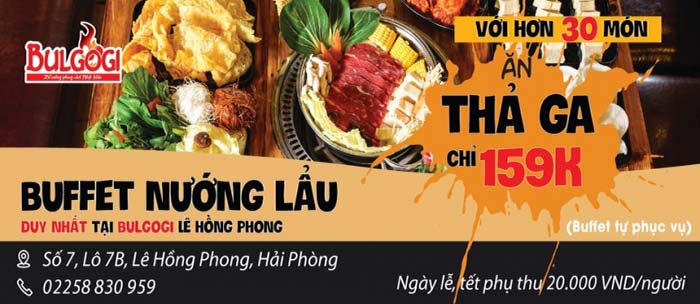 3AE Group is a leading restaurants in Hai Phong city with 13 restaurants belonging to 8 brands: TexasBBQ, Pepper's Pizza, Alfredo's, HP3 Home Cook, Singapore Chicken Rice, HP3BBQ, Bulgogi, HP3 Buffet wipe. If you want to find Korean restaurant in Hai Phong, Bulgogi restaurant will be what you are looking for.
With reasonable price, this Korean food restaurant is the ideal place for you to enjoy delicious dishes from Korea such as: grilled hot pot buffet, mixed rice, cold noodles, kimchi rice … and also wines such as rice wine, sochu, sake.
Contact Bulgogi Charcoal Grill
Address: Number 7, Lot 7B Le Hong Phong, City. Hai Phong or No. 2 Vu Trong Khanh (2/182 Van Cao), Hai Phong City
Fanpage: https://www.facebook.com/bulgogi.HP/
Website: http://bulgogi.vn/
Hotline: 02253.507.761
Reference price: 179,000 to 199,000 VND
Gogung Buffet Hotpot
Another restaurant that cannot be ignored when you want to enjoy Korean food in Hai Phong is Gogung restaurant. The rich menu, harmony and luxury in the space help customers to comfortably enjoy their meal in the most delicious way. Some of the typical dishes here such as kimbap, tokbokki, cheese grilled ribs, Korean hot pot … Each serving is quite good, well-presented, good quality cheese, fragrant and very fat. Especially, the price is very competitive. However, if you want to enjoy the dishes here, please remember to book your table in advance.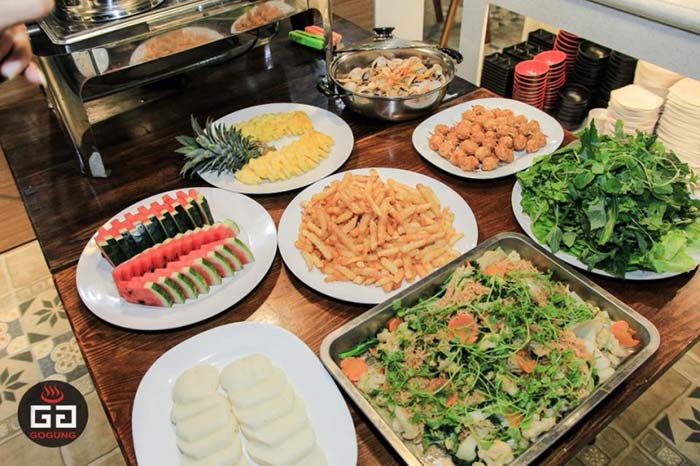 The restaurant has a menu with a variety of dishes, many grilled dishes are marinated with Asian flavors. Almost all customers are satisfied and feel excited when eating at this Korean restaurant. There are many combos for many types of customers with prices ranging from low to high. The special thing about Gogung Buffet Hotpot is that on holidays or weekends, the restaurant still does not increase prices, or even discounts according to each meal. In addition, the staff is enthusiastic and always smiles to customers. The restaurant is suitable for group meetings, parties, or birthday parties.
Contact Gogung Buffet Hotpot
Address: 2 – 4 Cau Dat, Le Chan, City. Hai Phong or No. 1 Nguyen Duc Canh, City. Hai Phong
Reference price: 40,000 – 400,000 VND
Opening hours: 10.00 – 22.30
Hotline: 0901.581.591 / 0904022892
Fanpage: https://www.facebook.com/GogungBuffetHotpot/
Also, if you would like to look for other hotpot resraurants, please read Best hot pot restaurants in Hai Phong
Hp3 BBQ
This is considered one of the few places in Hai Phong that is famous for its Korean food. This is also an option for your meal on the weekend. The food here is quite delicious and also very plentiful. From familiar dishes such as kimchi, kimbap, tokbokki .. to mixed rice, barbecue and hot pot dishes such as Australian beef hot pot, seafood hot pot, mushroom hot pot … All have very typical Korean flavor. In particular, barbecue is the highlight of the restaurant. The fresh and delicious bacon, green vegetables grilled on embers will be a great dinner, right?
The Hp3 BBQ is probably the best hotpot restaurant in Hai Phong. Also, Hp3 BBQ was the leader for the first smokeless hotpot restaurant in Hai Phong. With a diverse menu and clean food sources imported from the US, Australia and Japan. It inherits all dishes with flavors from Japan and Korea. With a cool and spacious space, you can choose this as a destination on the weekend.
Contact Hp3 BBQ
Address: Floor 2, No. 107 Dien Bien Phu, Hai Phong or Floor 1 Big C Supermarket, Hai Phong
Hotline: 0225. 3 821430 – 0225. 3 246772
Fanpage: https://www.facebook.com/Hp3bbq/
Reference price: 100,000 to 300,000 VND
King BBQ Buffet
King BBQ has become a familiar name to many culinary devotees when owning a restaurant chain in almost all provinces across the country including Hanoi, Ho Chi Minh City… In Hai Phong, Hotpot & BBQ Grill is loved by customers. Here, the dishes are prepared in Korean style, bringing boldness and traditional features in taste.
King BBQ buffet is a famous barbecue chain among young people from Saigon, Hanoi and now has a presence in Hai Phong city. King BBQ is famous for its delicious and delicious Korean hot pot dishes and the restaurant is also known as the King of Korea. This restaurant for Korean in Hai Phong always ensures diners a source of fresh and clean food with food hygiene and safety, so you can rest assured to come here to eat.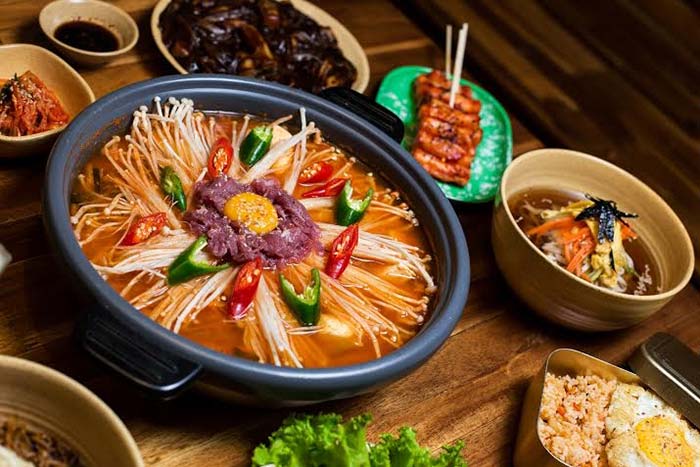 There are many dishes for customers to choose such as seaweed soup, beef rib soup, mixed rice, grilled hot pot, seafood hot pot… The barbecue is seasoned, tender beef, fragrant and delicious hot pot. Come here and enjoy a great meal on a weekend with your friends.
Contact King BBQ Buffet
Address: 4th floor, Vincom Hai Phong, 1 Le Thanh Tong street, Ngo Quyen district, city. Hai Phong or Floor 1, Big C Hai Phong, Lot 1/20 New Urban Area, Cat Bi Airport Crossroad 5
Fanpage: https://www.facebook.com/King-BBQ-Buffet-Vincom-Hai-Phong-700444426782553/ or https://www.facebook.com/KingBBQ.VN/
Hotline: 031 2299 886 – 022 5883 1112
Reference price: 166,000 to 300,000 VND
Sasin Hai Phong Spicy Noodles
Earlier this year, the trend of Korean spicy noodles broke out and was welcomed by many young people. Have you ever tried? If not, come immediately to Sasin Hai Phong Spicy Noodles to enjoy. This Korean food restaurant is located at the address quite easy to find. The space is spacious and airy, looking down from the upper floor can capture the bustle of the street. The service staff is quite enthusiastic.
More importantly, the noodles here are quite delicious, with lots of noodles, lots of filling and a rich broth. What could be better than having a bowl of spicy noodles in the cold weather. If you are wondering about where to eat, the Spicy Noodles Sasin Hai Phong is a very reasonable choice. Especially when the restaurant is in promotion and adding many new attractive dishes.
Contact Sasin Hai Phong Spicy Noodles
Address: 277-279 Le Loi, Le Loi Ward, Ngo Quyen District, City. Hai Phong
Reference price: 39,000 – 150,000 VND
Opening hours: 9:00 – 22:00
Kimbap restaurant
Kimbap restaurant is too familiar to those who love Korean food in Hai Phong with typical dishes such as black soy sauce, tokbokki, egg roll kimbap, seafood cheese or 7-level spicy noodles. degree. The food here is quite rich, retaining its own traditional features in Korean culinary culture, highly loved by many customers. Kimbap rolls with many fillings, bite-sized pieces, soft tokbokki, rich sauce, rich specialties, the mixed vermicelli dish is very delicious. You should not miss if you come here to enjoy a light meal.
This Korean food restaurant in Hai Phong has a spacious private parking space. The space inside is small, cozy. It only has one floor, two rows of tables and is clean. The menu is not too complicated with many dishes, so it is easy to choose: Fried kimbap, black noodles, Tokbokki, beef mixed vermicelli, seaweed soup, spicy noodles, kimchi hot pot … The price usually ranges from about 30,000 VND – 60,000 copper. Staff enthusiastic service, attentive. The restaurant is the right way for students with simple decoration and used up dishes of plastic. In terms of food, the restaurant is family-style, so the food is plump and cheap.
Contact Kimbap restaurant
Address: 414 Temple of Hai Xa, Le Chan, City. Hai Phong
Reference price: 30,000 – 200,000 VND
Opening hours: 9:00 – 22:00
Hotline: 090 456 89 79
Fanpage: https://www.facebook.com/KimBap414HaiPhong/
ZoZo – To Hieu Grill Restaurant
Talking about the grill that has Japanese – Korean style, then Zozo probably will be the number 1 option in Hai Phong. The restaurant's decorative space is Japanese-Korean style with beautiful view, spacious comfortable seats, luxurious check-in. The staff are well trained, so the service attitude is very good, enthusiastic, dynamic and especially polite. The restaurant's food is highly loved by the chef's rich marinade ability, which is very palatable. Especially, this Korean food restaurant is suitable for families, group meetings or birthdays. In winter, we can sit around the oven to enjoy the hot barbecue. The price of the shop is very reasonable from 169,000 VND to 199,000 VND. On Tet holiday, the price will increase, but compared to the general premises, it is still very cheap. Zozo is Asian style food, so if you like European or American style, you should not choose the restaurant.
This place has a quite special point, not only serving Korean food but also Japanese dishes. However, the quality of the dish is quite good, retaining the most traditional basics. Spacious space, beautiful observation position, rich menu with both grilled and hot pot dishes. The food is fresh and delicious, the pieces of red and red bacon are carefully selected. The vegetables are fresh and delicious, with quality assurance. This will be a place worth a try.
Contact ZoZo – To Hieu Grill Restaurant
Address: 321 To Hieu, Le Chan District, Hai Phong
Hotline: 093 680 29 11
Opening hours: 08:00 – 23:00
Reference price: 169,000 VND – 199,000 VND
Fanpage: https://www.facebook.com/zozobbq321tohieu/
You may like this: https://haiphongtours.com/10-best-grilled-meat-restaurants-in-hai-phong/
Kogi House BBQ
Kogi House is an indispensable name if you want to eat Korean food in Hai Phong. With a favorable geographical location, easy to find, with good quality food, the restaurant is loved by many people. Coming to Kogi, customers can enjoy two main types of dishes: hot pot and barbecue.
Made with 100% traditional recipes, selecting the freshest and most delicious foods, you will have a delicious meal. The grilled food is quite well marinated, delicious and rich, using smokeless charcoal so you will not worry about being absorbed by smoke. With the hot pot dish, the broth is prepared quite well, especially seafood hot pot, the dip is much like bacon, surface, clam.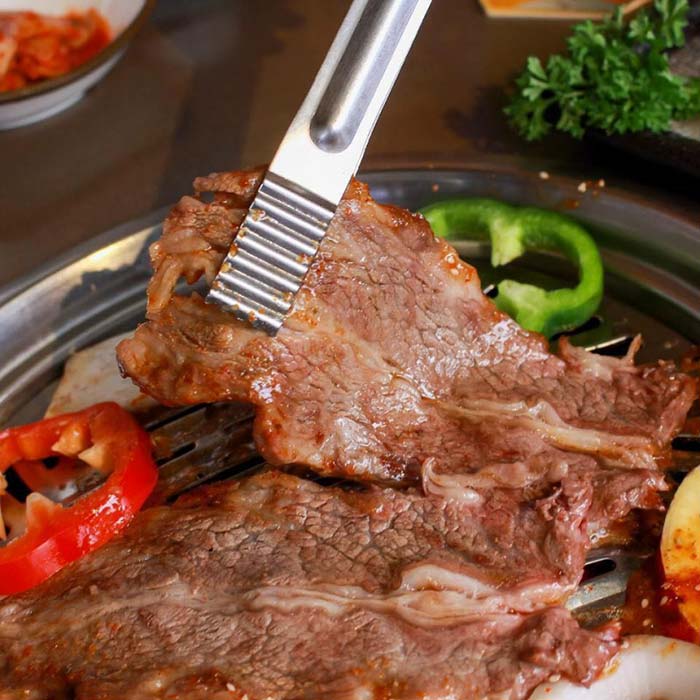 Coming to Kogi House BBQ – Ho Sen restaurant, you will surely be satisfied by the menu of hundreds of impressive barbecue dishes. Raw materials are imported from the US and Australia such as beef. Some fresh domestic ingredients from reputable suppliers are clearly verified so you can be completely assured to enjoy the food without having to worry about quality. Experienced chefs with their own marinade recipes have brought the food at the restaurant a different taste. The grilled dishes at the restaurant are a combination of many foreign culinary styles, making you not only enjoy the rich flavors but also experience the unique and new in each dish.
Just for you 6 best restaurants for lunch in Hai Phong
Contact Kogi House BBQ
Address: 12 Ho Sen, Le Chan, City. Hai Phong
Reference price: 150,000 – 300,000 VND
Opening hours: 10.00 – 23.00
K-Pup – Korean BBQ
The last address that Hai Phong Tours wants to introduce is K-Pup restaurant – Korean BBQ. This is considered as one of the top places to enjoy Korean food. The restaurant is quite prominent, from location, decoration to food and service. The menu is quite rich, with bold Korean flavors such as kimchi, kimbap, barbecue .. Especially, bacon is only carefully selected, the pieces of meat are fresh, delicious, with moderate thickness, grilled on embers. With delicious kimchi and green onions without getting bored, this will be a great meal, right?
The restaurant is quite outstanding in everything from decoration to service. Young people in Hai Phong really love this Korean food restaurant. The light is quite harmonious on beautiful shimmering color photos. The restaurant is characterized by Korean style, from cups, chopsticks, plates, bowls, spoons, tables and chairs all in Korean style. There are 2 types of buffet of 100,000 VND and 200,000 VND. With a rate of 100,000 VND. The meat here is marinated with a very special sauce that is not available anywhere. There are also parts of meat that are not seasoned, when the fat is melted from the meat, the meat is not dry, rolled with lettuce, kimchi and 1 a little Korean soy sauce is delicious.
Check this out 10 best specialities of Hai Phong city
Contact K-Pup – Korean BBQ
Address: 4th floor Vincom Hai Phong, 1 Le Thanh Tong, Ngo Quyen District, City. Hai Phong
Website: kpub.com.vn
Hotline: 0312299866 – 19006622
Fanpage: https://www.facebook.com/KPub.NuongDuongPhoHanQuoc/
Reference price: 250,000 to 450,000 VND
There are many tourists after finishing Hai Phong city tour or Halong bay 2 day tour , they request to try Korean food right in Hai Phong city. And tis turns out really helpfull!
Above is Top 10 Korean food restaurant in Hai Phong city. I do hope you will find the suitable place for your meal. If you would like to try Indian flavor, please read Best Indian food restaurant in Hai Phong city
Do not forget to share this post or leave your comment! Thank you for reading!