Famous pagodas in Quang Ninh – Located in the Northeast of the country, Quang Ninh is known as a famous tourist destination with beautiful beaches and majestic Halong Bay. Besides, many people choose to come to Quang Ninh not only for traveling but also for spiritual tourism. Let Hai Phong Tours introduce to you the Top 6 famous pagodas in Quang Ninh province.
1. Yen Tu Pagoda (the most famous pagodas in Quang Ninh)
The most famous pagodas in Quang Ninh is the complex of Yen Tu pagodas. Yen Tu pagoda is located in Uong Bi city, Quang Ninh province. It has a combination of many famous temple relics, most notably Dong Pagoda at the highest position of Yen Tu mountain.
Yen Tu Pagoda Festival is opened on January 10 of the Lunar Calendar every year. This is the place where Emperor Tran Nhan Tong practiced and founded Truc Lam Zen, the capital of Buddhism in our country, containing the Buddhist spirit and the uniqueness of the Vietnamese people.
Address: Thuong Yen Cong Commune, Uong Bi City, Quang Ninh Province
Phone: 0333.854.153
Open: 7:00 – 20:00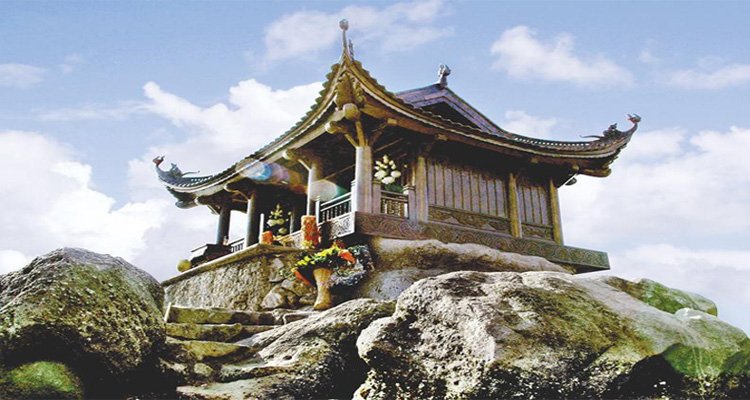 2. Ba Vang Pagoda
Also located in Uong Bi City, Quang Ninh province, Ba Vang Pagoda is the largest one in Vietnam at present. This famous pagoda in Quang Ninh is located on a very beautiful position, in front of the river, behind the mountain, flanked by green pine forest all year round. In 2014, this pagoda officially held the Grand Opening Ceremony after many years of remodeling.
Currently, Ba Vang Pagoda has become a prestigious pilgrimage address, an attractive spiritual tourist destination. If you have the opportunity to visit Ba Vang Pagoda, surely you will not only indulge in the beauty of the massive architecture but also hear many useful lessions. Ba Vang Pagoda has many Buddhists in all parts of the country, coming back to the festival to burn incense to worship.
Address: Quang Trung, Uong Bi and Quang Ninh
Phone: 0203 655 77 99
Open: 7:00 – 20:00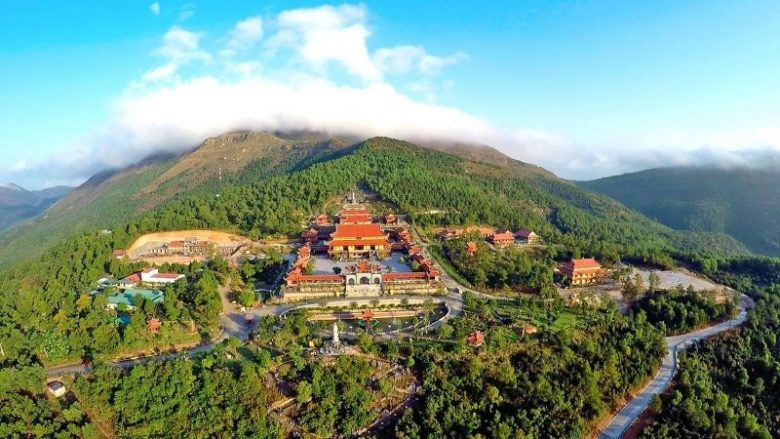 3. Cai Bau Pagoda
Cai Bau Pagoda (also known as Truc Lam Giac Tam Zen Monastery) was inaugurated in 2009 located near Bai Dai – Van Don tourist area. With the back of a mountain, facing the sea, Cai Bau Pagoda is known as the "cleanest" pagoda in Quang Ninh. With the poetic scenery of a small courtyard corner at Cai Bau pagoda, the majestic and sacred bell at the door of the Buddha, plus the murmur of the wind blowing from the sea, the human mind is very pure and extremely peaceful.
Cai Bau Pagoda is not too crowded on weekdays. Most visitors only visit and burn incense on holidays. So if you intend to visit the temple, you can come here at any time.
Address: DT334, Hạ Long, Vân Đồn, Quảng Ninh
Phone number: 0126.332.6996
Open: 7:30 – 20:00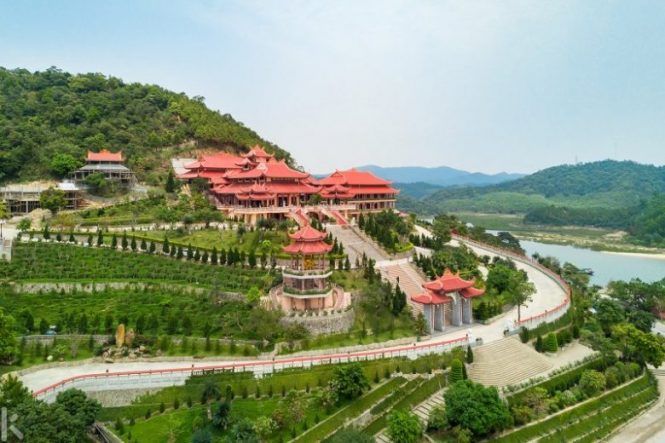 4. Temple of Cua Ong
Talking about Hung Nhuong Dai Vuong Tran Quoc Tuan and many famous people of the Tran dynasty, we can not miss this located in Cam Pha, Quang Ninh. The temple is located on a hill, overlooking Bai Tu Long Bay, facing back to the mountain range running from Cam Pha to Mong Duong.
Along with the longevity of this majestic historical monument, Cua Ong Temple festival is held every two years on February 3 of the lunar calendar. However, every day tourists from everywhere visit the ancient temple to mark the Tran Dynasty's hero himself.
Address: Cua Ong, Cam Pha, Quang Ninh
Open: 7:30 – 20:00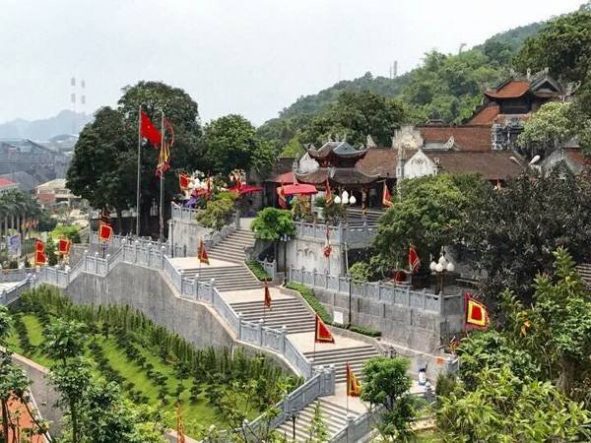 5. Loi Am Pagoda
To the Quang Ninh people, Loi Am Pagoda is a famous place with landscapes that are charming. Located in Halong city, Quang Ninh, visitors will have to take a boat for about 15 minutes, then continue to walk for about half an hour  to reach.
On January 27 of the Lunar Calendar each year is the anniversary of Loi Am Pagoda. Tourists in the province will come here to gather. However, if going at this time, it will be very crowded. So it's good to go on weekdays.
Address: Đại Yên, Hạ Long City, Quảng Ninh
Open: 7:30 – 20:00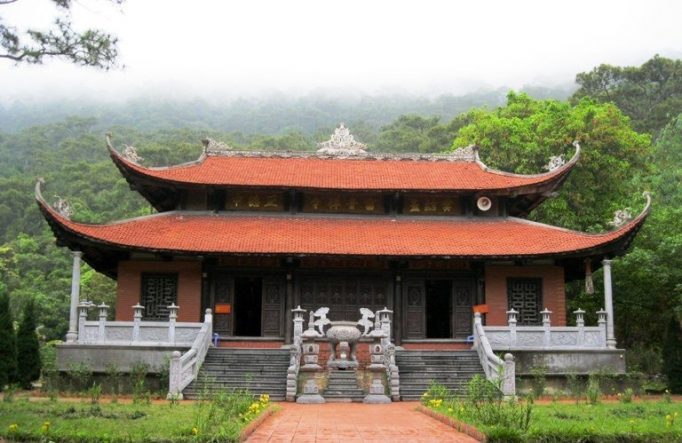 6. Long Tien Pagoda
The festival of Long Tien pagoda is held annually on 24 Mar Lunar Calendar. The pagoda is located at the foot of Bai Tho Mountain, Ha Long City (Quang Ninh). This is a special festival not only for Buddhists, but it has a very spiritual meaning for everyone.
Long Tien Pagoda is the largest in Ha Long city built in 1941. This is not only a historical monument but also a famous scenic spot of Quang Ninh.
Address: Le Quy Don, P. Bach Dang, Ha Long City, Quang Ninh
Phone number: 0203 3824 407
Open: 7:30 – 20:00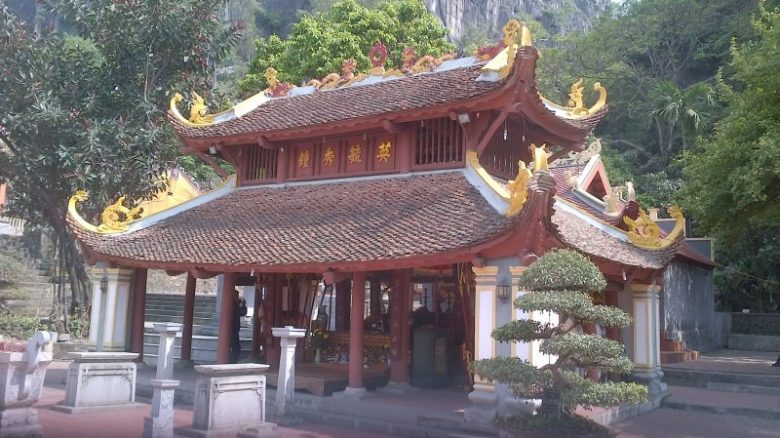 Above is Top 6 famous pagodas in Quang Ninh province. If you would like to go to these pagodas from Hai Phong, please consider Hai Phong private car transfer.