Tourist Attractions near Haiphong are still quite sparse density. However, Haiphong is also a convenient transit point in the North. Tourists can fly directly from Central or South to Cat Bi international airport then travel right in Haiphong. After exploring Haiphong, you can continue with other tourist destinations nearby. Let haiphongtours.com introduce to you top 8 Best key places to go.
Lan Ha bay (29km)
Lan Ha bay is the closest tourist attraction near Haiphong. If calculated from the city center of Haiphong (Haiphong Opera House), the distance is only 29km to go to Got harbor. With this distance, travel time only fluctuates from 40 minutes by car. The shortest way to get here is to follow Le Thanh Tong Street and then go straight through the roundabout of Bach Dang Bridge. Then turn right on Mac Thai To street to go up the bridge Tan Vu – Lach Huyen. Just go all the way to the intersection of Road 356, turn left to get to Got harbor.
Although this is the closest tourist attraction near Haiphong, to visit Lan Ha Bay, you cannot go by yourself and have to book cruise tour. You can go 1 day, 2 days, 3 days on Lan Ha Bay. If you go for 2 or 3 days, you will sleep on the bay for 1 or 2 nights. Being in a private room on board and watching Lan Ha Bay at night is a very romantic and unique experience.
You can refer to Lan Ha Bay tours as follows:
Normally, tourists often go on tour for 1 day or 2 days is enough. If you have more time or want to experience more, then go 3 days!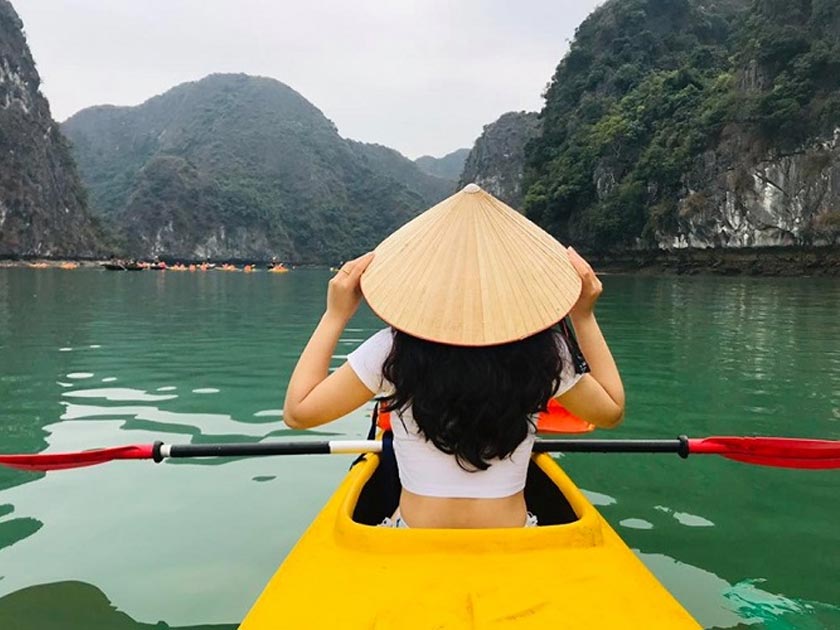 Halong bay (50km)
Ha Long Bay is the 2nd tourist attraction near Haiphong that Hai Phong Tours would like to introduce to you. Almost the whole world knows about Ha Long Bay. This is one of the 7 rare natural wonders of the world recognized by UNESCO. If you are Vietnamese, please take the time to come here at least once. Because from the center of Haiphong city to the port to visit Halong Bay, the distance is only 50km. International friends also take the time to travel thousands of kilometers to get here.
It takes about 50 minutes to travel from Haiphong to Halong Bay by car. You will still follow Le Thanh Tong Street to the roundabout of Bach Dang Bridge. Then turn right to enter the highway Haiphong – Halong – Van Don. The maximum speed on this highway is 100km / h so you will feel very fast. You can find a Hai Phong private car transfer service to move to this tourist attraction near Haiphong.
If traveling by motorbike, you must turn to road 10> road 18 (direction to Uong Bi). This will take longer time to travel. But it is also an enjoyable experience. If you do not have a motorbike in Haiphong, please check out this article: Motorbike rental Hai Phong: Top 6 places to rent scooter.
Similar to Lan Ha Bay, the only way to travel to tourist attraction near Haiphong is by boat. You can go to the port by yourself and buy a ticket at the port. This only applies to the shortest schedule. Most of the cheap shared boats sold at the port run route 1 (only visit Thien Cung cave, go through Stone Dog, Dinh Huong, Ga Choi rocks). The actual duration of this route is only about 2 to 2.5 hours on the bay. You will not get a chance to paddle or kayak.
The best tours to Halong bay:
Cat Ba island (55km)
Cat Ba Island is also under the management of Haiphong. But it is far away and located separately from the mainland, so Hai Phong Tours is still included in the list of tourist attraction near Haiphong. People consider this island as pearl island because it is valuable as a jewel of the city. More specifically, in 2020, the Phu Long cable car line across the sea of ​​Sun World Group was inaugurated. This is the cable car route with the tallest cable pillar in the world recorded in the Guinness World Records.
Coming to Cat Ba Island, you will enjoy a strangely fresh living space. Just driving along the unique road, you will see the harmony between nature, trees and the sea. All create a charming landscape picture that only Cat Ba have.
When traveling to this tourist attraction near Haiphong, you will be free to swim at Cat Co beach, Tung Thu beach. That's the best to wake up early in the morning, go to the Canon Fort, have a cup of tea and watch the sunrise. That is a wonderful moment for a new day. Then, go around the fort to visit. Please refer to: Go to Cat Ba island by motorbike: Travel experience.
Places to see on Cat Ba island:
Cat Co beach
Tung Tung beach
Canon Fort
Military Hospital cave
Cat Ba National park
Trung Trang cave
Co To island (100km)
Co To Island is a beautiful island separated from the mainland. Therefore, the natural scenery here is very wonderful and wild. This tourist attraction near Haiphong is a paradise where you can hide away from the noisy city live.
To be able to travel to Co To Island from Haiphong, go to Cai Rong wharf. Then take a speedboat or a wooden boat onto the island. The road distance is about 100km. It takes 90 minutes to travel from Cai Rong port to Co To island. Thus, the total travel time from Haiphong to Co To island is about 3.5 hours. If you plan to come here, please check out: Travel to Co To island from Hai Phong: 25 Best things to know.
Places to visit on Co To island
Mong Rong rock (Cau My rock)
Co To Lighthouse
The Love road
Ho Chi Minh relic area
Van Chay Beach
Hong Van beach
Co To Con Island
If you want to come to Co To Island to travel, you should spend at least 2 days 1 night for this trip. Although this tourist attraction near Haiphong only has a land distance of 100km, it takes up to 90 minutes to go on the sea. If you go for 1 day, the time is too hurry.
Quan Lan island (100km)
Quan Lan Island is also a tourist attraction near Haiphong, a pristine paradise island like Co To island above. A few years ago, the island had no electricity. Residents have to run generators for use when needed. Everything is lacking but that is what makes tourists enjoy. Currently, there is a pipeline to supply fresh water to the island and the national electricity supply, so the daily life on Quan Lan Island has been more convenient.
The way to travel from Hai Phong to this tourist attraction near Hai Phong is almost like traveling to Co To Island. From Haiphong, you just need to go to Cai Rong harbor. After that, buy a speedboat ticket or a wooden boat to go to the island. However, the travel time from Cai Rong port to Quan Lan island is only 50 minutes (40 minutes closer than to Co To). Total travel time from Haiphong to Quan Lan Island is 2 hours and 50 minutes. If you want to come here to travel, please check out this article: Travel to Quan Lan island from Haiphong: 15+ Important notes.
Tourist attractions on Quan Lan island
Minh Chau beach
Quan Lan beach
Son Hao beach
Quan Lan temple
Tran Khanh Du temple
Ngoc Vung island
Eo Gio Quan Lan
Hanoi capital (118km)
Hanoi capital is the next tourist attraction near Haiphong. The distance from Haiphong city center to Hanoi Old Quarter center is 118km. In the pass, the travel time was 3 hours. But now, there is the Haiphong – Hanoi expressway, so moving is much more convenient. With that distance, you only need more than 2 hours drive to Hanoi Old Quarter. The maximum speed allowed on the highway is 120km / h.
Places to go in Hanoi capital
All these tourist attractions to be able to synthesize and visit all in 1 day. However, if you are more flexible with the time, please spend 2 days 1 night on this trip. Hanoi Old Quarter at night is very interesting. It will be a pity if you have not experienced it. Also, if you want to join in a tour, please consider Hanoi city tour full day Besides, if you are in mood for Hanoi food, why don't you join in the Hanoi street food tour.
Ninh Binh (130km)
Ninh Binh is also a tourist attraction near Haiphong. Although the distance is 130km from Haiphong city center, Ninh Binh is a very worthy place to visit at least once. The easiest way is to follow Route 10 through Thai Binh> Nam Dinh and then on Ninh Binh. Travel time by car will be approximately 2 hours and 50 minutes.
If you find instructions on Google map, the Google system will show you the direction to Phu Ly and then on the Hanoi – Ninh Binh expressway. If you follow this route, you will not save much time. In return, you'll have to pay extra highway fees and take longer distances. When you follow the picture below, you only spend 35.000VND for toll fee (for car). If you ride a motorbike, you don't have to pay for fee.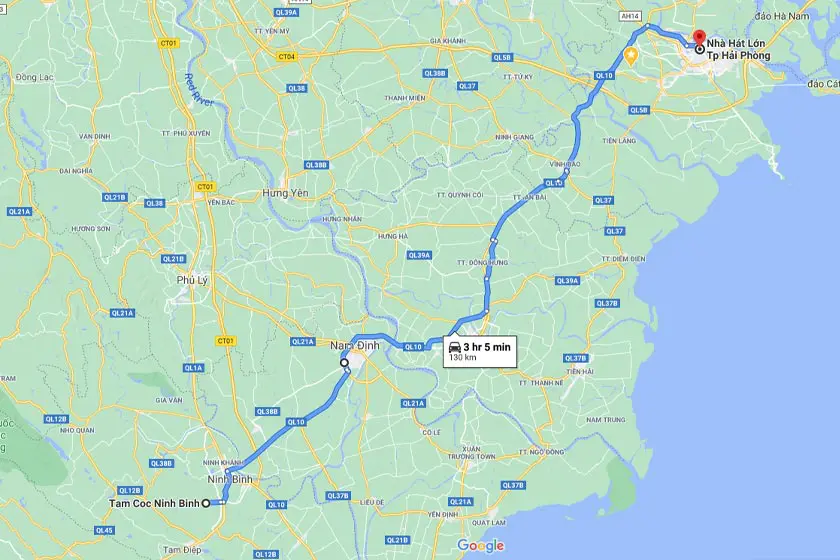 Road 10 is now very beautiful. If you go by car to this tourist attraction near Haiphong, you can drive from 50 to 90km / hour depending on the route. If you ride a motorbike, you can also run from 50 to 70km / h, depending on whether the road has speed limit signs or not. If you want to learn more about the law, please read this article by Hai Phong Tours: Road rules for motorcycles in Vietnam: 101+ IMPORTANT things to know.
Along the way from Haiphong, when you reach to Thai Binh, do not forget to stop to enjoy the Cay Cake. This is a way to both take a break along the way, while enjoying the specialties of Thai Binh homeland. Here, they serve free tea. Eating cake and drink hot tea to have the best taste. Each box of Cay cake only costs 40.000VND/box.
Tourist attractions in Ninh Binh
There are also a number of other attractions but these are the most famous onces in Ninh Binh. You can find more information here: Ninh Binh travel guide.
Ninh Binh travel time can be from 1 to 3 days depending on your schedule. But the most common is 2 days. On average in a day, you should only go 2 to 3 places. So please schedule your itinerary carefully. If you need a free consultation, leave your comments below. I will support!
The most famous tour to this tourist attraction near Haiphong: Ninh Binh day tour.
Tam Dao (198km)
The last tourist attraction near Haiphong that haiphongtours .com wants to introduce is Tam Dao. For foreign tourists, Tam Dao is still a new and little-known place. But for domestic tourists, this is a paradise.
Although the distance is 198km, the journey from Haiphong to Tam Dao is too smooth. From Haiphong, you take the car along the Haiphong – Ha Noi highway (5B). Then continue on the Hanoi – Thai Nguyen Expressway (CT7). Please take a piece of road 18 and then join the Noi Bai – Lao Cai expressway (CT5). When you reach Highway 2B, turn right to arrive. The whole journey is long, but it only takes you more than 3 hours to get there. (just a little longer than Ninh Binh).
Tourist attractions in Tam Dao
Cau May
Quan Gio
Ancient stone church
Thac Bac
Chua Thuong Ngan temple
Thien Vien Truc Lam Tay Thien
With such a long journey, it is best to go by car or book private car transfer in Haiphong. If traveling by motorbike, you cannot go on the same route as above. Moreover, driving a motorbike longer than 200km will be a big challenge, even dangerous, not safe.
Tourist Attraction near Haiphong conclusion
Above, Hai Phong Tours has just introduced to you the Top 8 tourist attractions near Haiphong. You can make a specific plan to be able to go to all of these places. If you have suggestions for other attractions, please leave a comment below! Thank you and don't forget to share this post!