Tram Tau travel guide: Traveling to Tram Tau in the form of backpacking and experiential travel is becoming a new trend for young people. This place with its pristine natural scenery and enticing cuisine promises to offer you a memorable journey.
Where is Tram Tau?
Map: https://goo.gl/maps/VSgQA95HoYh46CL4A
Tram Tau is a mountainous district in Yen Bai province, located over 100 km away from the city center. Despite being known as a remote area, it still becomes an attractive destination for both local and foreign tourists. With its pristine natural landscapes and rugged mountainous scenery, Tram Tau is truly a land reserved for adventure enthusiasts and explorers.
How to get to Tram Tau
Based on the experience of traveling to Tram Tau, there are various means of transportation to reach Tram Tau, but the most ideal is still by motorbike. From Hanoi, you can travel to Tram Tau via Thang Long Boulevard, passing through National Highway 21 towards Son Tay. After that, continue through the Khế Pass, reach Van Chan district, and then turn onto Nghia Lo road to arrive at the tranquil and beautiful Tram Tau mountainous region.
The best time to visit Tram Tau
Due to its high mountainous terrain, the climate in Tram Tau is pleasant and cool most of the time. However, the best time to explore the beauty of this place is during the autumn and the end of the year. In the months of September and October, travelers can experience mineral water bathing and admire the picturesque golden rice terraces.
During the winter days, according to the experience of traveling to Tram Tau, this place becomes a "cloud hunting paradise" with the famous destination called Ta Xua. Ta Xua is one of the most beloved spots in Tram Tau by young people because of its dreamy and ethereal beauty, resembling a fairyland. If you have the opportunity to wander around Yen Bai in the late year, you must definitely check-in this beautiful highland district at least once.
Where to stay in Tram Tau
Although Tram Tau is located hundreds of kilometers away from the city center, in recent years, tourism in Tram Tau has been developing quite rapidly. That's why when you come here, you don't have to worry about accommodation. Depending on your travel itinerary, you can choose from a variety of recommended guesthouses and homestays listed below.
Homestay Cầu Treo: Located in the central area of Tram Tau town, this homestay offers convenience for exploring famous destinations in the region. The homestay is designed like a large wooden house, with various double rooms and a communal area with balconies overlooking a cool and tranquil garden.
Homestay Suối Nóng Trạm Tấu (Hot Spring Homestay Tram Tau): Situated within the Hot Spring Resort in Zone 5 of Tram Tau town, this homestay provides a serene natural setting with lush forests and meadows. It boasts a natural hot mineral spring where visitors can unwind and soak in warm and refreshing water.
Besides these homestays, you may also find guesthouses, lodges, and hotels in Tram Tau to suit your preferences and budget. It's advisable to book your accommodation in advance, especially during peak travel seasons, to ensure availability.
Where to go in Tram Tau
1. Tà Xùa – The Cloud Hunting Paradise
During your journey to Yen Bai, you must allocate time to conquer the peak of Tà Xùa and immerse yourself in the sea of white, billowing clouds that resemble a beautiful painting. Tà Xùa is one of the ten highest mountain peaks in Vietnam, located in Bản Công commune. For avid adventurers and those seeking unique experiences, this mountain peak has become an unmissable destination.
Tà Xùa stands at an impressive altitude of 2,865 meters, posing a real challenge to mountain climbers. The journey to conquer this high peak involves trekking through forests and crossing streams, making it far from an easy task. You must navigate through rugged slopes, rocky terrain, and dense, mysterious forests. During the rainy season, the paths become slippery, while in the hot season, the scorching sun can be relentless.
However, even on that challenging path, you will be able to admire the stunning natural landscape of Yen Bai, realizing that your Tram Tau travel is truly worth it. With an elevation of nearly 3000 meters and a mountainous road stretching over 30 km, Tà Xùa showcases distinct layers of vegetation with various types of forests.
In the foothills, you will pass through dirt slopes, dense forests, and even bamboo forests. The natural scenery in Tà Xùa remains incredibly pristine, where you can hear the melodious songs of birds and the resonating sound of insects throughout your trekking journey.
The most amazing experience is when you set foot on the "dinosaur's back" with deep ravines on both sides, offering a majestic yet perilous view. According to the experience of traveling to Tram Tau, during the cloud-hunting journey to the top of Tà Xùa, you will also venture into ancient forests with numerous blooming rhododendron flowers and thousands of moss-covered ancient trees, creating an eerie and fascinating atmosphere. No matter where you stand, you can capture many impressive photos.
After overcoming all the challenges of the mountainous terrain, you will reach the summit of Tà Xùa, immerse yourself in the sea of white clouds surrounding the mountaintop. In the winter season, the clouds become denser, forming layers resembling soap bubbles. According to the experience of traveling to Tram Tau, the best time to hunt for clouds is in the early morning, before the sun awakens.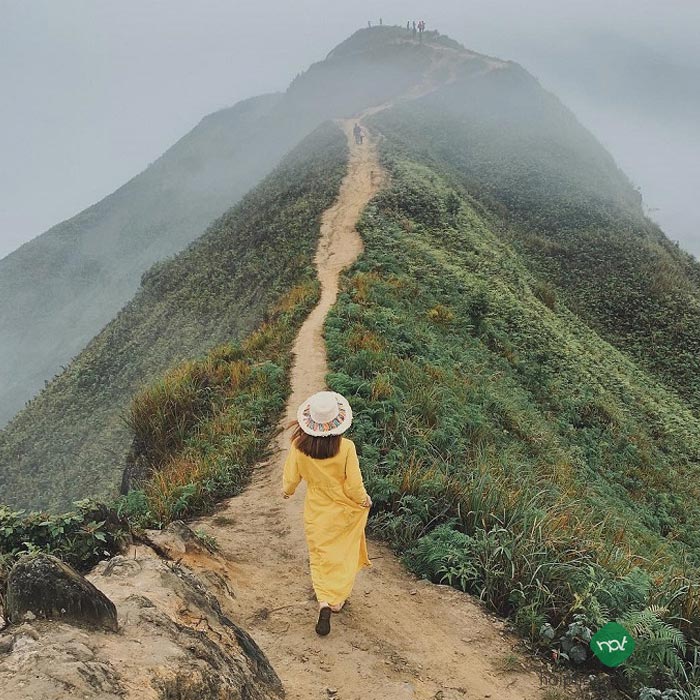 2. The dreamy painting on the peak of Tà Chì Nhù
Not only Tà Xùa, but there is also another cloud hunting paradise in Yen Bai called Tà Chì Nhù. Every traveler visiting Tram Tau desires to set foot on this mountain peak and indulge in the enchanting and pure beauty of the white fluffy clouds and the pristine landscapes.
Tà Chì Nhù stands tall at an elevation of 2979 meters, possessing a complex terrain with steep cliffs, winding slopes, sparse vegetation, and rocky paths. This mountain's summit presents a significant challenge to hikers and young adventurers passionate about mountaineering. The journey in both summer and winter comes with its own difficulties.
Based on the experiences of many trekkers in Yen Bai, the best time for mountain climbing is from October to March when the weather is relatively cool. This period is also ideal for cloud hunting and admiring the breathtaking scenery along the trekking route. To ensure a smooth journey, it's advisable to hire a local guide instead of going solo.
The trekking trail to Tà Chì Nhù in Tram Tau will lead you through rugged slopes, rocky hills, lush primary forests, and bamboo forests reminiscent of wuxia films. In autumn, around August to September, the summit of Tà Chì Nhù is adorned with purple azaleas, creating a dreamlike fairytale scene.
In essence, the journey to conquer Tà Chì Nhù is as challenging and arduous as Tà Xùa. However, the breathtaking scenery at the mountain peak will be a well-deserved reward for all the hardships you endure. This beautiful summit opens up an impressive picture, resembling a fairyland with layers of white clouds gracefully surrounding the mountaintop.
According to the experiences of travelers in Tram Tau, in the early mornings of winter, you will witness the white clouds almost motionless. Sometimes, the clouds become so thick that they engulf all the high peaks. The space is filled with only the blue sky and the pristine "ocean of clouds" right before your eyes. On the mountain peak, you can freely admire the scenery, take photos, or camp overnight, experiencing an unforgettable journey in Tram Tau.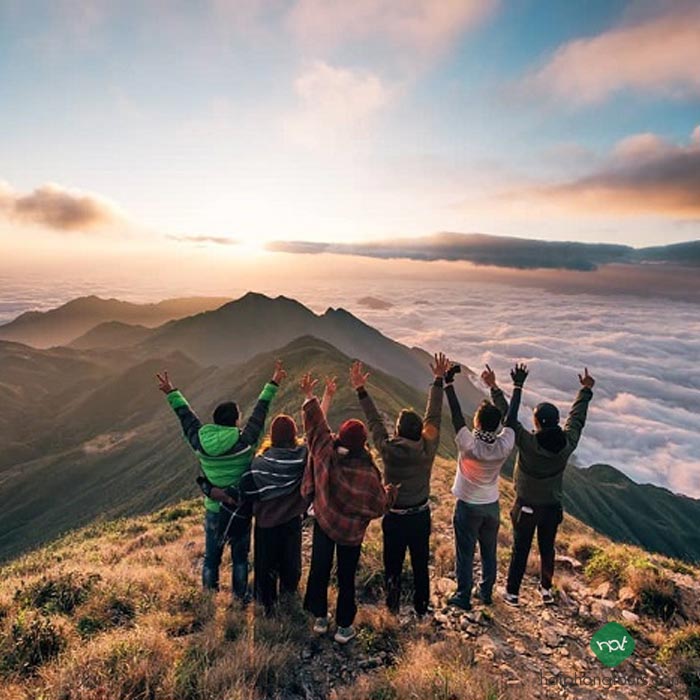 3. Soaking in hot mineral springs
If you don't know what to do in Yen Bai, soaking in hot mineral springs is an activity you should try. The Suoi Khoang Nong Tram Tau tourist area is located about 2 km from the town. It offers a spacious and beautiful landscape with direct views of terraced fields and the majestic Yen Bai mountains.
This eco-friendly hot mineral spring area is 100% natural and consists of clean groundwater, beneficial for health. The hot water lake is not too large but its clear blue water shines like a gem amidst the hills. Here, you can indulge in the warm water and enjoy the most wonderful relaxing moments.
Especially, within the ecotourism area of Suoi Khoang Nong Tram Tau, there are plenty of homestays and bungalows for tourists to stay. Depending on the number of people, you can choose a double room or a dormitory to accommodate. With the characteristic wooden architecture of the Northern mountainous provinces, you will experience a fascinating resting space.
Furthermore, this destination also has a restaurant serving delicious specialties of Yen Bai cuisine. If you have enough time for your Tram Tau trip, spend 1-2 days here to breathe in the fresh air, take photos in the picturesque setting, and enjoy countless beautiful check-in corners within the hot mineral springs area.
4. Cu Vai village immersed in clouds
In your travel experience to Tram Tau, you must not miss Cu Vai village – a Hmong ethnic village located in Xa Ho commune, with the tranquil natural landscape characteristic of the Northern mountains. When visiting Cu Vai, you will be able to admire the beauty of the highlands with its traditional stilt houses, terraced fields, and colorful flower gardens.
This village is currently home to about 50 households, preserving the traditional customs and way of life of the Hmong ethnic group. Visiting Cu Vai, tourists have the opportunity to explore the charm of a small village with its rustic wooden houses and winding paths leading through every alley. Due to its high mountain location, the climate in the village is always cool and pleasant.
Cu Vai village is covered with a white mist throughout the year, creating a poetic and dreamy landscape. The most wonderful experience here is to wake up early and admire the village immersed in the mist, take a stroll around the village, and meet the gentle and friendly local people. Currently, there are a few families in Cu Vai running homestays, providing a place for you to stop and stay overnight.
What to eat in Tram Tau
Travel experience to Tram Tau includes not only exploring Ta Xua, Ta Chu Nhi, Cu Vai village, but also the opportunity to savor the delicious specialties of Yen Bai province. How can you resist the visually appealing and fragrant multi-colored sticky rice (xoi ngu sac)? How can you overlook the delicious fish dish Nam Thia or the red rice with fermented pork?
Moreover, in Tram Tau, there are many other tempting dishes to try, such as dandelion greens, moss from the stream, shrimp paste, which all carry the unique flavors of Northern mountain cuisine. These dishes are made from fresh ingredients, with delightful aromas that will surely leave unforgettable memories in your mind.
To buy local specialties as gifts, you can choose to purchase dried bamboo shoots, dried wild banana flowers, Gau bird-shaped cakes, San Tuyet sweet soup, Tule sticky rice, and more. All of these are typical delicacies unique to Yen Bai province, hardly found in other places. These gifts may not be expensive, but they carry the wonderful essence of Yen Bai's culinary heritage.
Nowadays, Tram Tau in Yen Bai has become an attractive destination for both near and far travelers, thanks to its stunning natural landscapes, diverse experiences, and delicious cuisine, along with the hospitable and friendly locals. Whenever you have the opportunity to visit Yen Bai, don't forget to venture to Tram Tau for cloud hunting and to enjoy the peaceful life here.