Trang Due to Halong is a popular travel plan that many foreign experts are interested in when they have free time. How far is it from Trang Due to Halong? Which Ha Long tours are suitable? Let's find out with Hai Phong Tours in this article!
Introduce about Halong
Ha Long Bay, in the Gulf of Tonkin, includes some 1,600 islands and islets, forming a spectacular seascape of limestone pillars. Because of their precipitous nature, most of the islands are uninhabited and unaffected by a human presence. The site's outstanding scenic beauty is complemented by its great biological interest.
Read more: https://whc.unesco.org/en/list/672/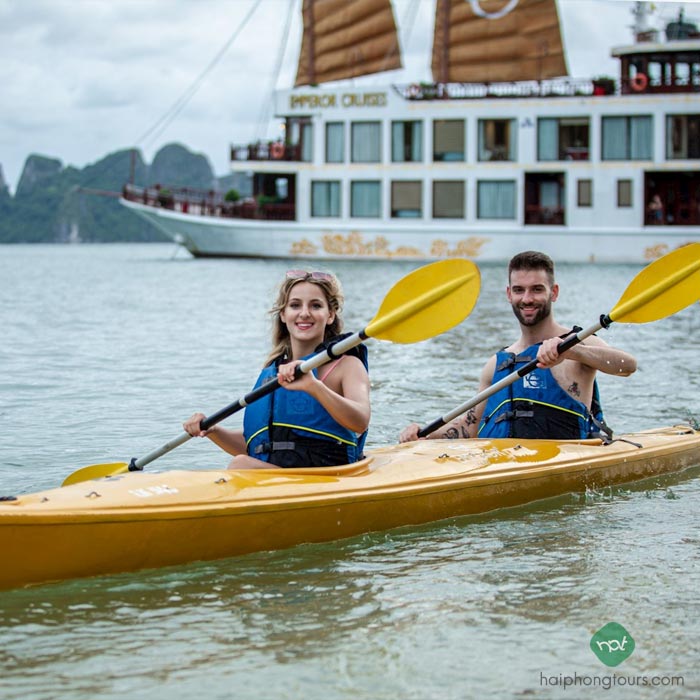 How far is it from Trang Due to Halong?
From Trang Due to Halong, it takes around 80km. The transit ranges from 1 hour to 1 hour 15 minutes following to the QL5B (Halong – Hai Phong highway) The most suitable mean of transportation is car. If you are interested in private car transfer service, please reach Hai Phong Tours by Zalo or Whatsapp: +84975200357.
Best tours from Trang Due to Halong for experts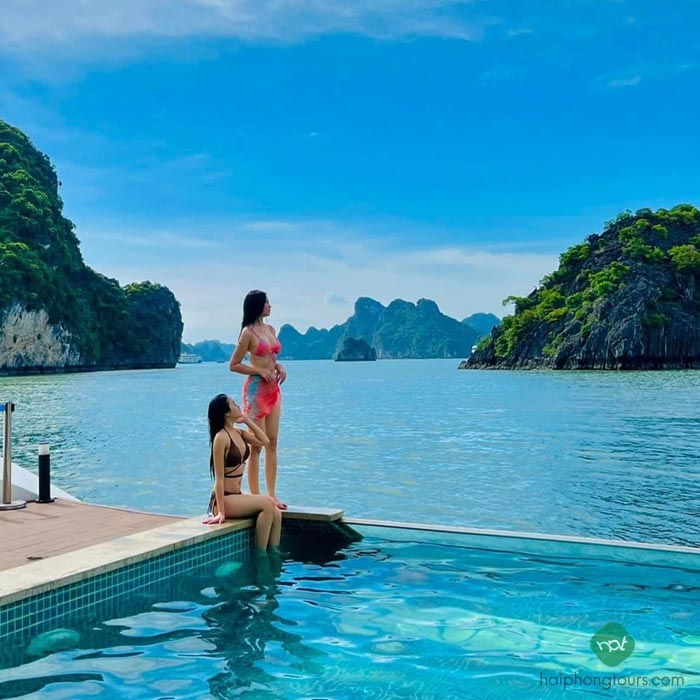 With the characteristics of work and time, the Ha Long bay day tour is the most suitable. Pick up time from 10:30am. At the end of the day, around 7pm, the car will take you to Trang Due.
If you need to go on a private tour and depart in the morning, Hai Phong Tours will arrange a private boat, private tour to best suit your needs!
In this hot selling tour, you will be able to walk inside the nicest cave – Sung Sot to admire scenery inside. You will visit the Titov island where to swim or step up to island's peak for panoramic view. The kayaking or boat riding will be included as the last activity at Hang Luon. So total 3 main activities in this day tour that take you around 5.5 hours in the bay excluding transfer by car from/to Haiphong.
Quality Hai Phong Halong bay day tour: Nicest itinerary, Deluxe boat, Best seller
When booking this tour from Trang Due to Halong, Hai Phong Tours will send a private car to pick you up (and customers can pay a little extra surcharge). Buses cannot run from the city center back to Trang Due to pick up passengers and then go again! On the other hand, traveling by private car will be more suitable and convenient for guests from Trang Due to Ha Long, especially experts. Thus, customers will be more comfortable and free!
Reach us by Zalo or Whatsapp: +84975200357 for reservation
If you have more time to travel from Trang Due to Halong, consider the 2 days 1 night or 3 days 2 nights Ha Long tour. When choosing these tours, you will be able to stay overnight on the cruise on Ha Long Bay from 1 to 2 nights.
Final thought: Trang Due to Halong
The tour from Trang Due to Halong that is most suitable for foreign experts is a 1-day tour. With a convenient schedule and travel time, this tour is becoming a highlight and is favored by many experts. If you want to experience the great service from Hai Phong Tours, please contact Zalo or Whatsapp: +84975200357 now!
Here you have tour reviews
https://www.tripadvisor.com/Attraction_Review-g303944-d6024348-Reviews-Hai_Phong_Tours-Hai_Phong.html