Transfer from Cat Bi airport to Ninh Binh is now very easy. The distance to Trang An, Ninh Binh ranges about 145km. It will take you about 3 hours drive. The road to Ninh Binh is very beautiful and safe. Hai Phong Tours would like to share with you Top 3 best ways to transfer from Cat Bi airport to Ninh Binh. In which, the first way is the fastest and most convenient. The second way is the most economical and the third one brings the most experience.
Distance from Cat Bi airport to Ninh Binh
The distance from Cat Bi airport to Ninh Binh is about 145km. If traveling by car, the maximum speed is 90km / h and the minimum is 50km / h, depending on the road segment. Overall, the road to Ninh Binh is very good. You just follow the 10 Road (QL10) to Ninh Binh. If you do not take a rest midway, the travel time is 3 hours. If you guys stop, it might take a little longer. But this is the right thing to do. Your driver will have some rest time to drive safely. You also have time to go to the toilet …
1. Book a private car to transfer from Cat Bi airport to Ninh Binh
In 3 ways to transfer from Cat Bi airport to Ninh Binh, this is the most convenient way. In order for Ninh Binh travel plan to work as planned, you should book your car before you leave. After landing at Cat Bi airport, the driver is already waiting and taking you to Ninh Binh.
The private ride allows you to freely stop along the road for a break. Most of haiphongtours.com customers are stopped by drivers in Thai Binh. This is the place with a delicious specialty Cay cakey. And the Cay is even more delicious when drinking with tea. The price for a box of Cay cake is 30k. A pot of tea, the owner usually does not charge. But Haiphong Tours often tip the owner for 50k …
After a refreshing, the driver will continue to transfer you to Ninh Binh according to the itinerary. You can always use your own car to go to tourist destinations around Ninh Binh such as Trang An, Hang Mua, Tam Coc, Bai Dinh pagoda, Hoa Lu, Bich Dong … With your own car, commuting becomes extremely simple.
Booking a private car pick up from Cat Bi airport to Ninh Binh will be extremely convenient if you are traveling with children. If traveling by public transport, you will have a lot of trouble and you definitely know it !!!
If you need a private car, please Zalo or Whatsapp +84975200357. You can also book here: Private car transfer service in Haiphong.
2. Take a taxi to Haiphong bus station and take a bus to Ninh Binh
Instead of spending about 1.5 million VND to rent a private car, you can also go to Ninh Binh by bus. In Haiphong, there are currently 3 bus stations in operation: Thuong Ly bus station, Niem Nghia bus station and Vinh Niem bus station.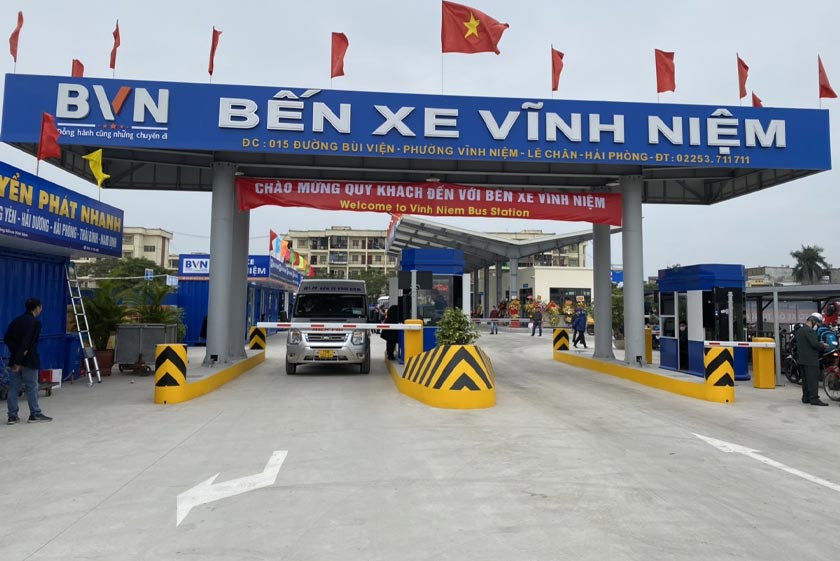 Vinh Niem bus station has just been exploited and operated. And this is the largest bus station in the city and the number of buses going to the provinces is very large. You should come here for more options.
But before you reach the bus station, from Cat Bi airport, you have to take a taxi. And taxis at Cat Bi airport are always available at any time. From Cat Bi airport to Niem Nghia bus station or Thuong Ly bus station is about 10km. Taxi fee is about 100k. If you arrive at Vinh Niem bus station, the distance is only 7.5km. Taxi fees fluctuate around 80k only!
3. Rent a motorbike in Haiphong and then drive to Ninh Binh
Renting a motorbike is the last way to transfer from Cat Bi airport to Ninh Binh in this article. If you are having a lot of time and want to roam freely, riding a motorbike will bring a lot more enjoyable experience. But this method only applies to those who will return to Haiphong after the trip. This means that you will go from Haiphong to Ninh Binh and back to Haiphong. That's the only way can you return the motorbike …
To rent a motorbike in Haiphong, you can refer to: Motorbike rental Haiphong: Top 6 places to rent scooter.
Driving a motorbike by yourself requires you to know the way to Ninh Binh. And if you don't know the way, you should use Google Map. However, be careful … Google always suggests you to the shortest, fastest route And by default, they will suggest you to the 5B. If you follow, you will not be able to go because motorcycles are not allowed on the highway. Even by car, you should not go that way.
In sum: DO NOT FOLLOW Google map. You guys follow the path I drew below.
So which way to go by motorbike from Haiphong to Ninh Binh? You just follow the road 10, the direction to Haiphong – Thai Binh – Nam Dinh – Ninh Binh. For motorbikes, if you are outside the city, double track, you can go up to 70km / hour and minimum 50km / hour in the city. Please refer to Road rules for motorcycles in Vietnam: 101+ IMPORTANT things to know.
When you have a motorbike, you can comfortably visit tourist destinations in Ninh Binh anytime with low cost. Petrol price is just over 17k 1 liter only!
Resume
Hai Phong Tours has just introduced to you the Top 3 best ways to transfer from Cat Bi airport to Ninh Binh. Hope you will find a perfect solution. Alternatively, you can also book a package Ninh Binh day tour. Thus, the transfer from Haiphong to Ninh Binh is included in the tour package. You will relax much more! Have a nice trip!