What to do in Hai Phong in weekend is big question to business man or foreigners who live here long term. During this period, you can spend 1 or 2 days traveling and exploring obscure places in Hai Phong. If you are wondering where to go, read through this article and you will have a suitable choice.
Tam Bac Walking street
In weekend, they open walking street along Tam Bac river. The street stretchs from Lac Long Bridge to Sat Market. And especially, the pedestrian street is only open on weekends. This place is quite an interesting place to relax, watch swans, go to the bar, or enjoy drinks on the sidewalk. This pedestrian street used to be just a small, collapsed street. But then the city has planned, turning it into a highlight, full of fun on weekends.
Opening time: 19:00 to 23:00 on Fridays, Saturdays, Sundays and holidays, Tet.
Address: Tam Bac Street
Elephant Mountain An Lao
Elephant Mountain An Lao is one of the best what to do in Hai Phong in weekend. This place is more suitable for those who both want to exercise and sightseeing. Moreover, in Elephant Mountain An Lao, there are 2 famous caves of the city. They are Hong Voi cave and Gia Vi cave. From the bottom of the mountain to the top, people built stone steps to facilitate movement. Especially, if you go to the top of the mountain around 16h-17h30, you will be able to watch the sunset, the view of Van Úc river changing color, the scenery of vast rice fields around which is very wonderful.
Do Son beach
Do Son beach is a suitable place to have fun together after a hard working week. This spot is more suitable for Southeast Asians who love to swim. The sea water here is not very clear, but it is the only option for swimming in Hai Phong mainland. If you do not want to swim, you can also go to the beach to have a BBQ. In addition, you can also rent a bicycle to go around to the villa of King Bao Dai or K15.
More information: Do Son beach Hai Phong.
Opening time: before 18h00 for swimming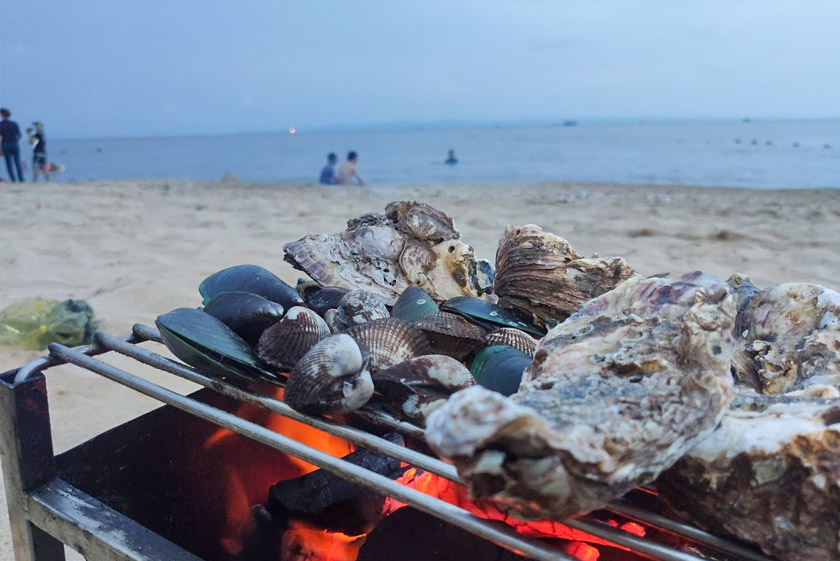 Halong bay day tour
Halong bay day tour is the best answer for question of What to do in Hai Phong in weekend. Simply, Halong bay is one of the 7 Nature Wonder of the World. Then everyone want to go there at least once in life. When you come here, you will be immersed in the sea. See thousands of large and small islands fluttering on the water. You can also bathe at Titop natural beach or climb to the top of the island to have a panoramic view of Ha Long Bay. In addition, the kayaking activity will make you extremely excited. You can manually paddle your kayak close to the limestone rocks. Now, you are closer to nature than ever. To book a high quality tour, please Whatsapp: +84975200357 or email: [email protected].
If you're traveling in a large group, you can also book a private tour with a private boat.
Ninh Binh day tour
Ninh Binh day tour is a perfect solution for your weekends. The Ninh Binh travel time should be encapsulated in 1 day. Because at night, there doesn't seem to be anything to do here. Ninh Binh is considered as Ha Long Bay on land. The limestone mountains overlapping here are very eye-catching. In particular, the movie Kong: Skull island was filmed here and released in 2017.
The main activities in this tour are visiting pagodas, sitting on rowing boats along the river, climbing mountains and sightseeing.
Halong bay 2 days tour
If you ask me what to do in Hai Phong in weekend, my answer is always Ha Long. When you want to spend 2 days weekend to go out, Halong bay 2 days tour is the best solution. When choosing this tour, you will get 1 night's sleep on Ha Long Bay. Moreover, you have a lot of time to admire the scenery, or participate in fun activities and entertainment in the tour. The price of this tour is subject to change according to the cruise class you book. However, the schedule has not changed. On average, the price per person ranges from 130 USD.
Departure time from Hai Phong is from 10:45 am. After the tour ends, you will return to Hai Phong before 13:00. You will have an entire afternoon to rest and get ready for a new work week.
If you still feel more energetic, you can combine climbing Elephant Mountain in An Lao dist. countryside (mentioned above).
Cat Ba island 1 day 1 night
Cat Ba island is an island in Hai Phong. It is separate from the mainland. Therefore, to move to the island, you need to take a hydrofoil or ferry. Besides, there is no other way. Therefore, if you plan to go out on Cat Ba Island for just 1 day, time will be very urgent. And your trip will not be comfortable. Unless you just want to check in and go back …
You should go to Cat Ba island from Saturday. Then stay 1 night in the center of Cat Ba town or book a homestay. Sleeping in a homestay on small islands can give you a whole new experience such as Van Boi Island. They will send a boat to pick you up at Beo Pier.
If you go to Cat Ba island by hydrofoil, you can go from Binh station and go straight to Cat Ba wharf. The earliest time for hydrofoil to run from Binh wharf is 7:30 and the latest is 15:00. Hydrofoil tickets range from 180k to 250k.
If you plan to go to Cat Ba island by motobike, please read Go to Cat Ba island by motobike.
You can also choose to travel cheaper by taking the bus. The pick up point in the city is at the Binh station. This is the phone number you can contact to order a car: +84983116502 (Mrs. Nhan).
Above are some suggestions for the question What to do in Hai Phong in weekend. Hope you will have an enjoyable weekend and get ready for a new and exciting work week. Thank you for reading. If you find this article helpful, please help me share it with others.