As one of the three nationally renowned national parks, Xuan Son National Park is situated at the southernmost point of the Hoang Lien Son mountain range, in the southwest of Tan Son district, at the triangular border area of three provinces: Phu Tho, Hoa Binh, and Son La. When visiting Xuan Son, tourists can still feel the inherent beauty that remains largely untouched by tourism activities. Faint glimpses of traditional stilt houses, the scent of rice paddies, and the sound of flowing streams…
Coming to Xuan Son National Park, visitors immerse themselves in a pure and refreshing environment. In the morning, it's the spring weather; at noon, the warmth of summer; in the afternoon, the soothing breeze of autumn calms the soul, and in the evening, there's the sweet chill of winter. This is considered Xuan Son's advantage in developing ecotourism and resort tourism.
Introduction to Xuan Son National Park
Located approximately 120km from Hanoi, Xuan Son National Park covers a total area of 33,687 hectares, with a core area of 15,048 hectares and a buffer zone of 18,639 hectares, ranking 12th among the 15 largest national parks in Vietnam. It is often referred to as the "green lungs" and an attractive tourist destination in Phu Tho province. With an impressive forest coverage of 84%, the park maintains stable and well-protected forest ecosystems.
Xuan Son National Park is renowned for its pristine environment, providing clean and cool air, as well as refreshing water sources. The average temperature throughout the year ranges from 22-23ºC, making it an ideal destination for visitors seeking a pleasant climate.
The park is admired for its unspoiled beauty, offering a tranquil and natural escape for those looking to immerse themselves in the wilderness. Visitors can experience the charm of traditional stilt houses, the fragrance of rice paddies, and the soothing sound of flowing streams. The diverse ecosystems, well-preserved flora and fauna, and the harmonious coexistence of wildlife make Xuan Son a perfect destination for ecotourism and relaxation.
Whether it's the vibrant spring, warm summer, calm autumn breeze, or the enchanting winter chill, Xuan Son National Park's climate provides a pleasant experience for travelers all year round. With its pristine landscapes and abundant natural resources, the park promises an unforgettable journey for nature enthusiasts and adventure seekers alike.
Map: https://goo.gl/maps/shGeVbLbRSKCqJyi8
When to visit Xuan Son National Park?
If you wish to participate in the local festivals of the people in Xuan Son, you can visit Xuan Son National Park at the beginning of the year during the spring season. On the 7th of January (lunar calendar) every year, there is a festival called "Le Hoi Xuong Dong" (Going to the fields) of the Muong ethnic group in Tan Son. The highlight of this festival is the traditional ritual of carrying the rice plow, which has been practiced for centuries to pray for a prosperous new year with favorable weather, bountiful harvests, full granaries of rice, and abundant livestock, ensuring the people's safety and good health.
During the summer season, the air in Xuan Son is pleasantly cool, providing relief from the usual heat experienced in the northern region during this time. Visiting Xuan Son during this period allows you to rest, relax, and immerse yourself in the cool waters of the streams. It's also an excellent opportunity for families to bring their children to Xuan Son to explore nature as school holidays are during the summer.
If you visit Xuan Son National Park in November and December, the blooming flowers of the "hoa trang nguyen" (scientifically known as Castanopsis concinna) cover the entire villages, turning the place into a brilliant red corner of the sky.
How to get to Xuan Son National Park?
Personal Vehicles:
From Hanoi to reach Xuan Son, which is about 130km away, you can choose from the following routes:
1. Starting from Big C Thang Long, take Thang Long Avenue straight to DT87a (near Ba Vi National Park). Turn left and continue straight, passing Dong Quang Bridge. Then, turn right onto road 317 and continue straight until reaching DT316 (this section passes through the Thanh Thuy mineral springs area). At the end of DT316, turn left and head back to Thanh Son Bus Station.
2. Starting from Hanoi, begin at the National University of Hanoi and follow road 32, crossing Trung Ha Bridge. Then, turn left and follow the dyke road, following the signs to Thanh Son.
3. At the Thanh Son intersection, turn right onto National Highway QL32 (with signs indicating Xuan Son about 40km ahead). Keep going straight until you see a sign to turn left for Xuan Son. Follow this road and the directional signs to reach Xuan Son. This route is closer, but if preferred, you can also continue towards Thu Cuc, where there is another route to Xuan Son.
Xuan Son National Park is located in Tan Son, on National Highway 32 from Hanoi to Yen Bai. There are some but not many bus routes from Hanoi to Tan Son. Besides these routes, you can opt for the Hanoi – Lai Chau buses to reach the central area of Tan Son (Tan Phu commune), and then take a motorbike taxi (xe om) from there into Xuan Son National Park.
Buses to Xuan Son
Some long-distance buses run directly to Xuan Son. However, if you choose to use public transportation, once you arrive at Xuan Son, you will need to hire a local resident's vehicle or use transportation provided by the homestays to move between different locations within Xuan Son.
These are the schedules and contact information for buses from Hanoi to Xuan Son National Park:
1. SƠN VI
– Departure Time: Hanoi 8:30 AM – Xuan Son 1:00 PM
– Address: Updating
– Phone: 0944 680 666
2. DUY THUẬN
– Departure Time: Hanoi 2:00 PM – Xuan Son 8:00 AM
– Address: Updating
– Phone: 0976 299 355
3. HẢI QUÂN
– Departure Time: Hanoi 1:00 PM – Xuan Son 6:30 AM
– Address: Updating
– Phone: 0989 049 633
4. TIẾN LINH
– Departure Time: Hanoi 11:45 AM – Xuan Son 5:30 AM
– Address: Updating
– Phone: 0978 164 585
5. HOÀNG MY
– Departure Time: Hanoi 4:30 PM – Xuan Son 11:00 AM
– Address: Updating
– Phone: 0989 622 141
Where to stay in Xuan Son National Park
Xuan Son currently offers ecotourism and community-based tourism, so the main accommodation option available is homestays. Other types of accommodations such as hotels or guesthouses can be found outside the central district and along the road leading to Xuan Son.
1. Quỳnh Nga Homestay
Address: Ban Du, Xuan Son, Tan Son, Phu Tho
Phone: 0368 408 082
2. HOMESTAY Kỳ Tâm Homestay
Address: Ban Lap, Xuan Son, Tan Son, Phu Tho
Phone: 0989 866 005
3. HOMESTAY Sen Homestay
Address: Dam Ao Chau, Ha Hoa, Phu Tho
Phone: 0845 831 234 – 0868 803 001
4. HOMESTAY Xuân Sơn Homestay
Address: Ban Du, Xuan Son, Tan Son, Phu Tho
Phone: 0979 775 282
5. HOMESTAY Lâm Homestay
Address: Ban Du, Xuan Son, Tan Son, Phu Tho
Phone: 0943 924 996
6. HOMESTAY Xuân Sơn Homestay
Address: Ban Coi, Xuan Son, Tan Son, Phu Tho
Phone: 0979 775 282
7. HOMESTAY Areca Homestay
Address: Ban Du, Xuan Son, Tan Son, Phu Tho
Phone: 0975 982 979
What to do in Xuan Son National Park
1. Xuan Son Nature Museum
Located within the premises of Xuan Son National Park office, the Xuan Son Nature Museum is a place where various specimens of flora and fauna from Xuan Son National Park are preserved and displayed. Additionally, the museum showcases models depicting the traditional production activities of the Dao and Muong ethnic communities, presenting production tools, traditional houses of the Muong people, and ground-floor houses of the Dao people. The museum also serves as an environmental education center for students and visitors. You can easily schedule a visit to the Xuan Son Nature Museum to learn about the history and formation of the national park from the center's staff.
2. Ban Du
This village is the central hub of Xuan Son National Park and Xuan Son commune. It is known for the unique "lonely banana" (or Silver Ha Banana) which is a special delicacy.
3. Ban Lang
Located near the Gate of Heaven, a small road on the left leads to Ban Lang. The road is approximately 3km long, but it may be challenging to pass if there are two cars coming from opposite directions.
4. Ban Lap
About ten kilometers from Ban Du, Ban Lap is a small village with around 30 houses. The people of Ban Lap mainly depend on the forest for their livelihood, engaging in activities like gathering firewood or catching small animals from the streams.
5. Ban Coi
This is the oldest village of the Dao Tien ethnic group, with over 100 simple thatched houses nestled amidst high mountains and ancient forests. It is the farthest village within Xuan Son National Park.
6. Tho Than Cave
Located in Ban Lap, Tho Than Cave is one of the largest and longest caves in Xuan Son. It stretches deep into the heart of Ten Mountain, with the entrance providing a view of Muong Lang field. The cave contains soft and porous stalactites, leading locals to call it "Earth Cave."
7. Hang Na
Also situated in Ban Lap, Hang Na is reached by passing the Lưng Trời waterfall. It features rock formations resembling na fruits, which have given the cave its name.
8. Hang Lang
Hang Lang has an average height of 10m, with some sections reaching 20-30m. The cave has a stream running through it, with many unique limestone formations and formations that look like Buddha and deity statues.
9. Dong Tien (Fairy Cave)
Dong Tien is an underground cave in a limestone mountain, stretching 10 km. Inside the cave is a cool and gentle breeze. It features a water pool with attractive, unique fish species.
10. Heritage Trees
Within Xuan Son National Park, a group of 20 ancient Fokienia trees has been recognized as heritage trees. These are a distinctive plant species representing the park's ecosystem and are listed among the 46 rare and precious plant species of Vietnam.
11. Suoi Tien
Suoi Tien is a refreshing, crystal-clear stream with a beautiful blue color, originating from Dong Tien Cave. Looking at the pictures taken here, it appears as enchanting as scenes from a fairyland.
12. Thac Lung Troi
Thac Lung Troi is a waterfall hidden deep in the forest, approximately 2km away from Hang Tho Than Cave. To reach the waterfall, one must navigate through challenging terrain, including slippery paths and winding stairs along the steep mountains.
13. Mountains in Xuan Son National Park
Within the territory of Xuan Son National Park, there are three mountain peaks rising above 1,000 meters above sea level: Voi Mountain, Ten Mountain, and Can Mountain.
What to eat in Xuan Son National Park
1. Mường Sticky Rice
To create a delicious and distinctive Mường sticky rice dish, the Mường people pay great attention to selecting the right ingredients. First, they choose a bamboo tube, about 20-30cm long, not too large, not too small, and not too thick or thin. If it's too thick, it will take a long time to cook, and peeling the rice will be laborious; if it's too thin, it might burn easily. The bamboo should be young, and they use the water inside each segment of the bamboo tube to cook the rice, as they believe it is the essence left behind by the heavens and the earth. The fresh green bamboo helps the fire not to stick to the rice, and the resin in the bamboo penetrates the rice, giving it a sweet taste and a natural fragrance.
Next comes the selection of rice. The Mường people choose fragrant and sticky glutinous rice from the highland regions. Before being used for "lam" (cooking in bamboo tubes), the rice is soaked for about 2-3 hours, then washed clean, seasoned with a little salt, and mixed evenly before pouring it into the prepared bamboo tube with water. When pouring the rice, they don't pack it tightly; instead, they leave a space of about 5cm from the tube's mouth so that the rice can expand and fill the tube when cooked.
If the tube seems to have insufficient water, they can add some water on top of the rice. They usually collect water from the crevices of hills and streams to create a refreshing sweet taste. After that, the bamboo tube is sealed with dong leaves or banana leaves. The tubes are placed around the stove and can be cooked using charcoal, bamboo charcoal, or straw for about an hour. Occasionally, they lift the tubes and tap them on the ground to make the rice compact.
When the water has evaporated, the tubes are placed horizontally and turned evenly for further cooking. To check if the rice is cooked, they press it with their fingers; if it's soft and emits a fragrant smell, it is done. They then use a knife to remove the burnt outer layer. After letting it cool down completely, they peel off the remaining layer, revealing the sticky rice still wrapped in the white and silky layer of bamboo, giving the Mường sticky rice a pure and elegant appearance.
2. Roasted Saddleback Chicken
Thought to only exist in the legends of Mountain God and Water God, this breed of chicken is still nurtured and developed by the Dao Tiền people in the core area of Xuân Sơn National Park. They respectfully call it "Chúa Gà" (King Chicken). These chickens with many spurs live in a natural environment and sometimes form friendships with wild chickens.
As a result, the meat of these spury chickens is delicious and firm. When offering this special chicken to guests, the Dao people usually steam it with lemon leaves or marinate it with wild honey and various types of spices before grilling it over a red coal fire. This results in a perfect, flavorful, and characteristic taste of the mountainous region.
3. Xuân Sơn Bamboo Shoots
This dish, like bamboo shoots rice and bamboo shoots fish, is a traditional Mường cooking method in which they cook various dishes in bamboo tubes on a charcoal or wood fire. The taste is distinctive due to the combination of Northwest spices inside the bamboo tubes, and most importantly, it retains the aroma of the dish. The bamboo shoot dish here is even more special. Not only is it fragrant and delicious, but it is also tender, flavorful, and not greasy or smelling of bamboo shoots. If you visit Xuân Sơn, you must try this dish.
4. Stream Fish
Stream fish live in the local streams and are caught by the community members. The small fish are usually grilled or deep-fried until crispy, served with rice.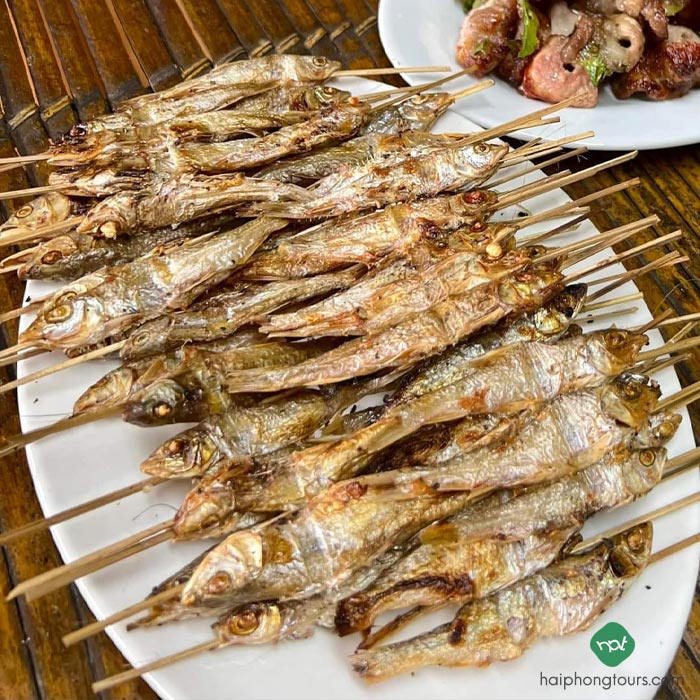 5. Gingko Fern
Gingko fern is a gift from the forest, belonging to the fern family, with a similar appearance to water dropwort but with a thicker stem and broader leaves, lush green in color. For the Mường and Dao ethnic people living in Xuân Sơn National Park, this is a familiar dish often found in their daily meals. Additionally, they use this plant as a traditional herbal remedy for common ailments like cold, cough, and sore throat.
6. Bamboo Shoots with Chicken
The culinary culture of the Mường people originated from simple and rustic dishes with the essence of the mountains and rivers, such as meat, fish, bamboo shoots, and wild vegetables. Among them, it would be remiss not to mention bamboo shoots with chicken. This dish is especially suitable for enjoying in the cold weather of winter, with its mild sour taste and tender chicken. Bamboo shoots with chicken have long been famous. For the Mường people to enjoy delicious bamboo shoots with chicken, various vegetables accompany it, such as papaya leaves, watercress… when eaten with chicken and these vegetables, it creates a unique flavor with the bitter taste of papaya leaves combined with the spiciness of watercress, along with the delicious aroma of bamboo shoots with chicken, which is good for health.
7. Tân Sơn Moss
To eat clean and fresh moss, you have to find a stream with rushing water and large rocks (where the moss can attach and grow). Moss is "captured" in long strands. Depending on the depth of the stream, moss can have either a deep green or light green color. The moss is placed in a basket and rinsed with stream water to remove sand or impurities, then placed on a flat rock and beaten with a large piece of wood.
Moss preparation also requires patience, as it needs to be washed and beaten several times to be thoroughly cleaned. At this point, a whole basket of moss is only enough for one meal. The color of the moss is now a deep green, soft to the touch, and refreshing.
Cleaned moss is then marinated with spices. Thinly sliced garlic, salt, monosodium glutamate, chopped scallions, and a bit of lard are mixed together, and then the moss is soaked in this mixture. The moss is then wrapped in layers of dong leaves tightly tied together. Usually, this dish is prepared in the evening because that's when all the family members are present. With a roaring fire in the kitchen, they cook rice while burying the moss in the red charcoal.
The layers of dong leaves catch fire, releasing a pungent and fragrant smell. When the outer layers turn black, they unwrap the moss. The combination of garlic and scallions, along with the distinct aroma of the moss, creates a unique flavor. The moss now resembles seaweed, chewy and soft, delicious and not greasy.
8. Mường Egg Cakes
While for the Kinh ethnic group, on the 3rd day of the 3rd lunar month, they usually celebrate "Hàn Thực Festival" or "Rice Ball and Vegan Cake Festival," the Mường people celebrate "Thanh Minh Festival" with their specialty, Mường egg cakes.
According to the Mường belief, they only make this type of cake during the period when the sun is the reddest in the year, and it's the only time when the eggs of this specific ant are different and unique compared to the eggs of ants from other trees. The Mường people believe that starting from the third lunar month, the sun is at its most intense red color, and that's when the black ant nests on branches of specific trees such as luồng, keo, nứa, etc., have the most eggs. According to their experience, the redder the sun, the larger the eggs grow faster, and the best eggs are those as big as the grains of glutinous rice, with a white-pinkish color and fatty sweetness.
To make Mường egg cakes, the Mường people go into the forest to find nests of ants on luồng and keo trees that have many eggs. Some people chop off the nests from the trees and let them fall to the ground, some place the nests in a dish and tap it gently to make the eggs fall out, while others pull the dish away and bend the branches to lure the ants away, then sift and clean the egg clusters, leaving only the firm and intact ant eggs. The ant eggs are then washed and dried.
The spices for the egg cakes to be flavorful and delicious include banana flower (wild banana), dandelion greens, water spinach, papaya leaves, and soaked tẻ rice. All these ingredients are mixed together in a mortar and added with seasoning (fish sauce, salt, monosodium glutamate), then kneaded into cakes slightly smaller than a fist, flattened, and filled with ant eggs in the middle. They are wrapped in sung leaves and then placed in a steamer or pot to cook. When the cakes are done, they are taken out and arranged on a plate to cool down, ready to be enjoyed without the need for any additional spices.
9. Bamboo Rice with Pork Ribs
Bamboo rice with pork ribs is a traditional dish that bears the distinctive characteristics of the Mường ethnic group. Wild banana flowers are found all over the mountains and forests in Yên Lập. When foraging, the Mường people often pick wild banana flowers to prepare various dishes. To make bamboo rice with pork ribs, the wild banana flower is thinly sliced, soaked in vinegar, then drained before being mixed with various spices such as salt, pepper, lemon leaves, and minced pork ribs (formerly wild game meat). The mixture is then put into bamboo tubes and compressed (similar to making sticky rice) over a low fire or red charcoal. When it's cooked, the dish has a unique fragrance of wild banana flowers combined with the sweet taste of the pork ribs. It can be enjoyed with hot rice or as a side dish for wine, both equally delightful.
10. Forest Vegetables
When it comes to the cuisine of the Mường people, diners often think of simple and rustic dishes with the essence of the mountains and rivers, such as fish, wild pork, bamboo shoots, and forest vegetables. Among them, forest vegetables are a familiar dish often present in their daily meals. Additionally, they use these forest vegetables as traditional herbal remedies for common ailments like cold, cough, and sore throat.
11. Xuan Son Stream Crabs
Stream crabs, also known as rock crabs, live in the crevices of rocks. In the summer, especially in the evening until late at night, crabs start crawling from rock crevices to the stream. At that time, locals gather to catch them by hand. During the day, crabs retreat into caves or crevices, so catching them requires a bait and a hook. This method is simple enough for even children in the area to catch crabs. After catching the crabs, they are prepared in a straightforward manner, without any complicated spices.
The stream crabs are relatively large, with 7-10 crabs per kilogram. Just a layer of wild banana leaves placed outside the garden, rinsed clean, and laid at the bottom of the pot, crabs are stacked on top of it, and the lid is covered to cook over a medium-low fire. After about 15 minutes, the crabs are cooked. The cooked stream crabs have a pinkish-yellow color mixed with the color of prawns and emit a unique fragrance that blends with the aroma of wild banana leaves. The crabs are served on a plate and dipped in white salt, along with some chili. They are not only visually appealing but also have a firm texture and a rich taste.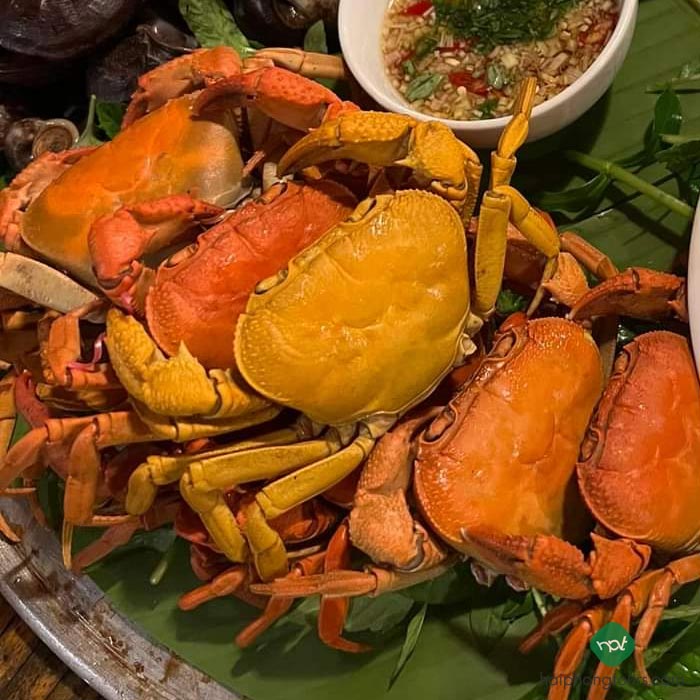 12. Lone Banana Trees
Xuân Sơn also has lone banana trees, which are a rare species discovered only in Hòa Bình and Tà Cú Conservation Area in Bình Thuận. Lone banana trees or peppermint bananas usually grow alone in the middle of the forest. They are grown from seeds and do not have suckers like regular bananas. The tree can grow up to 3 meters tall, with a trunk diameter of 0.6 meters, tapering upwards to the top; the leaf blade is about 0.6 meters by 3 meters. The tree trunk is greenish with a layer of white wax. They rarely flower, but when they do, it's very peculiar: their greenish flowers are large, bear few fruits, but with many seeds.
Please note that some of the information provided might be specific to the local customs and practices of the Mường ethnic group in the Xuân Sơn region. The translation aims to convey the general meaning and essence of the dishes described.
Final words: Xuan Son National park travel guide
Hai Phong Tours hopes that with above Xuan Son National park travel guide, you will have all information to get started. Thanks for reading!