Yen Trung Lake Quang Ninh is an ideal place for weekend picnic. Visitors are usually young people or families having a picnic to change the atmosphere. Things make this tourist attraction so attractive are the large space, immense pine forest and cool lake. Let's learn more about this destination with Hai Phong Tours!
Where is Yen Trung lake?
In Quang Ninh province, Yen Trung lake is the largest freshwater lake. The area of the lake is up to 100 hectares. Surrounding the lake are the dreamy, fragrant and cool pine hills. You can also combine a visit to Yen Trung Lake in your Ha Long trip from Hai Phong or Hanoi. But you have to go 10 + 18 roads in the direction to Uong Bi city. If you take the Ha Long – Van Don highway, you will not be able to cross this lake.
When you come to the roundabout 10 -18 roads, go towards Yen Trung Street. Then just need to go another 1.7km to get there. You can combine visiting Yen Trung lake in Quang Ninh in the morning. From Hai Phong, start your journey at about 7 am. About 8 o'clock, you will arrive at Yen Trung lake. You can be here for 2.5 hours. At 10:30, go to Ha Long to join a Halong bay day tour or 2 day tour.
Transfer time from Yen Trung lake, Quang Ninh to Tuan Chau is about 1 hour. Thus, at 11:30, you will arrive at the harbor. This is the right time to check in.
Address: Phương Đông, Tp. Uông Bí, Quảng Ninh, Việt Nam
Is Yen Trung Lake a miniature Da Lat?
When coming to Yen Trung lake, Quang Ninh, you will feel the purity, lightness and no noise. The dreamy pine hills make you feel the atmosphere like in Da Lat. North of the lake is a high mountain range called Con Xa running parallel to Yen Tu mountain. On the south bank are lower hills.
In particular, in the middle of the lake, there are 2 islands with different sizes. However, visitors can only watch from afar. There is no bridge to the island. When coming here in the morning, you will be able to breathe in the fresh air, smell the aroma of pine resin and admire the immense beauty of the lake.
What to play at Yen Trung lake?
1. Kayaking
Sitting on a kayak, paddle around the calm lake and watching the beautiful scenery around will be a very interesting experience. But this is not a common. Only a small number of visitors do this. Renting a boat/kayak to visit Yen Trung lake is very cheap. You only need 30k to be able to rent a boat/kayak within 1 hour. And if you want to rent a boat, you also have to make a deposit.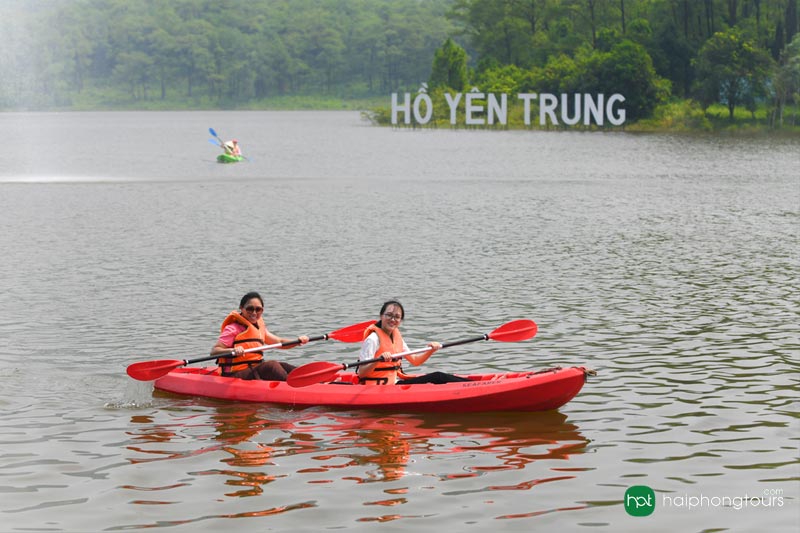 2. Walk around the lake
If you don't want to sit on a boat, you can also choose to walk around Yen Trung Lake to explore every nook and cranny. You will be able to walk through the green pine trees, take pictures with the pine forest, or simply breathe in the fresh air.
3. Camping
For mainstream backpackers, camping in Yen Trung Lake is really an extremely interesting experience. You can prepare food, drink and bring it here to cook and enjoy together. But please note that there is a lot of pine here, so the possibility of fire is very high. If you light a fire, be very careful.
In addition, there are many street vendors here. If you need more food, they can provide you easily.