For a long time, reading has become a beautiful culture of Saigon people. You will easily see young people sitting for hours reading books. Some people like reading books online, but some others still perfer reading paper books. When traveling to Ho Chi Minh, it is not easy for you to find a good bookstore. And in this article, Hai Phong Tours will introduce to you Top 8 Best bookstores in Ho Chi Minh city.
Phuong Nam Bookstore Ho Chi Minh
For those in Go Vap area, this address is probably too familiar. You will not have to search anywhere far away, because Phuong Nam bookstore is a great suggestion for you. The bookstore space is luxuriously decorated, beautiful and eye-catching.
Besides, the types of books sold at Phuong Nam bookstore are quite diverse and plentiful. Depending on your needs and purposes, you can choose the right book. Bookstores converge almost all kinds of books on the market, stationery. They also have lovely souvenirs.
Contact Phuong Nam Bookstore
Address: 03 Nguyen Oanh, Ward 10, Go Vap District, HCMC
Website: https://www.nhasachphuongnam.com/
Phone: 1900 6656
Email: [email protected]
Cá Chép bookstore Ho Chi Minh
Cá Chép bookstore since its first appearance has been loved by the Saigonese. The bookstore stands out with its flexible multi-storey design and luxurious glass-clad wall. The space design here is very creative, especially the colorful children's book areas.
The Cá Chép bookstore is probably the first bookstores in Ho Chi Minh to develop a book cafe area so that guests can sit back and relax. Currently, this bookstore has two branches on Vo Van Tan street and Nguyen Thi Minh Khai street, district 3. Recently, all books in the Cá Chép bookstore are discounted from 10%. They always have a discounted price area of ​​30% or more, mostly history books.
Contact Cá Chép bookstore Ho Chi Minh
Addresses:
211 – 213 Vo Van Tan, District 3 – (028) 6290 6951
223 Nguyen Thi Minh Khai, Nguyen Cu Trinh, District 1, HCMC – (028) 3925 0069
115 Nguyen Thai Hoc Street, Van Mieu, Dong Da, Hanoi – (024) 3237 3427
Website: https://cachep.vn/
Facebook: https://www.facebook.com/cachep.vn/
Artbook Bookstore Ho Chi Minh
Artbook Ho Chi Minh bookstore has a unique space. Extremely beautiful and impressive artwork samples bring you really relaxing moments. If you are a passionate about art, design or fine arts … you should not miss this bookstore. Artbook specializes in providing all kinds of books in the fields mentioned above. In particular, Artbook also organizes many photo exhibitions of young artists at home and abroad. This is also a place that attracts a lot of tourists. As a discerning and passionate about art, you should not miss Artbook!
Contact Artbook Ho Chi Minh Bookstore
Address: 1B1, Nguyen Dinh Chieu, Dakao Ward, District 1, HCMC
Website: https://www.artbook.com.vn/
Phone: 02839103518
Email: [email protected]
Tran Huy Lieu Book Street
After Tran Nhan Ton old book street, Tran Huy Lieu Book Street is a famous book street and is loved by many young people in Saigon. The highlight here is that the amount of imported books is quite rich. You can find a full range of books from large, small, domestic and international books. Besides, there is diversity in publishers such as Fahasa, Vinabook, Phuong Nam …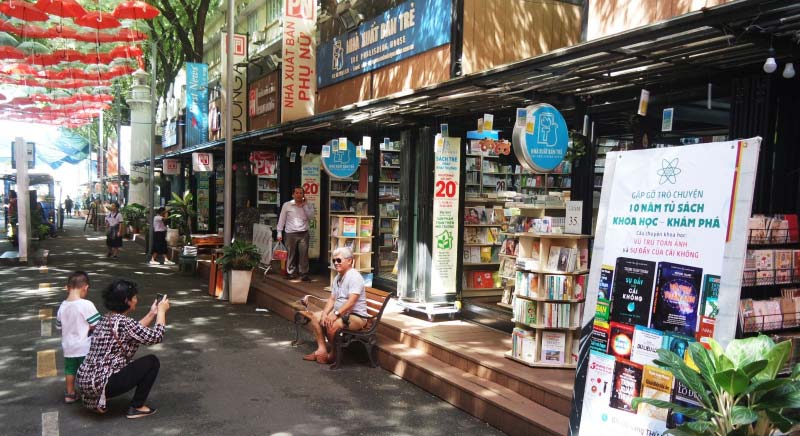 This space is suitable for middle-aged readers. Thanks to the knowledge and love of book owners, the books in Tran Huy Lieu book street have almost become unique. There are countless unique books here. It is also for this reason that the number of visitors coming to buy books at Tran Huy Lieu Book Street is increasing. In it, there are many book enthusiasts and book collectors.
Contact Tran Huy Lieu Book Street
Address: Tran Huy Lieu Street, section from Hoang Van Thu to CMT8, HCMC
Kim Dong Bookstore Ho Chi Minh
This is the branch of Kim Dong publisher in Ho Chi Minh. Perhaps, this name is no longer unfamiliar to many people. It is associated with works reminiscent of childhood like Doraemon, Conan … Here, you like immersed in the paradise of comic genres. All are systematically arranged to help customers easily find the book they want. In particular, the bookstore space is designed with a unique art style. The walls are decorated with unique drawings, contributing to the impressive space of Kim Dong bookstore.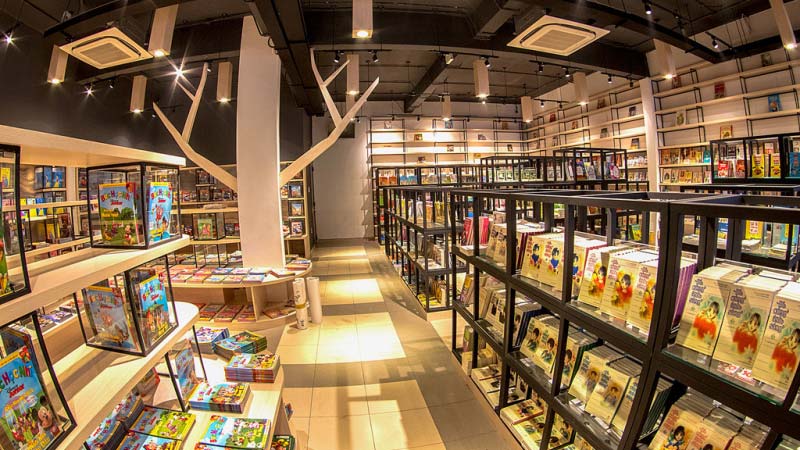 Freedom of reading, freedom of photography, Kim Dong bookstore gives customers an absolute comfort. It also inspires reading, inspires creativity. Surely when you come to read books here, you will have very relaxing moments.
Kim Dong Bookstore Ho Chi Minh
Address 1: 248 Cong Quynh, District 1, City. HCM – (028) 39250170
Address 2: Kiosk M08, Nguyen Van Binh Street, District 1, HCMC – (028) 39390465
Website: https://www.nxbkimdong.com.vn/
E.Book bookstore Ho Chi Minh
E.Book bookstore space is designed for the young generation with creative, dynamic design style. More than 10,000 selected books, a variety of stationery items, school supplies and eye-catching souvenirs are available to welcome you. There are many sitting areas for you to enjoy reading. Coffee shop is also completed and you will definitely feel the best relaxation when you come to experience and shop.
Contact E.Book Bookstore Ho Chi Minh
Address: 86A Nguyen Thai Son, Go Vap District, HCMC
Website: https://nha-sach-ebook.business.site
Phone: 083 899 6622
Email: [email protected]
Xuan Thu bookstore Ho Chi Minh
With the age of more than 50 years, Xuan Thu is a bookstore that many old book enthusiasts know. With such a long existence, Xuan Thu is the place that provides nearly 1 million titles of foreign literature in Saigon. Xuan Thu bookstore has the same architecture as the old houses in Hanoi. After a period of shutdown and reinvestment, Fahasha officially put on Xuan Thu a modern and luxurious look, but still retains its typical classic features. This bookstore specializes in the wholesale and retail business of publications, stationery for many schools, language centers or libraries. Therefore, Xuan Thu Bookstore is also one of the distributors of publishing groups such as Oxford, Cambridge, Taylor & Francis … in Vietnam.
Contact Xuan Thu Bookstore
Hanoi Bookstore
Although the bookstore has the name of Hanoi capital, it is located in Saigon and recognized by readers as the second most famous book selling address. The bookshelves here are quite cheap. The discount rate for books is from 13-30%, so you can easily find books that are both satisfied and affordable.
When buying books here, the layout of all types of books is very systematic and reasonable. It won't take you long to find the books you are looking for. In particular, this is a site that specializes in all kinds of religious books, all carefully selected.
Contact Hanoi Bookstore
Address: 245 Nguyen Thi Minh Khai, Nguyen Cu Trinh ward, District 1, HCMC
Phone: 0839 257 801 – 0838 322 047
Conclusion
Above is Top 8 Best bookstores in Ho Chi Minh city. I do hope you would find the best store to buy your favorite book. Thank you for reading!