Cat Tien National Park, covering an area of 71,920 hectares, is home to various wildlife, rare birds, botanical gardens, and hiking trails.
Around 50% of Cat Tien's area is covered by lush forests, 40% is bamboo forests, and 10% consists of farmland. Notable animal species include Asian elephants, tapirs, dholes, sun bears, gaur, tigers, clouded leopards, leopards, and deer. The park also boasts diverse bird species, such as black eagles, white-winged ducks, and great hornbills. Cat Tien is the habitat of 40 species listed in the IUCN Red List, including the critically endangered one-horned rhinoceros. Local residents and Chinese people believe in the medicinal properties of rhino horns, which are sold at high prices on the market (around $20,000 per horn), leading to the killing and extinction of the Java rhino.
In addition to its abundant wildlife, Cat Tien is home to 62 species of orchids.
Cat Tien has been recognized by UNESCO as a "World Biosphere Reserve." On August 4, 2005, the Ramsar Convention Secretariat recognized Bau Sau Wetlands as the 1,499th Ramsar site in the world and the second in Vietnam, covering a total area of 13,759 hectares (including 5,360 hectares of seasonal wetlands and 151 hectares of year-round wetlands).
Address: Located in the administrative areas of five districts: Tan Phu, Vinh Cuu, Cat Tien, Bao Loc, and Bu Dang.
Map: https://goo.gl/maps/zg8JujJAUvBcxxJe8
The best time to visit Cat Tien National Park
The most suitable time to visit Cat Tien National Park is from around December to May, as there is less rain during this period, and the forest is drier, making it more convenient for exploration. If you plan to travel from June to November, make sure to check the weather forecast before your trip to avoid rainy and stormy days.
Go to Cat Tien National Park by bus from Ho Chi Minh
From Saigon (Ho Chi Minh City) to Nam Cat Tien, you can purchase tickets from Kim Hoan Bus Company at counter number 5 in the Eastern Bus Station (Bến Xe Miền Đông). They sell tickets to the Nam Cat Tien National Park entrance as well!
If you want to travel in high-quality buses, there are some bus companies at the Eastern Bus Station (Bến Xe Miền Đông) that offer trips to Nam Cat Tien National Park along the Saigon – Dalat route, such as Phuong Trang or Thanh Buoi buses. You can catch these buses at the tourist information point of Nam Cat Tien National Park. The tourist information point is located near Tan Phu Bus Station. Just hop on the bus and ask the driver or assistant, and they will know where to drop you off.
Here's a guide to travel to Nam Cat Tien National Park by car or motorbike:
Depart from Saigon, take the QL 1A – QL 20 route (turn left onto QL20 at Dau Giay intersection) – at Tà Lài intersection, turn left to enter Nam Cat Tien National Park (pay attention to the sign indicating the way to the National Park). The distance from Saigon to Nam Cat Tien National Park is about 150km – 160km.
Ticket price Cat Tien National Park
Adults: 60,000 VND per person per way.
Elderly and disabled people: 40,000 VND per person per way.
Students: 20,000 VND per student per way.
Students from 6 to 16 years old: 10,000 VND per student per way.
Children under 6 years old: Free.
Jeep rental fee: 500,000 VND for a round trip for 5 – 7 people.
Entrance fee for Bau Sau area: Approximately 140,000 VND per person.
Where to stay for Cat Tien National Park trip
Here are some accommodation options in Nam Cat Tien National Park with their approximate prices per night:
1. River Lodge: Located near the national park, with prices ranging from 7 USD to 36 USD per night. This budget hotel offers basic facilities and a beautiful view as it is situated by the river, providing a refreshing atmosphere.
2. Green Bamboo Lodge Resort: Close to River Lodge, offering room rates from 4 USD to 55 USD per night. The hotel provides various room types and a tranquil environment. It is also conveniently located near the entrance of Nam Cat Tien National Park.
3. Green Hopy Lodge: Room rates are around 7 USD to 40 USD per night. This budget-friendly hotel in Nam Cat Tien is perfect for nature enthusiasts, with a countryside style. Moreover, guests can freely pick and enjoy fruits from the hotel's garden.
4. Cat Tien Forest Call Resort: Prices range from 4 USD to 34 USD per night. The rooms are clean and well-equipped, and the staff provide attentive and friendly service, making it a notable feature of this hotel.
5. Cat Tien Jungle Lodge: Considered the best quality hotel in Nam Cat Tien National Park, located by the river and very close to the park's entrance. The resort offers various leisure services such as spa, sauna, and steam bath. Room rates are relatively high, ranging from 82 USD to 225 USD per night, but the facilities ensure a comfortable and relaxing stay.
Things to do in Cat Tien National Park
1. Explore Tien Island – Bear Rescue Station
Tien Island is not actually an island located in the middle of the river; instead, it is a forest area surrounded by protective fences, covering an area of 57 hectares dedicated to the conservation of rare animal species such as silvered langurs, black-shanked doucs, pygmy lorises, and golden-cheeked gibbons. Besides the diverse animal species, Tien Island boasts a pristine and vibrant primary forest, offering visitors a chance to immerse themselves in nature at this fascinating tourist destination in Nam Cat Tien National Park.
2. Night Wildlife Safari
The night wildlife safari in Nam Cat Tien forest is an incredibly exciting activity that you shouldn't miss. With the diverse wildlife in the forest, such as deer, deer, squirrels, civets, and wild boars, each with unique hunting and living habits, you will surely be fascinated and thrilled by this experience.
Yes, you can contact the management board of Nam Cat Tien Forest National Park when you want to participate in this activity. They will provide you with all the necessary information and arrangements for the night wildlife safari.
3. Explore Bầu Sấu – The most famous tourist spot in Nam Cat Tien Forest
Bầu Sấu can be said to be a place that every tourist cherishes. To discover Bầu Sấu, you need to rent a vehicle from the forest management center and travel about 10km, then hike an additional 5km to reach the destination.
At Bầu Sấu, you will have the opportunity to witness firsthand how the crocodiles catch their prey and live underwater. If you wish, you can stay overnight at Bầu Sấu to enjoy the specialty dishes of Nam Cat Tien Forest and rest before embarking on the 5km hike back to the pick-up point.
4. Explore Tà Lài for the beauty of ethnic minority cultures
When you visit Tà Lài, you will have the opportunity to learn more about the lives of ethnic minorities in Vietnam, such as the Tày, S'tiêng, and Mạ communities. At Tà Lài, you can enjoy traditional dishes made by the local people of these ethnic groups and experience their way of life if you wish.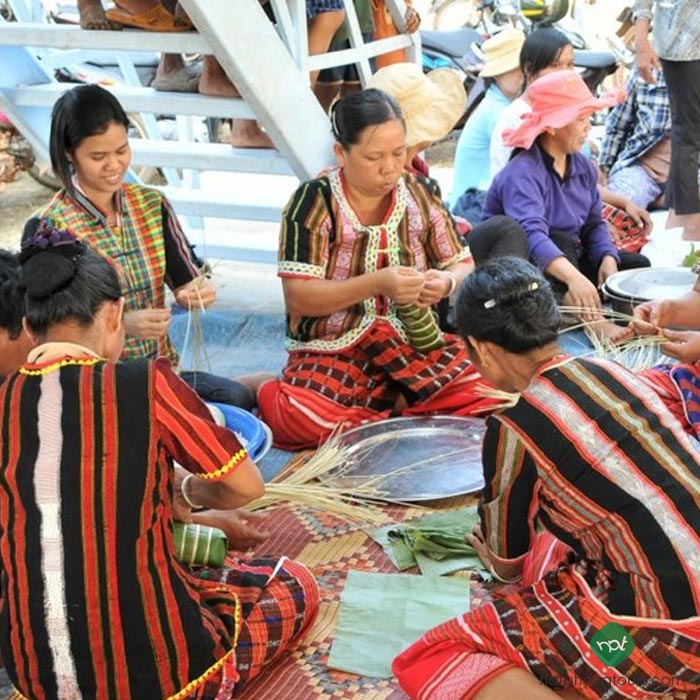 5. Butterfly and Wildlife Photography in the Forest
After the first rain of the early autumn, the beauty of Cat Tien forest becomes even more vibrant as it attracts 450 species of butterflies.
The butterfly season turns the ancient forest into a lively and romantic scene, resembling a mythical movie. You will have the chance to admire the myriad of colors of butterflies, ranging from green to yellow, including rare species like the Bien Hoa silver butterfly and the phoenix butterfly.
6. Forest Trekking and Unique Vegetation Exploration
What makes this place even more special is the abundance of unique and exotic plant species. Here, you can find various peculiar trees such as the 500-year-old tung tree, the si tree with large roots branching out in the clear flowing streams, the single-trunk six-branch bamboo, the rare gỗ bác đồng tree with a trunk diameter of over 2 meters, and the fire-resistant trung quân leaves used for roofing during the resistance war.
7. Mỏ Vẹt Waterfall Trail
– Best Time to Visit: from December to May.
– Trail Length: 3km.
– Duration: 15 minutes by canoe.
– Suitable for: all tourists.
Description: From the Vườn Trụ (Garden Post), you will be taken by canoe along the riverbank to admire the scenery on both sides. If you are a birdwatcher, you can observe species such as the Dollarbird (Eurystomus orientalis), Kingfishers, and Hawks soaring in the sky. This is a strong-flowing waterfall. When viewed from above, the waterfall resembles a parrot's beak, hence its name "Mỏ Vẹt" or Parrot's Beak Waterfall.
Notes when traveling to Cat Tien National Park
Carry insect repellent, urgo bandages to prevent bleeding.
Wear long-sleeved clothing and closed-toe shoes to protect against bites in the forest.
Bring a sun hat and choose dark-colored clothing to avoid startling birds and animals in the forest.
Pack a raincoat and a flashlight.
Prepare food and drinks before visiting any tourist spots in Nam Cat Tien.