Nam Cat Island Vietnam is a luxurious, unspoiled, rare independent island number 1 today. The island lies neatly in the area of Lan Ha Bay, Ha Long. So where is Nam Cat Island? Let's find out with haiphongtours.com!
Where is Nam Cat Island Vietnam?
Where is Nam Cat Island Vietnam? Although Nam Cat has a modest area, its location could not be better. Although it is an independent island, getting here is not difficult. The island is only 5km from Beo wharf. Nam Cat is like a jewel surrounded by small islands. So the scenery here is very charming.
The island becomes an ideal tourist destination for dreamers with an adventurous soul … This is really an extremely interesting and sexy "escape" place !!!
When to travel to Nam Cat Island Vietnam?
When is the best time to travel to Nam Cat Island Vietnam? Weather is always an issue that everyone must pay attention to when traveling. And it is especially important for a tourist destination related to beach like this. But please rest assured. Nam Cat has a very temperate climate. So you can travel to Nam Cat Island to travel at any time of the year. Of course if the day is stormy, then…! Each season, tourists will experience different beauties. But to say the best time to travel, it is from April to October. At this time, the sunshine is full, very suitable for swimming activities. And that also means the island will be more crowded than usual.
What to eat on Nam Cat island Vietnam?
If you're on the shore, or the city center of Hai Phong, you should learn more about the specialties of Hai Phong. So What to eat in Nam Cat island Vietnam? Come here, of course, we will eat seafood! Seafood here can be said to be very fresh. Especially the big crabs, juicy, fragrant and sweet! If it is the mantis shrimp, the meat is very firm and plump.
If you come to Nam Cat island without eating seafood, it will really feel like going to the mountain to swim !!!
What to play on Nam Cat island Vietnam?
After eating and drinking, what to play on Nam Cat island Vietnam? Referring to Nam Cat, people will immediately think of the beach, the mountains, kayaking, campfire… To be able to be free, let's get acquainted with Kayak. This boat can only load up to 2 people. So if you go with lover, what could be better? You are free to paddle to every corner of the island to explore. Plus, you'll find yourself closer to nature than ever before. Anyone who has never rowing a kayak can learn by himself in just 10 minutes. But you must wear life jackets!
Another special thing in Nam Cat island. Do not worry about the loud waves crashing or dropping your pants. Because the bay is surrounded by large and small islands, it is very quiet. Flat water surface! Due to the far shore, the water is clear with white sand.
In addition, you can also walk around the fish and seafood rafts and buy for processing directly.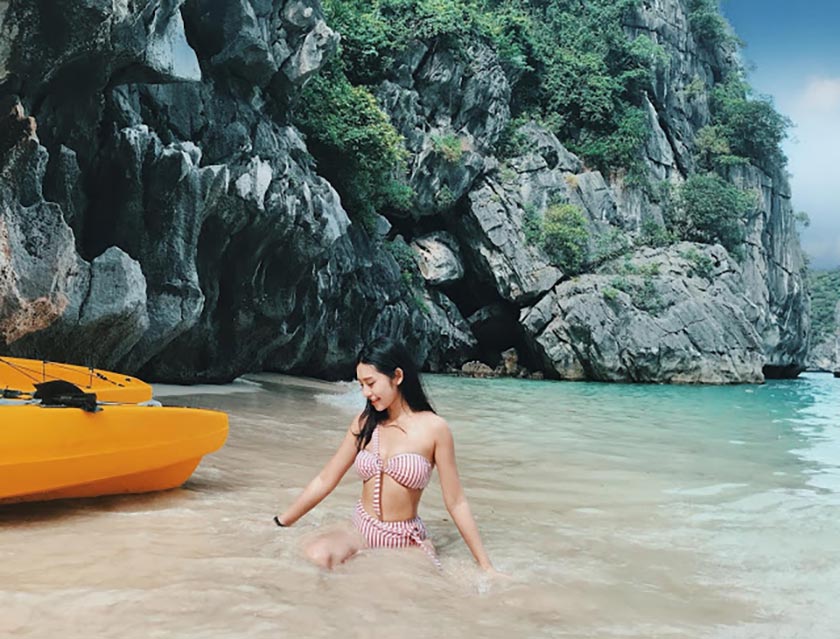 Conclusion
Now, do you know where is Nam Cat Island Vietnam? I think you already know and have prepared the suitcase on the way … Remember to share your experience about this interesting island by leaving a comment below! Thank you!