Ho Chi Minh to Halong? This's never been easier than ever! Nowadays, there are many tourists know of Halong bay as the one of 7 Nature Wonders of the World. As the result, number of tourists travel to Halong are risen. Before leaving, travelers should read some information to have the best plan. Today, Hai Phong Tours would like to share some major information and we do hope you would have amazing trip from Ho Chi Minh city to Halong!
The best time to visit Halong
People come to Halong mostly for Halong bay. This is the best tourist attraction in Halong city. Then the trip to Halong is perfect or not depends on best time to visit. If you are most concerned about weather, then the periods September to November and March to May are The best time to go from Ho Chi Minh to Halong bay. The dry climate and pleasant temperature will enable you to enjoy all activities offered while making sightseeing as perfect as it could be.
If you are considering of budget, then schedule your trip between May and September. This is often considered the low season and many cruise companies offer sale off on cabin: you can save as much as 40% on a cruise trip compared to other time in a year. However, the months of July – August often see sporadic hurricanes and storms, which may render cancellation and delay of your trip. In those cases, you can switch around by visiting another destination in the North of Vietnam and visit Halong Bay later. These storms will not last longer than 3-4 days.
Trending now... Don't miss
Day tour
Sung Sot, Titop, Luon cave
Cave visit, sightseeing, hiking, swimming, kayaking/boat ride
4, 7, 9, 16 seater
per way 1/multi drops
as per request
Regarding to other attracions in Halong inland, you could travel anytime except for bad weather days!
How to get from Ho Chi Minh to Halong?
To get from Ho Chi Minh to Halong, Hai Phong Tours would like to introduce 4 ways to go as following: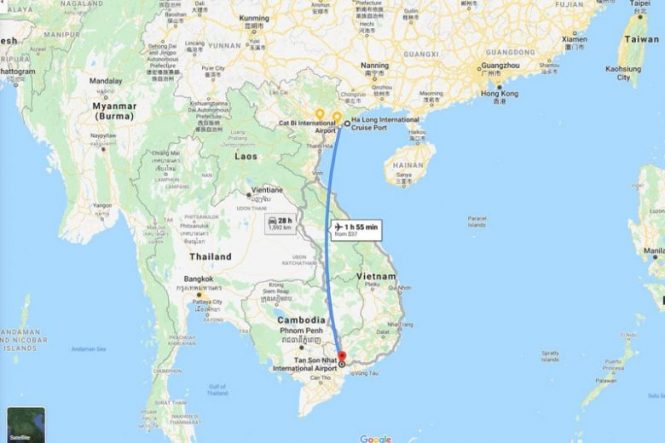 Plane (recommended)
Going by plane is the fastest way to get from Ho Chi Minh to Halong.
How it works?
From Ho Chi Minh, you should go to Tan Son Nhat International airport to take flight to Cat Bi International airport in Hai Phong city. This takes you 2 hours flight nonstop. On arrival at Cat Bi international airport, you may consider Cat Bi taxi right outside to Halong on highway. The drive's 50 minutes approximated. Taxi fare is about 500.000VND for 4 seater sedan or hatchback. Taxi driver may ask you to pay the extra of 10.000VND for airport entrance ticket.
Other choice, please consider Private car transfer service in Hai Phong. If you reserve private car, it's more professinal in organizing and scammer free. The most important thing is initiative. Your private driver will wait for you at entrance gate and drive you to meeting point without delay. Also, the support team also available to help you in any uncontrollable cases if you use private car service for example lost and found, delay…In return for this, private car fee is higher than taxi. It's around 650.000VND/way for 4 seater sedan (about 6.5USD more comparing to taxi).
Trending now... Don't miss
Day tour
Sung Sot, Titop, Luon cave
Cave visit, sightseeing, hiking, swimming, kayaking/boat ride
4, 7, 9, 16 seater
per way 1/multi drops
as per request
Available flights from Ho Chi Minh to Hai Phong
1. Vietjet air
Website: vietjetair.com
Hotlines: (+84) 19001886 or (+84) 28 3526 68 68
2. Vietnam airlines
Website: vietnamairlines.com
Contact Center for calls within Vietnam (24/7): 1900 1100
For Lotusmiles members: 1900 1800
For calls from outside Vietnam (24/7): +84 24 38320320
Email: [email protected]
3. Bamboo airways
Website: bambooairways.com
Call Center: 1900 1166
Email: [email protected]
Bus
Route 1: Go from Ho Chi Minh to Hai Phong
The distance from Ho Chi Minh to Hai Phong is 1117km. You will need to spend at least 37 hours drive in the bus. The most popular bus company to book  ticket is Hoang Long bus.
Website: https://www.hoanglongasia.com
Hotline: +84225 3920920
Email: [email protected]
To get started, please go to Ben xe Mien Dong at BX Miền Đông, 292 Đinh Bộ Lĩnh, Phường 26, Quận Bình Thạnh, Thành phố Hồ Chí Minh to catch bus.
Then you will arrrive to Hai Phong at Thuong Ly bus station at 52 Hung Vuong street, So Dau ward, Hong Bang district, Hai Phong.
There are 2 prices for bus ticket: 750.000VND/person/way without meal and 880.000VND with meal. The prices maybe changed due to holidays.
Route 2: Go from Hai Phong to Halong
On arrival in Hai Phong, please look for any buses to go to Mong Cai, Quang Ninh. These bus will go pass Halong. Remember to ask driver to drop you in Halong (not to Mong Cai). This bus transfer is about 100.000VND/person.
After dropped off in Halong, please catch taxi or "xe ôm" to your destination.
This's really complicated but let's challence yourself!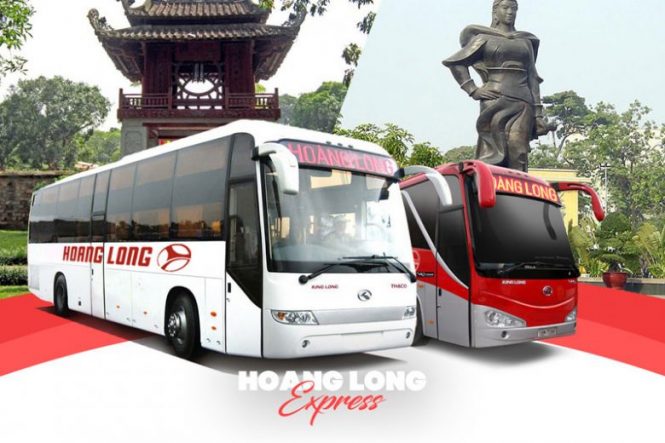 Train from Ho Chi Minh to Halong
Going by train form Ho Chi Minh to Halong is slowlier than plane certainly. But there are so many people love it as you will have chance to see scenery along the road. And it's very safe. To go by train, in Ho Chi Minh, you need to go to Saigon Train station which is the largest on in Vietnam. It's located at số 1 đường Nguyễn Thông, Phường 9, Quận 3, thành phố Hồ Chí Minh, about 1 km away from center. The travel distance by train is about 1900 km and there are about 6 trains every day. You may need to spend 35-37 hours from Ho Chi Minh to Hanoi. Depends on budget, you have 2 options: 1st class+2nd class trains for seats or comfortable berths.
Train ticket price is about $30-70 (hard or soft seats, 4-6 berth sleeper cabin).
On arrival in Hanoi Railway station, you have 2 options: Or stay in Hanoi and book a tour to Halong with pick up in Hanoi Old Quarter Or continue catching train to Hai Phong railway station and book Hai Phong to Halong tour with pick up in Hai Phong.
If you dont want to book any tour, after arriving in Hanoi or Hai Phong, please go to Thuong Ly or Niem Nghia bus station to book local bus to Hon Gai bus station or Mong Cai bus station. They will go pass Halong and dont forget to ask driver to drop you off there.
What to do in Halong
1. Sun Wheel
With a height of 215 m above sea level, with a rotation diameter of about 115m, the Halong Sun Wheel has become one of the two largest wheel in Vietnam up to now.
You can enjoy a panoramic view of Halong Bay from here with each cabin having a maximum capacity of up to 6 passengers.  Each rotation lasts for about 15-20 minutes.
Ticket for each passenger as follows: VND 300,000 for adult, VND 200,000 for children under 1.3 m high, children under 1 m tall are completely free (ticket including the cable car,  circle and amusement park on Ba Deo hill).
2. The Queen's Cable Car
The Queen's Cable Car is the only cable car system with 2 decks cabin. You can enjoy the panoramic view of Halong city in a large cabin.
The cabin is designed with large glass windows that help you unleash your eyes to admire the full view of Halong Bay with a stroll for about 5 minutes.
Trending now... Don't miss
Day tour
Sung Sot, Titop, Luon cave
Cave visit, sightseeing, hiking, swimming, kayaking/boat ride
4, 7, 9, 16 seater
per way 1/multi drops
as per request