Motorbike rental Hai Phong becomes more and more popular service recently. That is understandable when the tourism industry of Hai Phong is developing day by day. Domestic tourists as well as international tourists know more about Hai Phong. The number of overnight stays in Hai Phong also increased steadily. Therefore, the need for rent scooter or rent motorbike is increasing. In this article, Hai Phong Tours will introduce top 10 places to rent scooter (Automatic Transmission) or Manual Transmission Motorcycle. Let's check it out!
Mr. Thuan Motorbike rental Hai Phong
This is a motorbike rental address in Hai Phong with reasonable prices. The quality of the rental motorbike is also good and highly evaluated by customers. When renting a car at Mr. Thuan Motorbike rental, you can choose variety of vehicle types such as Wave, Sirius, Future, Atlila, Click… Furthermore, you get a warranty for the quality of the vehicle. If in the process of using, your motorbike has technical problems, the store will be responsible. It is only from 80k a day. If you rent more than  1 day, they will ship to your own place.
Contact Mr. Thuan
Phone: 097 889 38 21
Address: 45 / 333B Van Cao, Dang Lam, Hai An, Hai Phong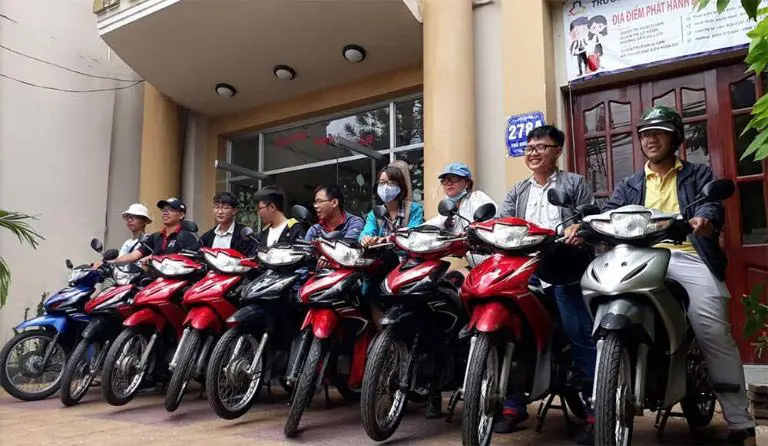 88 Lê Lợi Motorbike rental
This store is located on Le Loi Street, Hai Phong. The motorbikes for rent here are of very good quality. The machine runs smoothly without roaring. Rental price is also acceptable. The owner is enthusiastic and ready to solve all vehicle problems if encountered.
Contact 88 Lê Lợi Motorbike rental
Phone: 0898 282 406
Address: 88 Lê Lợi, Máy Tơ, Ngô Quyền, Hải Phòng
Hai Nam motorbike for rent
This is one of the pioneers in motorbike rental service in Hai Phong. Here, they rent out many models of motorbikes such as scooters, gears, and clutches. The rental cars are new and regularly maintained and run stably. In addition to motorbike rental, they also offer self-driving car rental services. But the procedure for renting a car to Vietnamese will be simpler than a foreigner. In addition, they also loaned 2 helmets free of charge, borrowed clothes and safety locks.
Contact Hai Nam motorbike for rent
Address: Số 2 Đồng Xá, Cát Bi, Hải An, Hải Phòng
Mobi: 0969886883
Mr. Dũng Motorbike rental Hai Phong
Mr. Dung motorbike rental is an address that cannot be ignored when you are looking for motorbike rental. Motorcycles here for rent are both cheap and high quality. Tourists often come here to rent. The service attitude at this store is very good and dedicated. To rent, please come to your place or call Mr. Dung 0906114115. He will advise and deliver motorbikes at the store. If you want to deliver and receive motorbikes on the spot, they have an additional service for 30,000 VND / trip
Procedures for short-term tenants include: ID card, driving license. Types of vehicles: Vespa LX 150, Vespa LX IE, Novo LX 135, Wave RSX Fi, Sirius Fi, 110cc motorcycle, …
Customers from abroad should change driving license according to Vietnamese law or have an international driving license!
Contact Mr. Dũng motorbike rental
Phone: 0906114115
Address: Số 935 Nguyễn Bỉnh Khiêm, Đông Hải 1, Hải An, Hải Phòng
Motorbike rental An An Hai Phong
Another cheap motorbike rental address in Hai Phong that you should know is An An. The store has been opened for a long time and is a familiar address of customers in Hai Phong. An An motorbike rental shop always checks the quality of vehicles, updates new traffic policies to disseminate them to customers. They have enthusiastic service attitude, thoughtful preparation. Especially customers who rent a second time or rent more than 3 days will be discounted. All models have their own prices. Prices range from 80,000 to 150,000 VND / day.
Contact Motorbike rental An An
Address: Số 1 Lê Lai, Máy Tơ, Ngô Quyền, Hải Phòng
Phone: 0936628992
Rent motorbike Le Hong Phong road
Motorbike rental prices in Hai Phong are generally almost the same. Same here. They rent for 120,000 VND / day for Novo, Mio classico, Sirus, Jupiter…). 1 day is from 8am to 10pm.
Rent for 2 days or more can keep motorbikes overnight. If you rent for 3 days, you will get a discount. The rental price for 24h is 150,000 VND with quick procedure.
To rent, you need your ID card (identification card). And you must have a driving license and deposit (1-2 million depending on the type of motorbike)
Contact
Address: Lô 6A đường Lê Hồng Phong, Hải Phòng
Phone: 0898282406
Important notes before renting
The quality of motorbikes for rent is not as good as personal use. So before you receive the car, you need to carefully check the outside to see where there are scratches and breaks. Then confirm with the vehicle owner. Best to take a photo again.
Stand up on the prop of the motorcycle, try to start the engine to hear if the engine sounds good. Then speed up to see if there are any strange noises. Pay special attention to the front and rear wheel brakes. This check will not take you long. But it protects you if there is a dispute.
Wearing a helmet is a must when driving in Vietnam. So make sure they include it when you rent out your motorbike.
Conclusion
Above is list of Top 6 places to rent scooter, Motorbike rental in Hai Phong. I do hope you will find the best motorbike to go around. Also, when you want to go far, car sounds better to choose. Then please consider Hai Phong private car transfer service.
Thank you for reading. Happy stay in Hai Phong as well as in Vietnam.